Virtual Sports Betting Guide (January 2023)
Long ago, sports betting used to be restricted to live events like football games, horse racing or major sport tournaments. However, due to weather conditions many events got cancelled, leaving most punters unable to place bets.
As online bookmakers started to develop, a system of betting which involved simulated online games that wouldn't get cancelled became necessary. Today, virtual sports form one of the biggest markets at online sportsbooks in the UK.
Are you interested in placing bets on virtual games and do not have any idea about how they operate? Here's a comprehensive outline of virtual sports betting, the most common variants and top strategies to win from bets.
What is Virtual Sports Betting?
Virtual sports are computer-generated simulations of real-life sporting events and games. They work with algorithms that are developed to play the game and use information from the authentic sport to determine results.
With the current advancement in technology, many sportsbooks now use 3D animations to depict these games, giving you a very similar experience with actual games. However, compared to real-life horse racing or football, you always have to place a bet before the event begins.
Odds are usually similar to what obtains in the original sports. This closes the gap between real sports betting and virtual games, making it just as exciting. But unlike normal sporting events, virtual games take only a few minutes and you can follow all the action and odds in real-time.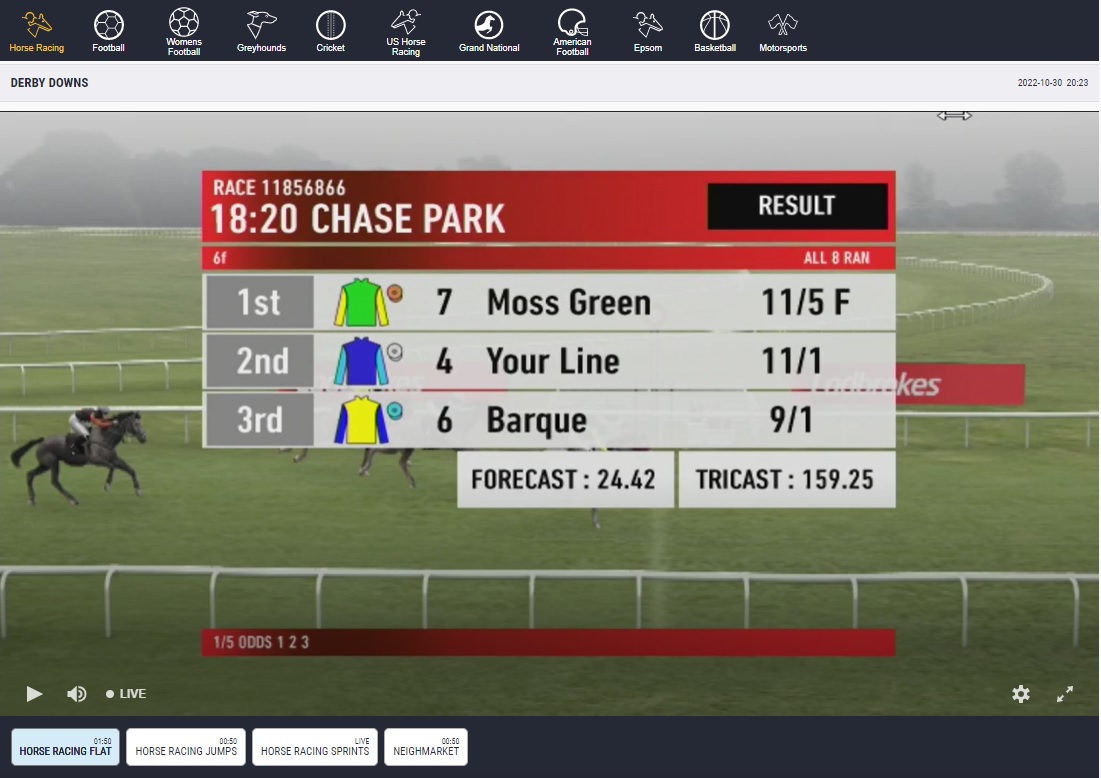 How To Bet on Virtual Sporting Events
Like with most betting activities, winning on virtual sporting events depends largely on luck rather than skill. That's because most virtual sports are created using random number generator (RNG) technology found in casino games like slots and blackjack. The RNG mechanic is used in addition to complex algorithms to ensure randomness and unbiased outcomes in the games.
Creators of virtual games also ensure that each team or participant has an ability rating which typically determines whether they win or not. Teams with a higher ability score have a better chance of winning and vice versa.
However, you cannot bet solely on the ability as that would make virtual sports too easy. The addition of RNG makes games and their results very unpredictable. So, you may want to study patterns of each participant before placing a bet.
Virtual sports are mostly fixed odds games and you can get the odds for each competitor before the game starts. All you have to do is place a bet predicting the winner, the scoreline, positions or the number of goals in a game.
Common Types of Virtual Sports
As you already know, virtual sports are simulations of real-life games. But not all types of sports are available for you to play virtually. Here is a list of popular virtual sports that you can bet on at online bookmakers in the UK.
Virtual Football
This is arguably one of the most common types of virtual sports at bookmakers. It typically involves computer-controlled football games between animated versions of real-life players. There are also leagues and cup competitions available for you to bet on.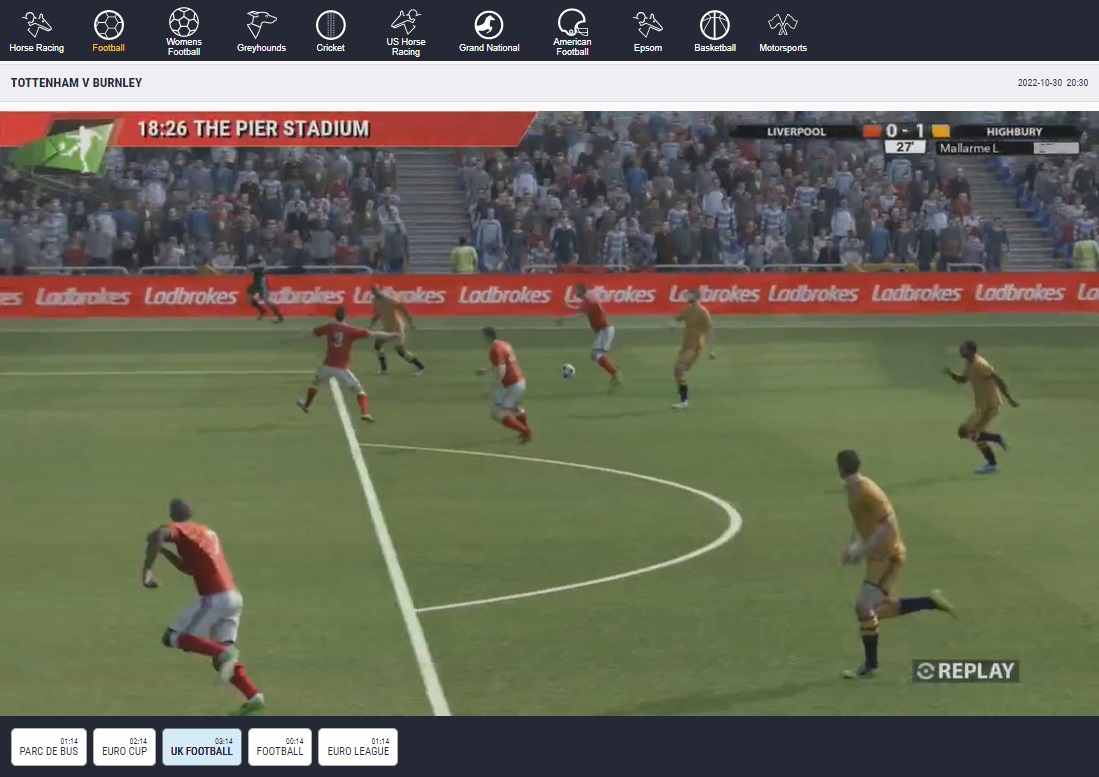 Virtual Horse and Greyhound Racing
Simulations of horse and greyhound racing events are very popular among punters in the UK. You can bet on which horse will place and watch the race play out like a video game.
Virtual Motorsport
All motor racing events like motorsports, cycling and Formula1 are all available in virtual mode. Punters get an opportunity to bet on winning runners with similar odds like those in real-life events.
Virtual Tennis
Tennis is relatively easy to bet and the same goes for virtual tennis games. You can bet on the winner and set scorelines. It gets all the more exciting considering that virtual tennis is less predictable than the real-life game.
There are also virtual basketball, virtual darts and virtual trotting betting options at many sportsbooks. The best part about virtual sports is that you do not need to study how these games work.
Types of Bets to Place on Virtual Sports
If you're an expert punter on real-life sports, you'll have no problems settling right into virtual sports. That's because both types of betting options generally have similar bet markets. However, the specific markets you can place bets on depend on the bookmaker and the virtual sport.
For virtual football, you can place bets on win or draw match result markets. You can also place each-way bets and Asian handicaps. If you wish to bet on the scoreline, there are Over/Under and Both Teams to Score bets available.
With racing events, you can place moneyline bets and handicaps. Some sportsbooks also have forecasts, tricasts and each way betting systems. If you're looking to spread your bets, you can also try multiples and accumulator bets.
Pros and Cons of Virtual Sports Betting
Placing bets on virtual sports comes with peculiar benefits and, sometimes, disadvantages. Below are a few merits and demerits of betting on virtual sports in the UK.
Pros
Here are some of the major incentives that come with playing virtual sports.
Suitable for Novice Punters: Players do not need any prior knowledge to venture into virtual sports betting. The games and odds are easy to understand, making it relatively simple to play for new gamblers.

Continuous Betting: Unlike real-life sports that are scheduled at long intervals, virtual sports do not require human activity. So, they typically run all day long. In some sportsbooks, you can place bets round the clock.

Fairness: Virtual sports are equipped with Random Number Technology and algorithms which ensure that outcomes are unpredictable.
Cons
The only known disadvantage that comes with virtual sports betting is that there is no skill involved. Since it's down to luck, players may not be able to gauge their chances of winning. Also, given the continuous play, some players tend to bet without limits.
Strategies, Tips and Tricks of Virtual Sports Betting
Although virtual sports are not a game of skill, there are special tricks and strategies that can improve your chances of winning.
Choose Your Sports Carefully
Some sports improve your winning odds more than others. For instance, with virtual football, the results are either a win, draw or loss. And the likelihood that your team will clinch one of these outcomes is relatively favourable. However, it is more complicated to pick a winning horse from a race of 12 runners.
Have Bet Limits
Virtual sports are very volatile. So, it would be helpful to wager low stakes and carefully manage your bankroll. Ensure you set bet limits and do not go above your set budget.
Use Promotions
Opt for sportsbook bonuses and promotions. Some of these promos give you free cash that you can use to wager on your favourite sports.
Final Thoughts on Virtual Sports Betting
Virtual sports betting is one of the most exciting ways to spend time at an online bookmaker. Unlike real sports, the results are very random and unpredictable So, your knowledge of a sport of game analysis won't matter. However, it still remains a good option for punters who have an open mind and fancy