BEST SPORTS NEWS APPS
The sports world is forever changing and there's now a need to be the first with the latest developments, from breaking news to expert analysis and interviews. Sports lovers have found an ally in sports news apps, but which ones are the best and where can you get your hands on the latest stories from your favourite sport?
BBC SPORT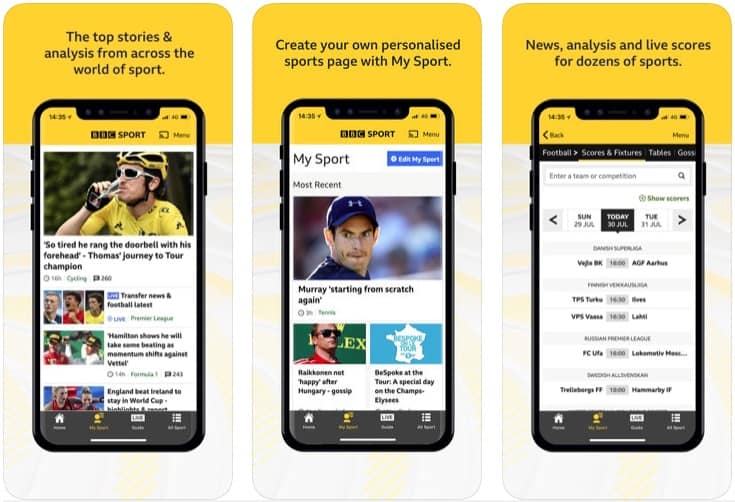 The go-to sports news app for many people, BBC Sport is a trusted source of news, results, league tables and even opinions for millions in the UK and further afield. BBC Sport really shines when it comes to its football coverage, particularly British leagues, but it also provides the latest updates from games taking place all over the world.The BBC's Match of the Day highlights show means the BBC Sport app is often first with post-match manager interviews and analysis. Away from the beautiful game and horse racing, Formula 1, Cricket, Rugby, Tennis, Golf and Athletics are just some of the other sports covered in detail.
SKY SPORTS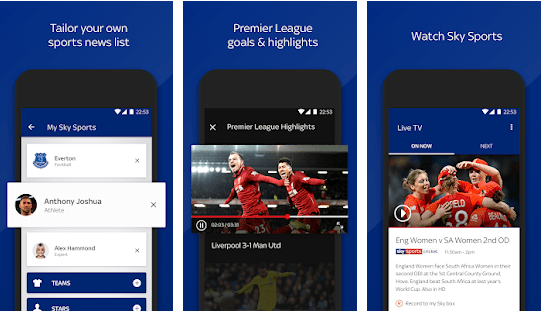 Similar to the app mentioned above, Sky Sports is a real heavyweight in the sports news industry and the link to Sky Sports news means this is where you will hear about breaking news first, often a long time before it filters down through the lesser news channels. As well as the major news headlines from the world of football, cricket, golf, boxing, tennis and darts, there's also NFL, NBA, GAA and even Esports. Check out the Score Centre for up-to-date scores and results, click the Video link for highlights and interviews or users can even browse the TV listings to plan their weekend viewing. For those who enjoy a punt on the outcome, there's even a handy link to Sky Bet.
THESCORE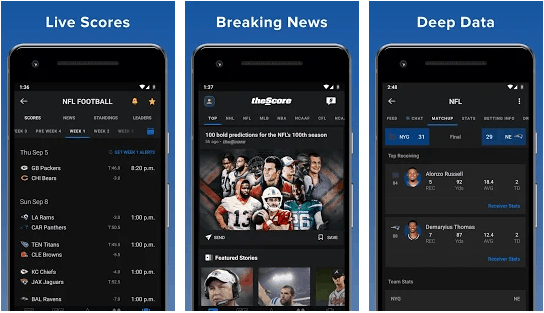 This is a live news app and results feed tailored to fit the life of mobile users, so it's little surprise to find their app is one of the best in the business. Billed as an addictive combination of news, scores, fantasy sports and alerts, this app will keep you glued to your phone as you await the latest updates. Not got time for all that? Join the club. That's why you can get alerts sent direct to your handset that are tailored to your favourite sports and teams. The app covers more than 20 leagues worldwide, with 800 plus teams. You won't miss a trick.
TALKSPORT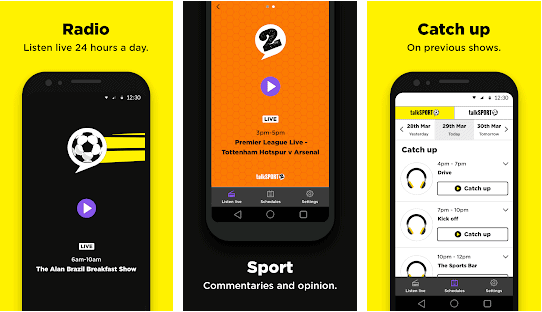 The talkSPORT app really does do the brand justice and it works as a reliable extension of the radio show. You can use the app to listen live to talkSPORT and talkSPORT 2, tuning in to coverage of major football matches from the UK and abroad, including expert analysis and goal updates from other games of note.Download the app to your phone and you can listen to the broadcast anytime, anywhere, as long as you have a reliable internet connection. Aside from the radio broadcast, users also get live updates in text form, including previews, reactions and match stats.
EUROSPORT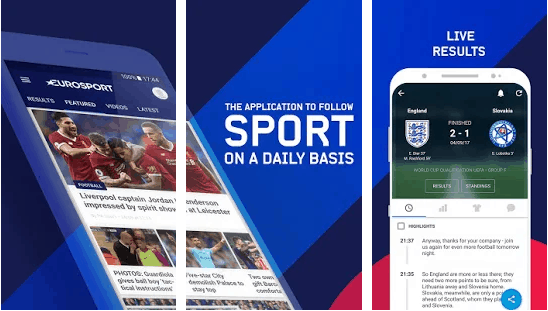 Free to download to mobile phones and tablet devices, users can enjoy a premier sports news experience with this app. Get all the best previews and reviews on the day's major sporting events, from football to horse racing. There are also hundreds of sports articles published each day from respected journalists and a handy sports calendar that lets you know when the next fixture of interest is taking place.Something you will get at Eurosport most of the competition can't compete with is exclusive live web chats with sports writers, players, coaches and pundits, giving you a unique insight to the game you love.
YAHOO! SPORTS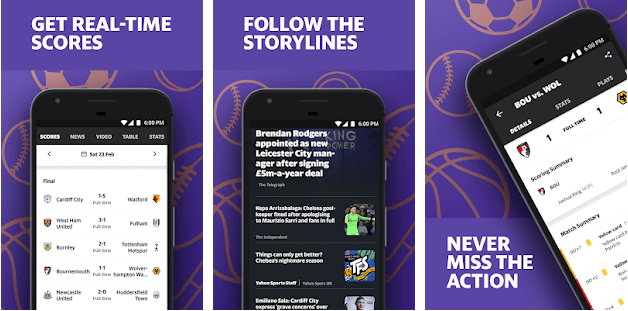 Download this app and you'll never miss a goal. It's billed as the fastest way to get your hands on breaking sports news, scores, league tables and results on your favourite teams – this is particularly important for those who place bets with one of the best betting apps . If you need to be the first to know, this app really won't let you down.Get personalised coverage of Premier League, Champions League, Bundesliga and more, or know what's worth knowing from the world of MMA, NBA, NFL and NHL.
Choose the app that best suits your needs, search for it in the App Store and you're just a click away from being first in line for the biggest and best news stories from around planet sport. It's the modern way to follow your team.