BEST PREMIER LEAGUE APPS
The English Premier League is undoubtedly the most watched football competitions in the world, with fans from across the globe tuning in week-in-week-out to the likes of Liverpool, Chelsea and Manchester duo City and United battle it out for the spoils. EPL info apps deliver the latest news on injuries, transfers and managers, along with schedules and results. The best Premier League apps can also be hugely important for betting customers, with such platforms offering detailed information regarding upcoming matches, whether it be player availability, recent form or motivation. For those who enjoy keeping up-to-date with all of the latest news and results from the top-flight, there are a number of mobile apps that are worth downloading.
PREMIER LEAGUE APP
The Premier League app is the official mobile platform for the English top-flight, providing a huge amount of information regarding the 20 clubs involved.
Along with all fixtures, results and standings, users can watch video highlights featuring some of the world's leading players, as well as taking advantage of statistics surrounding key performers in each position.
The Premier League app also features profiles on every club that has played in the division in its history, with no stone having been left unturned.
BBC SPORT APP​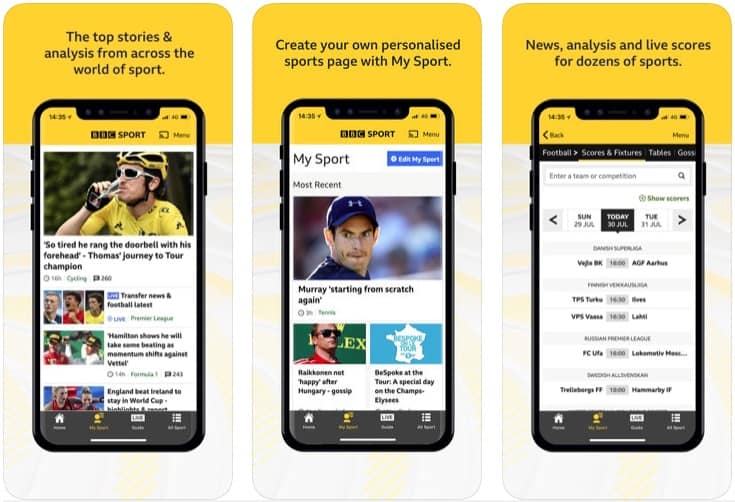 The BBC Sport app covers a range of disciplines, with English football perhaps unsurprisingly featuring heavily. Users can personalise the app and receive notifications regarding their favourite clubs, whilst those within the UK can also watch live action as it unfolds thanks to the streaming service.
BBC Sport app users can also set event reminders for upcoming matches, with a notification sent out when it has started.
90 MIN APP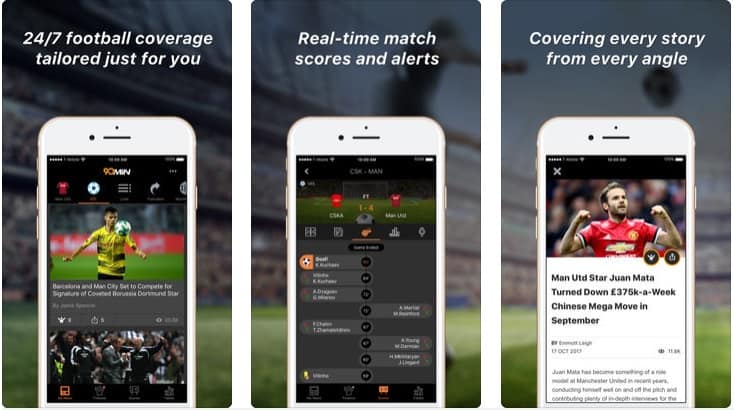 90Min has long been a popular football website, with their app also having gained a significant amount of attention since its creation. The apps main features include live feeds from all Premier League matches, push notifications and live commentary, meaning that readers will never miss out on any top-flight info.
Available on both tablet and mobile, the 90Min app able to be personalised by users too.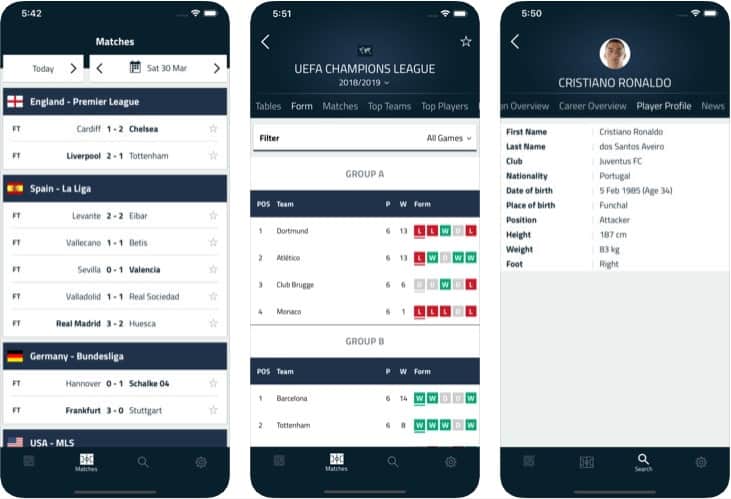 Another hugely popular football platform is Goal.com, with their app delivering in-depth articles, transfer updates and a live score feature. Goal use match data from Opta, which is likely to be useful for those betting customers who like to carry out detailed research before backing a particular team.
Such statistics also include head-to-head records, allowing punters to see how upcoming opponents have performed against each other in the past. As with many of the other apps discussed, users can also choose to receive breaking news and goal alerts to their device.
BLEACHER REPORT APP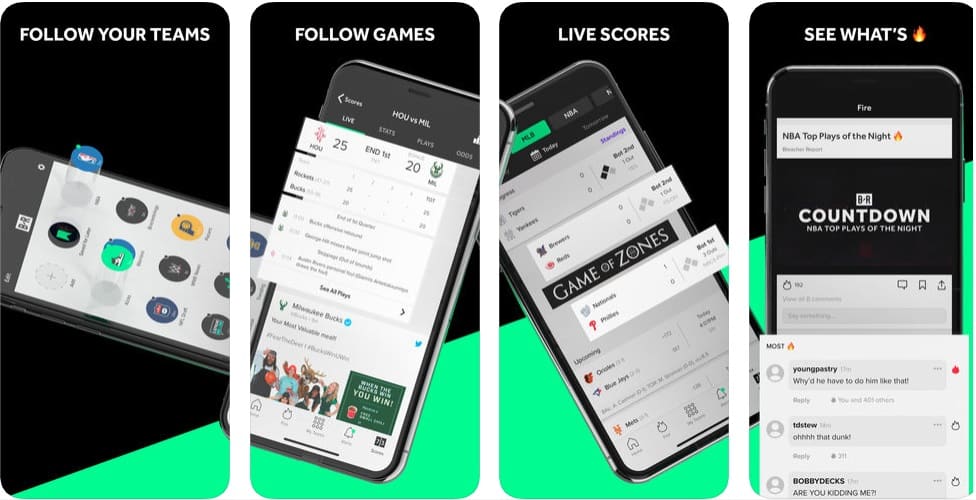 Despite not specialising in football or the Premier League, the Bleacher Report app is very detailed, offering regular match predictions, along with a live score feature. The app also allows fantasy football fans to sync their account and take advantage of all the latest stats surrounding their players. In terms of the advantages for betting customers, the Bleacher Report app comes with in-depth articles, news and videos, which can all be personalised surrounding a particular team or competition, such as the Premier League.
These are just a sample of the Premier League mobile apps that are available to punters today, with all potentially having the ability to increase your success levels when it comes to placing bets on the world's standout domestic league. It has never been more important to carry out research before backing your favourite teams, with the English top-flight being known for its unpredictability.
This season, we have seen a whole host of surprise results, with anyone having the ability to pick up three points on their day. So, be sure to take advantages of such platforms, with a huge amount of information being available at your fingertips.