BEST SPORTS SPREAD BETTING SITES
Online sports betting has revolutionized the industry in many ways, introducing new markets and making existing markets much more exciting. Spread betting in the UK was already popular for decades, but it outpaced fixed odds betting thanks to the emergence of new markets. It gives punters a chance to bet on matches where there's a big disparity between the teams or players.
This isn't fixed odds betting and you won't be picking a winner. Instead, you'll be putting your money on the accuracy of the wager rather than a win or a loss. Also referred to as the line, spreads are used to even the odds between unevenly matched teams or players, leveling the field to give punters a fair game.
In this article, we'll review the top-rated UK spread betting apps and tell you more about this type of betting. It's popular for sports betting and financial markets too. We'll stick to sports betting this time, explaining how it works in football, horse racing, basketball, tennis, and other sports.
We'll also recommend the best spread betting sites in the UK. They're legit and wildly popular these days, especially among punters who are fond of betting on spreads.
UK Spread Betting Apps & Sites
There are two big players on the UK spread betting market, each one with a large fanbase. Spreadex and Sporting Index are two different betting sites where punters get odds on a variety of markets including spreads. They also come with a slew of bonuses and promotions such as free bets punters may be able to use on spreads and other markets.
Spreadex
Spreadex is a special spread betting site regulated by the UK's Financial Conduct Authority. It also offers fixed odds betting, financials, and has a casino, offering the full gambling package to the UK punter. Licensed and regulated by the UKGC, it's a perfectly legit betting site that also supports Responsible Gambling.
UK punters looking for the best point spreads shouldn't look further than Spreadex. As the name makes it clear, the site is fully focused on spreads across a range of sports. Those include tennis, football, horse racing, greyhounds, golf, cricket, and more. Punters can click on the appropriate section and they'll be brought to the right section where they can easily place their bets.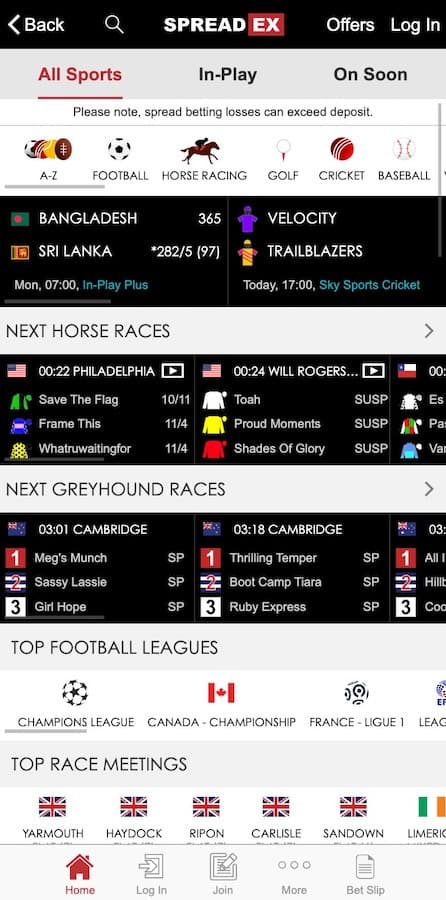 The website is pretty nicely designed and has a very intuitive interface on mobile devices. You can download the mobile spread betting app on Android or iOS smartphones and tablets and place spread bets anytime and anywhere.
There's a great welcome offer for new accounts on fixed odds and spread betting. The latter includes two free £5 spread bets plus a massive £300 cashback. Spreadex follows that up with a range of other enticing offers that you can use to win even more with your spreads. Make sure to check the promotions in-depth and see how to claim spread-free bets.
Sporting Index
Sporting Index calls itself the world leader in spread betting, and it may be right. A true hit among UK punters, it offers a wide range of spreads across dozens of sports. The intuitive layout makes it very easy to find what you're looking for, with selected markets featured in the center. As a betting site focused on spread betting, it has a detailed What is spread betting? guide that should clear up any confusion for new punters.
Part of the Responsible Gambling program, Sporting Index warns its punters that spread betting can result in great losses, which is a nice touch that should keep them in check.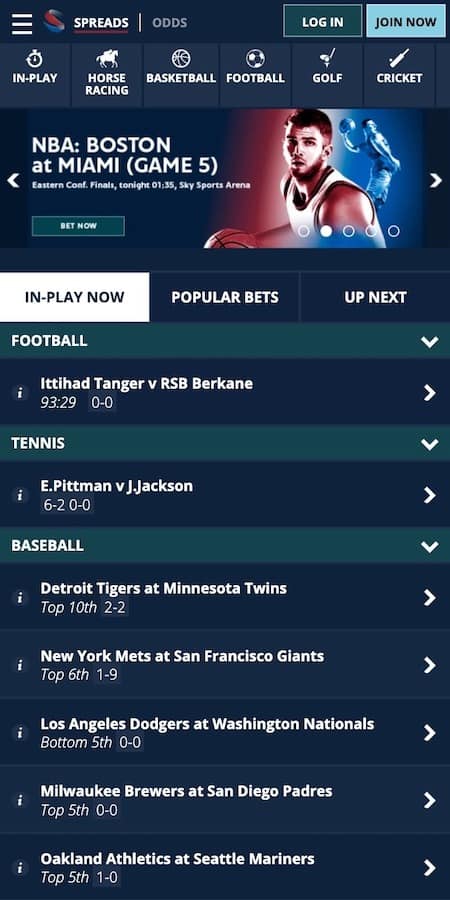 In regards to spreads, you can put your money on everything you can think of. Featured tennis, horse racing, golf, darts, and football spreads are featured in the middle of the site. Both in play and fixed odds markets are available too, and it's easy to switch ti live betting markets right away. If you're looking for the most popular markets only, they're right there in the center.
The betting site look great on desktop, but it also has dedicated spread betting apps for the Android and iOS ecosystems. Punters can easily download and install the apps from the Google Play and iOS App store and bet on spreads on the go.
To top it all off, the spread betting welcome offer gives new punters 100% cashback on net losses up to £250. The offer applies to the first five $25 spread bets on qualifying pre-match markets, and is a nice way to start your Sporting Index journey.
Spreadex vs. Sporting index
You probably know the saying 'The devil is in the details'. Spreadex and Sporting Index are too close to make a call which one's better, so all that's left is to choose the one that suits you better. Spreadex has a slightly better range of markets, with the odds more or less similar between the two spread betting sites.
The welcome offer differs too – Spreadex has two free bets while Sporting Index went with a cashback offer. If you're in the market for a new spread betting site, make your choice carefully. One thing's for sure – whatever you pick, you won't go wrong.
What is Spread Betting?
Spread betting is a form of betting where punters don't bet on the match winner, but the spread line set by a bookie that involves points or goals. How does spread betting work? To understand it, you must understand the Buy and Sell part of a spread bet.
Let's use a football match for example. If the bookie offers a line of 1.9-2.1 goals, it means that we expect the match to have about two goals. When a punter thinks there will be less than two goals in that match, he puts money on Sell. If they think there will be over two goals, they Buy. It's that simple.
How Does Spread Betting Work?
As mentioned earlier, spread betting can be most easily described using the Buy and Sell parts of the bet. We're going to demonstrate a few examples of both sells and buys so you can easily understand what spread betting is like.
Selling
The prediction of what will happen in a specified market on a sports match in UK spread betting is expressed as a Sell-Buy range. Once again, let us use a football match for example since the Premier League is among the top markets for UK punters.
Let's say that Liverpool are playing Manchester City, and you see a 2.9-3.1 range at Spreadex. If you choose to Sell, you're betting that the market will end lower than the range. In essence, you're betting that less than three goals will be scored.
The odds for buying or selling can differ quite a lot depending on the teams involved. The betting site makes a difference too, so the Sell odds in this case would be different at Spreadex and Sporting Index.
Buying
Using to spread betting rules, you would Buy if you think the teams will score more than three goals in total. The odds should be different between the bookies, so you get to pick the ones with the better value.
Both Buys and Sells are available via the top spread betting apps. They allow you to put your money on what you prefer anytime and anywhere, which is great since time is of the essence when it comes to spread betting.
Spread Betting By Sports
Football Spread Betting
We already provided an example for football spread betting. In short, you sell if you think the end result will be lower than the range, or Buy if you think it goes over. It's the simplest example of spread betting in the UK, and one that's widely applied to Premier League or Champions League matches.
American Football (NFL) Spread Betting
NFL spread betting is very popular around the world, especially during the Superbowl. To cover the spread, you put your money on the odds offered by the betting site – for example, -5.5 for the Cowboys against the Giants (+5.5). In this case, teams have to win or not lose by the line set by the bookie. There are plenty of variants available at Spreadex and Sporting Index, with the odds varying for regular season, playoffs, and Superbowl matches.
Golf Spread Betting
Golf spread betting is one of the most popular markets at Sporting Index and Spreadex. It allows UK punters to put their money on markets that cover all PGA tours, including European tournaments, the Champions tournament, all PGA tourneys, and a variety of Asian, Australian, and LPGA events.
The bookie will make several predictions on a tournament, and it's up to punters to choose to Buy or Sell. There will definitely be a few individual markets such as Finishing Position, Hotshots, or Match Bets, each one with exciting odds.
Horse Racing Spread Betting
Spread betting on horse races is more than just predicting the winner. It gives you a chance to back a horse on a particular race and take advantage of many other markets that cover full festivals. The betting site will offer a spread of, for example, 34-37 across a few races. The number represents the points jockeys score for finishing 1st, 2nd, or 3rd. You can then put your money on a Buy or Sell depending on what your hunch is about a jockey or horse.
Basketball Spread Betting
In basketball spread betting, punters are looking to cover the spread offered by the bookie. Basketball spreads work best in a match between uneven teams. For example, when the Bucks play the Magic. In this case, the Magic might have a line of +12 in comparison to Bucks' -12. With this example, you can back Orlando not to lose by more than 12 points, or Milwaukee to win with 12 or more.
Basketball spreads are especially popular in the USA, with thousands of punters enjoying them during the Playoffs and NBA Finals.
Tennis Spread Betting
Tennis spread bets are expressed with lines such as +2.5 or -2.5. These represent the number of games a player wins over their opponent. Choosing to Buy means putting your money on over, while Sell is going the other direction.
Tennis spreads are popular when two great players are locked in a battle with each other where it's too close a call to pick the winner.
How can I place a spread Bet?
For new punters, sports spread betting can be confusing. That's why we're here to help. We'll show you how to place your first spread with simple examples that will make it easy to repeat the process later. Your first bet should be a smaller one. It's best placed in a low-volatility market where the outcomes won't stray far from the Buy and Sell prices.
Total football goals is one such market that's not highly volatile. You could go for a 2.8-3.0 range and settle for smaller losses should the match end in the unpopular 0-0 draw.
If you use a Buy bet in this market with a stake of £5, you'll only lose £15 in case of a 0-0 draw. The formula for this is (settled price – buy price) x stake, so (0-3) x £5=£15
If the game ends in a 3-3 thriller with six goals, you'll make a £15 profit
It' similar to place a bet on cricket, horse racing, and other markets as well. However, Total Goals in a football match is a good starting point for new UK punters, as you can easily work out the worst-case scenario and learn how much you could lose. In this case, it's a goal-less draw
At spread betting sites such as Sporting Index, you have a widget that allows you to clearly check your profits or losses using the interactive widget. You simply enter your stake, choose Buy or Sell, then use the slider underneath in a 'make-up' for the market to see the potential profits or losses. In this way, you'll always know where you'll stand without having to work out worst-case scenarios by yourself
What is the difference between Spread Betting and Fixed Odds Betting?
If you're new to spread betting apps, you've probably only done fixed odds and live betting previously. These two markets are wildly different. Where fixed odds betting requires an exact prediction, sports spread betting gives punters a lot more room to maneuver.
Fixed odds betting profits are typically smaller in size compared to spreads
Spreads give you better chances to win your bet not worrying about who wins the race in the first place. It's not about winning – it's about guessing an estimate prediction of an outcome in an event
Let's use the race at Cheltenham as an example. Say there's a horse you like at 2/5 odds to win. If you put a bet of £5 on it and the horse wins, you will only get a profit of £2 (for a total win of £7)
With a spread bet where 50 points are awarded for the winner and the spread is 35-38, the win would be £60
As both Sporting Index and Spreadex warn their customers, with spread betting, you can lose much more than the initial stake
This is unlike fixed odds betting where the most you can lose is your original stake. To put things into perspective using the aforementioned example, if the horse you've backed finishes second, it scores only 25 points. In that case, with a bet of £5 you'll lose £65 (25-38 x £5). This is why it's important to remind yourself to gamble responsibly
Sports Spread Betting Tips for the Beginners
If this is your first time with sports spread betting, choose a market with low volatility and place a minimum bet to learn how it works
Work out the worst-case scenario – in that way, you'll always know the worst possible losses
Put your sports knowledge to the test – focus on markets you know well
If you need help with online spread betting, don't hesitate to consult Spreadex or Sporting Index's guides. They are detailed and will tell you a lot about spread betting in general
Avoid making the mistake of raising the stake to secure bigger profits. Stop chasing your losses – it will only result in a lot of money lost with no profit in sight
Spread Betting Glossary
Stake: the bet you place on the Buy or Sell market. Also known as wager or stake.
Points: the number of points by which one team or player is favoured over the underdog.
Buy: use the Buy market if you think the final result of the event will be greater than the Buy price.
Sell: it's the complete opposite of Buy – put your money on Sell if you think the event will end with a lower price than the Sell market.
Spread: this term indicates the difference between the Buy and Sell prices. It's where the betting site makes profit.
Volatile: a technical term that measures the amount of the price that goes up or down. Price changes can sometimes change rapidly, indicating a highly volatile market.
Collateral: the amount a punter needs to cover potential losses in a spread bet.
Push: when the result of an event lands on the betting number and all bets are refunded.
Supremacy: a team's dominance over the underdog, usually express in goals in football betting.
Total Corners: indicates the expected number of corners in a football match.
Bookings: a term that describes the total number of bookings in a match. Typically, the top spread betting sites give 10 points for a yellow card and 25 for a red.
Win Index: indicates the points teams get for a win, loss, or draw. They get 25 points for a win, 10 points for a draw, and zero for losses.
Rainbow Goals: an exotic bet on a few goals or lots of goals. For example, 0-5 goals are worth 25 points, 1-4 goals are worth 10, and 2-3 goals are worth 0 points in spreads.
Final Thoughts
Spread betting is an exciting way to bet on estimates rather than predicting the winner in a match. It's far more lucrative than fixed odds betting, but more volatile and riskier too. With sports spread betting, you could end up losing more money than the initial stake. That doesn't happen with fixed odds betting, so you should be warned about it before you try it.
Luckily, the UK's best sports spread betting site (Spreadex and Sporting Index) do exactly that. Both sites give you a clear idea of what to expect out of spread bets, with helpful guides that will walk you through your first bet.
If you stick to the Responsible Gambling guidelines and you don't go wild, spread sports betting can be profitable and fun. Start small and build your bankroll up and use low volatile markets in the beginning to learn how it works. Once you master the art of spread betting, you can use it to your advantage.
FAQ
What does spread mean in betting?
The spread, also known as the line, is set by a bookmaker to even the odds between to unevenly matched teams. Spreads allow punters to get equal action on both sides of the game, represented by the Buy and Sell markets.
Is Spread betting legal in the UK?
Yes, it is. Punters can place bets on spreads legally in the UK at the two best sports spread betting sites – Sporting Index and Spreadex.
Is spread betting different from fixed odds betting?
Yes, it is. First of all, it allows you to predict an event as accurate as you can compared to the win or lose scenario set by fixed odds betting. Spreads can be much more profitable than fixed odds markets, offering more than just two possible outcomes.
What are the best spread betting apps?
Spreadex and Sporting Index have the two best spread betting apps in the UK. They are both available on Android and iOS devices and can be used to bet on spreads on the go.