Unibet are a bookmaker with over two decades worth of experience to their name, with their sportsbook having attracted a large number of punters over the years thanks to its range of markets and tech-savvy features.
Unibet are also undoubtedly one of the leading platforms when it comes to mobile betting, with the Unibet mobile app providing an efficient way for customers to place bets on the move. Unibet are licensed and regulated by both the Malta Gaming Authority and British Gambling Commission, while they accept a huge number of banking methods, helping them to stand out from the crowd in a hugely competitive industry.
Free bet bonus up to £30, along with a £10 casino bonus. Despite not offering any form of specific mobile promotions, those looking to claim their Unibet free bet can do so by following these simple steps:
Those receiving their Unibet welcome offer bonus funds after placing an unsuccessful bet will have to complete some wagering requirements before withdrawals using it can be made, with sports bonus cash having to be wagered x3 or more within just seven days.
If your first bet wins, you collect your winnings as normal. If it loses, you get a refund of up to £30. In short, the more you stake on your initial wager with Unibet, the more you benefit from this offer
Meanwhile, casino bonus funds must be wagered x35 before withdrawals can be made. Any bonus cash not wagered within the seven-day period will be lost.
Unibet Mobile App
Unibet App For iPhone & iPAd
Unibet offer a range of mobile apps, with sports fans able to place bets at all times thanks to their detailed platform. Android users are able to download the app with relative ease, with the speed and easy navigation making the whole user-experience all the more enjoyable.
With the ability to stream sports action live and receive notifications regarding your wagering, the Unibet Android app is certainly worth taking advantage of, with the following steps required in order to complete the download process.
HOW TO DOWNLOAD Unibet APP FOR ANDROID
Ensure that your Android device is set up to accept downloads from unknown sources.
Enter the Unibet website via your device.
Tap on the "Apps" tab in the top-right hand corner of the page.
Select the link from Google Play.
Confirm your download and wait for the process to complete.
Open the Unibet app for the first time.
As with the most betting apps for Android, the entire process takes just a matter of minutes and opens up a whole new method of wagering on your favourite sports teams and players, with more and more punters now using the Unibet mobile app as their main betting platform.
Unibet iOS APP
The Unibet app can also easily be downloaded onto iOS devices, with the process being made all the easier by the fact that it is accessible from the App Store. Offering all of the same features as found on the main Unibet desktop site, this app provides everything you need for an enjoyable wagering experience, all from the palm of your hand. Take the following steps in order to download the Unibet app via your iOS device.
HOW TO DOWNLOAD Unibet APP FOR IOS DEVICES
Enter the App Store via your iOS device.
Enter "Unibet" into the search engine.
Tap on the relevant download link.
Wait for the download process to complete.
Open the Unibet app for the first time.
The iOS Unibet app can be accessed in just a matter of minutes, with endless opportunities available to mobile customers doing so. The Unibet app is perhaps even more efficient than their desktop platform, making it an excellent option for those constantly on the move.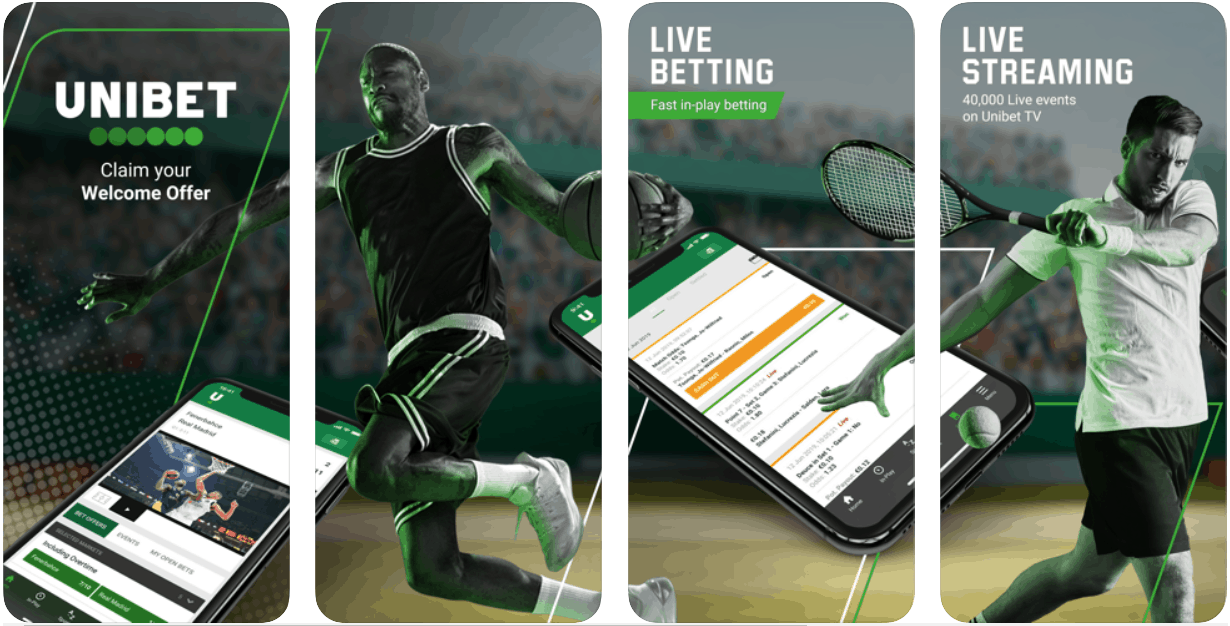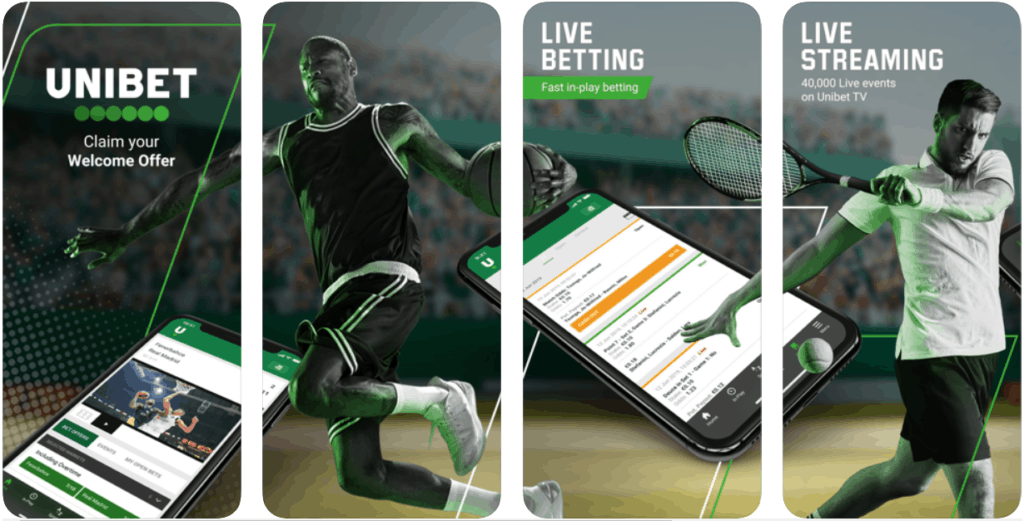 Unibet Betting Features
The Unibet app comes with a range of appealing features, which add up to make the wagering process both stress-free and exciting. The standout features of the app include:
Live streaming is available via the app, with sports such as football, tennis and basketball regularly available to watch. Over 40,000 events are streamed throughout the year on the app, with the ability to simultaneously view and bet upon world class sporting action offering a hugely exciting form of wagering.
For those looking to keep up to date with all of the action as it unfolds, Unibet offer the opportunity to receive up-to-date notifications surrounding sporting events.
Customers are also able to easily access some of the best markets available in just a matter of seconds thanks to the "Most Popular Bets" tab, making navigation quicker than ever.
Acca Betting
Accumulators already deliver bigger profits than single bets, and with Unibet's Multi-Boost offer, the rewards get even greater.
Multi-Boost can be used once per week to inflate your profits on a football Unibet acca, with the size of the boost depending on the number of selections. You can get a 5% boost on a three-fold, 10% on a four-fold, and 15% on a five-fold or more. The maximum boost is a sky-high £1,000, and – even better – the minimum odds for each selection are a mere 1/5 (1.20), allowing you to build your acca out of relatively safe options.
Unibet Predictor Game
All bets are ultimately predictions, but the Unibet predictor game – called Football Extravaganza – offers enormous potential returns… with no stake required from you!
There's a mighty £50,000 available to be won on each round, and – to be in with a chance – all you need to do is answer some questions on major upcoming games. There are six questions, and if you get them all correct, you'll win either the entire jackpot, or split it with another budding Nostradamus. The questions are multiple-choice and extremely straightforward, ranging from 'Who Will Win?' to 'How Many Goals Will Be Scored?'
Cash Out
No matter whether you are wagering via the Unibet desktop site or mobile app, a number of betting markets offer up the chance to cash out bets, which is when punters effectively settle their bet, before the completion of all selections.
The cash out feature at Unibet is now available on over 20 different pre-match football markets, along with in-play and outright markets surrounding the beautiful game. As well as this, fans of tennis will be pleased to hear that cashing out is also available on outright markets and place 1-2 bets from both the men's and women's tours.
Unibet offer a certain amount of your potential winnings, based on the current scorelines of your bet picks. This tool is now a must have for any bookmaker, with punters using it to ensure that they remain left with some cash, even when things do not quite turn out as expected.
Live Streaming and In-Play Betting
Live betting makes up a significant part of Unibet's sports markets, which is also the case on their mobile app. In-play betting has long been one of the most popular forms of wagering on sporting events, due to its unpredictable nature and potential rewards. Sports including football, tennis, basketball and American Football are among the most commonly found on Unibet's dedicated in-play platform.
Elsewhere, live-streaming is undoubtedly one of the most appealing features found on the Unibet app. A whole host of sporting events are available to watch in high-definition via your mobile device, with major football matches from around Europe streamed on a daily basis, along with tennis events from both the ATP and WTA Tours.
Free Bet Club
Just about every modern bookie will offer an in-play feature, but this bookie takes things to the next level with the Unibet Free Bet Club.
To join the Unibet In-Play Free Bet Club, you must place at least five in-play bets of £10 or more within a calendar week (i.e. Monday – Sunday). The minimum odds are an entirely reasonable evens (or evens per selection with a multiples wager), and you can stick the bets down on football, cricket, tennis, darts or basketball. Satisfy those requirements each week, and you'll be rewarded with a shiny £10 free bet, eligible to be used on the same markets. Nice!
Bet Builder
Many modern bookies will offer a 'bet builder'. These handy tools help to simplify the process of putting together a multiples bet, whether pre-match or in-play. Unibet take this a step further, though, by actually building an enticing offer around their bet builder!
The promotion is called 'Bet & Get', and to take advantage of it, all you need to do is create a multiples wager on the Unibet Bet Builder. The bet must have a minimum stake of £10, at least three selections, and be at odds of at least 3/1 (4.0). Fulfil those criteria, and you'll be given a £5 free bet, with no strings attached in terms of markets or odds.
Unibet Markets
Football
Given that it's the most popular betting market around, it's no surprise to see that football is a massive focus on the Unibet mobile app.
The football section is split neatly into 'In-Play & Upcoming', 'Outrights' and 'All Football', meaning you can generally find whichever specific market you're looking for with the press of a button and a couple of swipes. There's a huge selection of competitions from across the globe to bet on – both pre-match and in-play – and every major bet type is supported here too. Excitingly, the app also features live streaming of some of the biggest contests around, including the FA Cup.
Horse Racing
You can bet on horse races all around the world from within the Unibet sports app, including the UK & Ireland, USA, France, South Africa, and even South America. Unibet help to deliver value on those bets via a number of ongoing promotions, including classic 'Best Odds Guaranteed' and 'Extra Places' deals, both of which are applied automatically for you.
When it comes to the biggest horse racing events on the calendar – like the Cheltenham Festival and the Grand National – Unibet pull out all the stops. Not only is every race covered on the app by an extensive range of markets, but they also create event-specific promotions to help deliver even more value to bettors.
Cricket
Cricket tends to be an underrated betting market… but that's certainly not the case with Unibet! Hundreds of individual markets are usually available at any one time through the app, covering the biggest international competitions through to more modest domestic leagues.
Bets are available in pre-match, in-play or outright forms – which you can switch between instantly thanks to a handy scrolling menu – and cover everything from simple match winner through to the total 6's in an innings. There's also live streaming available – which includes international contests – directly through the app.
Golf
Compared to the aforementioned markets, Unibet's coverage of golf isn't quite so impressive. While there are over 100 bets available at the time of writing, these are heavily focused on a few massive events like the Masters and US Open, ignoring the many smaller events which make up the PGA Tour.
If that's all you want to bet on anyway, you'll still find a typically intuitive layout in the app through which to do so, with all those famous contests laid out in one simple scrolling menu.
Virtual Sports
Virtual sports might seem niche to outsiders. In recent years, though, they have grown in popularity enough to become 'must-have' features for many major bookies.
On the desktop site, Unibet have a full range of football, basketball, tennis and racing virtual sports, which are taking place constantly. It's very strange, then, to see that they are not included in the Unibet mobile app, particularly when there are such excellent streaming options elsewhere on the app.
The extent to which this bothers you depends entirely – of course – on how much you care about virtual sports!
Other Apps & Services
Like most modern betting sites, Unibet offers far more than just a sportsbook. The two other biggest parts of its business are the casino and poker sections, with each having their own dedicated apps available. Those apps are both available on iOS via the App Store, and on Android devices via direct download on the Unibet 'Apps' page. There's also a Lottery app, which links up with some of the biggest lotteries around the world, but this is currently only available for Apple users.
Unibet Deposit Options and Banking
Those depositing via the Unibet app can do so through all major credit and debit cards, as well as e-wallet platform Skrill. All available methods allow for immediate deposits, allowing customers to take advantage of ever-changing markets prices. It is worth noting that there is a 5% charge for those depositing via Skrill. Meanwhile, withdrawals can be made via the same methods, as well as Neteller and bank transfers.
One of the biggest benefits you get from betting with a premium bookie is a wide range of deposit options. Unibet fit the bill perfectly here, and are pleasingly relaxed in terms of their fees, minimum payment amounts, and so on.
For starters, most deposits are processed extremely quickly. Newer online payment systems – like PayPal – will usually go through instantly, or may take 2-3 minutes at most. Bank transfers require slightly longer, at 2-3 days, but there's nothing Unibet can do about that. Withdrawals are a little slower, as with most bookies, but many will still be completed within 48 hours. Bank transfers, and withdrawals to credit/debit cards, can take anywhere from 1-3 days.
There are no fees attached to any Unibet payments, which is obviously great. The minimum deposit amounts are relatively low – at £5 for credit/debit card, Skrill and Neteller, £10 for Paysafecard and PayPal, and nothing for bank transfers – and the minimum withdrawal amount is an industry standard £10.
Security and Safety
You can never be too careful when real money is on the line, making questions like 'Is Unibet safe?' perfectly legitimate. Fortunately, the answer here is a definite 'yes'!
All data sent between your mobile device and Unibet is heavily encrypted, as are your payment details. Unibet also have a robust Intrusion Detection System in place, and a dedicated fraud department monitoring suspicious activity. Finally, Unibet is fully licensed and regulated by both the UK Gambling Commission and Gibraltar Gambling Commissioner, ensuring it's constantly held to industry best practices.
About Unibet
Unibet was originally formed in 1997, launching its online operation in 1999 and an online site in 2004. Its growth in the two decades-plus since then has been staggering, with over 1,500 employees now on the books, offices across Europe and in the US, and more than a million registered customers. Nowadays Unibet is headquartered in Malta, and owned by Kindred Group, who also run the likes of 32Red and Bingo.com.
In recent years, Unibet's brand awareness has exploded thanks to some incredible sponsorship deals. Alongside a few horse racing events like the Derby Festival, Unibet also sponsor a whole raft of football teams such as Southampton, Leeds, Derby County, and Aston Villa.
Most recently, Unibet have taken advantage of the relaxed gambling laws in the US by starting operations in Pennsylvania and New Jersey, and becoming an 'Authorized Sports Betting Operator' with the NBA. Oh, and they also struck a partnership with chess superstar Magnus Carlsen in January 2020 for good measure!
Bottom Line
Those depositing via the Unibet app can do so through all major credit and debit cards, as well as e-wallet platform Skrill. All available methods allow for immediate deposits, allowing customers to take advantage of ever-changing markets prices. It is worth noting that there is a 5% charge for those depositing via Skrill. Meanwhile, withdrawals can be made via the same methods, as well as Neteller and bank transfers. Withdrawal time for Unibet app users ranges between 24 hours and 5 days depending on the method selected by the customer.
Unibet FAQ
On what Odds do I get the sign up offer?
Minimum qualifying odds of 2/5 on a single, or 2/5 per selection on a multiple.
Does Unibet offer any free bets promo?
Yes, the brand offers these kind of promotions via the Unibet Free Bet Club.
Is Unibet regulated?
Yes, the company is regulated by the UK Gambling Commission and Gibraltar Gambling Commissioner.
[/nk_awb]