THE POOLS MOBILE APP REVIEW
Pools betting is one of the oldest forms of sports gambling around. For decades, punters have piled their stakes together to form a larger wager, then divided up any rewards accordingly. Most modern sportsbooks ignore this historical practice, but The Pools – as its name suggests – is looking to bring it back. In addition, there's also a fully-featured sportsbook in place.
In our comprehensive The Pools review, you'll learn everything you need to know about the mobile features for this fascinating, unusual brand. We'll cover their special offers, betting markets, the general quality of their mobile apps, and plenty more besides.
The Pools New Sign Up Offer
The Pools has been around for a few years now, but is still relatively unknown. In an effort to correct this, and persuade new users to sign up, The Pools have put their 'Sports Betting Welcome Offer' in place. This gives you £15 in free bet credits, but only if you spend £20 beforehand.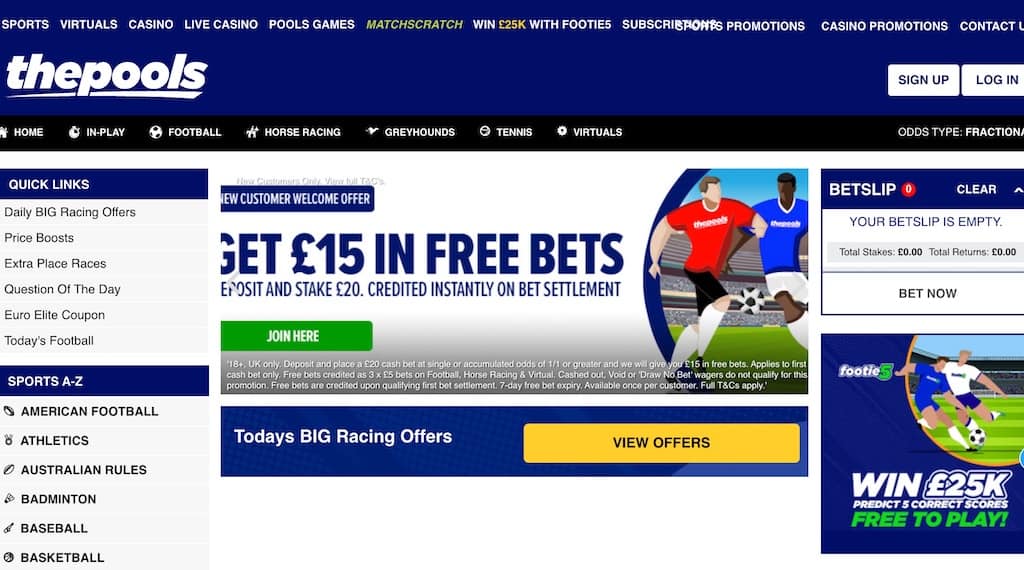 Let's take a look at the most important T&Cs for this deal:
Must deposit and bet at least £20

Qualifying wager must be at evens (2.0) or greater

Receive 3 x £5 free bets

Free bet tokens will expire seven days after being awarded

Free bet stakes not included with winnings
This isn't the most spectacular welcome offer in the world. Normally, you want to get at least a 1:1 return from betting sign up offers. In this case, you're getting £15 in rewards for a £20 spend. That's still acceptable value, but it's not brilliant.
With that said, there are definitely things to like about this deal. For starters, the minimum qualifying odds of evens are definitely fair. Even better though, is the fact that your rewards are split across three separate tokens, allowing you to spread your exposure when using them and thus lower your risk.
The Pools Mobile App
Newer or smaller brands often struggle to provide a standalone mobile app. We're very pleased to say this is not the case with The Pools, who have indeed managed to put mobile apps in place for both iOS and Android users.
Generally speaking, this carries all the functionality of the main desktop site across to your mobile device. All the main features have been ported over, including the in-play betting tools, special offers, virtual sports, and more. Naturally, all of the same markets are also available to bet on, and you can manage your account, or contact the customer service team, as well. Certain features have also been added specifically for mobile users, as you can see in the two subsections below.
iOS App
The Pools' iOS app is available directly from the App Store, and should work on all iPhones and iPads with relatively recent software updates. It averages a mediocre 3.1/5 rating, at the time of writing. In fairness though, this is only across 30 or so reviews, which is a very small sample size.
We actually found the iOS app easy to use on an iPhone. Pleasingly, it has a couple of mobile-specific features to make your life a little easier. You're able to log in very quickly indeed using Touch ID, for example, rather than entering your username and password. You can also enable push notifications, which will instantly notify you about the latest special offers, and keep you up to date with the ongoing action.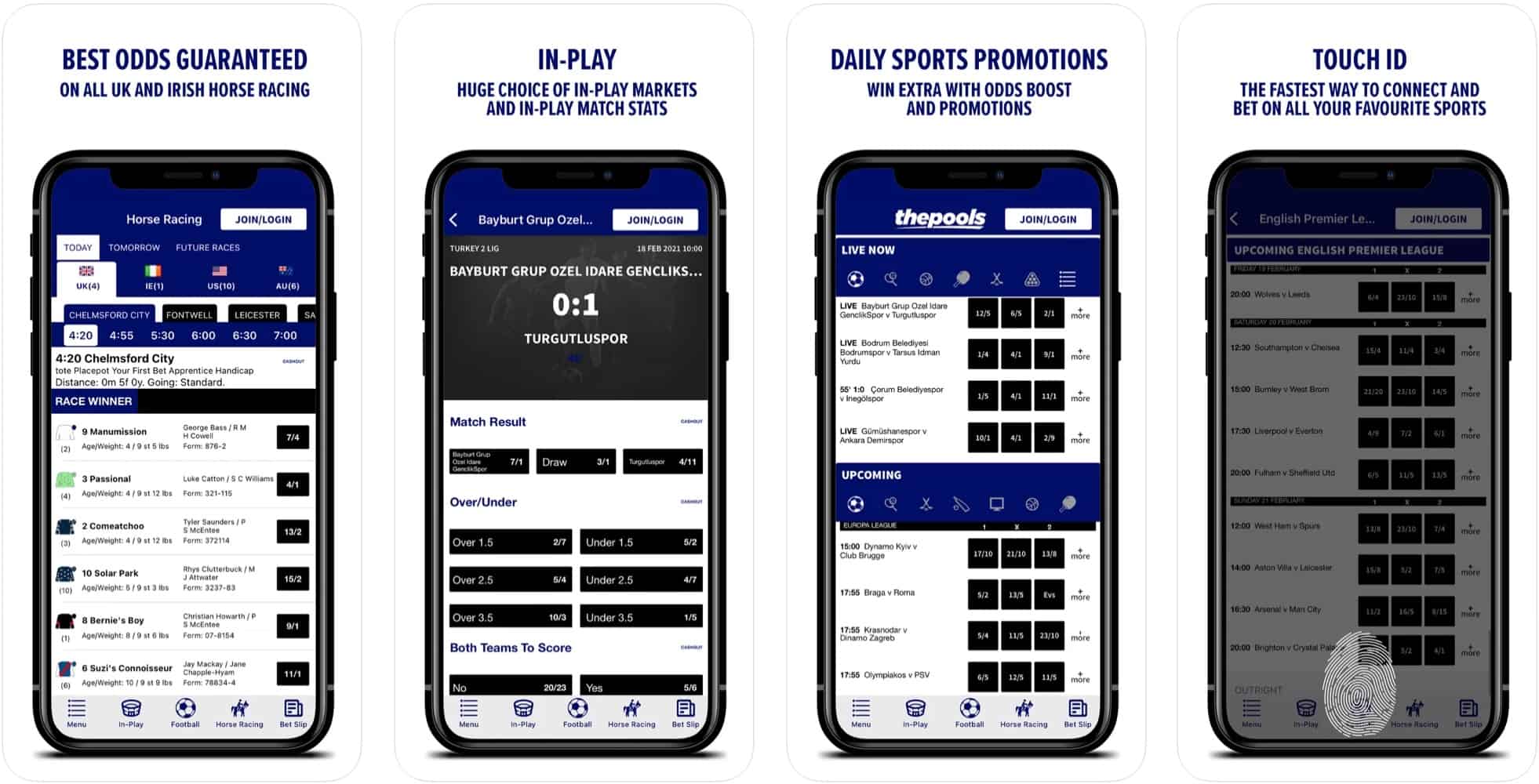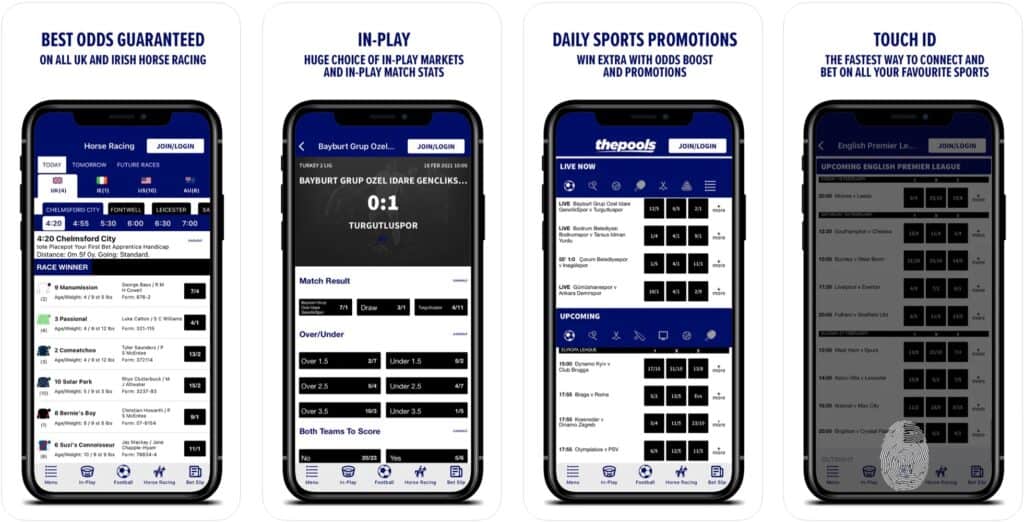 Android App
In addition to the aforementioned iOS app, The Pools also have an Android version in place. Again, this is available directly from Google Play, with no need for you to download an APK file from elsewhere. It has similar benefits too, with Touch ID and push notifications being available alongside all the usual features.
As before, the user reviews aren't great for this app. Android users have only given it a 2.3/5 rating, at the time of writing, across 40 different reviews. We still believe this is harsh though, having not experienced the bugs and crashes mentioned in some of this negative feedback.
Other The Pools Apps
Like many betting companies, The Pools provide a casino section alongside their sportsbook. Strangely, while both these areas have been included in the Android app – allowing you to switch between them at will – only the sportsbook is featured in the iOS version.
Elsewhere, The Pools have split their 'Footie5' feature off into its own separate app. We'll explain exactly what Footie5 involves shortly. For now, simply know that this app enjoys a much better reputation than the sports betting one, averaging an amazing 4.8/5 on the App Store right now.
Advantages of The Pools Betting App
Its reputation among other users might not be the best, but we largely enjoyed our time with The Pools betting app. Most of this was spent with the iOS version, but we believe the same positives will also apply to its Android counterpart. Let's take a closer look at some of The Pools' strongest points.
Highly Usable Interface
The Pools haven't tried to reinvent the wheel with their mobile interface. Instead, they've clearly focused on making it functional and straightforward, and this works very well.
From the first time you load the app, you'll find it easy to navigate. A menu at the bottom lets you instantly access five of the most important areas: the Main Menu, In-Play, Football, Horse Racing, and your Bet Slip. By opening the Menu, you can swiftly reach every sports section, and these areas are also laid out very clearly. We also found the actual performance levels to be high, with pages loading swiftly on both WiFi and mobile data, and we suffered no crashes at all during our testing.
Good Selection of Betting Markets
You're able to bet on a truly excellent range of sports in The Pools' sportsbook area, with approximately 30 different options available on the app.
Naturally football betting is the main focus, and has the most individual markets by a distance. Impressively for a relatively small brand, however, The Pools have also managed to provide horse racing. Courses not just in the UK & Ireland, but also the USA, Australia, and elsewhere are all covered here. Backing up these two big-hitters, you'll also find markets on cricket, golf, tennis, motorsports, greyhound racing, and basically every other major sport.
Betting Pools
As touched upon in our introduction, betting pools have become less and less common in recent years. The Pools though – as the name suggests – make this a major focus.
There are plenty of choices in how you actually get involved here. You can join Classic Pools, Goal Rush Pools, Colossus Pools, and several more. Each has different minimum stakes and works in a different way, meaning that – whatever your specific preferences – there should be a pool for you. It's worth noting, however, that pools are not available directly via the app, meaning you must access them via the mobile website instead.
Quick Sign Up Process
It goes without saying that you want to get up-and-running with a new bookie as quickly as possible. This is definitely the case with The Pools, where you can download the app, create an account, and start betting within a couple of minutes.
The process is neatly divided into three key parts. Each of these has only a handful of basic forms, alternately requiring you to enter personal information, or set your account details. Even by modern standards, this is all incredibly straightforward and user-friendly.
Customer Support
As with every betting app, there's always a chance you'll encounter an issue. The important thing is that – with The Pools – these can usually be solved very quickly.
The most convenient way to get in touch is via live chat, which is very easy to access. Ideally we'd like to see 24/7 coverage here, but the current hours of 830am – 10pm are still very good. If your enquiry is less urgent than you can send an email instead, or use the FAQ section. The layout here isn't brilliant, but there's a useful search function to help you find what you're looking for, and the answers are concise and useful.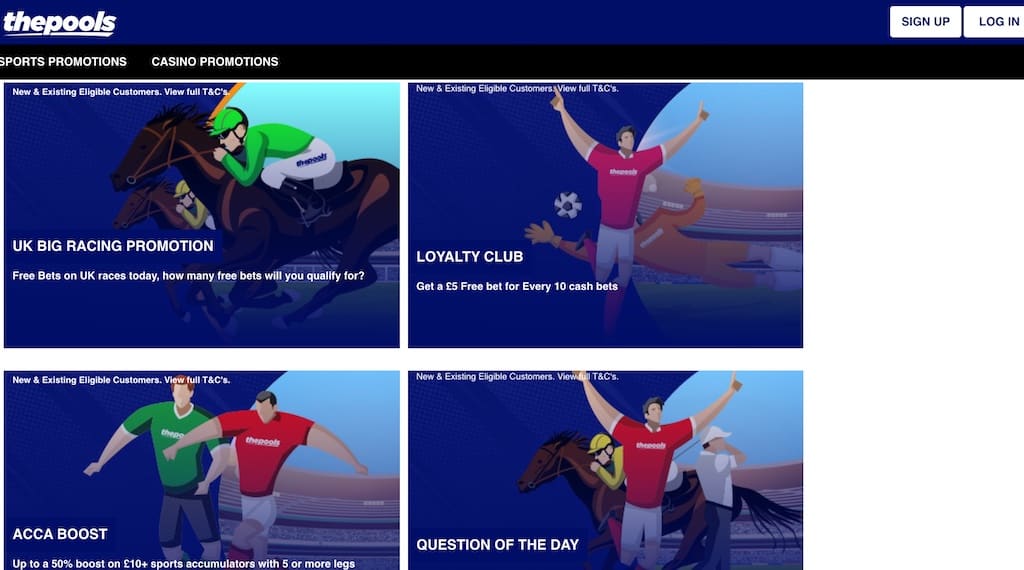 The Pools Betting Features
Unsurprisingly, The Pools' betting app can't quite compete with those belonging to the titans of the industry when it comes to special features. There's still a very respectable selection here though, and you can check out some of the more intriguing tools below.
In-Play Betting
Live betting tools used to be a luxury for a betting app. Nowadays, they're a must-have, and we're happy to say that The Pools definitely steps up to the plate here.
In-play is given an entire section to itself, and this is absolutely packed with markets. There were dozens of betting opportunities for football and tennis alone at the time of writing, and the likes of cricket, golf, and eSports also enjoy good coverage. The odds updates aren't the fastest we've seen, but are still regular enough, and the placement of in-play tools is fairly speedy too.
Cash Out Tool
Like every modern-day brand, The Pools don't just let you place live wagers on their betting app, but cash them out too. Only full cash outs are available though, not partial ones.
You can easily check your betslip at any time, to see which of your current bets have three gold coins next to them, thus showing they are eligible to be cashed out. You'll be subjected to the same annoying blackouts as with other betting apps, of course, while the odds are updating, but this isn't unusually frequent on The Pools. When you are given the chance to execute a cash out tool, then – as with the placement of bets – you'll find the tool to be pleasingly responsive.
Useful Statistics
The Pools betting app only features streaming for horse racing. You're still given plenty of support with your in-play gambling for other sports though, however, not just via a very good visualisation tool, but also through a useful selection of live statistics.
These stats are provided by Statscore, a well-regarded Polish company. They provide a constant influx of new information, with the football data particularly detailed. You can get constant updates on everything from possession to corners as a game is going on, and there's pre-match information on each team's form and their head-to-head record too.
Footie5
Footie5 is easily one of The Pools' biggest claims to fame. As mentioned earlier, the app for this feature has far more reviews than that for The Pools' main sportsbook, and those reviews are vastly more positive too. If you'd prefer not to download either app, you can access Footie5 directly through The Pools' mobile site.
At a basic level, Footie5 is a high quality predictor game. Each round, you must choose five major matchups to predict. You're free to pick between a pretty wide range of options across the Premier League, Championship, Leagues 1 and 2, and the Scottish Premiership. Once you've settled on your fixtures, you must guess what the actual scores will be in each case. The Pools give you a few helpful stats to help you here, including the two teams' head-to-head record, and information on what outcome other users are selecting.
All entrants will be put automatically into a leaderboard. If you finish top, you get a £250 prize. If all five of your guesses are completely correct, you'll be given a mighty £25,000 reward. Better yet, Footie5 is completely free to enter, meaning there's really no reason not to give it a shot.
Daily Promotions
All good betting apps will update their special offers regularly, but The Pools take this to another level. Of their impressive range of ongoing promotions (detailed later), many are refreshed every single day. In short, there's always a reason to boot up the app and check out what's available.
Question of the Day is arguably the best example of this. Like Footie5, it's a free-to-play predictor game. Each day, you'll be asked to make a very simple prediction, such as guessing the result of a standard 1/X/2 football market. Get this right, and you'll be given a tidy little £1 free bet, with no strings attached. In addition to this, The Pools also offer new deals on horse racing each day.
Virtual Sports
Thanks to the insatiable appetite of the betting public, many bookies have turned to virtual sports as a way to provide a constant stream of new markets. The Pools have followed suit, and their full range of virtual sports can be viewed and bet on via their betting apps.
The two most popular virtual sports options – football and horse racing – are both in place here. For the latter, you can actually wager on either flat or jump races. There's also motor racing, greyhound racing, and even table tennis. The graphics aren't the best we've seen, in any of these markets. They're passable though, and the streams both load quickly and run smoothly on a mobile device. New events kick off constantly, and – for football especially – there's a very good range of bet types to choose between.
The Pools Markets
We touched upon this earlier, but it bears repeating. The selection of betting markets on The Pools' betting app really is impressive, with dozens of different sports being covered. These include all the biggest classic options for British punters, plus a nice collection of mid-sized markets and niche choices too. There's also a solid amount of flexibility in the bet types you can place, and the odds are generally competitive throughout the platform.
Football
Football is the biggest market for British bettors online, so it's no surprise to see that The Pools have made it the clear focus of their betting app. The actual betting pools section is dominated by football markets, and the same is largely true for the sportsbook.
Regarding the latter, you'll find an absolutely enormous range of matches available to bet on at any one time. Obviously these include top European competitions like the Premier League and Champions League, but there's also tremendous depth here, with leagues from Bhutan and Bulgaria through to Senegal and Venezuela being covered. The coverage for live betting markets is similarly exceptional, and there's relatively little drop-off in bet types compared to those available pre-match.
Horse Racing
Horse racing can be a little difficult to license as a betting market, which is why many younger brands simply can't provide it. Impressively though, The Pools have managed to overcome this hurdle.
As mentioned earlier, courses from all around the world are available to bet on here. This means there are new races to gamble on throughout the day, every day. Better yet, horse racing is one sport that you actually can watch live via The Pools' betting app, with events in the UK, Ireland, the USA, and elsewhere all being available for streaming.
Tennis
Tennis has long been one of the most popular betting markets, among both desktop and on-the-go punters. As in other areas, The Pools can't quite compete with the biggest apps with their tennis section, with the interface here being relatively clumsy.
In terms of the actual market selection though, there's nothing to complain about. All four slams are included, as are a never ending stream of tour events from both the men's and women's games. You can bet pre-match on the likes of Match Winner, Set Winners, or certain props, or wager live set-by-set, or even game-by-game.
Other
In addition to those listed above, The Pools provide punters with a whole lot of other options to satisfy their betting needs. eSports fans can gamble on a few of the biggest titles around, including LoL and Dota 2, while a full range of American sports – including the NFL and NBA – is also included.
The variety is similarly good within the motorsports section, with Formula 1, NASCAR, MotaGP, and more thrown in. Rounding out this selection are plenty of other major British markets, alongside fare more popular elsewhere, like GAA football, Aussie rules, and handball.
After you're done using your £15 free bet from The Pools' welcome offer, you'll still find plenty of other deals to take advantage of. Let's take a look at some of this betting app's most eye-catching promotions for existing customers.
Loyalty Club
In general, we rate 'free bet clubs' as one of the best ongoing promotion types around. Loyalty Club falls into this category, and – although it's not the best example we've seen – it's still a reliable way to score free bets.
To qualify here, you must place 10 separate wagers of at least £5 each. Do so, and you'll be given a £5 free bet. All markets except horse racing are eligible, and the offer can be used once per day, for up to seven free bets per week. While the rewards are hardly spectacular, you don't have to deviate much from your regular betting to trigger the deal, with the minimum qualifying odds only being evens.
Acca Boost
Here we find another classic promotion type, with the version on this betting app being pretty solid. As with other brands, this deal will see The Pools boost your profits on winning accumulators, with the size of the boost depending on the number of legs.
Your multiples wager must have at least five selections to qualify, with a minimum stake of £10 and minimum odds of 1/3 per leg. The more selections you add here, the more the boost will also increase. From 5% for five selections it goes up to 10% for six, 15% for seven, and so on, all the way up to a mighty 50% for 12+ selections.
Best Odds Guaranteed
Here, The Pools ticks another of the most common boxes for punters seeking special offers. Best Odds Guaranteed is an enduringly popular deal, and has made horse racing fans a whole lot of money over the years.
In this case, The Pools' BOG deal applies to Race Winner wagers on all UK and Irish races. As usual, if the starting price is superior to your original odds, you'll automatically be given the SP. If your original odds end up being better, you'll simply keep them. You can earn up to an extra £500 per wager with this deal, and the 'win' part of each ways is also eligible.
Others
Alongside the aforementioned Best Odds Guaranteed deal, The Pools also have a couple more offers for horse racing fans. One – Extra Places – is another classic. As always, this extends the range for the 'place' part of your each way bets on eligible races. The other is called 'Big Racing Promotion'. This nets you a £5 free bet if you spend £20 on certain events each day.
Elsewhere, there are also a couple of promotions specifically for pools betting. Pools Plus gives you a £5 free bet if you stake at least £30 on pool the previous week, while Pools Plus Extra dishes out free spins too if you also stake some money on the casino.
The Pools Deposit Options and Banking
We've generally stayed positive in our analysis of this betting app so far. When it comes to banking options, however, The Pools undoubtedly falls flat.
At the time of writing, there is literally just one option available to you: debit card. You can't use any eWallets, prepaid cards, cryptocurrencies, or even make a basic bank transfer. The website suggested this was the case, but we still contacted the customer service team to double-check, and they confirmed it.
Providing so few choices for bettors, in this day and age, is unimpressive to say the least. While the vast majority of punters will likely have a debit card, those that don't – or don't want to use theirs for sports betting – simply won't be able to use The Pools.
The Pools Deposit Methods
| | | | |
| --- | --- | --- | --- |
| Payment Option | Fee | Time | Min. Deposit (£) |
| Visa/Mastercard | 0% | Instant | £5 |
The Pools Withdrawal Methods
| | | | |
| --- | --- | --- | --- |
| Payment Option | Fee | Time | Min. Withdrawal (£) |
| Visa/Mastercard | 0% | 2-5 days | N/A |
Customer Support
After a major low point in our The Pools review, things do get back on track here. As with any betting app, you want to get any problems you have resolved as quickly and effectively as possible. The Pools do a very good job of helping you out here.
As touched upon earlier, live chat is available here, with solid coverage hours, and it can be accessed very quickly and easily. We sent a series of test enquiries during our research for this review. In each case, our questions were answered in less than a minute, with responses that were concise, friendly, and helpful. If you don't require such an urgent response though, you can simply get in touch via email or snail mail instead.
Many of your questions will also be answered in the FAQ section. There's decent depth here, with a few dozen different entries, although it must be said that a lot of these answers are short to say the least. Most key topics are tackled though, and a search tool can help you find what you're looking for quickly.
Security and Safety
The creators of most betting apps are reluctant to talk about the specific security features they have in place. The Pools really do take this to another level, though.
We scoured both the mobile app and desktop site, and found almost no information at all about security. There's nothing about these features in the entire FAQ section, nor in the main T&Cs. Within those terms and conditions, The Pools do confirm that there's a separation between company and customer funds, but that's about it.
With all that said, there's still no reason to panic here, because The Pools holds a full operating license with the United Kingdom Gambling Commission. This ensures they have been thoroughly vetted, and continue to be held to high standards for both security and fairness. We'd naturally prefer to know what the actual security features are, but – thanks to this license – we're confident the site is safe regardless.
About The Pools
As with the previous section, we were surprised to find almost nothing at all about The Pools themselves on their own mobile app or website. There's no 'About Us' page, nor are there many other details to speak of. One of the few things The Pools do specify is that they're actually based in the UK (in Liverpool, specifically). This already separates The Football Pools Limited – the parent company – from most other such businesses, who prefer more tax-friendly locations.
Some research elsewhere turned up a few more nuggets of information. The Football Pools was actually founded all the way back in 1923, making this a truly historical brand. The company was bought by OpCapita in 2017, before an online sportsbook was finally launched in late 2018. The Pools has continued to add new features in the intervening years, to become the well-rounded betting platform you can see today.
Bottom Line
Overall, The Pools provides a link between the old and the new. You're able to easily join in with one of the older forms of sports gambling – betting pools – but can do so directly from a modern, mobile device. In addition, you also get access to an entire sportsbook, which compares favourably to those operated by much bigger brands.
We found the actual quality of the app to generally be high throughout this The Pools review. It works well functionally, and really does contain an impressive range of features. The lack of payment options needs to be fixed sooner rather than later, but – apart from this – we had no major complaints.
Whether you're interested in trying pools betting or not, we can definitely recommend downloading The Pools' app, grabbing the £15 welcome offer free bet, and testing out this platform for yourself.
FAQ
What is The Pools app?
The Pools have a long track record, but only recently launched their mobile betting platform. Their app lets you join betting pools, or place regular wagers in the sportsbook.
How does pools betting work?
It is essentially communal betting. You join together with other punters, and 'pool' your stakes together into one larger wager. This bet is usually high-risk, high-reward, and – if it wins – the lucrative payout will be split between all the backers.
What sports can I bet on here?
There are roughly 30 different options. Football and horse racing are both included, as are eSports, cricket, golf, tennis, rugby, and plenty more.
What special features does the app have?
Live streaming is available on horse racing, and there's a bet builder for football. There are also in-play and cash out tools available, plus live statistics, a visualisation tool, and more.
Is there a welcome offer available?
The Pools have a 'Bet £20, Get £15' deal in place for new customers. There's also a good range of ongoing promotions available, which are detailed earlier in the review.