SMARKETS MOBILE APP REVIEW
Smarkets is a betting exchange that was launched for public trading in February 2010. The company is based in London and the target market is the UK and the rest of Europe. The exchange offers peer-to-peer trading on sporting events, politics and current affairs. Customers place bets (backers) and accept bets (layers).
The company makes money through commission on winning bets and not on profit from bets. The operation in the UK is regulated and licensed by the UK Gambling Commission (UKGC). Customers elsewhere come under the control of the Malta Gaming Authority. The service can be accessed using desktop computers and mobile devices.
SMARKETS SIGN UP OFFER
New customers with Smarkets receive a refund of £20 from the first losing bets. This welcome bonus is subject to the following Terms & Conditions:
Welcome Bonus T&Cs
New customers only.
Initial deposit of at least £10 or currency equivalent.
Losses are refunded up to the bonus amount which is capped at £20.
Qualifying deposit must be bet before the rebate can be withdrawn.
Unused bonuses expire after seven days of being credited to a user account and will be removed after this period.
Smarkets general Terms & Conditions apply.
The bonus is for a relatively small amount compared to a similar offer with the leading betting exchange. New customers with Betfair can claim up to £100 in free bets. Matchbook does not have a welcome bonus but promotes a standard commission rate of 2% on winning bets. New customers with Betdaq can claim £20 in the form of free bets. The Smarkets offer is transparent and achievable but the headline amount does not provide much of an incentive to open an account, make the qualifying deposit and place the first bets.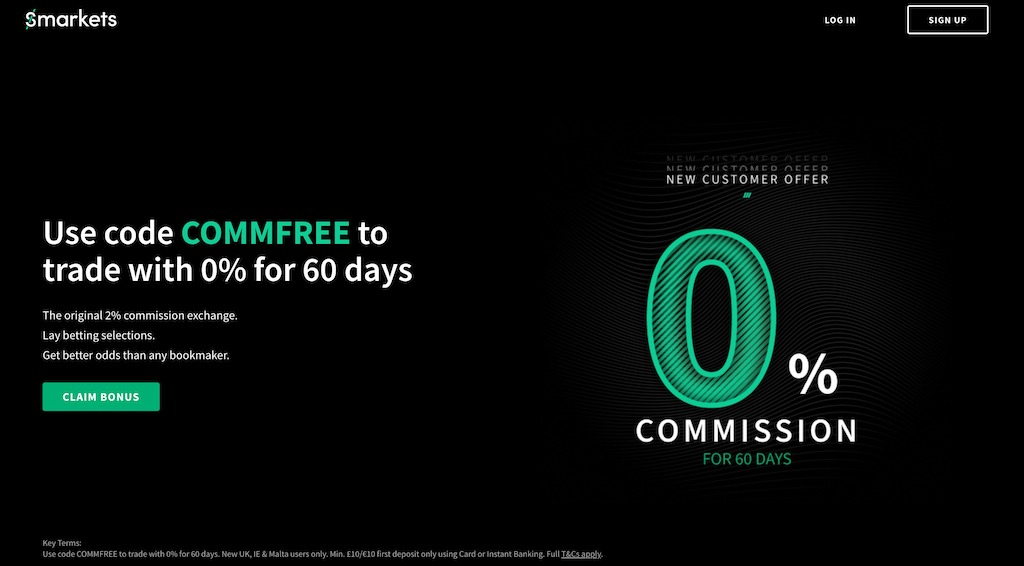 Cash refunds will be processed within 24 hours of qualifying bets being settled, while deposits must be made using a debit card, Trustly or bank transfer, with ewallets not being eligible. The risk-free nature of the SBK sign up offer is very appealing, providing punters with the chance to stake on potentially lucrative markets or on events in which they would normally avoid.
Any newcomer making their opening deposit via PayPal, Skrill or Neteller will not be eligible for any bonus.
Also the account must have placed bets worth a total value of £10 with SBK in order to qualify.
Unused bonuses expire after seven days of being credited to a user account and will be removed after this period.
Smarkets charges a standard 2% commission of net winnings from a bet. Losing bets are not subject commission payments. Customers with Matchbook also pay 2% commission while Betfair charge a scale of commission rates depending on turnover. No UK-facing betting exchange charges a lower rate of commission. Smarkets also offers competitive odds to back and lay.
Despite competitive rates, the biggest challenge for Smarkets and any exchange competing with Betfair is creating liquidity in a market. On the morning of the match over £165,000 had been traded on the winner after 90 minutes of a fixture between Manchester City and Manchester United in the EFL Cup. The total matched on Betfair for the same market was about £75,000. However, Betfair trading tends to be delayed until close to the kick-off in football matches.
SMARKETS MOBILE APP
Smarkets have developed a mobile app that looks good and works well. The app was launched in 2017 and replicates the account management and exchange betting functions of the website. The app and website have consistent branding.
SMARKETS APP FOR IPHONE & IPAD
The Smarkets iOS app can be downloaded from the iTunes on to the IPhone and iOS tablets. Potential users search for 'Smarkets' and the download procedure is quick and simple. Once the app has been downloaded, mobile users can trade in the sports, politics and current affairs markets. New customers are entitled to the welcome bonus and existing customers receive the weekly Premier League rebate. The standard 2% rate of commission applies to iOS users.
SMARKETS MOBILE SPORTS BETTING FOR ANDROID
There is no Smarkets app for Android devices is available on Google Play. Additionally, users can install the app directly from the website. The app offers all the functions of the desktop version, including backing and laying and in-play betting. There are no Android app-specific promotions but users can claim the welcome bonus and the Premier League Winter bonus , and pay the standard commission rate of 2%.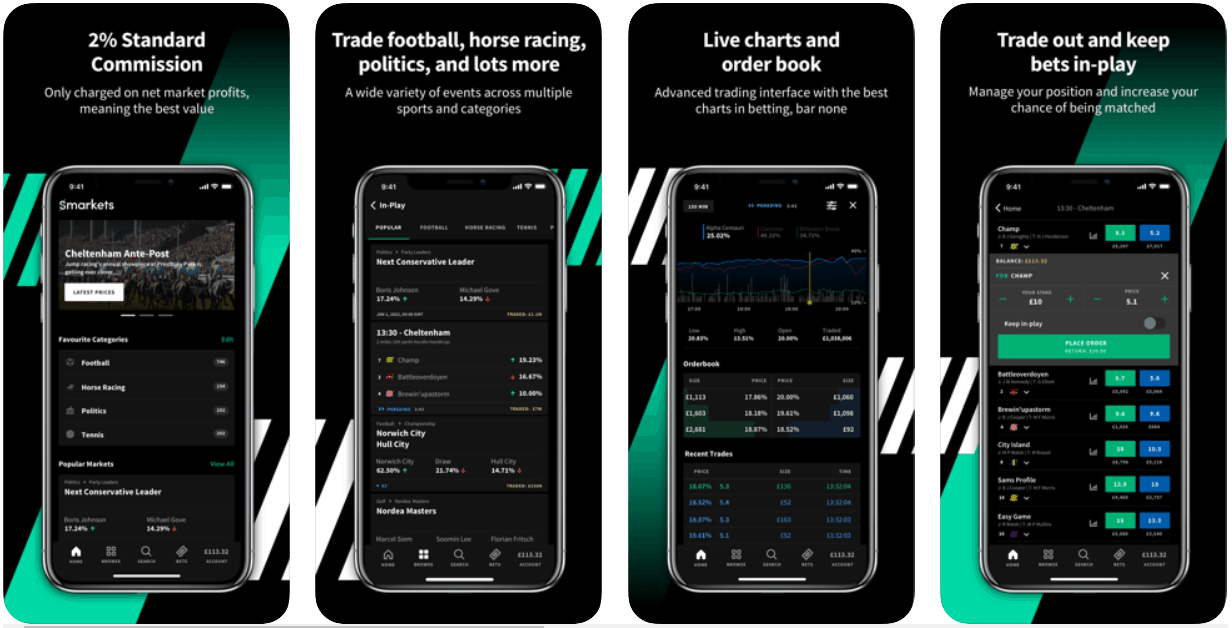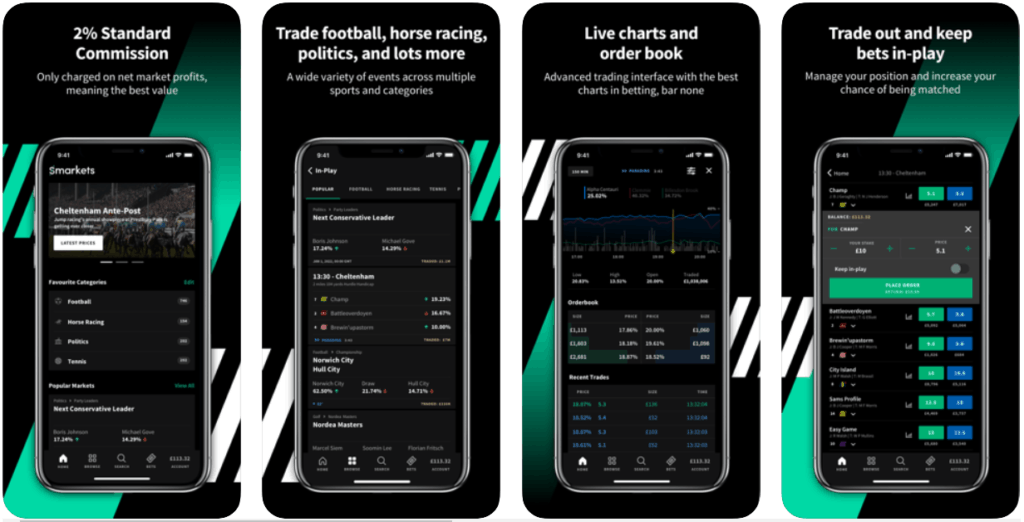 SMARKETS MOBILE WEBSITE
The mobile website can be accessed using Android and iOS devices and replicates what is available for desktop users. It is responsive, functions well and has looks sleek. The website is fast and secure and offers the full range of exchange betting markets and an efficient in-play betting interface. The standard 2% commission rate on net winnings applies for backing and laying.
SMARKETS BETTING FEATURES
Both the downloadable mobile app and mobile website offer backing and laying customers the following betting features:
EXCHANGE BETTING
Smarkets is a betting exchange which provides the platform for peer-to-peer trading. There are backers and layers and bets are matched at mutually agreeable odds. The odds for any market are determined by the balance between the number of backers and layers. If there are more backers than layers the odds shorten and if there are more layers than backers the odds get bigger. The exchange works by matching backers and layers at a price that suits both parties. Liquidity is an important element of the Smarkets exchange. When more money is traded in a market to create liquidity, customers will have a better chance of getting their bets matched.
IN-PLAY BETTING
Smarkets offers customers a range of in-play betting events. The most popular live betting sports are football, tennis and American sports. The in-play betting interface does not provide live streaming but does show an animation of the progress of play. There are no live statistics but bettors can view a detailed graphical analysis of trading on each market.
The range of markets has expanded greatly recently, now including over 70 markets on big football and tennis tournaments. The major difference between in-play betting with a fixed odds bookmaker and Smarkets is that markets are not suspended with the latter after a significant event. Overall, the Smarkets in-play service is limited in terms of events and markets.
CASH OUT
Customers with Smarkets do not have the option to cash out bets. However, in line with the functions of a betting exchange bettors can trade out a bet to cancel a position. This function has to be done manually and can be used to guarantee a profit regardless of the outcome or limit the loss. For example, a customer can back a team to win a football match and lay the team at shorter odds if they score the first goal. Conversely, a customer can lay a team and back them at better odds if they concede the first goal. Bettors can trade out a bet up until the end of a match.
SMARKETS MARKETS
Smarkets displays the sports betting options in two lists: the most popular categories and an alphabetical list of all the other categories. There is also a visual display of the main upcoming events, usually in football and horse racing. Customers can trade on 16 sports and Politics and TV and Entertainment. At the time of writing there were no Esports markets but this is a growth area in sports betting. Here is information about the four most popular categories:
FOOTBALL
Football is the most popular betting sport with Smarkets. Customers can trade on matches and the outright winner of over 200 leagues and competitions. The UK generates the most football turnover and Smarkets has betting on 12 leagues and Cups. The most bet on league is the Premier League in England. Customers can back and lay in about 50 markets, including match result after 90 minutes, handicaps and totals. A typical Premier League match result back market is complied with a margin of 100.5%. The average margin with fixed odds bookmakers is about 103%. This comparison illustrates the value in the odds with Smarkets but there is a commission of 2% on winning bets.
HORSE RACING
Horse racing is the second option on the menu of popular categories and Smarkets only offers more markets for football. Customers can trade on meetings in the UK and Ireland, South Africa and the UAE. For each race, bettors can back and lay a horse to win or be placed. At 11.00 in the morning there were back and lay odds on the meetings in the UK for the afternoon. However, there was very little liquidity which means customers may have difficulty in matching bets. There were no odds for the following day's racing but customers can Bid and Ask for a price.
POLITICS
Politics is a growth area for betting and Smarkets has found something of a niche. There are several current political issues, especially in the UK and United States and customers with Smarkets can trade in almost 200 markets. The US accounts for about 75% of the current markets in Politics. The operator offers low margins and 2% commission for political bettors. At the time of writing in January 2020, the most liquidity was in the market for the US Presidential Election. The most bet on UK markets are the next leader of the Labour Party and the next Major of London.
TENNIS
Customers with Smarkets can trade on matches from the ATP and WTA tours, Challenger tournaments and ITF matches. At the time of writing the Australian Open was taking place. It is one of the four Grand Slam tournaments which are the most popular for trading at Smarkets. However, there appeared to be a lack of significant liquidity in live and upcoming markets. Customers can only bet in four tennis markets: match winner, correct score in sets, 1st set winner and 2nd set winner. Smarkets offers back and lay odds on the outright winner of upcoming Grand Slam tournaments.
GREYHOUNDS
Greyhound racing is one of the latest sports markets to have been added at Smarkets, with meetings from the UK, Australia and New Zealand being available on a regular basis. Generally speaking, punters can bet on which runner will win, as well as which will finish inside the top 3 positions. Smarkets customers are able to easily view upcoming races, along with the complete race card for that specific day, with tracks including Albion Park, Richmond and Romford regularly featuring. Users can also see the last traded price for all runners, making it easy to see where the value lies.
E-SPORTS
The popularity of competitive gaming has also seen E-Sports added to the Smarkets betting exchange, with games including Counter Strike: GO, Dota 2, League of Legends, FIFA and NBA, while popular markets include winner, map winner, map handicap and over/under. Events from around the world can be found at Smarkets on a daily basis, with DreamHack, Asia League Summer and The International featuring heavily. Punters can also easily plan their E-Sports betting, with Smarkets breaking down events by the day, while in-play E-Sports markets are also regularly available, offering customers the chance to stake on games that are already underway.
OTHER APPS & SERVICES
Smarkets provides the platform for exchange betting on sports, Politics and current affairs. The website or mobile apps do not feature a casino, live casino or any other gaming products. The site features a small range of betting sports, including the most popular with customers in the UK. However, the betting menu does not include virtual sports.
SMARKETS DEPOSIT OPTIONS AND BANKING
Smarkets allows customers to deposit and withdraw funds using Bank Transfer, e-Wallets and prepaid cards. Operators regulated by the UK Gambling Commission will not be allowed to accept credit card payments from January 2023 but debit cards will still be acceptable. Deposits are immediate and free of charge and withdrawals are subject to delays and generally free. However, some providers may impose a fee for carrying out the transactions. The minimum deposit is £10 and the maximum deposit is not fixed.
CUSTOMER SUPPORT
Customers can contact the Smarkets support team using the following methods:
Email: support@smarkets.com
Twitter: @SmarketsTech
Live Chat: 24 hours a day, 7 days a week.
Phone: +44 207 617 7413 (09:00-00:00).
Post: 1 Commodity Quay, St. Katharine Docks, London, E1W 1AZ, United Kingdom.
The site also features a Help Centre where customers can locate a section using the search box. There are three areas within this facility: Betting, Account & Payment and Using Smarkets. The operator is committed to responsible gambling through control measures and links to support bodies for problem gamblers.
SECURITY AND SAFETY
All financial transactions are encrypted so customers know their personal details are secure. Withdrawals are activated on request and there is no evidence of issues with payments. Smarkets is licensed and regulated in the UK and Malta which means the operator meets standards of compliance and fair trading set and monitored by these regulatory bodies.
Smarkets uses both Transport Layer Security (TLS) and Secure Socket Layer (SSL) technology in order to ensure for the security of their customers, while punters will also be pleased to hear that they have a strict policy surrounding the protection of funds. Those living in the UK should know that their funds will be held by Smarkets (Clients) Limited, an organisation that was set up for this purpose, operating under the terms and conditions of the Trust Dead. Based on such factors, the UK Gambling Commission has given Smarkets a high protection rating, something in which not all bookmakers achieve. Meanwhile, Smarkets customers based outside of the UK will have their funds held in a business account that is dedicated and ring-fenced for punters.
ABOUT SMARKETS
Smarkets is a UK-facing betting exchange operating in a market dominated by Betfair. Their direct competitors are Matchbook and Betdaq and all three operators are well behind Betfair in terms of market share. Smarkets has a modest welcome bonus and few ongoing promotions so the key selling point is a commission rate of 2%. Matchbook offers the same rate which means Smarkets must offer value in their odds to attract and keep customers.
BOTTOM LINE
The Smarkets website and mobile website look pleasing on the eye and are easy to navigate. There is liquidity in the main markets but the range of sports and betting options is limited. There is no live streaming and the sports product is minimal. The betting exchange and in-play interface function adequately. The service is reliable and safe and secure but the whole operation could be more expansive by offering more sports and betting markets, plus live streaming and genuine automated cash out betting.