SBK MOBILE APP REVIEW
Originally established in 2008, Smarkets is best known for their popular betting exchange, where punters bet against each other. However, SBK is a betting app which is looking to deliver the very best odds in the industry today, powered by Smarkets Malta Limited. The SBK app holds valid gambling licenses from both the British Gambling Commission and Malta Gaming Authority. This page will provide readers with a detailed look at one of the latest betting apps available to punters, including its features and services.
SBK NEW SIGN UP OFFER
SBK offers a Deposit £10 – Get £30 in free bets. The SBK sign up offer is a little different to the welcome bonuses found on other betting apps today. It does not matter how many bets the £20 maximum has been placed over, with SBK refunding this amount, with no wagering requirements or minimum odds having been put in place either.
Cash refunds will be processed within 24 hours of qualifying bets being settled, while deposits must be made using a debit card, Trustly or bank transfer, with ewallets not being eligible. The risk-free nature of the SBK sign up offer is very appealing, providing punters with the chance to stake on potentially lucrative markets or on events in which they would normally avoid.
Any newcomer making their opening deposit via PayPal, Skrill or Neteller will not be eligible for any bonus.
Also the account must have placed bets worth a total value of £10 with SBK in order to qualify.
Unused bonuses expire after seven days of being credited to a user account and will be removed after this period.
SBK MOBILE APP
Like the majority of top betting apps, the SBK app is very simplistic in its design, meaning that there is little time required to get used to it Popular categories are immediately visible upon logging into your account, while features including tips, live betting and auto acca are accessible via links at the top of the home page.
Users can also easily move between sports markets, banking, open bets and other account options, with visually pleasing imagery helping punters to distinguish between pages. A green and black colour scheme dominates throughout, with a lack of unnecessary information meaning that the app is clean at all times. Elsewhere, all markets that are accompanied with a green mark mean that the odds available are more generous than nine biggest UK bookmakers, including bet365, Ladbrokes, William Hill, and others.
IOS APP
The SBK app is available on all iOS devices, with the relevant download link being found in the App Store, as well as via a link on the SBK mobile website. With 2-factor authentication, in-play betting and live score features all being available, the SBK iOS app is also hugely efficient, with its speed and ease of use having already attracted a large number of users.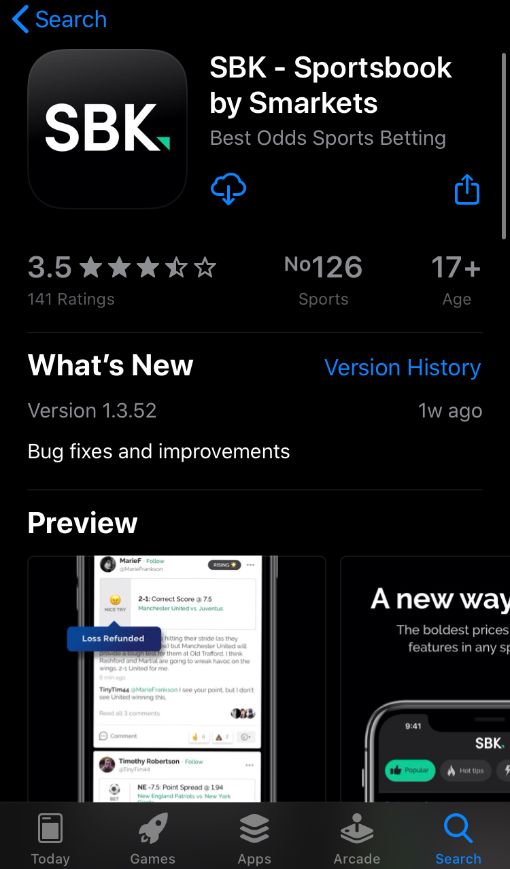 ANDROID APP
The SBK app is available on all iOS devices, with the relevant download link being found in the App Store, as well as via a link on the SBK mobile website. With 2-factor authentication, in-play betting and live score features all being available, the SBK iOS app is also hugely efficient, with its speed and ease of use having already attracted a large number of users.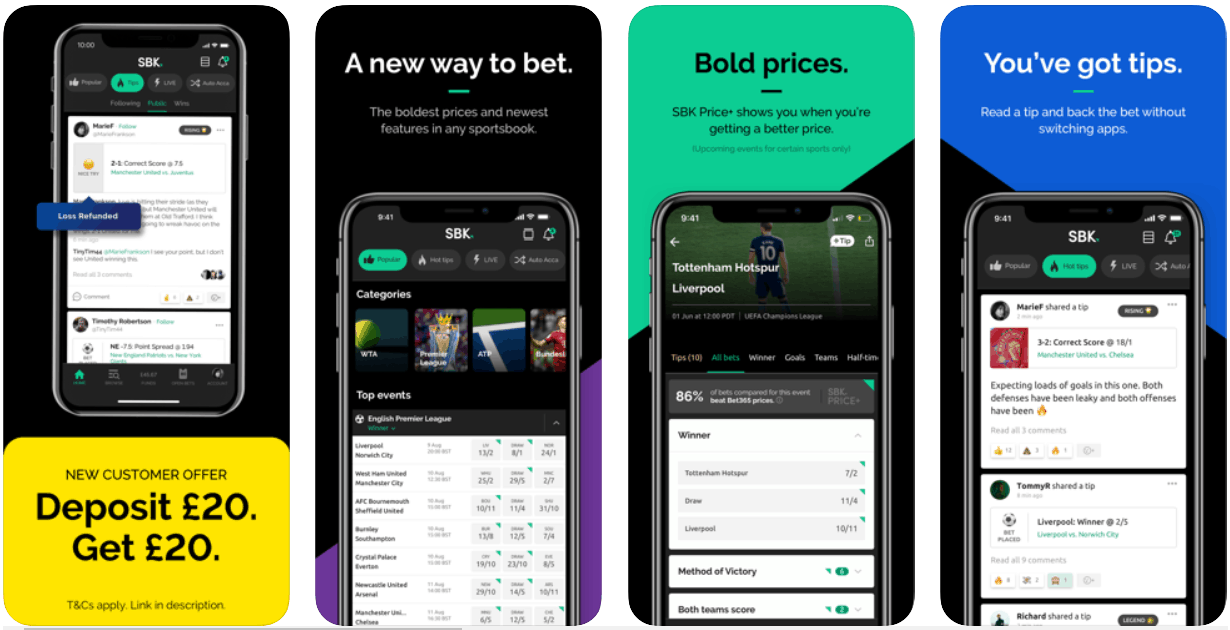 OTHER APPS OF THE COMPANY
The Smarkets Betting Exchange app offers an alternative form of wagering for mobile customers, with a 2% standard commission helping to attract punters, along with a £10 risk free bet and an advanced trading interface. The Smarkets Betting Exchange app has a five star rating on the App Store, demonstrating its popularity.
ADVANTAGES OF SBK BETTING APP
The SBK app has a whole lot going for it. In fact, we'd say it's comfortably one of the best apps out there for sports bettors right now. That's down to a whole range of factors, but these are the most important of the bunch.
✅ GREAT ODDS
Good odds are one of the first things you should look for on any betting app, and SBK definitely ticks this box. On markets both large and small, the prices you can expect to get are at least as good, if not better than most of its main competitors.
This isn't simply left to chance. Instead, the odds on SBK are actually drawn from trading data on the Smarkets Exchange (its sister site). Smarkets' prices have already consistently been shown to be some of the best around, and SBK even shows you – in real-time – exactly how the price on a given market has changed over time. The Price+ feature also shows you when the prices are superior to those of major competitors… and when they're not! This level of transparency is rare on a sportsbook, and gives you more reassurance than ever that you're getting great odds.
✅ SMOOTH BETTING EXPERIENCE
The interface on the SBK betting app is genuinely one of the best around. It looks fantastic, and the layout is brilliantly intuitive, allowing you to navigate with ease from the very first time you lose it. It's also highly stable, and – in our testing – everything loaded smoothly and quickly.
It also comes with a whole range of special features, which only help to boost this user-friendliness. We've explored these in more detail below, but some of the most noteworthy include Auto Acca to save you time, Live Scores to help you monitor all the ongoing action, and social tools to inform your betting.
✅ GREAT SIGN UP OFFER
Perhaps the most popular of all welcome offers is the 'Bet and Get' deal, and the SBK new customer offer – 'Deposit £20, Get £20 Risk-Free' – is a textbook example.
Simply stick £20 in your account, and bet through it with a qualifying wager. If that wager wins, you keep all your winnings as normal. If it loses, then your entire stake – up to £20 – will be refunded, ready to be wagered again as you see fit. Better yet, very few T's & C's apply to the SBK sign up offer. There are no market or odds restrictions whatsoever on your qualifying bet, for example, giving you plenty of freedom in how you go about triggering this deal.
✅ SOCIAL FEATURES
This is easily one of the most unusual things about the SBK bookmaker. With most bookies, you're basically wagering alone. With SBK, however, you're given the chance to join an entire community of bettors who are also using the app.
Delve into the social features, and you can immediately find out which users have been on the hottest streaks recently. These people can then create their own betting tips, which you're free to follow going forward. Obviously this is a big time-saver, removing the need for you to hunt down your own betting opportunities. Alternatively, if you're feeling confident, you're free to write your own betting tips for your fellow punters!
✅ FUND PROTECTION
Another key concern any bettor has, when signing up with a new bookie, is whether their money will be safe. SBK easily put any worries here to rest, by providing plenty of details on their fund protection.
All customer funds are held in the account of Smarkets (Clients) Limited – a group company, separate from Smarkets or SBK, which has been created specifically for this purpose. If the main Smarkets sportsbook ever faced insolvency, customer funds would still be protected within this separate account, and you'd be able to withdraw your money. This meets the United Kingdom Gambling Commission's highest requirements for the protection of users' funds.
SBK BETTING FEATURES
In addition to being incredibly easy to use, the SBK app also comes with a whole range of features. These alternately help to inform your betting, give you more ways to bet, or make your betting safer. Let's take a look at some of the most intriguing tools at your disposal.
IN-PLAY BETTING
The rise of live betting has truly changed the sports gambling industry, more than any other innovation in the past few years. It's created a whole new, enormous area in which to find wagering opportunities, and bettors have flocked to take advantage in their droves.
As you might expect, SBK has clearly made live betting one of their very top priorities. You can get to the in-play section immediately from the home page, by tapping the big 'LIVE' icon with the lightning bolt. It's not subtle, but it definitely gets your attention!
Therein, you'll find a pretty enormous range of in-play markets. You're shown live football matches by default, but an intuitive scrolling menu can take you to ongoing events for basketball, cricket, greyhound racing, snooker, or whatever else is happening at that moment!
Once you've found a matchup you want to bet on, you'll discover that the variety of bet types is also very impressive. With football, for example, you'll not only find Full-Time Result, but also the likes of Both Teams to Score, Double Chance, Over/Under Goals, and Asian Handicaps. Although there's no live streaming to help you decide which bet to place, there is a visualisation tool which does a decent job of keeping you up to date.
The actual mechanics of live betting also work very well. The odds update pretty quickly, and – most importantly – the placement of in-play wagers is nice and speedy.
CASH OUT
In modern-day sports betting, the actual placement of wagers is only half the story. Punters nowadays also expect to be able to get out of their live bets whenever possible too! Like just about every other contemporary bookie, SBK does indeed have a cash out feature to enable this. While it doesn't distinguish itself in any real way, it's certainly good enough to get the job done.
With the SBK app loaded, you can tap the 'Open Bets' button on the bottom menu at any time to see your current wagers. On this screen, you can also clearly see which of those wagers are eligible to be cashed out, including both singles and multiples. You'll also be shown the amount you're being offered for cashing out at that time. Actually executing the cash out is just as straightforward to do.
This is all pretty standard stuff, of course, and – to be honest – we're a little surprised SBK haven't done more in this area. Some premium sportsbooks have offered partial cash outs for a while, which let you bail on a portion of your bet while leaving the rest in. For a brand as innovative as SBK, this seems like something they could have implemented by now! Also, while the prices you're offered are generally fair, the SBK cash out tool isn't the quickest we've encountered. Thus, there's always some risk that – before the app has actually processed your cash out request – you'll have lost the price you wanted.
AUTO ACCA
Accas are enormously fun bets to follow, when all the action is going on at once. Actually putting together an acca, however, is often a pain! It can be a time-consuming process, as you browse through lists of markets, and agonise over selections. With SBK's innovative Auto Acca feature, that no longer needs to be the case. This takes the hard work out of accumulator betting, letting you focus on the fun stuff.
The Auto Acca is easily accessible from the home page of the app. Open it, and you can pick how many selections you'd like in your acca: three, four, or five. Then, simply swipe down to 'spin'. After a couple of moments, the Auto Acca will give you a fully-formed accumulator with your chosen number of selections, and the odds are displayed at the bottom. If you fancy the acca you're given, you can add it to your betslip and set a stake as normal. If you don't… you can simply swipe down to spin again. You can do this as many times as you like, until you get an acca you like!
In addition to being incredibly straightforward to use, this tool also presents consistently enticing accas. It does a great job not only of mixing bet types – like Match Result and Over/Under goals – but even sports. On our third test-spin for this SBK betting review, for example, we were given an acca combining football, American football, and darts… a mix we'd never have found on our own!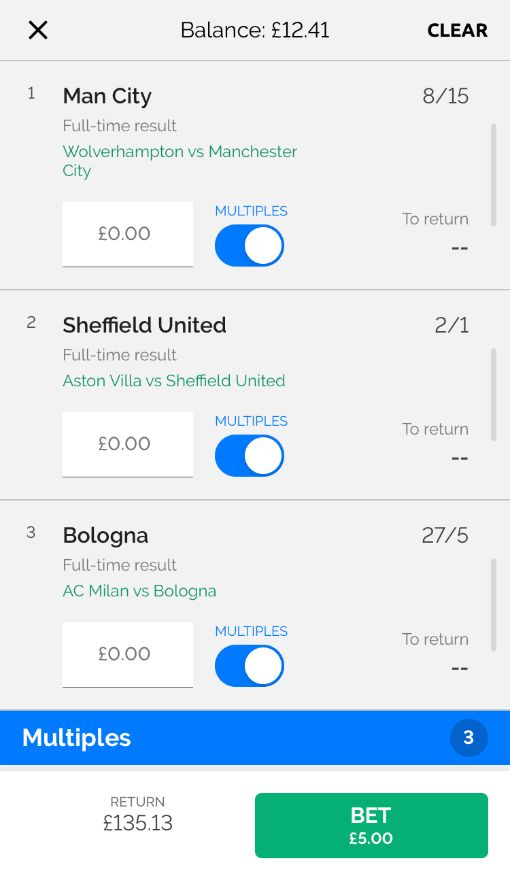 LIVE SCORES
As noted, live betting is both a popular and smart way to go about your sports gambling. Arguably the biggest difficulty, of course, is trying to keep up with all the ongoing action at the same time.
SBK have definitely gone some way towards tackling this issue. For starters, live scores are shown in a very clear and straightforward way. You can simply browse down the list of ongoing matchups in your sport of choice, and see all the scores at a glance. You can also see the amount of time which has elapsed in that event, and the current odds for its main market: Full-Time Result for football markets, for example.
Pleasingly, the data for these markets is updated with regularity. This is particularly important when you want to bet on a game you're actually watching. The odds should update to reflect whatever you've just seen pretty soon after you saw it, meaning you can jump on a betting opportunity very quickly. This doesn't only improve the betting experience, but makes the viewing experience much more exciting too! Perhaps just as importantly as placing bets, these speedy data updates also help you to cash out your wager at the right time too (although, as explained above, the actual execution here could be quicker).
TWO-FACTOR AUTHENTICATION
When signing up with any new sportsbook, security will be one of the first concerns in any bettor's mind. Even when it comes to a brand with the established track record of Smarkets – SBK's operating company – that still rings true.
SBK provides plenty of reassurance in this area. TSL and SSL encryption are both in place, and – as explained above – customer funds are held in a separate account to the company's money. Things are taken a key step further, though, by the inclusion of two-factor authentication.
For the uninitiated, two-factor authentication (or 2FA) is designed to add an extra layer of security to your account. The specifics can vary from brand to brand. In the case of SBK though, it will send a one-time password to your listed email address when you try to log in. To enter your account, you must use this code in addition to your username/email address and password. The password is only active for 30 seconds, and is randomly generated.
To be clear, 2FA is completely voluntary. If you simply want to log into your account as quickly as possible, you're free to ignore it. If you'd like that extra peace of mind, though, you can easily enable two-factor authentication within your account settings at any time.
SBK BETTING SOCIAL NETWORK
The SBK Betting Social Network is arguably the most intriguing and exciting feature on this entire platform. It's modern, fun, and brilliantly displays SBK's flair for technological innovation.
In short, SBK have blended a sportsbook and social media network together with their betting platform. Rather than being forced to fly solo, or resort to scouring the internet for tipsters, you can get all the help you need for your betting without leaving the app.
At any time, you can head to the home screen and select 'Tips' from the menu at the top. You can then look at 'Public' tipsters to see the latest advice they've dished out, or check out the 'Wins' area to see the latest triumphs those tipsters have had. Find someone you like the look of, and you can open up their profile to see their profile, betting form, and a list of their recent wagers. If they seem like the real deal, you can 'Follow' them. All the tips from the people you follow will then show up in the 'Following' area of the 'Tips' section.
If you fancy getting involved yourself, doing so is simple. Just go to a matchup, select the '+Tip' icon in the top-right, pick the market you fancy, and explain why you like it. Consistently deliver good tips, and you could soon find yourself having your own army of followers, relying on your analytical brilliance!
SBK PRICE+
SBK's exceptional prices don't happen by mere luck. Instead, like most things on SBK, they come from the innovative use of technology. In fact, SBK frequently refer to themselves as having created a 'pure-price' sportsbook, rather than one which simply creates whatever odds it fancies!
As mentioned previously, SBK's parent company – Smarkets – also operates a major betting exchange. Pricing data is taken from this exchange, and applied to the SBK sportsbook to ensure odds are in line with what people are actually paying at that time. The result is odds that are demonstrably better than those elsewhere – something which is proven by Price+.
SBK Price+ is a comparison between SBK's prices and those at nine major competitors, including Bet365, Coral, Ladbrokes, and William Hill. If SBK's price on a market is better than the corresponding price on all those other sites, you'll see the Price+ green triangle next to the odds. If the green triangle isn't there, this indicates SBK are honestly telling you that they don't have the very best price on that bet.
The transparency SBK are willing to show by doing this is remarkable, and we love the whole idea. While currently only available on pre-match football and tennis matches, SBK plan to roll out the feature to more sports very soon.
SBK MARKETS
At the time of writing this review, there were 19 different markets available via the SBK app, including a variety of popular sports, along with current affairs and entertainment. Football fans will be pleased to hear that there were also just short of 1,000 football markets available, with matches from competitions including the English Premier League and Champions League offering a huge number of bet types. Disciplines including tennis, American Football, tennis and golf also feature heavily at SBK betting app, while all of the most popular markets at any given time are quickly accessible thanks to a tab located in the top-left hand corner of the home page.
FOOTBALL
Football is the biggest sports market at SBK, with over 300 markets having been available at the time of writing this review. Football markets are separated into Popular, live, today and competitions, making it easy for punters to locate their preferred matches. In terms of bet types, SBK users are able to stake on 1×2, correct score, both teams to score, over/under goals and half time/full time, among other things. Outright bets on major tournaments are also available, including the Premier League winner and top goalscorer.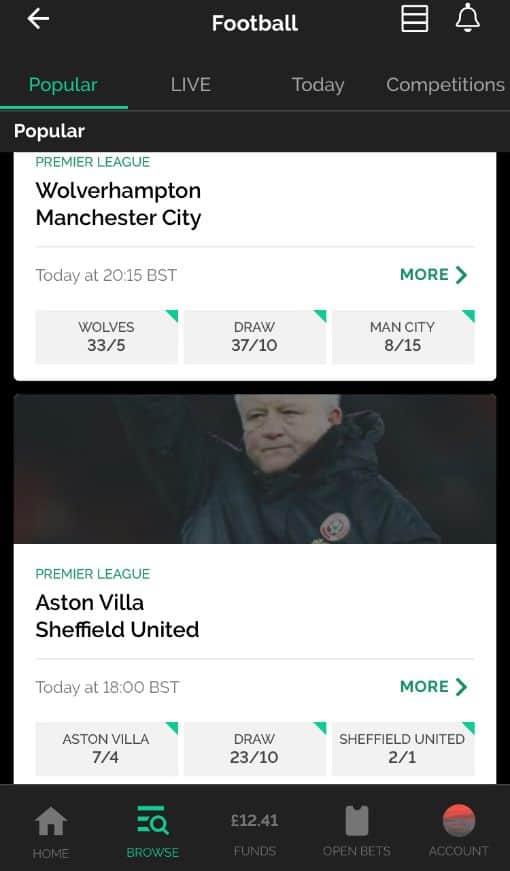 HORSE RACING
SBK cover horse races from the UK & Ireland on a daily basis, while a host of ante-post markets are on offer from meetings around the world, including popular events such as the Cheltenham Festival and Grand National. The app also makes it easy for punters to keep track of race start times, with a countdown feature being on hand.
CRICKET
Cricket is another sport which features heavily on the SBK app, with matches from across the globe being available to bet on. Whether it be T20, One-Day or Test matches, both domestic and international encounters are covered, with punters generally only having the option of betting on which team they believe will come out on top.
OTHER
Current affairs and entertainment-based markets are found at SBK, offering something a little different to the regular sportsbook options. At the time of writing this review, available markets included the possibility of the USA going into a recession and which country would win the 2020 Eurovision Song Conetst. Recently, SBK have added Greyhound racing and E-sports to their betting platform.
This is one area, unfortunately, in which SBK fails to shine. At the time of writing, the only deal that's actually available is the 'Deposit £20, Get £20 Risk-Free' welcome offer, which we looked at above. There are no ongoing promotions, or any other SBK offers, in place right now.
On the one hand, that's disappointing for obvious reasons. On the other, though, we'd actually argue that there's more than enough here to offset the lack of promotions. The exceptional odds you get here are perhaps the biggest example. The whole point of ongoing promotions is to help you gain some extra value on your bets. That's exactly what you're getting anyway with SBK's market-driven prices. The SBK app also provides other ways to help you make a profit, from the tips-based social features, to the excellent cash out tools.
If an SBK promo code is created, or any other new ongoing promotions are introduced, we'll update this section quickly to tell you all about them. In the meantime, however, don't let this absence put you off from trying out one of the most innovative and exciting betting apps around right now.
SBK DEPOSIT OPTIONS AND BANKING
Depositing money using the SBK app is very easy, with all major debit cards being accepted, along with Trustly, PayPal, Skrill, Neteller and bank transfers. Minimum deposit amounts range from between £10 to £20 depending on the method of banking selected by punters, with all available options allowing for instant transactions.
Meanwhile, withdrawals at SBK are available through bank accounts, Skrill and Neteller, with the minimum amount having been set at just £10, helping to cater for beginners. Withdrawals take anything between 24 hours to 5 working days to process, while SBK users are also able to easily keep track of their payments and bet history using the app.
CUSTOMER SUPPORT
For times when support is required, SBK members of staff are available to communicate with via telephone, email and social media accounts. Their free telephone line is available between the hours of 9am to midnight every day of the week, while response times surrounding emails are pleasing for an app with such little experience.
SBK are also very active on Facebook, Instagram and Linkedin, with those who are registered on such platforms being able to contact the bookmaker here too. The SBK help centre also provides information surrounding a range of topics, including account verification, payments and betting rules. SBK also work with organisations including GAMSTOP and BeGambleAware in order to ensure that punters gamble responsibly at all times, with users being able to set limits on their deposit amounts.
SECURITY AND SAFETY
The fact that the SBK app is licensed and regulated by respected authorities in both the UK and Malta already demonstrates that they are a trustworthy and reliable betting platform, while SSL encryption technology helps to ensure that all personal and financial details remain safe at all times. Unfortunately, app users will not find much additional information in this area, however the platform has already received positive feedback.
FUND PROTECTION
Along with the security measures already mentioned, punters at SBK will be pleased to hear that fund protection is also taken extremely seriously, with a dedicated policy being in place here too. The funds of SBK customers based in the UK are by Smarkets (Clients) Limited, which was established especially for this purpose, while funds from those outside of the UK are kept in a separate account, which is legally aside from the rest of the company. Controlled by an external auditor, it comes as little surprise that the UK Gambling Commission has given the bookie the highest protection rating. As such, punters considering registering with SBK should have no concerns when it comes to the safety of their finances.
ABOUT SBK
SBK isn't a stand-alone betting app. Rather, it is actually the second product which has been created by its parent company, Smarkets.
Smarkets launched their first invite-only betting exchange back in 2009, and this was opened to the general public in February 2010. From the start, their aim was to simplify peer-to-peer trading, and apply proven financial trading theories to the sports betting industry.
This approach worked out pretty well for them! Within eight months, Smarkets had already processed over £1 million in trades. It took less than two years after that for them to hit the £100 million mark. To date, the total amount that's been traded on Smarkets stands at over £15 billion. Naturally, with this incredible success came a huge amount of media interest, with Bloomberg, The Wall Street Journal, and other prestigious publications all covering them. Partnerships with other brands like Jockey Club and Oddschecker followed, as did a sponsorship with Queens Park Rangers.
In August 2019, Smarkets branched out in a new direction by creating SBK. Rather than launching it as a regular sportsbook, they chose to make it mobile-only. The reception this outstanding app received proved that – once again – this was an extremely good call. Just about every SBK review around was enthusiastic (including ours!), and user numbers grew accordingly.
Naturally, SBK still can't contend with the likes of Paddy Power, Bet365, and so on in terms of sheer size and success. Things are certainly heading in the right direction, though, with both the positive reviews and user downloads continuing to pile up. Also, with the app's launch in Colorado in June 2020, SBK has tapped into the enormous US market. Following the recent relaxation of that country's gambling laws, this seems like yet another savvy move by Smarkets, and could well propel SBK to the next level of popularity.
BOTTOM LINE
For one of the new betting apps that has only been in operation since the beginning of 2019, The SBK bookie certainly scores highly in a range of areas, including its variety of sports markets, banking options, usability and odds. While the lack of additional promotions for existing customers will come as a disappointment to some, it is worth considering that the prices on offer to punters are better than a large number of SBK's rivals, meaning that there are some significant earnings to be made. SBK is certainly something new in a hugely competitive industry, meaning that they are set to attract punters at a good rate, with just a small number of improvements making them a real force.
Frequently Asked Questions About SBK
Here is a selection of the most Frequently Asked Questions about SBK:
How can I download the SBK app?
The SBK app is extremely easy to get. It's available on both Android and iOS devices, and can be downloaded straight from Google Play or the App Store respectively. Simply open up one of those programs on your mobile device, search for 'SBK', and download the correct result. Once the download has completed, just tap the new icon within your main menu to open the app.
What is the SBK maximum payout?
No specific maximum payout is stated on the SBK app, or its corresponding desktop site. Instead, both maximum stakes and payouts will vary based on the sport and specific market you want to bet on. This is standard industry practice. We do know, however, that there are no maximum withdrawal limits for any payment methods except PayPal, where the most you can take out is £5,500.
What is the SBK withdrawal time?
As with most betting sites, it varies depending on the method you choose to use. Bank transfer is the slowest, needing a whole 5-10 business days to process your payment. Debit card withdrawals are speedier, requiring 1-6 business days to go through. Unsurprisingly, withdrawals to eWallets like PayPal and Skrill are the quickest, and typically go through within 1-2 business days.
Are there promotions on SBK?
There's only one, at the time of writing. This is the 'Deposit £20, Get £20 Risk-Free' welcome offer, which refunds your first wager – if it loses – up to a maximum of £20. Aside from that, there are no other offers available right now. That's disappointing, but you still get plenty of ongoing value thanks to SBK's excellent odds.
Is SBK related to Smarkets?
Yes! SBK and Smarkets are both operated by the same company. Smarkets was created first, back in 2010, and is generally regarded as one of the best betting exchanges around. In 2019, Smarkets launched their mobile-only sportsbook, SBK. This has a similarly technology-driven approach, and even uses the real-time trading data on Smarkets to help set its market prices.
Does SBK accept players from the UK?
Yes! The SBK app is licensed and regulated by the UK Gambling Commission, meaning that those within the UK are able to take full advantage of the services and features in which they offer.
Is the App available on Google Play?
Yes. The SBK app is available on the Google Play Store, while download links can also be found on their mobile website.
What is the type of sign up offer offered by SBK?
New customers on the SBK app can look forward to claiming a £20 risk-free bet, with a minimum deposit of £20 being required in order to qualify.
Is SBK app secure?
Absolutely! SSL encryption technology is used on the SBK app to ensure that all personal and banking details are secure at all times.