MRMEGA REVIEW
The UK betting market is already exceedingly large, yet there seems to be a new sport betting site being introduced to the public daily. MrMega is among the latest examples. Launched in 2021, MrMega has already made a real noise on the betting stage, gaining the attention of many UK punters.
It is only natural that many will have questions about MrMega and its validity. In this extensive review, you can find out about this fresh new brand's offers, mobile device compatibility, features, payment methods, and much more besides. Overall, you should keep reading to discover whether or not this UK betting site is the right fit for you.
MrMega Sign Up Offer
When you open the MrMega site and check their welcome bonus, the first thing that catches the eye are two offers – free bets and match up bonus. However, you should note that the deposit match bonus, unfortunately, is not available to UK bettors.
Regarding the free bet welcome promo, we'd say that it's a good offer overall, but with a few setbacks. First of all, it is not only restricted to new players (like most such deals), but you are also forbidden from using any other type of bonus for the time you are using this welcome package.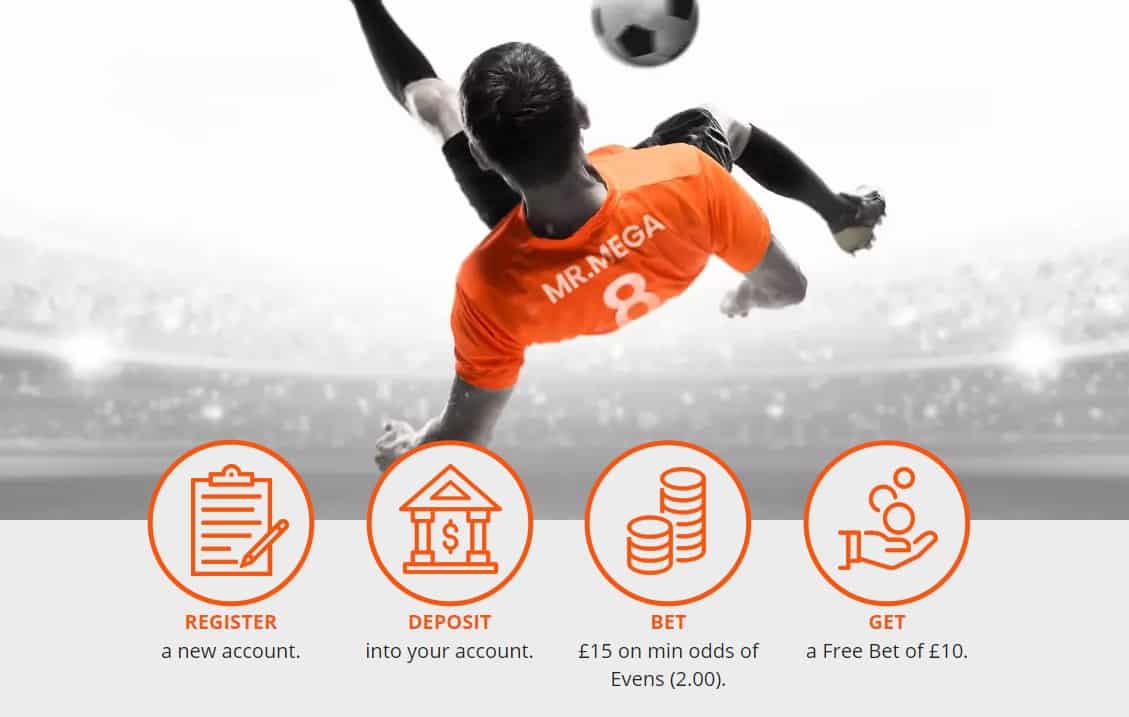 Even setting this aside, the rules state that the minimum wager is £15. In return for this qualifying wager, you will receive a £10 free bet. As you can see, there is an obvious gap of £5 that you are missing here, with this deal failing to even meet a 1:1 return on investment. Moreover, users that use PayPal, Neteller, Skrill, Skrill 1-Tap, or Paysafecard can't take advantage of this welcome offer.
The odds you have to wager with the first deposit are 2.00 or greater. Once you make your first bet, which has a validity of 14 days, you'll receive one free bet token. The rules for this token are:
Can only be used on betting odds of (4/5) 1.80 or higher

The maximum value is £10

There are no wagering requirements and winnings can be immediately withdrawn

Free bet tokens are eligible for 14 days
For new players, this welcome bonus is attractive because it's simple and easy to follow. However, long time bettors might be discouraged from the fact that there is an obvious imbalance in the first deposit and the bonus you get for it. The generous 14-day window for using your free bet does help to make up for this, however.
MrMega Mobile App
Bearing in mind that MrMega has only recently been launched, it comes as no surprise that they still don't have a mobile bet app available on the market. Nonetheless, UK punters can still enjoy everything that this site has to offer by using your preferred browser.
MrMega can be accessed on the go from any mobile browser of your choosing, and we're pleased to say that there is almost no difference when using this site from your mobile. The lack of an app might be frustrating to some bettors, but the fact remains that even on your phone, this UK betting site has a smooth and user-friendly interface.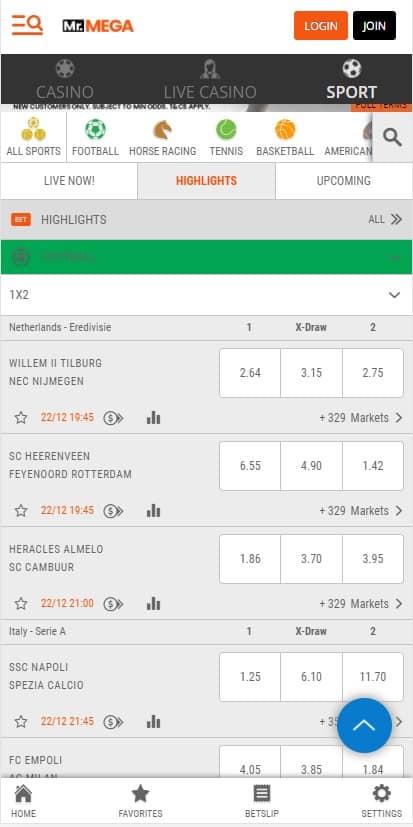 Although the viewing window is smaller, every other feature works perfectly. For such a new site, it's certainly refreshing to find that every device – both phones and tablets for iOS and Android users – is fully compatible, and has no glitches. Accessing every part of the site is very easy, and the pages and features tend to load smoothly, regardless of your internet connection.
Of course, it would be preferable if there was an actual app that would save you the time and trouble of logging in every single time. Still, considering the short period in which this sports betting site is on the market, and the fact that it is powered by Aspire Global, we'd hope to see an app appearing sooner rather than later.
Other MrMega Apps
One of the good sides of MrMega is that it doesn't just limit its services to sports betting. There is a separate section that is dedicated to casino gambling as well. And, just as you can enter the sports betting section through your phone, you can do the same in the casino part. Better still, you don't need to have separate accounts in order to do so. All you need to do is use your current profile and navigate between the sections, choosing the one you prefer.
There are many games that you can choose from here, starting with slots, progressive jackpots, and a variety of table games. But you can also dive into the live casino section where you can play blackjack, poker, roulette, baccarat, and many more titles.

Advantages of MrMega Betting App
As unfortunate as it is that MrMega has no betting app at the moment, the mobile version on your browser certainly does the trick. Here are some of the things that you'll likely find yourself enjoying in this app.
User-Friendly Interface
Having a flamboyant website doesn't always mean that the features and offers contained on that platform are spectacular. Truthfully, MrMega doesn't really have a site that would lure you in itself with amazing visuals, but it's actually this very simplicity which we enjoyed when using it.
Regardless of whether you're using the site on your phone, tablet or desktop, the user-friendly interface makes it easy for you to navigate between all the main sections. Namely, you simply choose which area you would like to enter – casino, sports betting, virtual sports or live casino – in the tabs presented above. Placing your wager thereafter only takes a few moments, and finding whatever matchup you're looking for is an absolute cinch.
Lots of Betting Markets
Despite being a brand new betting provider, MrMega are clearly smart enough to know the most important sports in which new players would like to try their chances. Altogether, there are more than 30 sports, including football and basketball, snooker, greyhound racing, alpine skiing, F1, and so on. It's not just the traditional sports that are covered either. There are also options to bet on eSports, such as Dota 2, CS:GO, and Rainbow Six.
Having this many games means that there are more than 1,000 matches available to bet on at a given time. These contain hundreds of individual betting markets, with bet types like overall winner, first to score, number of points, and so on. There are plenty of options in each section, which are guaranteed to satiate every gambler's appetite.
Competitive Odds
The first thing every experienced punter takes a look at, when choosing a betting site, is the odds. And that is quite understandable, considering you'd want a bookie that can give you the best odds that would work to your advantage.
MrMega beats several other sports betting providers in this area. Namely, they are offering higher odds than some of the more famous and long-time runners in this field. The margins are kept respectably low here, giving you a fair shot at turning a profit by making smart picks.
Good Selection of Payment Options
With the general rise of iGaming and online sportsbooks, it's only natural that the selections of payment methods would also catch up to this trend. However, not many bookies opt-in for these 'new' methods, and stick to the traditional payment systems.
Fortunately, MrMega are not traditionalists in this area, and have embraced this evolution. In their selection of payment methods, they include a nice collection of eWallet options along more old school methods, such as debit card and wire transfer.
Responsive Customer Service
This is another feature that is highly valued in the eyes of every sports betting enthusiast. During your time at any site, it's only natural that you might find some obstacles that would prevent your smooth journey.
MrMega doesn't disappoint in this area either. There are two easy ways to contact the customer support team, both of which give good options to players that are facing some issues with the site. Moreover, they reply quickly and are always happy to help their customers.
MrMega Betting Features
As a new sports betting site, it's understandable that MrMega is not laid out with special features as other bookies might be. Nonetheless, there are still some tools that are worthy of every bettor's time. Let's take a closer look at the most prominent examples on this online sports betting site.
In-Play Betting
In-play betting is by far the most impressive feature at the MrMega sports betting site. We mentioned that this bookie has a long list of sports that you can choose from. However, all of them (with the exception of horse racing) have an additional setting in them – in-play betting.
The statistics – although not as good as the pre-match odds – are timely and accurate thanks to MrMega's Match Tracker, which is powered by StatScore. With it, every bettor can keep track of the changes happening on the field and react in the heat of the action. Using these to actually place an in-play bet is pretty simple. You just click on the match and market you would want to bet before the match ends, and – after that – it is just a matter of setting the desired amount for your stake.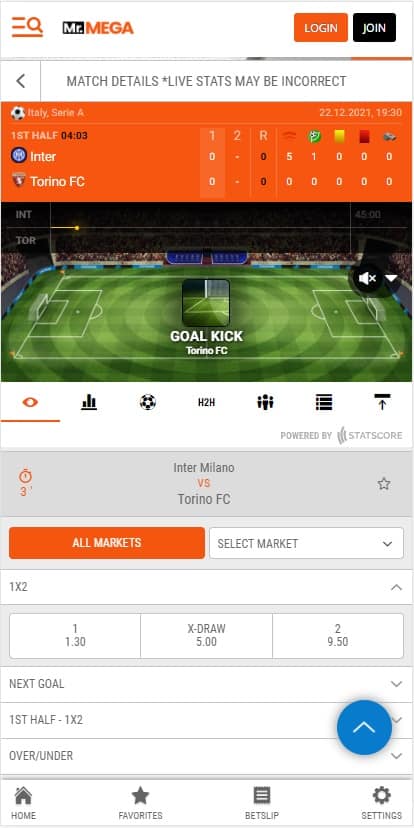 Cash Out Tool
Every reputable sports betting bookie provides the in-play and cash-out features hand by hand. After all, it's only logical that you should be able to withdraw your money from a wager as fast as you can put it in. MrMega does also give you this ability; to some extent, at least.
Understandably, the cash-out tool is only available on selected matches, events and markets. It can still be used on singles or multiples bets though, encapsulating sports like football, tennis, volleyball, cricket, and basketball. It's also nice and straightforward to not only see which of your live bets are eligible for the cash out, but also to actually pull the trigger and bail on your bet.
Lastly, the amount that will be given to you for cashing out will always vary. Many factors can influence the performance of your bet, but the cash-out tool at MrMega sees that you gain real profit if it is high, or minimise the loss if it is a low bet.
Favourites
MrMega is one of the rare sports betting sites that provide this feature. For all adept sports betting players, having a favourites bar in their bookie of choice is one of the smaller features that reels them in, as it simply makes life a whole lot easier.
In the 'Favourites' tab here, UK bettors can make a list that contains their favourite teams, players, and so on. This provides easier access and a faster way to make your bet. By being able to immediately place your bet on the team that is your number one, you can save time in searching for them in the long list of games, events, and matches.
eSports and Winter Sports Betting
More and more new sports betting bookmakers are accepting the fact that the sports betting scene is changing, and welcoming eSports as an option too. MrMega is new in this field, so it unsurprisingly slots seamlessly into this modern type of sports betting site.
eSports are a solid option in MrMega, which already lets you wager on the likes of Dota 2, CS:GO, and Rainbow Six: Siege. However, it is safe to assume that with the rise and popularity of this section of the market, MrMega will be adding other eSports markets in the near future.
Elsewhere, fans of the Winter Olympics will certainly be interested in the selection of winter sports which is available. MrMega is indeed one of the rare bookies that have winter sports markets, and are particularly strong on skiing.
MrMega Markets
As touched upon earlier, we're happy to say that MrMega has a vast selection of sports which covers just about everything a UK punter would want to bet on. Aside from the main sports like football, basketball, horse racing, or cricket, there are other types of minor and major sports as well. Moreover, it's not just the breadth of coverage that is immense here, but the depth of tournaments and other events in most sports too. Simply put, just about every sporting event that is happening will be on the board with this bookie.
Football
Like other major UK sports betting sites, MrMega also opted for football as its number one sport. This is understandable, considering the outreach of this sport and the fact that it is the first sport associated with betting in the UK.
At the time of writing, there are almost 1,400 separate markets available for football bettors. This list is divided by country and then by championships or events played in that part. There are also areas for continental and international tournaments, meaning that all the biggest competitions really are covered, and the support for lower-league fare is also impressive.
Horse Racing
An interesting fact about this sport is that, unlike with other betting sites, MrMega doesn't place horse racing as its second-biggest sport. On the contrary, horse racing in MrMega is maybe seventh on the list of currently available options, going by the number of markets provided.
However, this doesn't mean that it pays little to no attention to it. Quite the opposite – MrMega currently has 24 horse racing markets, at the time of writing, and we'd expect to see this keep growing as they go forward. The best thing is that all of them are tailored specifically for British and Irish bettors, with 16 of the events being in England, and the other either in Ireland
Tennis
Bookies are merging tennis more and more into their lists, especially when it comes to minor tournaments apart from the Grand Slam. It's interesting to see that tennis in MrMega, for example, already has more markets than horse racing.
Naturally, all four slams are covered here, and you can bet on both women's and men's tournaments respectively. There are two definite downsides to tennis betting here, however. The first one is that – when it comes to the four Grand Slams – the markets that are given only allow outright betting. This is a discouragement to UK punters that relish in the excitement of individual games, and the enjoyment they bring. The second one is that – for every other tennis event – there are actually no outright markets. Obviously, this creates the opposite problem to the one listed above.
Other
Aside from these three sports, there are more than 30 other markets that UK punters can bet on. There are classics like American football, basketball, Formula 1, baseball and boxing. Then there are some sports that many bettors – especially new ones – might see for the first time.
Some of them include darts, floorball, snooker, table tennis, biathlon, and many more. This is actually what makes MrMega a sports betting site for everyone – its ability to accommodate every UK bettor, both new and old.
Generally speaking, we've been pretty positive about MrMega so far in our review. This is definitely one area, however, in which it comes up short.
At the time of writing this review, MrMega has four options listed on its Promotions page. One of these is for casino users only, one is the sportsbook welcome offer, and one is the cash out tool (which is not really a promotion, obviously). That leaves just one genuine ongoing promotion for sports betting customers, which is pretty poor in anyone's book.
Boost Your Combo Bet
As part of its casino section, MrMega does have a VIP program in place. However, this doesn't extend to the sports betting section unfortunately. That is why this bookie decided on adding a special promo only for the sports betting customers – a bet boost.
This bet boost deal allows you to raise your winnings by up to 77%. The Combo Boost promotion can be used on accumulator bets with four or more selections, and applies to pre-match selections on all sports, competitions, leagues, and so on. The odds have to be at least 1/2 (1.50), except for horse racing, where this boost can be added only on fixed odds on the day of the race. The maximum winnings a UK punter can reach is a hefty £11,000.
MrMega Deposit Options and Banking
Although MrMega doesn't have as long of a list when it comes to payment methods when compared to other UK sports betting sites, it does have some of the most used ones on the UK market today. Aside from the traditional method of wire transfer (i.e. bank transfer), there is also a selection of eWallets and debit cards. The cherry on top is the fact that at the bottom of MrMega's site, there is a 'Deposit Method' link where you can see detailed instructions on exactly how to deposit, for every method which is in place.
On the other hand, there are two downsides. First, cryptocurrencies are not included. While it's not exactly common for the likes of bitcoin to be supported on modern betting sites, newer brands do indeed tend to provide this as an option. Considering MrMega is so new, it's a little surprising they've missed this opportunity.
MrMega Deposit Methods
| | | | |
| --- | --- | --- | --- |
| Payment Option | Fee | Time | Limits (£) |
| Visa/MasterCard | 0% | Instant | £10 |
| PayPal | 0% | Instant | £10 |
| MuchBetter | 0% | Instant | £10 |
| ecoPayz | 0% | Instant | £10 |
| Neteller | 0% | Instant | £10 |
| Skrill | 0% | Instant | £10 |
Aside from these main options, MrMega also accepts bank transfer, Sofort, Trustly, Skrill 1-tap, GiroPay, Interac (with Canadian bank account only), AstroPay Card, Euteller, EPS and Paysafecard.
MrMega Withdrawal Methods
| | | | |
| --- | --- | --- | --- |
| Payment Option | Fee | Time | Min. Withdrawal (£) |
| Visa/Mastercard | £0 | 0-6 days | £10 |
| PayPal | £0 | 0-4 days | £10 |
| MuchBetter | £0 | 0-2 days | £10 |
| ecoPayz | £0 | 0-4 days | £10 |
| Neteller | £0 | 0-2 days | £10 |
| Skrill | £0 | 0-2 days | £10 |
Although there is no specific fee for making withdrawals here, the T&Cs section states that MrMega reserve the right to charge administrative fees during a withdrawal or even a deposit.
Customer Support
There are two ways in which you can contact the support system at MrMega. The first one is through the live chat feature which, thanks to the easy-to-use interface, is very accessible. This is definitely the most efficient way to get in touch, and will definitely get your issues resolved faster. The second one is through email. This actually includes sending an email to an agent through the online form given on the website.
In both cases, the support team works from 7 am to 11 pm UK time, every day. This is a rarity among newer online sports betting sites, considering that not many decide to work on Sunday too, but the biggest brands will obviously provide you with 24/7 support.
Regardless, you can rest assured that the whole support team is friendly, happy to help, and most importantly – knowledgeable. Simply put, all of your questions can be answered and you will be directed step by step until you are satisfied and have reached your goal.
And as a last resort, there is an FAQ section that contains the most important questions any punter would ask. They have been placed in five sections, ranging from wagering and payment options to bonuses and reward points.
Security and Safety
One of the strongest points of this sports betting site is the security it can offer to its customers. Namely, MrMega uses 128 bit SSL encryption which makes sure that all your data stays safe when it is processed to their servers. Adding to that is smart usage of the newest technology, which grants the use of strong firewalls that strengthen this digital fortress.
Elsewhere, third parties are involved in the processing of payments. Having third parties that navigate customers through the deposit and withdrawal process keeps some healthy difference between punters and the sportsbook. Not just that, but it also adds another layer of precautionary measures, as they too have to add additional security to that provided by the bookie.
Last but not least, we have the betting licences. Every reputable sports betting site knows that the first thing for a customer to place their trust in them is to have a license given by an authorised organisation. In this instance, MrMega has licenses from both the Malta Gaming Authority and – more importantly for British punters – the United Kingdom Gambling Commission.
About MrMega
Considering that MrMega is a new operator, it comes as no surprise that there is not much information about this online sports betting site. However, in their T&C, the first few sentences give out the most important things every punter needs to know.
Among a few other tidbits, you can learn here that MrMega is owned by Sharp Connection Ltd, but all games are powered by industry veterans Aspire Global International Ltd. Aspire Global is also registered in Malta, which means that they have a license issued by the Malta Gaming Authority.
Apart from the MGA, Aspire Global International Ltd also has an Irish betting license issued by the UKGC. But, when playing in Sweden, the contracting entity is AG Communications LTD. This one is licensed by the Swedish Lotteriinspektionen.
Considering how strict the UKGC is, you can rest assured knowing that MrMega is a safe and trustworthy site. The series of licenses in other countries should only help to strengthen that reassurance here.
Bottom Line
Taking everything we said into account, we can conclude that MrMega certainly has potential. The fact that it is brand new means that some leeway should be given when we consider its bad sides. As we mentioned, there are situations where you find yourself questioning some of their decisions, but – based on their track record – we're pretty sure that the team at Aspire Global will work hard to improve in these areas.
Although the promos are excellent for beginners, they are lacking in appeal for seasoned punters. There are also some limits imposed which will impact all bettors. As an example, we'll point out the fact that it limits UK users when it comes to using the second bonus, if they still haven't completed the welcome offer.
With all that said, we can't ignore all the good sides MrMega has. Take the long list of games in its casino option, powered by industry-leading software providers, or the many sports you can bet on, with the options seemingly being endless. We also have to mention the splendid job done on its interface, which is easy to use regardless of whether you're using your phone or computer. Not having a separate mobile app might contribute to the disappointment of users. But having experienced the smoothness of the mobile version, we can tell you with certainty that there is no real difference.
In conclusion, MrMega is already certainly worth considering. It might not be the most stimulating brand currently on the market, but they are already working to upgrade their platform, game library, and everything that users might find discouraging. Even in its current state though, this is still a solid and enjoyable sportsbook.
Frequently Asked Questions About MrMega
What is MrMega?
A brand new sports betting platform, which was only launched in 2021. Despite its youth though, there is still plenty of experience here, provided by developers Aspire Global.
Does MrMega have a mobile app?
Currently, no – MrMega doesn't have a mobile app. However, you can use your browser to access the site through your mobile device, and this mobile website actually does have everything that the desktop one possesses.
What sports can I bet on in MrMega?
MrMega has more than 30 sports from which you can choose. There are the most popular ones like football, basketball, American football, horse betting, tennis, and many more. Some less-heralded markets are also included, like darts, snooker, eSports, and even winter sports.
Is live streaming available in MrMega?
No – currently, this option is not part of MrMega. Nevertheless, this doesn't mean that this won't change in the future. In the meantime, the live betting features which are in place are still excellent.
Is there a welcome bonus in MrMega?
Yes. New customers can benefit from a 'Bet and Get' welcome offer, in which you'll be given a £10 free bet in return for a £15 spend.