LIVESCORE BET MOBILE APP REVIEW
It can be pretty difficult to choose an online bookie with so many available, but we've been checking out a relatively new website that has been making waves recently – LiveScore Bet. This young online sportsbook features markets on just about every sport imaginable, the website is sleek-looking, and the features certainly help it to stand out from the crowd.
If you want to find out more about this intriguing brand, this is a great place to start – we've clocked in a huge number of hours testing and researching this bookie extensively. We're going to be taking a look at the bonus offers provided, the mobile app, the huge variety of markets, and plenty more besides. Overall, we'll be letting you know whether it's worth your time and effort to sign up with LiveScore Bet.
LiveScore Bet New Sign Up Offer
In order to stay relevant in the competitive landscape of modern online betting apps, it is absolutely essential that bookies provide appealing sign up offers. LiveScore Bet have definitely managed to tick this box, providing a 'Bet £10, Get £20 in Free Bets' welcome offer. This essentially means that you can double your first £10 deposit, simply by signing up to the website and placing a qualifying wager.
Obviously, this offer is for new members only, and £10 must be deposited and bet with, but there are a couple of additional terms and conditions worth mentioning.
The bet must be placed and settled at a minimum of 1.5 odds

Qualifying wager will need to be settled within two weeks of signing up

£20 reward will be split into two £10 free bet tokens

Must accept free bet tokens within the next 7 days, and use them within the 7 days after that

Free bet tokens must be used on each-way bets or multiples
LiveScore Bet Mobile App
LiveScore Bet's bookmaking service is also available as a mobile app, allowing you to manage your bets whilst you're on the go. It features everything that you would expect from a modern-day betting app, including the full range of markets and promotions from the main site, and a section to manage all of your account settings. Whilst some users may prefer the larger display provided by the desktop version, many others will enjoy the compact and user-friendly mobile interface. It's easy here to view statistics, the line-ups of your favourite sports teams, league tables and all the other information you need to make educated bets.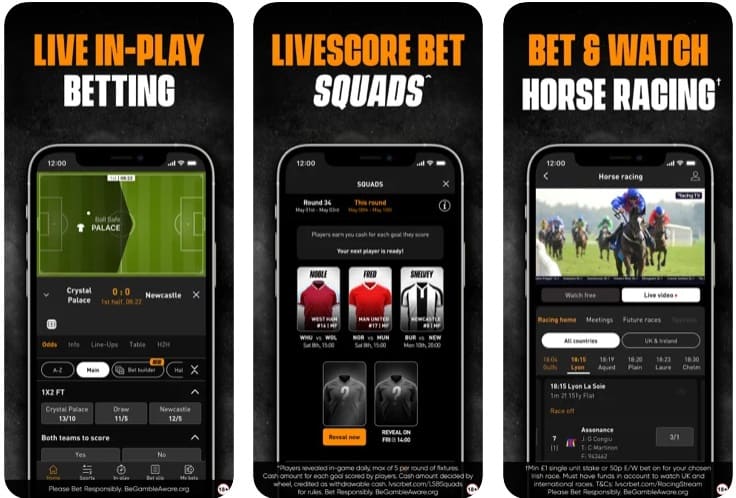 As you might expect from a brand-new app, this one won't run smoothly on older phones, but it will still run! The mobile optimisation in general here is excellent, but naturally it is also focused on smartphone models from the last five years or so. Regardless, the worst-case scenario will simply mean that the app runs a little bit slow, but everything should definitely remain usable.
LiveScore Bet iOS App
The iOS version of the LiveScore Bet app is a little bit stronger than its Android counterpart. This is mainly due to the higher performance levels of iPhones in general, particularly following recent iOS firmware updates which have been focused on improving speeds.
As long as your iPhone or iPad is updated to iOS 12.0 or later, you'll be able to run this app just fine. Furthermore, iOS users can access their LiveScore Bet account safely and securely through their Apple Touch ID or face scanner. This also keeps things running quickly and smoothly, preventing you from having to deal with any pesky login details. Unfortunately, the service doesn't currently accept payment through Apple Pay, but we'd hope to see this functionality added sooner or later.
LiveScore Bet Android App
Whilst the iOS app for LiveScore Bet is pretty great, the Android version is very similar in its high performance. Once again, the newer your Android phone is, the better that this app is going to perform, but as long as you are running Android 5.0 or above then you will be able to access it with no problems.
If you're using one of the newer Android phones that are available, you should have some form of biometric login feature such as Touch ID or even face scanning. If you use this feature on your phone, you will have the privilege of being able to log in to LiveScore Bet smoothly, securely and quickly. Never again will you have to worry about one of your pesky friends accessing your account for a cheeky bet!
Other LiveScore Bet Apps
The main LiveScore Bet app features just about everything someone could need out of an online bookie, but it's great to see that they've gone above and beyond by releasing a second app – LiveScore: Live Sports Scores.
As the name suggests, this is a secondary app that is dedicated to keeping you up to date with the latest scores and news from your favourite football teams. If you're a football fan betting through LiveScore Bet, it's well worth having – you'll receive live notifications of the latest in-game events, and have access to ball tracking and replay technology, in addition to search engines to get all the information you will need on the current competitions. Whilst the app is certainly focused on Premier League football, it also providES information regarding the Champions League, La Liga and even Major League Soccer in the US.
Advantages of LiveScore Bet Betting App
Now that we've had an overview of the apps offered by LiveScore Bet, let's take a look at some of the main reasons you should consider placing your bets here.
User Experience
Firstly, the usability of LiveScore Bet truly stands out from the crowd. The development team behind this app really have gone above and beyond to optimise their platforms in each case. The user interface is nicely arranged, and there's clearly been a great amount of focus put on the categories and subcategories to ensure users can find exactly what they are looking for. This is important for an app that offers so many different sports, markets and features, and it's an area in which many competitors fail, resulting in an overwhelming and chaotic user interface.
Variety of Markets
Another big benefit of this app is the huge range of sports that are covered. At the time of writing, LiveScore Bet provided betting markets on a whopping 34 different sports. Everything from your mainstream favourites such as football and rugby, to rarer and more niche sports such as chess and gaelic hurling are covered here.
This is massively important to ensure a sports betting app stands out. Not only is it a great way to ensure that everyone can get in on the fun, but it also provides some inspiration and variety when you fancy betting on something a little bit different.
Betting Odds
The betting odds are another massive benefit of LiveScore Bet, being highly competitive relative to many of the other bookies available on the market. This is one of the most obvious things that you should look for when picking a bookie, as it massively impacts your chances of turning a long-term profit.
Generally speaking, you will find odds here that are actually better than much of the competition on large markets such as football. With that said, LiveScore Bet does seem to drop off a little when it comes to above-average odds for the smaller markets out there.
Special Features
With a brand that's only a year or two old, you're normally happy if the app is stable, loads quickly, and lets you place a few wagers without any trouble. LiveScore Bet goes far beyond that, fueling its app with a range of special features which you'd be impressed to find from a bookie with another decade of experience.
Live streaming is arguably the standout feature here. When you add in the live betting tools, Bet Builder, virtual sports, Squads mini-game, extensive statistics, and more though, this becomes one of the most impressive feature sets we've ever seen from such a new betting app.
Welcome Offer
The only thing better than simply getting excellent odds, is taking advantage of those odds without risking your hard-earned cash! The welcome offer provided by LiveScore Bet is pretty tasty, doubling your spending power straight away if you deposit and bet the maximum £10. Obviously, this is only available to new members, but it's a great way to start off your experience on this app.
LiveScore Bet Betting Features
Considering how young they are, LiveScore Bet have done an incredible job of putting features in place quickly. Let's take a look at some of the most useful and exciting ones you can take advantage of.
In-Play Betting
LiveScore Bet has clearly put a huge focus on their in-play betting. it's one of the first things you see in the sidebar when you log in, and there will typically be hundreds of in-play betting opportunities available throughout any given day. When you click on this feature, you will see the 'Highlights' section by default. Here, you can swiftly check out all the most important games taking place at that time, and quickly identify the best opportunities and odds for in-play bets.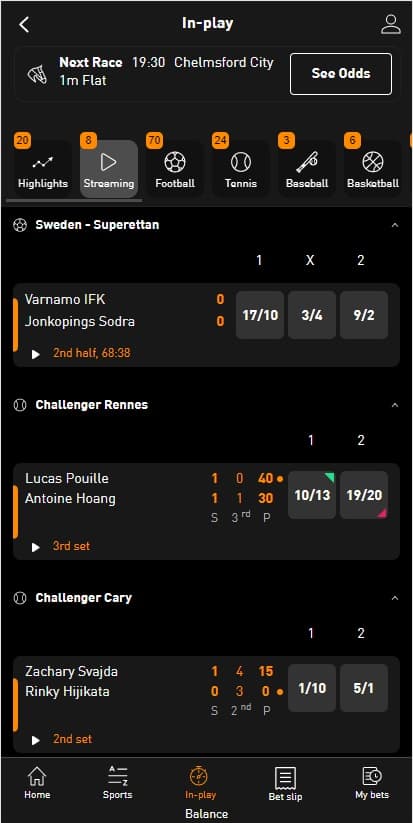 Next to the odds for each bet, you will of course see the current in-game statistics, ensuring the whole experience is dynamic and up to date. It's also possible to filter the available in-play bets by market, and you'll see another number next to each market which indicates the number of in-play bets available for that particular game.
Overall, the in-play betting section of LiveScore Bet is top-notch, even compared with the ones you'll find on the apps of far more experienced competitors. Perhaps the most pleasing part about it is the way it's all laid out. It's smooth, sleek and easy to navigate, but – best of all – the whole page is highly dynamic. There's no need to refresh your page because all of the scores, match details and most importantly the odds will constantly update to give you the latest perspective on the game.
Betting Timelines
The in-play section is certainly most important when it comes to determining the bets you will make on events that are currently ongoing. Punters who love to keep their finger on the pulse, however, will naturally be interested in their bets coming up in the near future.
LiveScore Bet features a handy Timeline feature to help with this. This both provides an overview of bets you can make on that day, and highlights opportunities coming up over the next 36 hours.
Initially, this feature can seem a little bit overwhelming, as – by default – your Timeline displays every available match that's approaching in chronological order. This can be dealt with pretty easily though, by selecting a sports market from the filter bar, and thus removing any results other than the ones you are interested in. The section can be further customised via the 'Settings' feature. This can be accessed by clicking the cog symbol, and allows you to make various adjustments to suit your own browsing preferences.
Cash Out
LiveScore Bet provides some very convenient cash-out features, both in terms of in-play bets and pre-match wagers. This tool is available for bets that you have made on the majority of available markets, but it's worth mentioning that it cannot be used on every single one.
If you're struggling to determine whether a market is eligible for an early cash-out, you can simply click the 'My Bets' section and search for the 'Cash Out' button. If it's present, then you know you're in the clear. However, bear in mind that – as with most bookies – this option will never be available when using your free bet tokens on LiveScore Bet.
If the button is present then you know that early cash out is available. It's very easy to check the price you're being offered here, and – when it's time to execute your cash out – this is handled smoothly and quickly.
Finally, it's worth mentioning that – while cash out is generally available on the majority of markets here – the opportunity may not exist at times due to the halting of betting markets. This is standard practice among bookies, as they quickly adjust their odds to reflect the latest goings-on. We did notice it a little more often than usual on LiveScore Bet, however, meaning that – fairly often – you simply won't be able to bail on a bet.
LiveScore Bet Squads
Easily one of the most eye-catching features on LiveScore Bet is the 'Squads' feature. It essentially allows you to choose up to five players to make up your fake 'team', and – whenever one of your players scores in their listed match – you will earn some free cash to bet with.
The game is time-specific, with you having to return at a pre-stated time to claim your next player. Once your final player has been announced, a spinning prize wheel will determine the amount of cash each goal is worth. This is a very fun game to play solo, and a fantastic way to earn some cash. It's also simply a little more exciting than earning rewards from a regular ongoing promotion.
Not every user of LiveScore Bet is eligible to play this game, however. You will need to check the 'LiveScore Bet Squads' section, and hit the 'Start Playing' button, in order to check if it's available on your account. The website also has a lengthy FAQ that answers tons of questions that we had upon signing up, including what happens in the event of a player injury, what happens if your entire team is made up of defenders, and other scenarios that may arise due to the luck of the draw.
Live Streaming
Considering this brand's age, it is incredibly impressive that LiveScore Bet have already managed to offer a live streaming feature. This has been integrated directly into the app, allowing you to experience the action as and when it happens, as opposed to simply watching the statistics and odds change on that event's in-play page.
Live streaming is available for quite a few sports on the app, including football, basketball and horse racing. The best thing about all of this is that – in general – live streams are actually free on LiveScore Bet. This means you won't usually need to make a bet in order to get in on the action, making it a much more cost-effective option than paying for a TV subscription.
This isn't always the case, with horse racing live streams costing anything between 50p to a quid in order to watch a particular race, but this pricing is still pretty reasonable. That's particularly true when you consider the quality of the streaming, and the exceptional coverage which is on offer here. It's not just British and Irish races which are televised, but also events in South Africa, France, and even the USA. Considering the age of this bookie, that is a pretty epic feat.
A final feature that we love about the racing streaming here is the 'Meetings' tab. This will allow you to replay any streamed race that you want in order to get another, closer look at the action. Even if your account is not eligible to view the full live stream, you will still be able to access a computer visualization as a compromise, which can still help you to analyse the performance of any horses you've got your eye on for future wagers.
LiveScore Bet Markets
The number of LiveScore Bet Markets is highly impressive, with a whopping 34 different options available right now. This includes some of the most popular mainstream markets such as football, horse racing, greyhound racing, and tennis, which will all generally be included on the 'Featured' section of the main page. However, there are tons of other major sports that have thriving markets too, including North American leagues like the NFL, MLB, and NBA, and international classics such as cricket and golf.
Football
It's pretty obvious that LiveScore Bet is crazy about football – a ball is featured on the main app logo, after all, and the sport is invariably featured on the front page. There are plenty of features related to UK football, including in-play and cash out tools, a Bet Builder, and both team and player specials. The coverage is massive too, including the Premier League, Championship, and the top flights from across Europe.
Horse Racing
Horse racing is a very popular market on LiveScore Bets. Every single major horse racing event is live-streamed on the platform, and it's great to be able to follow the outcome of your wagers in real time, even for a small spend. In addition to worldwide racecourse coverage, you get access to a range of specials bets here. Best Odds Guaranteed is also in place, and – naturally – you can place each way wagers whenever you please.
Tennis
Other than football and horse racing, tennis has one of the most active markets on LiveScore Bets. In-play and pre-match bets are available for all major worldwide tournaments including Wimbledon, the French and Australian Opens, and even the Canadian Rogers Cup! Plenty of matches are also live streamed throughout the year.
Other
In addition to the dozens of regular sports markets, LiveScore Bet also provides you with a few other options. There's a solid eSports section here, for example, and you can also bet on virtual sports (including football and horse racing), and even politics.
As with the welcome offer, while LiveScore Bet's ongoing promotions are solid, they're not exactly spectacular. The actual quality is very good, but there simply aren't enough of them – aside from 'Squads' (discussed above) there are only two deals available right now.
£10 Free Acca Bet
This is a truly excellent promotion, essentially serving as LiveScore Bet's version of the famous 'free bet club' offer type. In this case, you must place at least two accas of £10 or more. Each should have 4+ selections, and be at overall odds of at least 5/1. Do so, and you'll be rewarded with a £10 free bet.
The value here is already excellent, with 'Bet £20, Get £10' being similar to what you'd expect from a welcome offer. Best of all though, this deal can be triggered three times per week, for up to £30 in free bets.
Best Odds Guaranteed
This isn't as exciting as the previous offer, but – like all Best Odds Guaranteed promotions – it's very useful for horse racing bettors. As usual, if the starting price for your chosen runner is higher than the odds you took, you will automatically be upgraded to the SP. If your original odds remain superior, you will simply keep them.
LiveScore Bet's Best Odds Guaranteed offer is available on both race winner and each way wagers. It covers all UK and Irish races, but international events are not included.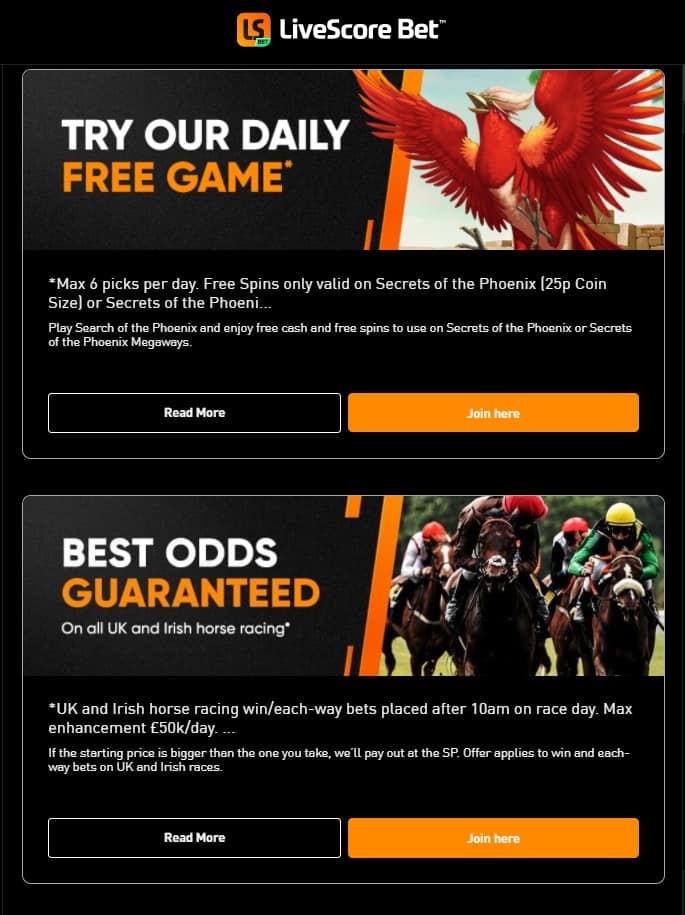 LiveScore Bet Deposit Options and Banking
Generally speaking, we've been almost universally positive throughout this review. This is one area, however, in which LiveScore Bet really is disappointing.
There are literally just two deposit options available at the time of writing – debit card and PayPal. You can't even make a bank transfer here, which is usually one of the most common payment methods. Unfortunately, things don't get any better when it comes to withdrawals, with the same lonely pair of options open to you.
If LiveScore Bet are serious about attracting the widest possible audience, this is one area which simply must be improved. At a minimum, we'd like to see both bank transfer and further eWallet options (like Neteller and Skrill) added sooner rather than later.
Customer Support
After the disappointments surrounding its payment methods, LiveScore Bet gets back on track in a big way here. All the major bases are covered for customer service. Most importantly, live chat is available, and can be accessed via a button in the bottom-left of your screen whenever you please. You can also make a phone call instead, or simply send an email.
As for indirect help, LiveScore Bet also has a fantastic FAQ section in place. This can be navigated via an intuitively-divided interface, or using the search function. Either way, you'll find all the major topics covered, and the answers well-written and helpful.
Security
Like most sports betting sites, LiveScore Bet are reluctant to reveal too many details on their security measures. They do provide some information though, confirming that the likes of 128-bit SSL security are in place, and that your personal details can only be viewed by authorised workers. Fraud-checking is carried out by a third-party service, and payments are also processed by an independent company.
Most importantly of all, LiveScore Bet holds a license with the United Kingdom Gambling Commission, and another with the Gibraltar Gambling Commissioner. Both bodies help to ensure that LiveScore Bet adheres to the highest standards for both security and fairness.
About LiveScore Bet
As with all new betting brands, LiveScore Bet naturally don't have much of a track record yet, and there is relatively little information available on them. This brand itself was launched extremely recently, in 2020.
There is actually a solid amount of experience backing it though, which comes via its parent company, the LiveScore Group. In contrast to LiveScore Bet itself, the Group has over two decades of industry experience, having been founded all the way back in 1998. Alongside a few other ventures, the LiveScore Group is perhaps most famous for previously running Virgin Bet.
LiveScore Bet tends to market itself as a 'British' betting brand, and is certainly focused on the UK market. Despite this though, it is – like many other sportsbooks – based in tax-friendly Gibraltar.
Bottom Line
Quite simply, new betting apps aren't supposed to be this impressive. A new brand should need a year or two to sort out its fundamentals – optimising the performance of its app, eliminating bugs, adding to its selection of betting markets, and so on. LiveScore Bet have gone far beyond this. Instead, they have put together an app which is already superior to many brands with five, 10, even 15 or 20 years' more experience than them.
You're given a whole range of premium features to use here, with the extensive live streaming offering being the most eye-catching. The selection of betting markets is just as good though, as is the customer service, and the app is brilliantly streamlined and easy to use too.
The LiveScore Bet app isn't perfect, of course, but we found relatively few things to criticise. In fact, aside from a few niggles, our only real sticking point was the lack of payment methods right now. Once that's sorted, there will be almost nothing to complain about. Even in its current state, we can absolutely recommend that you download either the iOS or Android LiveScore Bet app, trigger the 'Bet £10, Get £20' welcome offer, and try out this exceptional young brand for yourself.
FAQ
What is LiveScore Bet?
A brand new betting app, which was only launched in 2020. Despite its age though, this is an incredibly impressive brand, as you can see in our comprehensive review above.
Where can I download the app?
There are both iOS and Android versions of the LiveScore Bet app available. The former can be acquired from the App Store, while you can download the latter directly from the LiveScore Bet mobile website.
What special features are available?
Plenty. Live streaming is the most eye-catching, with the likes of football, horse racing, and tennis all available to watch. Elsewhere, there are also in-play and cash out tools, a Bet Builder, virtual sports, and plenty more.
What payment methods can I use?
This is one of LiveScore Bet's weak points. There are literally just two payment options available right now – debit card and PayPal. The minimum deposit amounts are £5 and £10 respectively, while you must withdraw at least £10 in both cases.
What are the technical requirements for the app?
The iOS LiveScore Bet app will take up 153 MB, and currently requires iOS 12.0 or later. The Android version is much smaller, at approximately 40 MB, and can be used on devices supporting Android 5 and above.