LADBROKES CASH OUT
Having been founded in 1886, Ladbrokes is one of Britain's most popular, beloved, trusted and most enduring online betting and gambling companies. It offers a plethora of games to gamble on, as well as quite a wide arrange of sports that one can place bets on. What makes Ladbrokes one of the better options for new and veteran punters alike, however, is the cash out option that has been introduced to the website. In this article, we are going to discuss the cash out option, how it works at Ladbrokes, and discuss the terms and conditions that come along with it. If you are curious to learn more, stick around for the end, where we will answer some frequently asked questions regarding cash out on Ladbrokes.
What is Ladbrokes Cash Out?
So, just what does cash out mean at Ladbrokes? As some of you may have picked up on, the cash out option entails converting your winning bets into actual cash. In other words, pulling cash out of the website. The way it works is simple. Once you join Ladbrokes, you can pick up whatever betting bonuses you may be entitled to and place a bet on a match. If at any point during the match, your backed team is winning, you can pull out of the bet, and take home your earnings. Of course, the money you make through a cash out will be lower than if your backed team finished the game with a victory. However, it is a safer way to make some cash.
The special addition that the website offers, is the partial cash out Ladbrokes option. So, just what is a partial cash out? Simply put, the partial cash out option allows players to collect a portion of their winnings, while leaving the rest on stake. In doing so, punters can eke out a profit no matter the outcome of the match.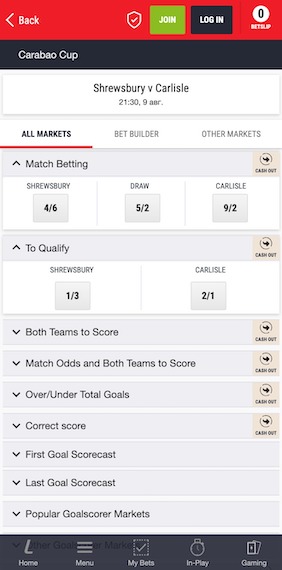 How to Cash Out at Ladbrokes?
Newcomers to the website might be curious about the answer to the question "How to cash out on Ladbrokes?" The process could not be simpler. In this section, we are going to go through a step by step guide and explain how anyone, whether it be seasoned punters or newbies, can use the Ladbrokes, cash out and partial cash out options.
Cash Out
Step 1: Make sure a cash out is available. The website specifies that not all matches allow for the cash out feature. So, before you place a bet on a match, make sure that the cash out option is available.

Step 2: Place a bet. Naturally, in order to cash out, you must first place a bet on a certain team. Let's take as an example, a hypothetical match between Man United and Man City. You go to the hypothetical match, and place a bet on City to win.

Step 3: During the game, click the Cash Out option when City is winning. Let's say that in this hypothetical game, City is in the lead 1 – 0, and the match is 10 minutes from ending. However, United is applying the pressure. At this point, you can choose to cash out, and in doing so, you will get a return on your investment. Of course, it will be lower than if you stuck out and City won. However, it is the safer option.
Partial Cash Out
Step 4: Try partial Cash Out. There is, however, a secondary option on Ladbrokes. Instead of cashing out, you could try a partial cash out. That way, you will make a profit no matter what, all the while still keeping yourself in the game.
Terms and Conditions
As with any benefits, special offers and bonuses, the cash out option has certain terms and conditions that you must follow before you take advantage of the option. The following are some of the most important terms that have to be met, in order for any user of the Ladbrokes cash out app.
You must accept the "Cash Out My Bet Agreement" which will appear before you try to cash out.
The Cash Out amount offer and the remaining stake must both be £10 or more.
The bet must be funded by a free bet.

The market you are betting on must be eligible for the Cash Out.

The event is nearly finished. The Cash Out option usually expires 5 minutes before the event's ending. Though this time frame can vary.

The Cash Out value must not be £0.
[render_widget widget_id=503 name='TBA – Ladbrokes widget']
How to Cash Out Shop Bets Online with the Grid?
In recent years, products like the Grid cards, have made the practice of sports betting a lot simpler. Thanks to these digital or physical cards, that help punters track their bets, and access any number of The Grid features. Among these, is the ability to use the Grid Ladbrokes.com cash out feature. In order to access the Grid, you can follow these simple steps:
Go to the Ladbrokes website or mobile app.
Go to the Bet Tracker and Cashout section of the app or website.

Track the shop bet using the Grid.

If you are tracking a match that qualifies for a cash out, use the Grid to accept your cash out offer.
If you are experiencing any difficulties with the cash out option, make sure that everything is in order with the website or your internet. If the problem continues, take a look at the Terms and Conditions of the cash out option, or contact the Ladbrokes staff.
Why is My Ladbrokes Cash Out Suspended?
We have talked about what the Cash Out option is, how it works, and how you can take advantage of it. However, we have yet to discuss why Ladbrokes' Cash Out might be suspended when you try to use the offer. So, let us explain the circumstance in which the Cash Out option might not work for you when you are using Ladbrokes.
Cash Out is not available on the market where you've placed the bet.
The simplest reason is this, and this is precisely why doing the research is so instrumental before you place a bet. Cash out is not available on every market, so it is imperative that you pay attention whether the market you are betting on allows it.
The Cash Out Value would be nothing
Another simple reason. The value of the Cash Out would be nothing, and so, cashing out is made unavailable by the provider.
You've exceeded the maximum number of legs in your accumulator bet.
If you have exceeded the maximum number of legs in an acca bet (14 in the case of this offer), the Cash out will be suspended.
The bet has been used to trigger a promotion.
Cash out can't be paired with other promotion offers. So, if you've used your Cash Out to trigger a promotion, the cash out will be suspended.
Ladbrokes Cash Out Markets
Lastly, we would like to list out a few markets available on Ladbrokes, on which you can use cash out. Remember, this is subject to change, so always make sure you are up-to-date and know whether the cash out option is available for that market.
Horse Racing – one of the most popular betting sports on Ladbrokes, and in the world in general, the horse racing market is open for cash outs, if you are using Ladbrokes to place your bets.
Handball – while handball may not be as popular as horse racing, basketball, volleyball or boxing, it does have its fair share of fans that love to follow and bet on matches. Ladbrokes has made the Cash Out option available for handball enthusiasts who use their website.
Boxing – the most popular combat sport in the world, and one of the biggest sports in general, boxing enjoys a huge audience worldwide. That audience can now use Ladbrokes to place Cash Out bets on boxing matches and tournaments.
Basketball – hugely popular around the world, basketball matches are also open to Cash Out options for users of Ladbrokes.
Volleyball – lastly, volleyball fans will be happy to find out that the cash out option is currently available for volleyball matches and competitions.
As we said previously, it is important to keep up to date with these options, as they are subject to change, and Ladbrokes reserves the right to make alterations to their offers at any point.
✔️ Read full Ladbrokes review >>
FAQ
Can you cash out on Ladbrokes?
Indeed, Ladbrokes allows cash out in app.
Can Ladbrokes suspend Cash Out?
Yes, Ladbrokes can suspend a cash out for a number of reasons. In order to find out why a cash out was suspended click on the information button marked with an "i".
Is there a Cash Out Limit on Ladbrokes?
Yes. The cash out amount and stake must be £10 or more, and cannot exceed £5000.
What does Partial Cash Out Mean on Ladbrokes?
So what does a partial cash out bet slip at Ladbrokes entail? Partial cash out means that you can pull out a certain amount of cash, and leave the rest staked on your bet. This let's punters make a profit, while still increasing their chances for a higher reward.