FITZDARES MOBILE APP REVIEW
Fitzdares was launched online in 2005 after a long history of providing betting services in the UK. The purchase of Sunderland's in 2016 gave the operator an expanded customerbase and additional staff. The site is promoted as being exclusive and delivers a premium wagering service..
The site is licensed and regulated by the UK Gambling Commission (UKGC) and operates under a different licence in Ireland. The core product is sports betting but customers can also play table games in a casino and live casino. Fitzdares have developed an app which allows potential customers to become members and the app replicates the website version of Fitzdares sports betting.
Fitzdares Sign Up Offer
A welcome offer is one of the most effective tools a bookmaker has at their disposal to attract new players to their platform and therefore they make these welcome offers as attractive as possible. The welcome bonus normally consists of a triggering bet which is followed by the bonus funds being credited to the punter. It should however be noted that most bookies will retain the bonus funds and only pay out the winnings. Additionally, there are always conditions attached to these funds that players should take note of to avoid disappointment.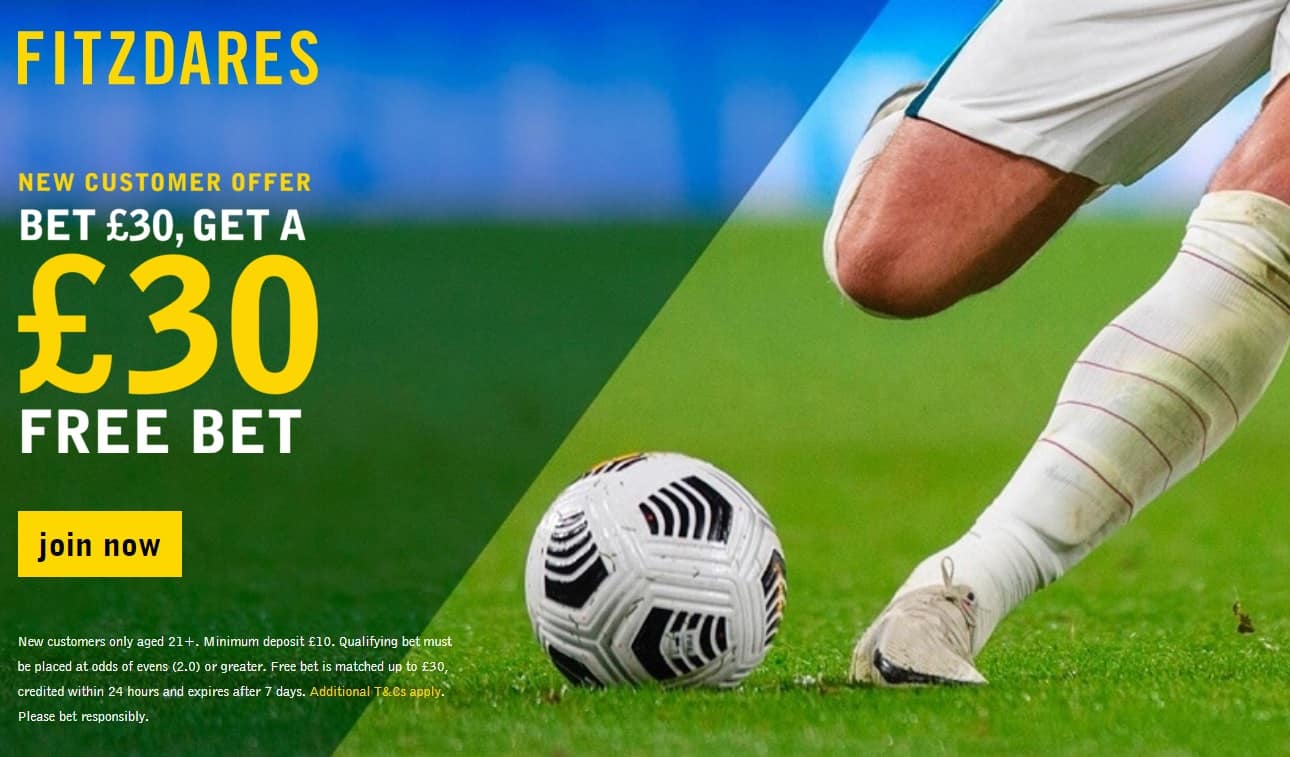 When registering a new account with Fitzdares, you will have the opportunity to acquire the Fitzdares sign up offer consisting of a matched free bet up to £30, by simply fulfilling the conditions of the Fitzdares welcome offer. Some worthy points to note is that you need to place a bet of odds higher than evens (2.0) on any singles, win part of e/w or multiples at odds of evens (2.0) or greater and the minimum deposit is £10. Thereafter, your Fitzdares sports sign up offer free bet will reflect in your account within 24 hours but must be used within 7 days. When placing the free bet, you need to make sure that the free bet is placed at odds of 1/2 (1.5) or more. It is also worth noting that you will not receive the free bet funds back if your wager pays out.
Fitzdares also refrains from offering an extensive package of ongoing promotions. Some UK operators provide a range of general and sports and event specific offers for existing customers and other focus on the value in the welcome bonus. At the time of writing, Fitzdares offered just one ongoing sports promotion which is described here:
Up to 25% bonuses on multis!
These Fitzdares offers are only valid for bets placed on horseracing daily race winner markets with the exception of ante-post markets. If your win single will be settled at double odds if only one of your selections happens to win while for an each-way bet, the bonus is only valid for the win part of the bet.
Lucky 15 (4 selections) comprises: 4 Singles, 6 Doubles, 4 Trebles and 1 Fourfold.
Lucky 31 (5 selections) comprises: 5 Singles, 10 Doubles, 10 Trebles, 5 Fourfolds and 1 Fivefold
Lucky 63 (6 selections) comprises: 6 Singles,15 Doubles, 20 Trebles, 15 Fourfolds, 6 Fivefolds and 1 Sixfold
Should your Lucky 15 win, you will receive a 10% bonus, if your Lucky 31 wins, you receive a 20% bonus if all 5 selections win and if your Lucky 63 wins, you receive a 25% bonus if all 6 selections win.
One, two, FREE, four, five!
To receive this bonus, simply back 5 players to win the same golf tournament by placing your bets before the tournament starts. You will receive the average of your 5 bets as an in-play free bonus bet. These 5 bets need to be placed on the singles or outrights markets only. The free bet is capped at a maximum of £10 and must be used during the same tournament and while it is in play on the outright market at minimum odds of ½ (1.5)
Game, set, money back.
This Fitzdares offer is for all players who placed single or multiple bets on tennis between Monday 00:01 and Sunday 23:59. You will receive 10% of your losses back as cash if your net position is a loss after a week's play. The maximum that can be received back is capped at £5000 and the minimum refund is £1 by Monday 12:00 following the previous week. Cashed out, voided and free bets do not qualify for this promotional offer.
Injury time saver.
Get money back as a free bet in this Fitzdares betting offer if your bet loses due to an injury-time goal scored after 90:00:01 if you placed a pre-match single or multiple on the match result within 90 minutes. Unfortunately, this does not apply to permutation multiples such as Yankees, Trixie, lucky 15 or Cross-sport multiples. Your refund is capped at £10 and must be placed at minimum odds of ½ or 1.5 or greater. Free bet stakes are not returned with the winnings and must be used within 7 days from receiving it.
10% CASH BACK IN WEEKLY TENNIS LOSSES
Existing customers can take advantage of this cash back offer on in-play tennis losses in line with the following Terms & Conditions:
Customers must reside in the UK and be aged 21 or older.
This cash back offer applies to in-play tennis bets which can be singles or accumulators.
Qualifying period for bet settlement is 00:01 on Monday to 23:59 on Sunday.
Net losses are calculated and 10% are credited to an account.
The most that can be refunded in any qualifying week is £5,000.
The cash will appear in an account by 12:00 on the Monday after the qualifying week.
Any bets that have been cashed out will not count for the refund.
Customers must also comply with Fitzdares' general Terms & Conditions.
This ongoing promotion does not actually provide free bets or bonuses. Customers who lose money from tennis in-play bets qualify. The 10% cash back does not provide much compensation for losing from tennis in-play betting. Even to receive a refund of £100 an bettor will have to have lost £1000 during a week. In fact, this promotion does little to attract new customers. Only customers who focus on in-play tennis betting may be interested. However, generally this cash back offer does not provide a great incentive to create an account and become a proposing member with Fitzdares.
FITZDARES MOBILE APP
With so many people owning a mobile phone, the mobile betting app has almost become a necessity in the bookmaker's toolbox, not only to attract new customers but to keep them engaged. A mobile app allows bookmakers to reach out to their patrons at almost any time to keep them up to date on the latest offers and opportunities.
Since Fitzdares prides itself on providing a luxury experience with exceptional customer service, it stands to reason that they would also invest in providing the best Fitzdares mobile app possible. The Fitzdares app is a bespoke app that was exclusively designed and built for Fitzdares from the ground up.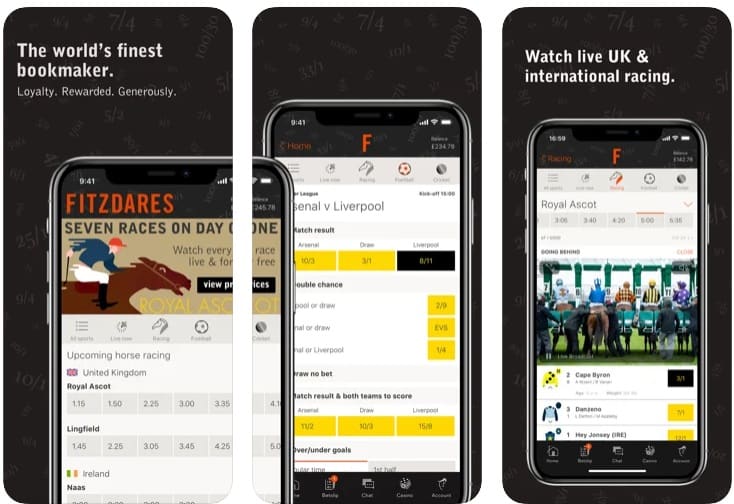 Downloading the app is an easy task which can be approached in various ways. The simplest way would be to visit the Fitzdares site using your mobile browser and find the download link. For those that prefer to, they can visit either the Android Play Store or the Apple App Store and search for the Fitzdares Android or Fitzdares iPhone app.
The Fitzdares betting app is an almost identical version of the website, making it easy to use right off the bat. The chat function is top of the range and the navigation and betting functions are second to none. When it comes to the app functionality, you have the same features as the desktop version where you can make deposits, request withdrawals and place a bet without any problems. Additionally, scaling is intuitive enabling you to browse the content on the app without any problems that might be encountered in some apps.
Fitzdares Android App offers exactly the same functionality as the iOS version of the app. Both of these is available to download on both smartphone and tablet, with the tablet offering a slightly better experience due to the font size.
FITZDARES BETTING FEATURES
The Fitzdares mobile app for Android and iOS devices and the mobile website provides customers with the following betting features:
Mobile customers with Fitzdares can cash out bets to guarantee a profit or limit the loss before the final outcome is known. Pre-match bets and bets placed earlier in an in-play event can be cashed out. The facility allows customers to profit from the match scoring going in line with the bet. It can also limit the liability when the scoring goes against the bet. The value of the cash out depends on the stake and odds of the original bet and the current odds when a customer makes a cash out request. It is insurance against the score going against the bet which potentially creates a losing bet from a winning position. An icon indicates whether a market can be cashed out.
PULSE BETTING
Customers can bet on the winner of the next point in tennis which is a form of pulse betting. It is a short term market that can be repeated a number of times. Bets are settled immediately so the customer knows the account balance when the next short term betting opportunity arises.
LIVE STREAMING
Mobile customers with Fitzdares have access to a live streaming service for horseracing only. The live betting interface is basic and the site would need an upgrade before live streaming was possible. The focus is more on the value in the odds than the live coverage.
LIVE BETTING
Mobile users with Fitzdares can place live bets across a number of sports. The most popular sports for in-play betting are football and tennis. The range of markets is a small sample of the betting options on offer before the match begins. There is no live streaming or graphical representation of the action for football and tennis. The amount of live match information is limited so overall there is room for improvement in the Fitzdares' in-play service. Betting is suspended when something important happens and cash out betting is also taken down. Upcoming in-play events are listed below the current live matches.
ACCA BETTING
Fitzdares does not offer any accumulator related offers such as money back for one loser or enhanced odds. However, customers can place singles and doubles, trebles and accumulators at combined odds. As selections are added to the Bet Slip the available bets appear. Customer can also combine a number of selections in system bets. Each leg must win for winning accumulators because they are single line bets. System bets combine options in singles, doubles, trebles and accumulators in a number of lines. All the selections do not need to win for a winning bet.
BET BUILDER
Create A Bet is Fitzdares' version of Bet Builder. It is a customised betting service whereby users create their own multiple bet. In football the following markets can be combined:
Result
Goalscorer
Correct Score
Over/Under Goals
Over/Under Corners
Both Teams to Score
Double Chance
Half With Most Goals
The bet can include any number of these markets. As customers add more legs, the odds are updated. Some of these events are related so the full combined odds are adjusted downwards. These outcomes are not available in accumulators in the regular betting.
FITZDARES MARKETS
Customers with Fitzdares can select from 27 betting categories. The default odds format is fractional but this can be easily changed to decimal. In addition to the regular sports, there are betting markets for Politics, Virtuals and TV Specials. The range of sports is targeted at the UK and Ireland market.
GAA Hurling and GAA Football are Gaelic sports that are only played in Ireland. The sports menu includes horse racing and greyhounds which are niche betting sports in the UK, even though they are popular in other parts of the world, though not so in the rest of Europe. Here is some information about the most bet on sports in online betting.
FOOTBALL
Football is the second sport on the main sports menu after horse racing. The main football page shows Featured Competitions which are mainly domestic leagues and Cups in Europe. Featured Games are usually upcoming fixtures in the major leagues. The range of countries and leagues for football betting is limited. There are many more categories with other UK-facing bookmakers.
The most bet on league is the Premier League in England. Fitzdares displays the full time result for each fixture with a link to up to about 140 additional markets. These betting options appear under the following headings:
Top
Handicaps
Goals
Half
Goal Time
Players
Team
Cards
Corners
The match result three-way market is compiled with a betting margin of 103.49% which is considerably below the average. The logic of forgoing a welcome bonus now becomes clear because Fitzdares can afford to offer customers better value in the odds. Recreational players may not notice the small variances but big-staking players will be aware of the percentages.
HORSE RACING
Horse racing is the first category on the main sports menu which reflects its importance for customers with Fitzdares. It is a popular betting sport in the UK and Ireland where the operator is licensed and regulated. The site features betting for meetings in the UK, Ireland, United States, Australia, France, UAE, New Zealand and South Africa. Few other bookmakers cover the sport in as many locations which reflects the interest with bettors at Fitzdares.
However, the range of markets for each race is limited to win and each way. There is no forecast betting or more exotic wagers. Customers can bet on the unnamed favourite and second favourite at the Starting Price (SP). Fitzdares provides ante post betting on upcoming races. At the time of writing that included the championship races at the Cheltenham Festival and the Grand National. There are virtual races and Special bets for horse racing.
TENNIS
Fitzdares publishes betting for a wide range of tournaments. Customers can bet on matches from the ATP and WTA tours, the Challenger Tour and International Tennis Federation (ITF) events. The site displays the match result market with a link to no more than 16 other markets. The additional betting options include ser correct score, handicaps and totals. The two way match market is compiled with a betting margin of 105.93% which is well below average. Fitzdares offer excellent value in their tennis odds which is more important than bonuses for big-staking players.
NORTH AMERICAN SPORTS
The Fitzdares sports betting service includes markets in American Football, basketball, baseball and ice hockey. Betting is available from European leagues in the last three sports but the most popular competitions for betting are in the United States. The main US professional leagues for the four sports are huge for betting in the UK and Ireland.
ESPORTS
Esports is a growth area in sports betting but Fitzdares currently do not offer any markets but this could change in future.
SPECIALS
Fitzdares offers some betting on TV Specials and Awards.
OTHER APPS & SERVICES
The second option on the main menu on the Home Page is 'Casino'. Clicking this link takes users to the F Club Casino which is the name of the facility with Fitzdares. The Lobby is a portal to the casino games with Fitzdares which appear in the categories of Live Games, Table Games and Games. The range of games includes roulette, blackjack, baccarat and several less popular games.
Customers can bet in the casino and live casino in several versions of these games. Customers use the one account to bet on sports and in the casino. There are no casino=specific welcome offers or ongoing promotions, other than those that are available for proposing members. Fitzdares does not offer any slots games in the casino or live casino.
Fitzdares Deposit and Withdrawal options
When it comes to depositing methods, most bookmakers cover as many ways as possible to entice their customers to transfer funds to their betting accounts.
With Fitzdares deposit methods there are only options to use Visa; Visa Debit; MasterCard; Visa Electron; Maestro; Apple Pay when making a deposit or withdrawal. However, using these deposit and withdrawal methods will ensure that your funds are always secure when making a transaction.
It is worth mentioning that the minimum deposit amount is £10 while the maximum is £40000 per translation. Also, using Fitzdares withdrawal methods will take up to 1 day when using Visa and 2 to 5 days when using Mastercard and Maestro while depositing is almost instantaneous.
CUSTOMER SUPPORT
Customer support is a part of the bookmaker experience you hope that you will need, however when you do, it needs to be fast and accurate.
Fitzdares is known for its exceptional customer support and does not disappoint, whether you are using the website or the mobile app. The responses offered by Fitzdares are fast and knowledgeable with the average waiting times to connect to a customer service agent very short. Available to patrons is the ability to connect via both email and chat, accessible through the "Contact us" located at the bottom of every page. To contact Fitzdares via email simply fill in the contact form or email them directly at bet@fitzdares.com.
Additionally, you also have the option of contacting Fitzdares via phone at 020 7851 5407 and text at 07492 882213. Fitzdares customer support is available from 9 am to 9 pm Monday to Saturday and on Sundays from 10 am to 9 pm. However, if there is a major sporting event on a given evening, they could be reached later.
SECURITY AND SAFETY
Since Fitzdares has invested so much into their image of exclusivity, you would expect them to have first-rate security and of course, they do not disappoint in that field either. When it comes to licencing, Fitzdares is registered by both the United Kingdom Gambling Commission and the Irish Gambling Commission under Fitzdares Ltd.
When it comes to their patron's security regarding their funds and personal information, Fitzdares has made sure that they care well for their customers. Fitzdares uses the latest in encryption technology on both its website and app making sure that its customer's funds and information are kept as safe as possible from outside threats. Additionally, all prospective customers need to provide KYC documentation to be able to make use of their services.
ABOUT FITZDARES
Fitzdares has a long history in many guises of proving betting services to an exclusive membership. Since it was founded in 2005, the business has focused on exclusivity. Customers are known as members but there are no limits on who can join. In addition to free bets and promotions, customers get invited to events and get discounts on branded goods. Fitzdares has developed a market-leading product in traditional betting and that attracts customers.
BOTTOM LINE
There are limitations in the number of sports and betting markets. The in-play interface has room for improvement and there is no live streaming. However, Fitzdares provides a positive betting experience at the higher end of the market. There are no major flaws and the lack of certain features has compensations in the form of excellent value in the odds.
Frequently Asked Questions about Fitzdares App
What is Fitzdares' sign up offer?
As a welcome bonus, Fitzdares provide new customers with up to £30 matched bonus money to play with if they place a qualifying first bet and join through a link on this page.
Are there Fitzdares betting apps?
Yes, Fitzdares has a bespoke betting app that can be downloaded from the Google Play Store, the Apple App Store or by visiting their website using a mobile browser and following the link provided.
How to download Fitzdares mobile app?
To download the Fitzdares App, you need to search for Fitzdares in the Google Play Store, the Apple App Store or by visiting the Fitzdares site using a mobile browser.
Is Fitzdares safe?
The Fitzdares site is safe to use since they are registered not only with the United Kingdom Gambling Commission but the Irish Gambling Commission. Additionally, Fitzdares uses the best encryption technology to keep its patrons money and personal details safe.