BETFRED CASH OUT
The Betfred cash out allows players to avoid waiting for their bets to conclude before pocketing their profits. With Betfred cash out, you can settle your wager at the advertised value without waiting for the action to conclude. So, keep an eye on your open bets and the game's current condition. If you believe your bet is in danger of losing, you can cash out for a profit even if your bet loses. The current value of all your bets will be displayed in the cash out area.
The amount you are awarded to cash out is determined by your original wager, the status of any already completed picks, and the current market pricing of your unsettled selections. The cash out amount could be greater or less than your initial stake. You can accept the cash out amount given at any time or let the bet run its course. When ready, click the Cash Out option to lock in a profit or cut your losses.
How To Cash Out At Betfred
Like other online bookmakers' cash-out capabilities, Betfred's cash out feature allows you to stop certain wagers with a single click or tap. When you click the 'CashOut' option, Betfred, like other bookmakers, offers you a settlement sum mid-bet that you can accept or deny. The following is a step-by-step tutorial on cashing out at Betfred:
Sign up for a new account or sign in to Betfred.com.
Look for the 'CashOut' icon next to bets you can cash out.
Place your wager as usual.
Under the bet slip, click the 'CashOut' button and a list of bets that you can 'CashOut' will be displayed.
To see the cash out figure, click the 'CashOut' button.
To accept the early settlement, click 'Confirm.'
If you want to wait it out, turn down Betfred's offer.
As you can see from the above step by step guide, the Betfred Cash Out offer is simple, and it's a terrific way for you to earn without waiting for your wager to finish.
In many circumstances, a winning wager can be lost in the last few minutes, but as we've explained above, being able to cash out eliminates the possibility of you not winning anything. Using the Betfred website or mobile app, you can follow your bets and cash out whenever you choose. Click this link or download the app, then enter the 13 or 14-digit code bet numbers for bet slips placed through BetStation or over the counter. Online and in-store customers receive similar incentives.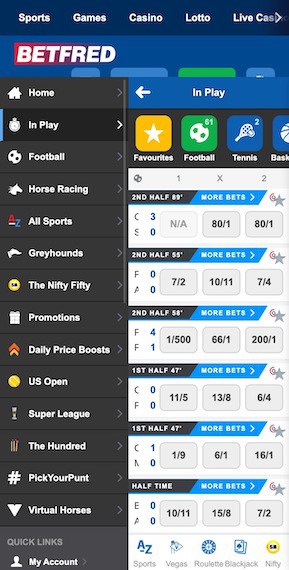 Terms and conditions
The Cash Out amount is determined by the current wager price of your choice(s).
If you use the free bet that you get when you sign up or another Betfred promotion to place a wager, it will not be eligible for cash out.
Only bets made with real money can be cashed out.
Why is my Betfred Cash Out Suspended?
A Betfred cash out online might be halted for a variety of reasons. If your Betfred cash out is suspended, it's most likely because of one of the following:
If your cash out value exceeds the free bet stake, you will be allowed to cash out again if the value rises.
The market on which you bet does not offer cash out (Power Prices, football handicap markets)
The market does not enter into play.
Due to match issues and market suspension, the market is temporarily closed. For example, when prices shift after a goal, VAR, breakpoint, and more.
When a bet includes many games that are still going on, the chance of suspension increases, so you may need to be patient.
Unfortunately, the third-party source covering the sporting event could not continue coverage as originally promised. As a result, pricing and cash out have been lost.
There is a problem with your cookies. Please clear your cookies and retry.
Can you cash out a paper slip at Betfred?
The Betfred cash out paper slip is not available at the moment. Because the Betfred Bet Tracker App has been withdrawn from the App Store, there is now no option to cash out a Betfred betting slip. So, how do you check your Betfred bets? You can check the results of sporting events you've wagered on using a live score service, or you can use the Shop Locator to find the nearest Betfred store. It's understood that for some gamblers, simply using Betfred's terminal cash out isn't enough.
Betfred Cash Out markets
Betfred Cash Out online is offered on various markets and bets, including football and horse racing. Cash out football bets on markets such as Match Betting, Unders/Overs, Draw No Bet, Both Teams to Score, and Goals Galore. The existence of the cash out indicator indicates which marketplaces enable cash out. Cash out is also available for use on the Betfred enhanced acca.
Betfred claims that compared to other bookies, its cash out option is the most competitive because customers are guaranteed the value of their bet for 3 seconds after they choose to cash out, even if the market changes.
✔️ Read full Betfred review >>
FAQ
Can You Cash Out On Betfred?
You can cash out on Betfred Cash Out and avoid waiting for your bet to finish to pocket your profit.
Can Betfred Suspend Cash Out?
Betfred can suspend cash for several reasons, including technical issues with your cookies.
Is There Cash-Out Limit On Betfred?
The maximum withdrawal at Betfred is $5,000.
Is There Partial Cash Out On Betfred?
Yes. With Betfred Partial Cash Out, you can opt to end part of a bet early but keep some of your stakes back at the original odds.