BETTARGET MOBILE APP REVIEW
The internet might already be overflowing with online betting apps, but more and more of them seem to launch each and every day. These fledgling bookies truly have their work cut out for them, needing to somehow stand out from the rest in order to attract a large enough client base to prosper. BetTarget is one of the latest online sportsbooks to enter the market, and take on this challenge.
The BetTarget app went live in 2021, meaning that – as yet – very little is known about it. This review will change that, taking a comprehensive look at this new bookmaker to help you decide for yourself whether the BetTarget app is an attractive option for your needs.
BETTARGET SIGN UP OFFER
Offering a good welcome bonus is perhaps the most effective way of all for a young bookmaker to attract new customers to its app. BetTarget do indeed have one in place, offering a £20 free bet to new clients who deposit at least £10, and then place £10 in wagers. As far as the value goes, this offer is by no means spectacular, considering how easy it is to find welcome offers worth at least £30, all the way up to £100. Nevertheless, even a £20 free bet can prove both valuable and useful.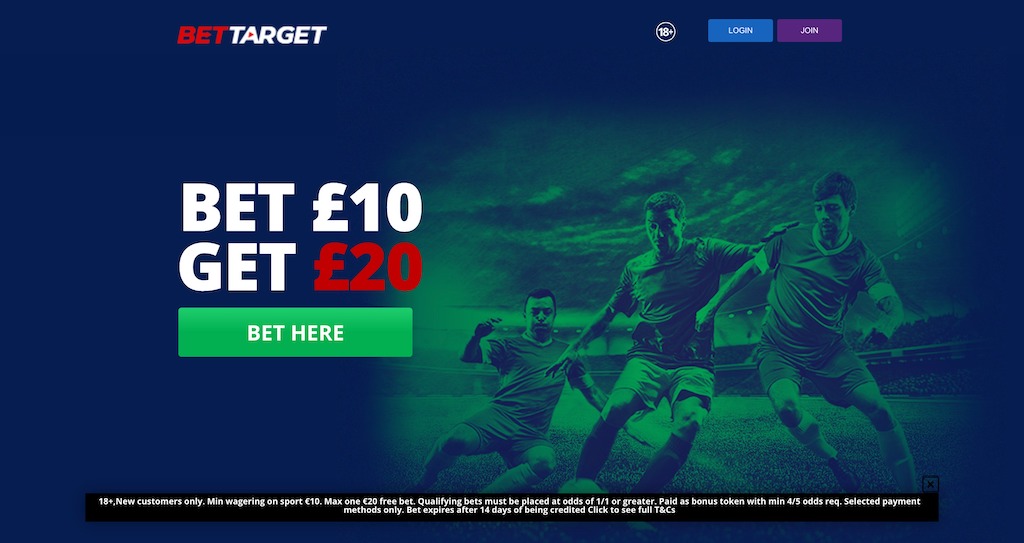 As with every other welcome offer, the BetTarget welcome bonus is subject to a few key terms and conditions. For instance, deposits made using Neteller, PayPal, Skrill, or Skrill 1-Tap do not qualify for this offer. Here are a few more key terms:
This offer is only available to first-time customers

First deposit must be at least £10

Claimants must place qualifying wagers totalling at least £10, on events with even odds or greater

Qualifying wagers must be settled within 14 days of claiming the bonus

Free bet will be automatically credited upon the settlement of qualifying bets
You have 14 days to use your free bet token after receiving it, which is double the standard seven days, and this must be done on a market with odds of 4/5 (1.80) or greater. It must also be used in full, on one single event. Be aware that – as usual – the free bet stake amount will not be included in the returns if your free bet wins. So, if you placed a winning £10 free bet on an event with even odds, you would receive a total payout of £10. Elsewhere, there are no other annoying catches to be aware of, but be sure to read the full T&Cs of this offer anyway before claiming it.
BetTarget Mobile App
BetTarget does not offer a native, standalone mobile app at the time of writing. Instead, the main site is fully optimised for mobile devices. While we typically prefer an actual app to be in place, mainly for performance reasons, this isn't exactly a dealbreaker. After all, punters still only need to have a mobile browser and either a WiFi connection or mobile signal to have full access to BetTarget and all of its features. If you are looking to download a standalone app, check out our list of UK betting apps.
The mobile platform here is sleek, responsive, and very easy to navigate. It is also rather generic-looking, which isn't actually a bad thing, as the interface will already look familiar to you if you've basically ever used another mobile betting platform. If you haven't, it should still only take you a few minutes to get accustomed to the layout here.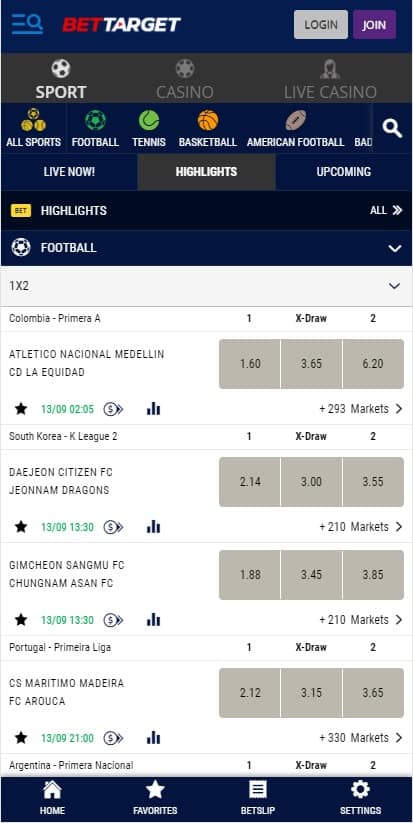 We spent quite a bit of time exploring BetTarget's mobile site, and we were generally pleased with the overall experience. Upon arrival at the sportsbook, we were immediately shown the odds for several upcoming football matches. We found it very easy to scroll through the sports menu, explore the various leagues, and find the match and wager we were looking for. Once you select the wager you want to make, it is instantly added to the betslip. You can enter the wager amount and submit the bet, or easily keep adding more selections to create an accumulator or combination bet.
The layout is intuitive too, with everything being right where we expected it to be, and each new page we selected opened in a fraction of a second. These lightning-fast loading times are particularly essential for live bettors, who must often act quickly. Even the slightest lag can frustrate in-play bettors because the live odds tend to change in the blink of an eye. Of course, even though the site itself seems well-made, you must remember that any betting app's performance relies heavily on a strong internet signal.
Other BetTarget Apps
In addition to the sportsbook, the BetTarget mobile platform also features an online casino and a live casino, with all of the games being available to play directly by using your device's browser. You can try out the featured games that are displayed in the casino lobby, or explore the various categories which include slots, jackpots, and table games.
It's worth mentioning that BetTarget's RNG and games are certified by iTech Labs which means they are provably fair. You can also play them straight away for real money, or try them out first for free in demo mode.
Advantages of BetTarget Mobile
There are actually plenty of advantages to using BetTarget on your mobile device. For starters, you get all the regular benefits of on-the-go betting, being able to manage your account, claim bonuses, check odds, and place your wagers from almost anywhere at any time. It really is extremely easy and convenient here to immerse yourself in the thrill of sports betting. BetTarget have a few other feathers to their cap though, with some of the top ones listed below.
Huge Array of Betting Markets
BetTarget offers odds on nearly any sport you can think of. Their football coverage is particularly good, allowing you to wager on matches from over 100 leagues and competitions from all over the world.
BetTarget also excels at cricket, basketball, rugby, baseball, and many other mainstream sports like hockey, golf, tennis, and combat sports. On top of that, they do a great job with smaller, more niche sports such as snooker, volleyball, handball, and darts. They even serve up a delicious buffet of eSports – including titles like Dota 2, LoL, and CSGO – along with a variety of specials including politics and entertainment.
Competitive Odds
To an extent, the odds at BetTarget are a bit of a mixed bag. For example, three-way odds and game totals for EPL matches have average odds margins of about 4.75%, whilst two-way odds come in even lower at about 4.25%. This is pretty good, but those commissions tend to rise by 2 to 3 percentage points for smaller market leagues.
The fluctuation in odds margins is more pronounced with some other sports. BetTarget's American football odds clearly illustrate this. Odds margins for NFL money lines, for example, come in at about 4.25%, whilst spreads and over/under totals weigh in at over 6%, and those who place prop bets can even face commission that exceed 7%, and margins for niche sports can approach 10% or more. Keep in mind though, that smaller-market sports tend to have higher odds margins at most sportsbooks, so this isn't anything unusual. Overall, if you stick to certain markets and avoid particular bet types, you'll find the odds at BetTarget to be very competitive indeed.
Trustworthiness
Whilst BetTarget is new and has not had a chance to earn any sort of reputation yet, we can tell you that this site is 100% legit and trustworthy. Aside from personal experience, there are a few other things that lead us to this conclusion.
The site is operated by Aspire Global, which also happens to run several other highly-rated online sportsbooks. Furthermore, BetTarget is licensed with the gambling bodies of both Malta and the United Kingdom, which are two of the most respected regulatory authorities in the business, holding licensees to the very highest standards. Even though being certified by iTech Labs has nothing to do with the sportsbook, it still demonstrates that BetTarget is serious about treating players fairly. Finally, it's also a good sign when a site accepts PayPal, because PayPal only offers its services to trustworthy operators.
Sports Betting and Casino Games Under One Roof
The BetTarget mobile site gives users access to all the betting action they can handle. You can place pre-match and live wagers in the sportsbook, whilst the casino and live casino areas feature games from dozens of the world's most respected software providers. Just a single account gives punters access to all of this and more. Switching between these two main halves of BetTarget's offering is very easy too, meaning you can bet on a sports match, then amuse yourself at the casino while you are waiting on the results.
BetTarget Betting Features
As a newer brand, it's no surprise to find that – quite honestly – BetTarget isn't exactly packed with special features. Still, they do give punters a few ways to make their sports betting experience more enjoyable, as you can see below.
Cash Out
One of the most popular features in sports betting is the cash out option, which allows punters to close their bets before the match they wagered on concludes. Doing so is very easy here, as literally all you need to do is select the 'Cash Out' option on your BetTarget betslip.
Bear in mind, however, that this feature is only available for selected pre-match and live wagers. Also, unlike on some premium betting apps, you don't have the option of cashing out a portion of the bet. Instead you need to bail on the whole wager, but – as with all cash out tools – this can still prove extremely useful.
Combo Boost
Punters who enjoy placing accumulators can boost their winnings on the Bet Target mobile site by up to 77%. To get started, you must build an accumulator with at least four legs, with each selection having odds of 1/5 (1.20) or greater. If it wins, BetTarget will boost your winnings according to the number of selections on your winning accumulator. This boost starts at 4% for four selections, and increases to 7% for five picks, 10% for six, and so on, all the way up to the aforementioned 77% for 15 selections or more.
One of the great things about this feature is that your boost is automatically applied, with no need to opt-in. Additionally, the extra profits go straight into your regular account balance within five minutes, and aren't subject to any conditions.
In-Play Wagering
Live betting has become wildly popular over the past few years, with this feature letting punters place wagers after a match has commenced, and thus capitalise on the wild momentum swings of sports as they happen. BetTarget offers a variety of live betting options, ranging from sime Match Result and Over/Under wagers, to game, team, and player props. If there's a possibility of something happening, there's a good chance you can wager on it here.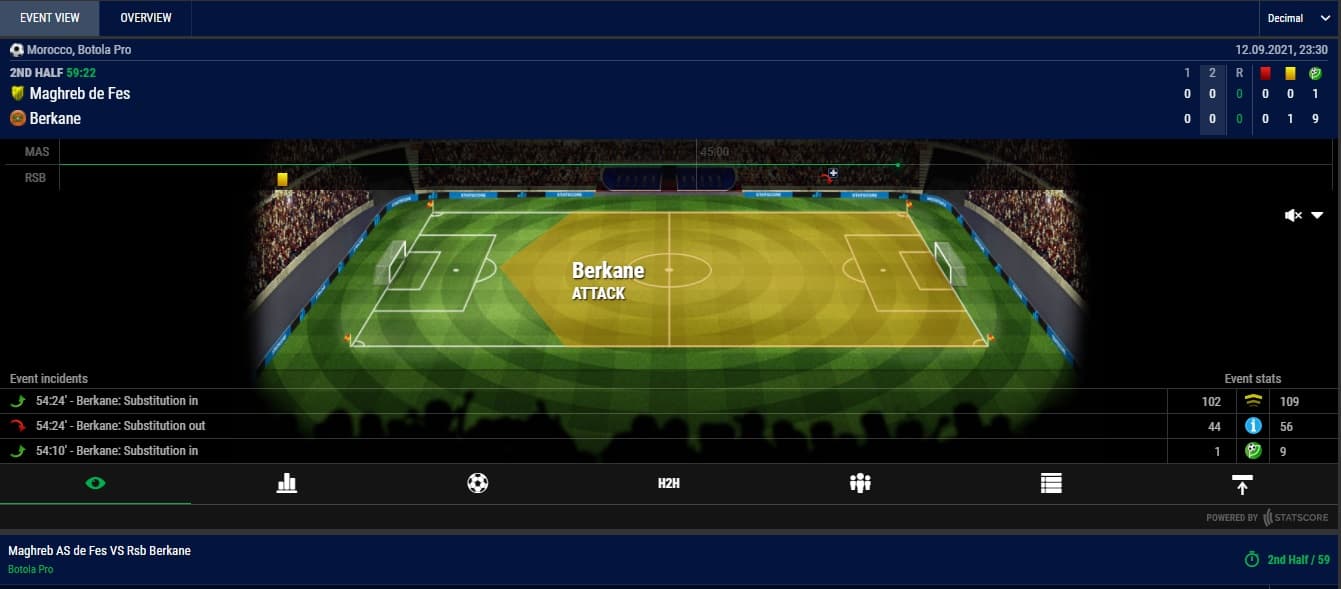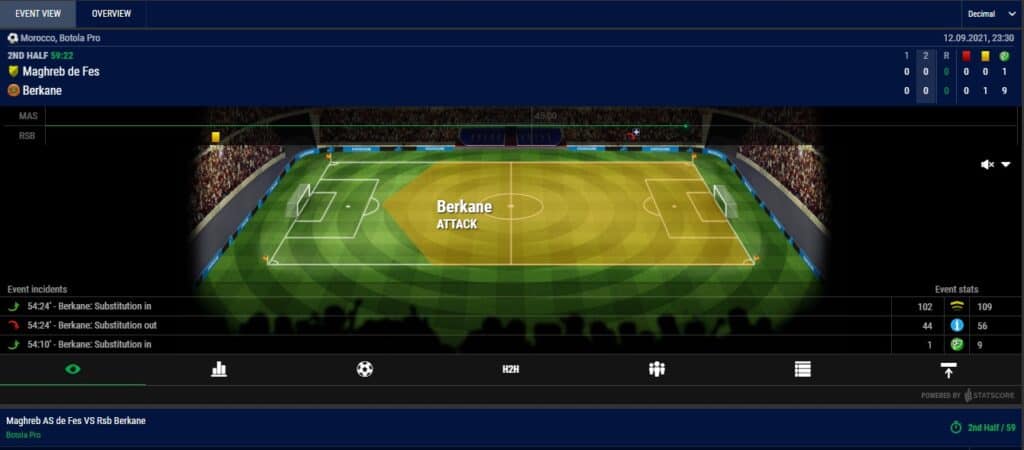 Live betting gives punters the chance to hedge, double down, or simply get more action. Unlike pre-match wagering, live betting requires a certain degree of decisiveness, quick thinking, and speed as the live odds are constantly changing as the game progresses. On BetTarget though, the in-play tool is responsive enough to let you do so whenever you please.
Multiview
You can use the Multiview feature to follow multiple in-play betting menus at the same time. This saves live bettors a lot of time and hassle, as they need not continuously switch from betting menu to betting menu to keep on top of the live odds.
Add Favourites
BetTarget gives you a few ways to customise your interface, and therefore your experience. Punters can save themselves a bit of time, for example, by adding specific sports and leagues to their 'Favorites' list. By doing so, you no longer need to go through all the menus to quickly find the match you're looking for.
BetTarget Betting Markets
We briefly touched on BetTarget's betting markets earlier on. Now though, it's high time to take a more in-depth look at them.
BetTarget covers all major sports betting markets. The most popular include football, basketball, tennis, American football, baseball, cricket, and rugby. Other popular sports include golf, boxing, cycling, Formula 1, and MMA. Whilst some smaller-market sports such as Gaelic games and certain athletics events don't appear on the betting menu, BetTarget does offer odds on a variety of niche sports including badminton, darts, handball, motocross, snooker, and a selection of other summer and winter sports.
BetTarget does a particularly superb job of covering eSports, which is one of the fastest-growing betting markets. Counter-Strike, League of Legends, Dota 2, and Starcraft are among the most popular eSports at BetTarget, although unfortunately the actual bet type options for each match are rather limited.
Football
As noted, the beautiful game is a major focus here, and the football section is very good indeed. Choosing your sport, league, and the game you want to bet on is the easy part. The challenge is sifting through the plethora of betting options that each football match presents bettors with. Just a few of the bet types football bettors can choose from include:
Match Result
First Half/Second Half
Same-Game Multiple
Goalscorer Props
Correct Score
Wincast
Corners
Bookings
Over/Under Goals
A typical Premier League match will provide punters with over 300 betting options on the BetTarget mobile site. This may seem like a lot, and to an extent it is, but some bookmakers actually give bettors over 600 options to choose from on these matchups. One of the reasons why BetTarget doesn't have as many is their selection of prop bets isn't exactly top-notch, and this is especially true of player props, which – elsewhere – can account for hundreds of wagering opportunities.
Baseball
BetTarget is generally strong on American sports, and you can typically expect to have around 25 MLB pre-match betting markets to choose from. These do mostly pertain to simple Match Result and Run Totals though, and – surprisingly – BetTarget does not offer 5 inning wagers. Whilst we were satisfied with the scope of BetTarget's baseball betting markets, it does still lack in this respect compared to a lot of other bookmakers.
American Football
Those who enjoy wagering on NFL and college football have a nice selection of betting markets on the menu. Again though, it somewhat lacks when compared to what you can find elsewhere.
In addition to money lines, spreads, and totals, you can wager on first or second half props, quarter-by-quarter bets, and a few other game and team props. With the first NFL regular season game only days away at the time this review was written, each game gave bettors around 50 options per game. That's respectable, but – somewhat annoyingly – BetTarget's mobile betslip does not give punters the option of placing accas on the NFL.
Other Sports
BetTarget covers a wide selection of sports, but there's not actually that much depth here, with the number of specific betting options being a little weak across the board. Yes, the odds which are in place are good, but a new bookmaker like BetTarget – which is looking to make a splash in such a competitive atmosphere – should really have more options here.
To say that BetTarget lacks ongoing promotions would be an understatement. We can only hope that this is due to the site being so new, and that they will focus on this area in the near future. As it stands, BetTarget only has two options on its Promotions page, if you exclude the welcome bonus. To make matters worse, these so-called 'promotions' are more along the lines of standard features. There are no cashback offers, free bet offers, or any of those other common, useful offers you might have come to expect.
The first option is the aforementioned Combo Boost for accumulators with four or more legs. This is far from being either innovative or interesting unless you regularly wager accumulators, but can still deliver sizable rewards. The second advertised promotion is Cash Out. Once again, this is more of a standard feature than a promotion, and BetTarget's cash out option doesn't even let you cash out a portion of your wager like many top-tier betting apps allow you to do.
In short, iIf you are the type of sports bettor that values a generous welcome bonus and a variety of exciting promotions, don't expect to find them here.
DEPOSITS & WITHDRAWALS AT BETTARGET
BetTarget provides punters with a decent array of banking options. Deposits are instant and BetTarget does not charge you to make them. However, most payment providers will charge a small fee for each transaction, which is pretty annoying in this day and age. Be sure to check with your payment provider to find out what fees apply for deposits and withdrawals.
Before we get any deeper into this topic, you should know that BetTarget is obliged to verify each client's age and identity. This is a simple enough procedure, and it only needs to be completed one time. Customers can sign up, deposit, claim the welcome bonus, and place bets on the mobile site, all without completing the verification process. They won't be able to withdraw their winnings until they do so, however. You can upload scanned copies of the required documentation in your account profile, or upload them directly to customer support by using the live chat function. Once you have uploaded them, the security team at BetTarget will verify you within about 24 hours.
Getting back to the topic at hand, you can make instant and secure deposits on the BetTarget mobile site using more than 10 different payment methods. These include Visa and Mastercard debit cards, bank transfer, and Paysafecard. There's also a variety of eWallets available to use, such as PayPal, Skrill, and Neteller.
It's important to know that BetTarget reserves the right to pay you out in the same manner as you deposited. So, if you used Skrill to deposit, you must use Skrill to withdraw. Of course, some payment methods – such as vouchers and prepaid cards (like Paysafecard) can only be used to make deposits. If you used such a method, you should contact customer service to arrange an alternate withdrawal method, which will save you the hassle of any unnecessary delays when cashing out your winnings.
BETTARGET CUSTOMER SUPPORT
If you have any questions or problems with BetTarget, it's a good idea to check the FAQ area before contacting support. This section covers a variety of topics, ranging from privacy and bonuses to banking and verifying your account. You can even find the solutions to some of the most common technical issues here too.
If the FAQ doesn't address your issue, you can get in touch with a live customer service representative instead by using live chat, or by sending a detailed email. Doing so is easy, requiring you to simply tap on the 'Contact Us' link at the bottom of the homepage, and select which method you'd like to use. If you opt for sending an email, you should receive a reply within 24 hours. Those who want immediate assistance can hit the 'Live Chat' link instead, to immediately connect with an agent. Again, this should always be present at the bottom of your device's screen.
The downside of BetTarget's customer service is that help is only available between 08:00 – 00:00. This is a little disappointing when compared to the many betting apps which provide 24/7 support. The lack of phone support is also worth noting, although this omission is admittedly offset by the inclusion of live chat.
BETTARGET SECURITY & SAFETY
Like any other reputable online bookie, BetTarget uses the most modern internet security technology to ensure that your sensitive information is always secure. The site uses the latest 128-bit SSL encryption to protect the privacy of all communications with the site, and any data that the operator retains is kept on encrypted servers that are further protected by advanced firewalls. We still urge prospective customers, however, to at least scan over BetTarget's privacy policy, to find out how exactly your personal information will be used.
In general, we also firmly believe that you can count on BetTarget to keep your money safe at all times. Under their license agreement, they are required to keep player funds separated from operational funds, ensuring that your money is always available to be withdrawn in full.
ABOUT BETTARGET
BetTarget was only launched in 2021, and is owned by ASG Technologies LTD, which operates under the laws of the British Virgin Islands. In the UK, the site is licensed by the United Kingdom Gambling Commission, and – everywhere else – the site operates under a license from the Malta Gaming Authority.
BetTarget is committed to providing customers with a safe and fair betting environment, and the site also encourages customers to make use of its many responsible gambling resources. Elsewhere, the site's 'About Us' section states that BetTarget is committed to delivering top-notch customer service. We suppose that's true, but… only if you need help between 8 AM and midnight.
FINAL THOUGHTS
BetTarget have a steep hill to climb if they want their mobile site to compete with the big boys, and attract new players in their droves. Let's face it – a £10 free bet welcome bonus is not going to draw a whole lot of interest from prospective customers. This is especially true when so many payment methods don't qualify for said bonus.
Even if you are attracted to the welcome bonus, there is literally only one ongoing promotion to back this up. The likes of Best Odds Guaranteed deals and Acca Insurance deals, or odds boosts, are pretty easy to implement, so we're a little baffled as to why the selection of special offers is so lacklustre here.
We can give the site some credit for having competitive odds and a decent number of daily betting opportunities. BetTarget does indeed offer a wide range of live and pre-match betting opportunities for each game it covers, although these still don't match up with what you'll find at many top mobile betting sites. Having over 300 bets to choose from on an EPL match, for example, may sound exciting, but a lot of bookmakers serve up 600+.
We might sound overly critical of the mobile site here, so we should give credit where credit is due. The prices at BetTarget are pretty good, for example, so punters who value consistently good odds over bonuses, promotions, and other bells and whistles shouldn't have too many complaints. Another area in which BetTarget succeeds is with their fast withdrawals, with withdrawal requests usually being processed within a few hours. This means that you receive your winnings quickly, assuming you have completed the verification process.
Ultimately, the bottom line is that there are a number of mobile betting sites that we would recommend over BetTarget. This is a respectable app, and you can trust BetTarget to treat you fairly and pay you quickly, but there really isn't anything too much here to make them stand out from the competition.