BETFAIR MOBILE APP REVIEW
Betfair, a name that will for sure ring a bell amongst punters and even just your average Joe seeing that Betfair are a massive company that millions of people recognize.Betfair's app (we'll be covering just Betfair Sports book app) is fairly good for what you'd expect from a company in their size. Betfair is a bookie that has been around for nearly 20 years now and has made huge strides in building their reputation and overall stature and now boast as one of the biggest bookies to this day.
We invite you, fellow readers, to examine what contributes to the success of Betfair mobile app and site and evaluate them as a bookie – all in our comprehensive Betfair app review!
BETFAIR NEW SIGN UP OFFER
When it comes to new customer offers this is something that punters are super privileged in and should take full advantage of. Of course, we have seen a huge rise in a number of good bookies in recent years and one of the many ways that bookies compete with each other to attract customers is new customer bonuses. These are basically bonuses that you get if you are new and sign up for the site.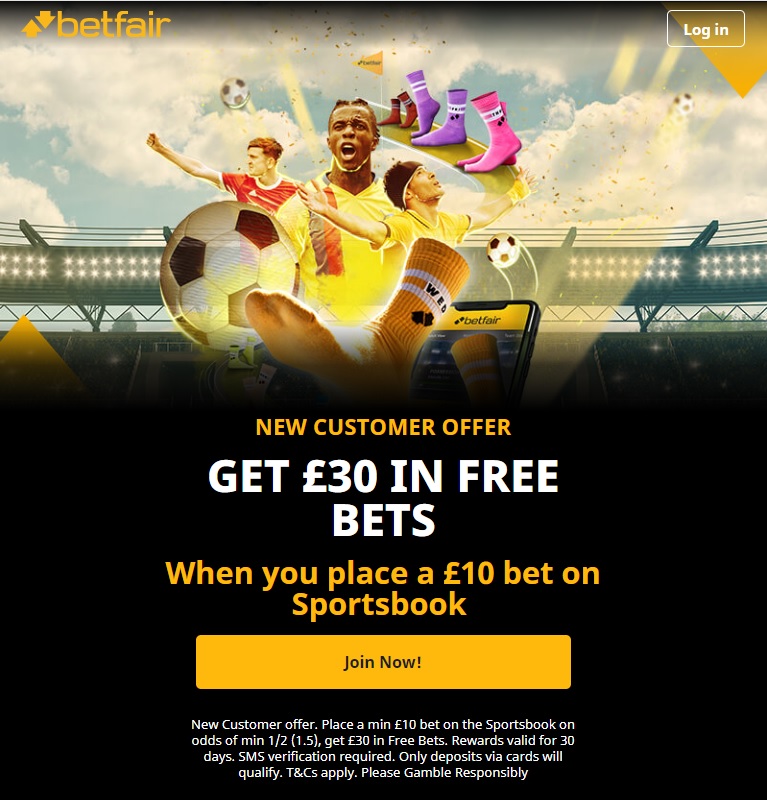 You can read more about Betfair's sign up bonuses on their website's homepage.
If you are looking to join in on the fun and take advantage of Betfair sign up offer, you'll need to register for a Betfair account. The registration begins with the click on the Join Now button, which is placed on the top right edge of the screen. It's important to note that persons under the age of 18-year are not allowed to register.
You'll have to complete a simple Know Your Customer (KYC) verification process after sign up. A copy or webcam picture of your ID or Passport will be required to verify your identity.
Once step on of registration is completed, a window pops up asking you to make a quick deposit or continue with the deposit process later.
BETFAIR PRICE BOOSTS & ENHANCED ODDS
Mobile customers with Betfair can take advantage of regular price boosts and enhanced odds. Users of the app navigate to the specific sport and betting market to view ant price boost. Customers with Betfair are guaranteed the best odds for some betting sports. When there is a major event for a sport, such as the Rugby World Cup, customers are offered the best odds on the sport.
The Each Way Edge promotion allows customers to control the payout places for a specific horse race. The full package of ongoing promotions complements the Betfair welcome offer. The Betfair price boost promotion offers improved odds across a number of sports and betting options.
BETFAIR EURO 2020 BETTING & OFFERS
When it comes to Euro 2020 betting, Betfair is right up there with the very best online bookmakers. With a host of specials already in place, by the time the tournament kicks off, punters can expect to be in a position to take advantage of a variety of Euro 2020 specific promotions too. With betting exchange and sportsbook platforms awaiting customers, be sure to check out what is available for yourself. Let's now discuss Betfair Euro betting in a little more detail.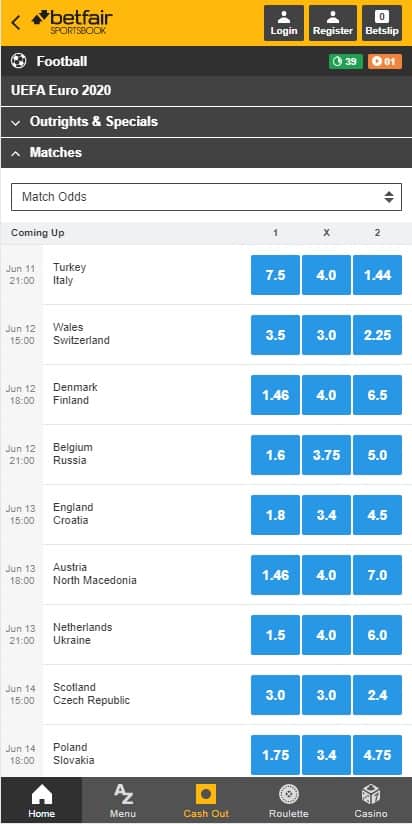 BETFAIR EURO 2020 OFFERS
While we do not currently know about the Betfair Euro 2020 betting offers that will be available during the tournament, it is clear that punters will have a host of specials to utilize. For example, Euro 2020 bets can be placed on the England starting XI in their opening match against Croatia. Based on current football promotions and the offers from previous major international tournaments, punters should keep an eye out for price boost and free bet opportunities in particular.
BETFAIR FOOTBALL OFFERS
New customers on the Betfair sportsbook site can claim £20 in free bets when placing a qualifying wager of just £5. This provides a good platform to build upon ahead of Euro 2020 getting underway this summer. Meanwhile, those placing over/under in-play bets on Euro 2020 matches can expect to receive nothing but the very best odds. Betfair is not a bookie known for its promotions, however Euro 2020 is set to be an exception to this rule.
BETFAIR EURO 2020 MARKETS & ODDS
Betfair Euro 2020 betting odds have already been introduced. Starting with Turkey taking on Italy on June 11, each and every match will be available to bet on. Bet on England with Paddy Power, with the Three Lions being 4/5 to beat Croatia in their opening match. Elsewhere, outright bets can be placed on the tournament winner, top goalscorer, player of the tournament and to reach the final. With Betfair being known for its competitive odds, England are priced at an attractive 9/2 to go all the way on home soil.
BETFAIR MOBILE APP
Betting apps for Android phones and iOS devices are something that has been on a huge rise the past few years and there rise keeps on going! This is for a very good reason as it is simply so convenient and comfortable to be able to be within the comfort of your home. Mobile apps also pack a lot of features these days that separate them from each other.
Is there a Betfair app for Android? Yes, there sure is. Betfair sportsbook app for Android and iOS devices gives its customers a plethora of betting options at their fingertips on the go both on the sportsbook and exchange. Betfair provides mobile apps for iPhone, Android and iPad for customers to choose from.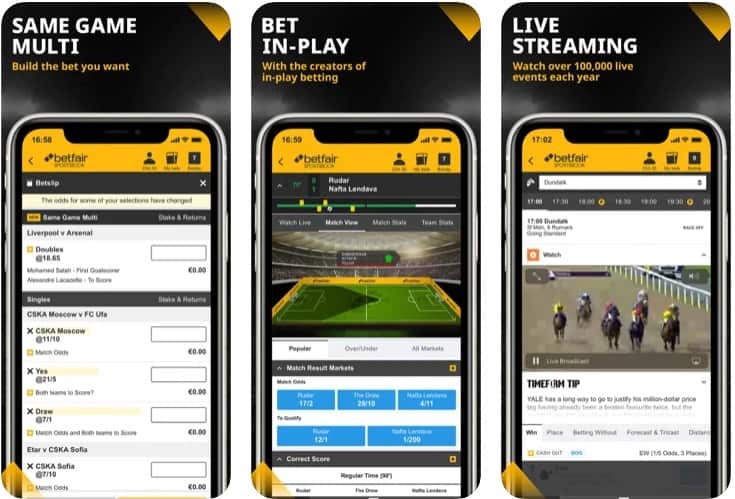 BETFAIR BETTING FEATURES
Mobile customers with Betfair and desktop users have access to the following betting features:
IN-PLAY BETTING
The Betfair in-play betting service offers live events for football, tennis and several other betting sports. There are about 50 betting options in total at the start of a typical in-play football match. There is no graphical representation of the action and very little live match data. The scoreboard shows the score and the time when goals were scored and any yellow and red cards. Betting is suspended after a major incident such as a goal, sending off or penalty in football and a break of serve or the end of a set in tennis. The updated odds reappear after less than one minute. The Betfair live betting service is available for users of the mobile app.
CASH OUT
The Betfair cash out facility allows customers to take control of their bets by closing then before expiry. Cash out is part of the Betfair live betting service. A pre-match bet or bet placed earlier in an in-play event can be cashed out. Betfair makes an offer and customers can choose to fully or partially cash out a bet or reject the offer in which case the bet stands. Betfair's cash out rules are quite straightforward: the value of the offer depends on the original stake and odds and the odds at the time of the cash out request. The option is available for selected sports and markets and more are being added over time. Customers can view their open bets and see if they can be cashed out.
LIVE STREAMING
Customers can view the Betfair live stream of horse racing in the UK and Ireland. There is a minimum qualifying bet of £1 to watch a race. The coverage begins as the horses arrive at the start and ends immediately after the conclusion of the race. Betfair also offers live streaming of select greyhound racing meetings. There is no Betfair live stream of other sports and the animation of a live event shows very little information. Other sites offer live streaming and as a minimum, an animation of the progress of play and live match data. This is an area in which there is room for improvement on the Betfair mobile app and website.
ACCA BETTING
The Betfair sportsbook was launched to complement the betting exchange and offer customers both types of betting. There is limited multiple betting on the exchange but customers using the sportsbook can place accumulators on all the betting sports. The range of single line markets includes singles, doubles and trebles. Any bet with four selections or more is an acca. The odds for each selection are multiplied and they must all win or be placed for a winning bet. Customers can place win or each way accas with Betfair. However, the mobile app and website does not feature ant acca promotions, such as Acca Insurance and Acca Enhanced odds. As additional selections appear on the Bet Slip, customers can choose from the available acca bets.
ODDSONTHAT
Mobile customers can use the Betfair OddsOnThat facility which allows personalised bets. Customers create their own bets from a combination of match markets. They request the odds from Betfair who reply with an offer. Bettors can then specify a stake and place the bet or reject the offer. The OddsOnThat function is not just for registered customers but a potential bettor must sign in to an account before placing the bet. Some of the options are related in which case the odds are adjusted downwards accordingly. Desktop users can also place OddsOnThat bets.
BETFAIR'S LIVE VIDEO STREAMING
Betfair offers a live video streaming feature to follow on your sports bets. You can take advantage of the good odds on offer to place your live in-play bets. A player can also update or cancel their currents bets through the Betfair app for Android or iPhone. In the live betting section, you will find live events on numerous matches and games. You can follow all the live scores from the app.
The live betting section is available in the Betfair mobile sportsbook app. It offers every single function that you could expect from a revolutionary bookmaker specializing in sports betting sphere. The mobile app offers a diversity of market types in the live sports betting category, no less than those in the pre-match betting category.
Another key feature of this section is the additional extras thrown in such as statistics and animated analysis in real time as the game progresses. The Betfair mobile apps offer the users the possibility to watch dozens of sports events every day and 100% for free.
Indeed, Betfair live streaming service will offer a wide range of options for you to play on. One outstanding feature is the number of minor football leagues available on this section. From Denmark, Poland, Holland etc. Users can also bet on other sports like tennis tournaments volleyball, basketball, handball, even horse racing events in the United Kingdom.
BETFAIR MARKETS
When it comes to the markets offered by Betfair you really are not left with wanting much else. They have pretty much any sport you could ever think of betting on listed, as well as casino games and even virtual sports if you are into that.
On top of the many markets offered, the betting options offered on these markets are once again really extensive to suit every punter needs. This gives the punter the ease of accessibility which is great if you wish to bet on multiple markets.
FOOTBALL
Football is the most popular betting sport in the world and the range of Betfair football markets reflects this popularity. Customers can bet on the main domestic football leagues in Europe and South America and many minor leagues from other parts of the world. The most bet on competitions are the Premier League in England, the Champions League and every four years the World Cup. The most popular Betfair sportsbook football markets are the match result after 90 minutes, Over/Under total goals and handicaps. The three-way match result is compiled with a margin of almost 6% which is above average for UK sportsbooks.
HORSE RACING
The Betfair horse racing services covers meetings in the UK and Ireland and overseas fixtures in France, South Africa and other tracks. Customers can place win and each-way bets on a named horse. Betfair settle each way bets based on industry standard place terms. Betfair promise customers Best Odds Guaranteed (BOG) on all meetings in the UK and Ireland. The Betfair horse racing services allows customers to bet on the Unnamed Favourite, Unnamed 2nd favourite and forecasts. There is also place only betting and faller insurance, that insures against a horse not completing a race. Bettors can also place ante-post bets on major upcoming races and festivals.
E-SPORTS
Esports is one of the recent developments in online betting and customers have access to a full Betfair Esports service. There are pre-match, in-play and ante-post betting markets for this form of computer gaming. Esports is a global activity and customers with Betfair can place bets on domestic events and the upcoming World Championships. The most popular betting markets are the match winner and the winner of the first 'Blood' and 'Tower' which are segments of a match. The two-way match winner market is complied with a margin of 8% which is typical for a head-to-head market.
CRICKET
Cricket is huge for betting in Asia and popular with bettors in the UK. The Betfair cricket service offers odds for fixtures in Test, One Day International and Twenty20 competitions. There has been a growth in betting on T20 franchise leagues, such as the Indian Premier League. Customers betting on Betfair cricket markets have access to odds for the main domestic leagues in England, Australia and other cricket playing nations. The most popular cricket markets are the match winner, leading bowler and leading batsman, for each side and the match. The most popular competition for ante-post betting is the Cricket World Cup which takes place every four years.
TENNIS
The Betfair tennis service features betting on matches on the ATP and WTA tours, Challenger events and International Tennis Federation (ITF) tournaments. The most popular betting markets are the match winner, total number of games and games and sets handicaps. The two-way match winner market is compiled with a margin of over 8% which is about average for the industry. Customers with Betfair tennis can place ante-post bets on the outright winner of upcoming Grand Slam tournaments and international team events. Tennis is a rare sport in that there is more in-play betting than in pre-match markets.
BETFAIR TOTE BETTING
Betfair have announced that customers now have access to a full range of Betfair Tote markets. This service is available for PC and mobile formats which means users of the Betfair app can place bets in the Betfair Placepot pool. Other tote betting products with Betfair are the Scoop 6, Jackpot, Quadpot, Exacta, Trifecta and Swinger. These are pool betting markets whereby a dividend is paid depending on the weight of money for each option. The minimum stake for each element of a win and each way bet is £2. Tote dividends compare favourably with the industry Starting Price.

OTHER APPS & SERVICES
Betfair exchange app for Android and iOS, can be downloaded from Google Play and the App Store correspondingly. The mobile version of the website can be installed on Android and iOS devices, as long as the browser is mobile optimised. The sportsbook app is fully functional so offers the same account management and betting services that can be accessed on the website. There are no mobile specific offers but mobile users can claim the welcome bonus and ongoing promotions for existing customers. Here is the range of apps and services that complement the sportsbook:
Betfair Exchange
Betfair Casino
Betfair Arcade
Betfair Poker
Betfair Bingo
The Betfair exchange app provides mobile users with the best betting exchange in the industry. There is a betting exchange app for Android and iOS devices. The Betfair casino app and Betfair poker app offer a wide range of table games and poker tournaments.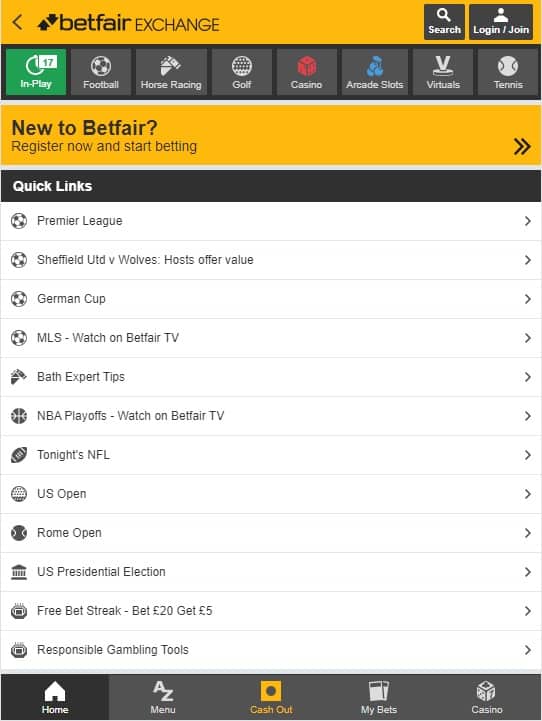 BETFAIR DEPOSIT OPTIONS AND BANKING
There are a variety of deposit and withdrawal options available to choose from in the Betfair mobile sportsbook app. The most popular payment method being the credit or debit cards due to the ease of operation and instant deposit transactions. If you prefer e-wallets you have Paypal, Skrill and Neteller to choose from. Betfair will transfer you to the e-wallet login window for deposit amount in a simple and quick process. All deposits are instantaneously credited to your Betfair account.Otherwise, take the long Bank transfer route. A bank transfer will take up to 5 working days to be processed. Betfair's withdrawal times are pretty much as deposit ones, depending on a withdrawal method.
[render_widget widget_id=2357 name='Betfair Payment Methods']
SECURITY AND SAFETY
The parent company is Paddy Power Betfair which is licensed and regulated by the Malta Gaming Authority. Operations in Great Britain come under the license and regulations of the UK Gambling Commission. This is one of the most trusted regulatory bodies in the industry. Betfair have met the criteria for compliance and net the required standards in terms of a welcome offer and ongoing promotions for existing customers. Betfair comply fully with UK regulations.
ABOUT BETFAIR
One of the most frequently used features of Betfair mobile sportsbook app is a Cash Out. It is easy to access usting the bottom menu bar of the app. Betfair, a company originated in 1999 who currently host their headquarters in London. The company was founded by two British entrepreneurs and as we know today, the company has become a massive success worldwide. The company boasts over 4 million users registered on the website which is truly impressive. Betfair has earned large reputation in the betting community due to their long presence and fairness showed to their customers. Betfair currently operates under a Gibraltar gambling license.
Betfair was the first betting exchange and dominates that market. Exchange betting has been available for almost 20 years and Betfair were the innovators. The company now offers sports betting under the name of Paddy Power Betfair. The merger in February 2016 created one of the biggest betting companies in the world, bringing together a fixed-odds bookmaker and betting exchange. Both companies are sponsors of horse racing in the UK and Ireland. They advertise independently and have maintained an individual identity despite now being one company.
BOTTOM LINE
Betfair is truly a bookie that you can put your trust into. They have passed the test of time and are continuously growing rapidly both user wise and overall features and quality wise. There are not many things that Betfair does wrong, however, there for sure are many that they perfect.
Betfair Sportsbook app for Android or iOS is definitely an option that both newcomers and experienced punters should look into.
Frequently Asked Questions About Betfair Mobile App
Here is a selection of the most Frequently Asked Questions with Betfair:
How does the Betfair Placepot work?
Customers select a horse to be placed in the first six races at any meeting in the UK. Permutations are allowed which means the bet may contain more than one selection in any of the races. The dividend depends on the number of winning bets and the amount bet into the pool.
Can you deposit and withdraw via Paypal on Betfair?
Betfair offers a number of payment methods which includes PayPal.
How do you request a bet on Betfair?
Betfair's customised betting service is called BetOnThat. Customers create their own match multiple bet and Betfair quotes odds for the bet which can be accepted or rejected.
Is there live streaming on the Betfair sportsbook app?
Mobile customers have access to live streaming of horse racing and greyhound racing but of no other sports, including football and tennis. There is no animation of live events.
Is the Betfair sportsbook and exchange available on the same app?
Betfair offers distinct standalone apps for the sportsbook and betting exchange. Both apps are fully functional and offer customers a full range of account management and betting services.