BEST PAYPAL BETTING SITES (JANUARY 2023)
PayPal is one of the world's most popular payment methods. Millions of people around the world use this banking option for a variety of purchases, and increasingly, betting sites are enabling PayPal transactions too. Using PayPal to power your deposits and withdrawals can offer convenience and speed, both of which are important when you're gambling online. To help you decide whether you want to bet on sports with PayPal, we've put together this comprehensive guide to PayPal betting sites.
About PayPal
Online sports betting with PayPal is commonplace in the modern sports betting world, and the number of betting sites that use PayPal is increasing every year. This mirrors the successful development of the PayPal banking operation, which has seen it become one of the world's top payment providers.
PayPal was initially created as Confinity in 1998, one of the earliest online banking operations, and went public in 2002. Its success was largely driven by the partnership with eBay, for which PayPal was the main payment provider, eventually becoming part of the eBay organization, although it subsequently reverted to being an independent financial services provider in 2015.
It is not considered by regulators to be a bank, but a third-party facilitator of financial services, and is regulated separately by each country in which it operates. Such has been its success that it has branched out into providing other services, including marketing, and in 2020 declared revenues of $21.45 billion, making it 134th in the list of top revenue-earning US companies.
Pros and Cons of PayPal Betting Sites
As we've seen, there are many betting sites that accept PayPal deposits and withdrawals, and that number is growing all the time. So, is PayPal the right payment option for you? As with all payment options, there are pros and cons with PayPal, and – by weighing up these factors – you will be in a better position to decide whether to go with this famous eWallet.
Pros
One of the main advantages of PayPal is that it is recognized all over the world. This is a well-established and reputable banking operation that is accepted by businesses in every sector, and that is closely regulated. In turn, this should provide peace of mind for those who are uncertain about using PayPal for their betting deposits and withdrawals.
Another key advantage is convenience. PayPal offers a smooth and easy way to make deposits and withdrawals as you are betting. You can move money between your regular bank account and your betting account far quicker here than would be the case with other methods, such as bank transfer or credit card.
Cons
The downside of using PayPal in your sports betting is that it can restrict your options in certain ways. Although the best PayPal betting sites will provide full access to their bonuses, promotions and other betting options, some sites restrict their bonus offers, making them unavailable to PayPal users. There are also still some betting platforms that don't support PayPal payments at all.
Our Verdict
If you are looking for a balance between security, reliability and convenience, PayPal can be an excellent betting option. It may not be suitable for those who want to be able to use the widest possible number of betting sites, however, or for those who are not comfortable with e-wallet technology.
Top Five PayPal-Friendly Bookies with Mobile Apps
Being able to check out the main sports markets and bet through your mobile device is an important part of modern sports betting, and many PayPal-friendly sites offer dedicated downloadable betting apps.
PayPal Betting With Coral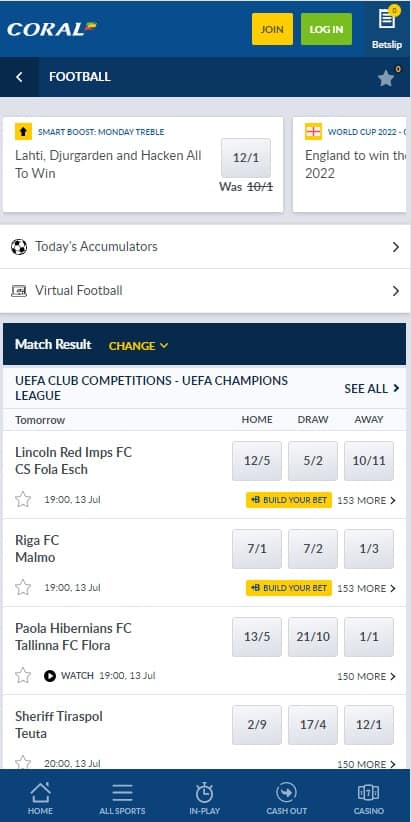 One of the best-known betting companies in the world, Coral – which is now part of the GVC Holdings Group – has a reputation for providing excellent coverage across a wide range of sports, as well as strong live betting and live streaming services. As a major UK operator, they also accept a wide variety of banking methods, including PayPal. In fact, this is one of the most popular UK PayPal betting sites.
The Coral app is downloadable from the relevant app store, or direct from the Coral site and you can find dedicated Coral apps for each of the main operating systems. Coral are also known for their strong Welcome Bonus offers, but unfortunately these are not available to PayPal customers.
PayPal Betting With Ladbrokes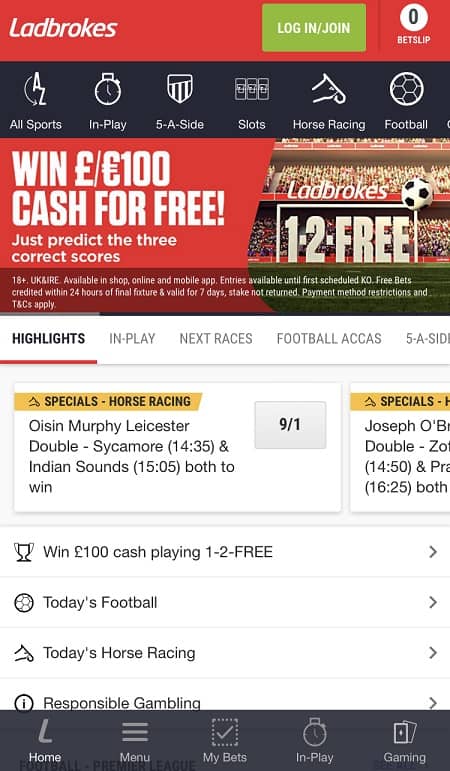 Ladbrokes can claim a history of betting in the UK that goes back over 100 years, and an excellent reputation in the industry. Ladbrokes were originally identified most strongly with horse racing betting, but the Ladbrokes brand has long since expanded to become one of the most recognisable betting platforms in the world.
Another PayPal betting site, Ladbrokes is particularly popular for its range of promotions, bonuses and unusual betting offers, including a host of odds boost and acca insurance deals. The downloadable Ladbrokes app provides access to an incredible selection of sports – one of the biggest in the industry – and there are plenty of live streaming and in-play betting opportunities to take advantage of.
PayPal Betting With Novibet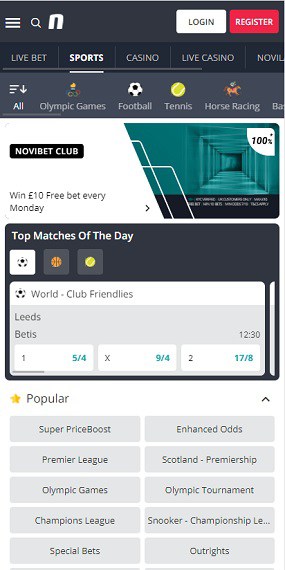 Novibet doesn't have the same long-standing reputation as some of the names in this section. This sports betting platform is fast becoming one of the world's most popular PayPal gambling sites though, thanks to its excellent design, slick navigation, and array of customer-friendly features.
One particularly notable feature of the Novibet betting brand is the range of offers and special promotions that the site makes available for players. These include acca insurance, cash out deals and price boosts, making it one of the best sites around for player promotions. There is also a dedicated Novibet app that can be downloaded for all operating systems, which offers full access to the Novibet betting product, and runs smoothly on all modern mobile devices.
PayPal Betting With Grosvenor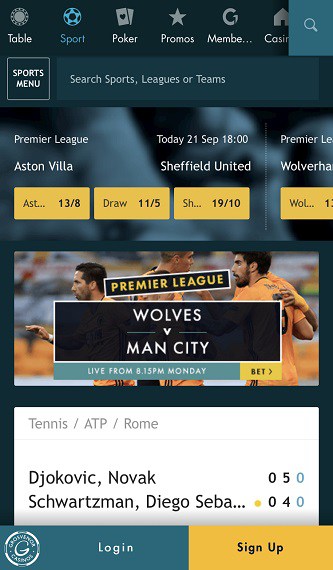 The Grosvenor name is more commonly associated with the real-world casino sector, but Grosvenor have employed all of their experience in the UK betting industry to develop a sports betting platform that is one of the most enjoyable to use in the online betting world.
As well as offering PayPal deposits and withdrawals, Grosvenor have an excellent customer support section, and a dedicated app that works well across a range of devices. One particularly notable feature of their sports betting platform is the live streaming service that covers all UK and Ireland horse racing, making it an ideal resource for live horse racing betting fans.
Depositing with PayPal
As mentioned above, PayPal is one of the fastest-growing payment options for sports betting fans around the world. There are many betting sites with PayPal deposit options and plenty of PayPal betting sites in the UK. So, how do you actually use PayPal to deposit funds into your betting account?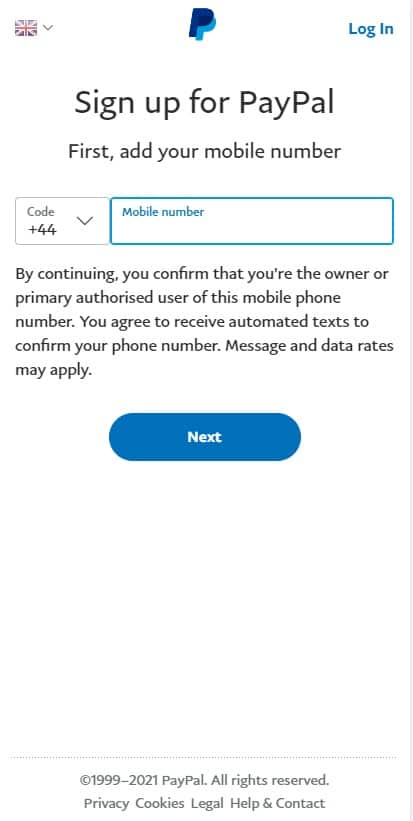 How to Deposit Funds to Your Betting Account With PayPal
Before you can use PayPal to make a deposit, you will need to set up your PayPal account. This can be done quickly and easily through the PayPal site, and you will need to provide a few personal details, such as your home address, email address, name, and date of birth.
Once you have set up your PayPal account, the next step is to link one or more payment options with your PayPal service. This will enable you to make deposits into your PayPal wallet. When you are ready to use PayPal with your betting account, simply deposit the relevant funds into your account.
It is possible that you will be asked to verify your identity before you can use your PayPal account. This is a standard procedure used to ensure that the service is safe for everyone, and is usually completed quickly. It will usually be done either through supplying relevant ID documents, or making a nominal and refundable payment into your PayPal account from your regular banking account.
You can now use PayPal to deposit funds with your sportsbook through bookmaker's Cashier or Payment options. Simply choose the PayPal option in the deposit section, and then enter the amount you wish to deposit. You will then be taken to the PayPal site to confirm the deposit before it goes through, and PayPal deposits should appear instantly in your betting account thereafter.
Withdrawing Money with PayPal
You can also make withdrawals onto your PayPal account from PayPal bookmakers. If you don't already have a PayPal account, you can set one up for free, using the guide in the previous section. When you are ready to withdraw your funds, you can choose the PayPal option in the withdrawal section of your bookmaker's payment page. This will enable you to withdraw funds directly to PayPal, which you can then leave in that account or transfer to your bank account.
How to Withdraw Funds from Your Betting Account to PayPal
Log In to your betting account
Go to Cashier or Payments section of the bookmaker's website.
Select Wirhdrawals.
Select PayPal as your withdrawal method.
Enter an amount.
Submit your withdrawal request.
Withdrawal times may vary according to the policy and processes of the betting site you are using. There will also be a minimum and maximum withdrawal level set by your bookmaker for each withdrawal type. These will usually be £10 in both cases, but make sure you check this before committing to using PayPal.
New PayPal Betting Sites
Although PayPal is fast becoming a popular banking option for sports betting, not every bookmaker offers the PayPal deposit and withdrawal service, so we've put together this list of some of the most notable new PayPal betting sites you can find online in 2021.
PayPal Betting With InfernoBet
Operated by ProgressPlay, InfernoBet is one of the newest betting sites around. It launched in 2020, and is one of a stable of sportsbook sites managed by this operating company. InfernoBet offers markets across 30 different sports, although it doesn't cover greyhound racing. The site is particularly strong on football though, with a good depth of betting options for most events, and their odds are certainly competitive.
Like many bookmakers, InfernoBet offers a Welcome Bonus for new players. We were pleased to see that those who make their initial deposit through PayPal are able to claim the bonus, as this is not the case on many sites. The bonus itself is slightly disappointing, as winnings are capped at £20 and there is a 10x wagering requirement, which is comparatively high for a sports betting site. There is also a £2.50 fee for withdrawals, which will not prove popular with punters.
PayPal Betting With Betiton
Another of the new PayPal betting sites to enter the market in recent months is Betiton. Like InfernoBet, this site was launched in 2020, in this case by a former executive at the well known gambling site Karamba. There is plenty of evidence of these casino-related origins on this sportsbook site, which shares a platform with a casino and live casino site, and which offers a casino-style VIP rewards program – something that is relatively rare in the world of sports betting.
There is no dedicated Betiton app, but that is a relatively common development among new sites, which generally focus on providing a mobile-optimised site that works effectively on web browsers. When it comes to banking, there are no fees if you use PayPal to make your withdrawals or deposits, although there is a £10 minimum deposit. Unfortunately though, if you use PayPal to make your initial deposit, you won't be eligible for the £10 Free Bet Welcome Bonus.
PayPal Betting With RubyBet
Another ProgressPlay site, RubyBet provides a complete gambling platform, offering sports betting and casino games. It's another relatively new entrant to the sports betting world, but the fact that it is licensed by both the UK Gambling Commission and Malta Gaming Authority indicates that it is a reliable and reputable sports betting site.
As a PayPal betting site, RubyBet allows you to make deposits and withdrawals using PayPal. The £2.50 withdrawal fee is definitely annoying though, and we also feel that withdrawal times – which can reach up to five days in some cases – could be improved.
The site itself is colourful but a little cluttered, although it is relatively straightforward to navigate to the sports you want to bet on. There is excellent coverage across a number of sports, and their football betting markets are comprehensive. We were also pleased to see that PayPal users can claim the £10 Welcome Bonus, although the wagering requirement of 10x is uncomfortably high.
PayPal Betting With Mr.Play
This sportsbook and casino platform was launched in 2017, and is licensed by the UK Gambling Commission and the Malta Gaming Authority – two of the most highly-rated gambling regulatory authorities in the world.
The site offers a good range of sports betting opportunities, covering a variety of sports, and their odds are generally competitive. We were particularly impressed with their live betting tools, and fans of in-play betting will appreciate the range of markets on offer, although we would have liked to see the site provide some live streaming to back all this up.
Mr Play offers some interesting promotions, including the Battle of the Punters game, in which players compete with their rival users for prizes. Unfortunately, although the site takes PayPal payments, if you use PayPal to make your deposit then you won't be eligible for the Mr Play Welcome Bonus of a free £10 bet, which may limit the site's appeal for some.
PayPal Betting With BetRegal
Another site that launched in 2017, BetRegal is one of the best-designed PayPal betting sites we've come across, offering a good blend of modern visuals and traditional design.
The site offers a solid collection of sports betting opportunities, covering all of the most popular sports, along with some more obscure options, including Muay Thai. Market depth is strong, and there are some excellent live betting opportunities. Although there is no live streaming with BetRegal, the site does a good job of providing plenty of stats and information to assist live betting fans. There's also relatively little drop-off in terms of the available betting markets, compared to those you can choose from pre-match.
BetRegal have a standard £10 free bet offer for new players, which has no wagering requirement. Unfortunately though, it is not available for PayPal customers. That said, PayPal punters can still enjoy some of the other intriguing promotions, including Price Boosts and the entertaining Prediction Master game.
Is PayPal Safe?
Whenever you're conducting a financial transaction online, safety is the number one concern. You need to be able to trust any banking company that you use, and PayPal, as one of the largest financial operators in the world, knows that its financial success depends on its reputation.
PayPal is the fifth-most used financial transaction service in the world, with roughly 400 million user accounts across the globe. That success would not be possible if the company did not have a good record when it comes to protecting its customers. To help ensure safety, PayPal uses end-to-end encryption that employs secure HTTPS connections and strong TLS configuration, along with other technological measures such as Key Pinning. Overall, PayPal's security measures are some of the strongest in the e-banking industry.
Although PayPal operates on a global basis, it is required to comply with all of the relevant rules and regulations governing financial transactions in each jurisdiction where it provides payments. In the case of the UK, this means that PayPal is regulated by the Financial Services Authority, which requires strict adherence to the rules on data protection and customer security. UK customers can also refer PayPal complaints to the Financial Ombudsman Service.
How to Bet Safely with PayPal?
If you are using PayPal bookies, there are steps you can take, using the PayPal system, to increase the safety level of your transactions. It might sound obvious, but perhaps the most important example is choosing a PayPal password that is as secure as possible. Ensure that your password is not easy to guess, contains no personal information, and ideally, combines lower and upper case letters, numbers and symbols. It is also a good idea to regularly change your password.
Another step you should consider using is the PayPal Security Key feature. This is a form of Two-Factor Authentication (2FA), in which PayPal send you a code to confirm a transaction, in addition to entering your password. 2FA is widely recommended for all financial customers, whether you are using your PayPal account to do your weekly shopping or making deposits at PayPal gambling sites.
The modern sports betting sector is extremely competitive, and that means bookmakers who provide PayPal betting apps are in competition with one another to attract new customers. The most common way for them to go about this is to offer bonuses and promotions. These can range from Deposit Match bonuses to No Deposit Free Bet deals, all of which can be handy ways to boost your betting, although it is always important to check out the terms and conditions on each promotion.
Final Thoughts
As we've explained, PayPal betting sites are increasingly popular with sports betting fans all over the world, for a number of reasons. PayPal provides the security and reassurance that comes with using the services of a company with a global reach and reputation. When you use PayPal for your betting transactions, you are also able to benefit from fast and convenient deposits and withdrawals, as well as a high level of security, and the freedom to make sports betting transactions without having to give your bank account details to the betting company.
As with all financial options, however, it is important to make sure that PayPal is actually right for you. For instance, it may – in some cases – limit your ability to claim bookmaker bonuses. For many thousands of British punters though, PayPal definitely offers a quick and convenient method of making betting transactions.
Frequently Asked Questions About PayPal Betting Sites
Do Bet365 accept PayPal?
Like most well-established UK betting companies, Bet365 do indeed accept PayPal payments, both for making deposits and withdrawals.
What are PayPal withdrawal times?
Generally, PayPal enables punters to receive their withdrawals within 24 hours, but this time period may vary according to which bookmaker you use. All bookmakers should provide details of their withdrawal time periods, so it is a good idea to check a site's terms and conditions befoore committing.
Are there any new bookies that accept PayPal?
Alongside the traditional and long-established bookmakers have added PayPal to their list of banking options, many new bookmakers such as Betiton and InfernoBet also include PayPal as a standard option.