MOBILE BETTING: APPS VS SITES
We all love betting, don't we? But, the one thing that is better than betting at home, is betting on the move. Thanks to mobile technology we are faced with two avenues; mobile betting on sites and betting on mobile via apps. In this piece, we will look to pit a range of bookmakers' betting mobile phone betting against one another. Why? To find out which of the two avenues is the best mobile betting to take.
TOP 4 MOBILE BOOKMAKERS REVIEWED
Here are 4 mobile bookmakers that have the most convenient, fast and user-friendly mobile apps and mobile websites.
Mobile Betting with Betway

☑️ App rating: 4.8/5
☑️ Read full Betway review here >>
Right, straight away, let me say that we think the way the Betway mobile site divvies out your journey dependent on what you want. Yes, the landing page will give you the option of going to the standalone site for Sports, Casino, Vegas or eSports. Each with their own individual sportsbook and promotional pages.
This feature isn't replicated in the app, instead they are all listed as a widget at the top which you can navigate through. While it's good to have them all within one app, this can be slightly unresponsive at times. Don't be fooled though, other than in this instance, the app is by far and away faster and more reliable than its mobile betting site counterpart.
One great thing about the mobile site is that, like the app, you don't have to zoom-in or out to view the whole page. The whole mobile site is optimised so that everything is visible from that page, on your screens page.
Mobile Betting with Betfair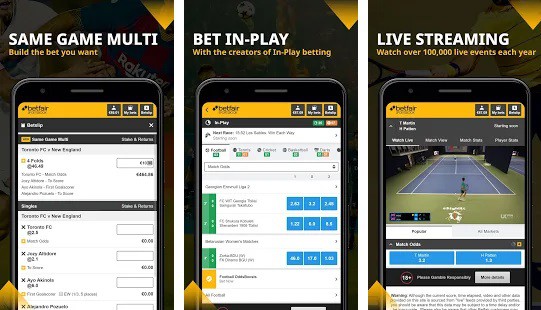 ☑️ App rating: 4.7/5
☑️ Read full Betfair review here >>
This not only looks, but, it also feels like the best of the mobile betting sites we've touched on. Extremely slick and responsive it also offers you the chance to select your own sign-up offer (if you're new) as well as downloading the app.
What it does do is trade in the fancy looking set-up for a more robust and capable betting site and app. This means you're more likely to be able to bet better as you go, rather than chancing your betting on an app which may not be able to keep up.
Again, there is a clear mirroring of the app and the mobile site, which is all well and good, but do the performances match up? In a word, yes. One key benefit to using the app as well is that you can get a special feature called price rush – which at intervals takes some of the great prices from the Betfair Exchange on some single markets on the sportsbook.
Overall, it's easy to see why the app is award winning! But don't let that sway you into thinking that you can't enjoy your betting through your mobile's web browser.
Mobile Betting With 888Sports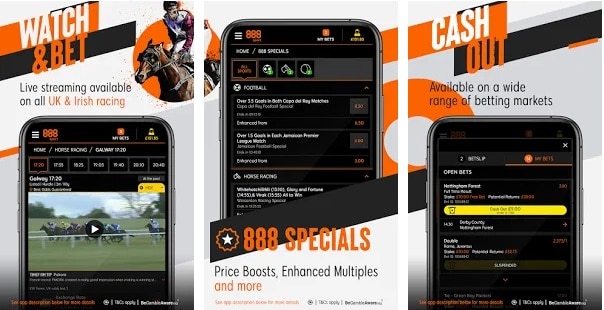 ☑️ App rating: 5/5
☑️ Read full 888Sport review here >>
The ladies and gentleman at 888sport have obviously worked very hard to have a mobile optimised betting site as identical to their betting apps as possible. And you know what? They've done it remarkably well.
The menus and sub menus across both are so well labelled and laid out that it would be impossible to miss the market you were looking for. What is also handy considering this is all about betting on the go is that both interfaces also list the 'live right now' and 'starting soon' markets.
The one takeaway difference from the 888sport app and mobile betting site is that the app is so much better optimised for handling live streaming.
Mobile Betting with Leovegas
☑️App rating: 4.5/5
You may not recognise them from their name, but you'll most certainly be familiar with their lion emblazoned logo. When you land on the LeoVegas mobile betting site, it'll instantly give you the option to download the app with a widget at the top of the screen. For the meantime, we'll focus on the mobile browser betting though.
LEOVEGAS MOBILE SITE PROS
One thing which is instantly more of a convenience is that you have everything grouped together in one place. Want to have a flutter on casino or live casino, then place a bet on the football? You can easily! With the app you may get confused by the two separate versions available for download, however, the good thing is that they contain all three markets; casino, live casino and sports.
The best thing about the LeoVegas app and the mobile betting site is also the thing which many are likely to hold against it. It doesn't really look and feel like a betting app, or, site. So why is that good? Because it isn't cluttered with odds and markets, everything is set out in a tidy fashion which leaves the experience feeling extremely simplistic.
LEOVEGAS MOBILE SITE CONS
On the flipside this ease of use is also one of the disadvantages to the mobile site, as, it affords the luxury of perhaps spreading out content too thinly meaning there are pages which, maybe, don't even need to be there. The app meanwhile doesn't suffer this issue.
The other key disadvantage to both the mobile site and the app is that they don't support live streaming.
If you want a betting mobile site or app with bells and whistles on it that don't bring anything further to the app, this won't be for you. If you are looking for one which delivers ease of use and a great interface, look no further.
MOBILE BETTING FAQ
Here is a selection of the most Frequently Asked Questions about mobile betting:
Can I claim a sign-up promotion using a mobile app?
Yes, this is assuming that the bookmakers you're utilising offers new customer offers of course. These will be shown to you on the landing page of the app, so don't worry about missing the potential sign-up offer and your free bet. It is always worth checking the terms and conditions still.
Which betting app is the best for iPhone/Android?
Whether you're looking for the 'best' betting apps on Android or iOS platforms, the honest answer is, it's down to what you're looking for. Many big bookmakers focus on pushing offers and promotions on their app, while the 'mid-tier' bookmakers will focus on a pure betting experience. It's a simple question of what you're after.
Can I get the desktop promotions on the app?
You bet! Bookmakers may not offer the whole range, as to keep the apps cleaner and more fluid – but you will also find promotions exclusive to app users that you may not have otherwise have stumbled across had you been sat at your desktop/laptop.
Do betting apps have a live cash out option?
Rest assured you will know this prior to placing your bet. Any market or fixture which offers live cash out will be labelled accordingly, regardless of if you're betting on desktop, mobile or app. Of course, you always run that slim risk of not having the right connection – but that still occurs on desktop computers too regardless of it being 2018!
What if I want to utilise more than one betting app?
Well, much like on desktop, you can have numerous betting accounts with a range of bookmakers. So, as long as you're signing up/using the apps within reason then the only thing you'll have to worry about is your phones storage! In all seriousness though, download and utilise as many as you want to use.