Betting Apps in Ireland
Ireland is a country full of passionate sports enthusiasts. Whether it be football, boxing, golf, horse racing, or one of the other sever sports that dominate the Irish scene, sports makes up a huge part of the country's culture. As is the case with any country where sports are popular, betting on them is not far behind. Sportsbooks have always been popular in Ireland, but, as of the early 21st century, betting apps in Ireland have really begun to grow in popularity. In this article, we are going to take a look at a few of the best Irish betting apps, talk about some great offers, and help you choose the right one.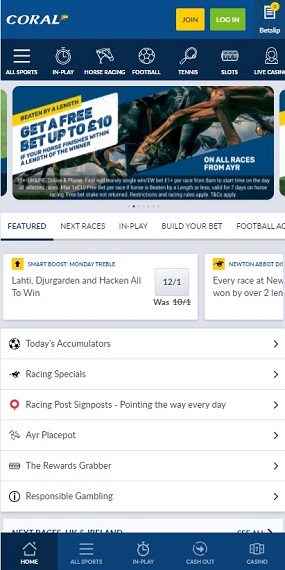 The first sport we are taking a look at is football. The game is, by far, the most popular sport in the world, and it unsurprisingly dominates the Irish sports scene. Whether it is the game played internationally, or the Irish variant of the game called Gaelic football, the sport is certainly played, watched, bet on and practiced widely across the country.
For football betting, the brand that we would like to spotlight is Coral. The company was first established in 1926, and since then, it has grown to be among the biggest bookmakers in the whole of the British Isles.
The people over at Coral cover a wide variety of sports, though the sport that they truly shine at bookmaking is football. They cover national football matches in Ireland, the United Kingdom, and a couple of countries from all over Europe. Naturally, they also cover the big events in the football world, like the World Cup, the UEFA, etc.
Coral's success is well earned. They have been at it for almost 100 years. And in that time, they have been setting up great odds, which work out for both the company, and its customers. If you were to visit their website, you would see the specials that the company offers for fans of football betting. Apart from placing simple match bets, Coral offers options for more detailed and specific wagers. An example of this is betting on how far a given team will go, how many goals will a team score, etc.
But of course, the best part about using Coral, is that they offer a hefty free bet bonus upon signing up with their service. Irish bettors will be treated to a €20 free bet. With a minimum of €5 bets, this means that new users can bet as many as four times, using the excellent Coral betting app in Ireland. For these reasons, Coral has earned its title as among the best betting apps in Ireland.
[render_widget widget_id=456 name='TBA – Coral widget']
Best Betting App for Horse Racing in Ireland: Paddy Power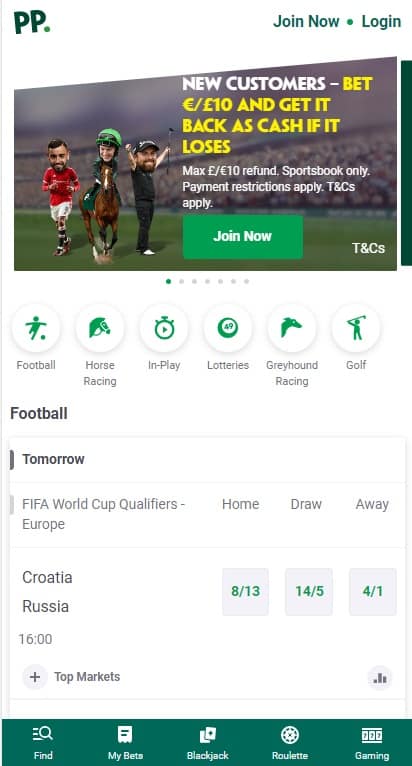 Founded in Dublin in 1988, Paddy Power is among the most prestigious betting apps in Ireland today. They have a dedicated website, and a seamless and easily-usable mobile app. The company do their business through a number of licensed betting shops offline, and a website and mobile app online. Apart from sports betting, the website also offers online gambling games, like poker, bingo, and slots.
Where Paddy Power truly shines, is in its horse racing bookmaking. The website covers the most spectacular Irish horse racing events, such as the Irish Derby, the Irish Grand National, as well as a couple of other foreign horse racing derbies and tournaments.
The Paddy Power app can be downloaded in Ireland and other countries around the world, using various app stores. Their app is great, as it is easily understandable, easily usable, and offers a few great benefits. For one, they offer their Irish customers a signup bonus that is certainly worth the hype.
A relatively new addition to the Paddy Power website, is the inclusion of live betting and match streaming. Streaming has recently become hugely popular, and many betting apps / sites have begun to implement it. Paddy Power streams races from all of the numerous events they cover, and has implemented live betting during the matches.
Live betting is an excellent addition to the world of online betting. It greatly benefits new players, who would prefer to get a bit more information on the match, before they place a bet. However, while Paddy Power offers a great live betting service, it is not the best in-play betting app in Ireland.
[render_widget widget_id=1124 name='CBG – Paddy Power widget']
Best Betting App for In-Play Betting in Ireland: Bet365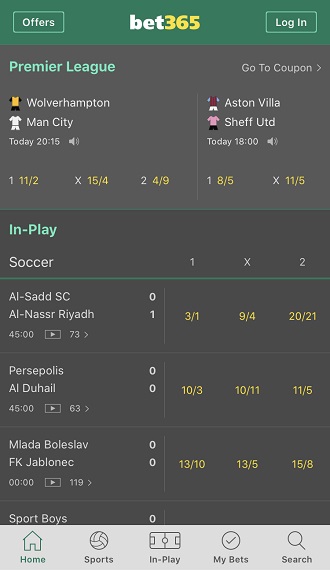 What in-play betting refers to, is placing bets on a match as it is happening. And when taking a look at all of the top and prominent betting apps in Ireland, the one that stands out in terms of in-play wagers, is Bet365. One of the most popular gambling companies in the world, Bet365 was founded in Britain.
Bet365 is among the most diverse apps in Ireland. They cover a wide array of different sports, including football, horse racing, boxing, greyhounds, and a plethora of other sports. As is the case with most betting sites, it is football that draws in the largest crowds. However, the company also makes successful odds on other sports, and have seen huge success.
What draws people to Bet365 the most is the fabulous in-play betting service. Out of all the Irish betting apps, Bet365 has the best live streaming coverage. They spend a lot of effort into streaming all of the most popular (and even some less popular) events in the world of sports. During these streams, Bet365 allows their customers to place bets on these on-going matches. This feature lets bettors make a more informed decision when placing a bet.
Apart from the in-play betting feature, Bet365 also has a few extra benefits, that make picking their website one of the best options on the internet right now. For one, they offer an excellent customer support system, which is available to users 24/7. The site / app also accepts deposits from numerous sources, including debit / credit cards, online transfers, and e-wallets like PayPal.
Lastly, the website also offers a hefty and desirable match deposit bonus. When placing a wager, Bet365 will match your deposit, up to a sum of €50. In order to collect your bonus, you must have an account signed with Bet365, deposit the cash, and then claim your credits.
[render_widget widget_id=378 name='TBA – Bet365 widget']
Best Betting App for Exchange Betting in Ireland: Smarkets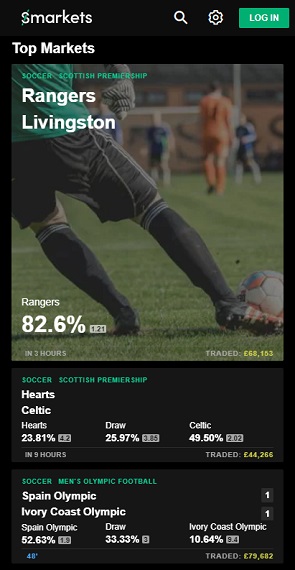 Smarkets is a betting exchange company based in the United Kingdom. The company has offices in England, the United States, and Malta. They use a peer-to-peer platform, which allows for quicker exchanges and trades. Using this method, Irish bettors can place bets, not just on Irish sports events, but even political events. If you are looking for some of the best betting exchange apps in Ireland, look no further than Smarkets.
But just what is betting exchange? In many ways, betting exchange is no different from online betting. The same opportunities offered on online sports sites are offered on betting exchange sites. With the addition that betting exchange sites allow for a bunch of other events. It is worth noting, that in some ways, betting exchange sites differ. Namely in how they make a profit. Regular online betting sites make money by offering less efficient odds. On the other hand, betting exchange websites charge fees when bettors win a game.
When it comes to Irish betting exchange sites, Smarkets is the website you need to take a look at. The app and website both cover sports, news, and even presidential election odds. For those who have experience with betting exchanges, or for those who are curious to try their luck at it, Smarkets is among the best websites to check out.
Smarkets also has a bonus code offer, which you can claim under their bonus section. If you have a bonus code available, simply click the bonus button on the website (or app) and punch in the sequence to claim your bonuses.
[render_widget widget_id=584 name='TBA – Smarkets widget']
What We Look for in the Best Betting Apps
There are quite a few metrics by which we can judge betting apps. In this section, we are going to take a look at a few of the metrics that we use to determine what makes a good app.
Safety and Security
Naturally, the first issue we want to look at is the safety and security the website provides. This entails taking a look at the licensing and regulation of the website. If the website is licensed by reputable authorities in the field, it is likely safe to use.
Ease of Installation
Sometimes, an app takes too long to install. Sometimes, there are complicated rules for installing the application on your mobile phone. And sometimes, the app is not at all worth all that hassle.
User-Friendly Interface
A user-friendly interface is imperative when taking a look at the best betting apps. Most people have neither the time, nor inclination, to learn new mechanics when doing a hobby. This is why the best betting sites/apps all feature an easy-to-use interface model.
Modern Betting Features
In the 21st century, the betting world has drastically changed. Welcome bonuses, in-play betting and live streaming options are all important when picking out the best online betting website.
Good Event Coverage and Fair Odds
The more options a website has, the better. However, it is not enough to merely have the options. The website must also include odds that are fair to the players. The listed websites all have coverage of a variety of sports, and also feature great odds for their customers.
Deposits and Withdrawals
Just how much money can you deposit/withdraw at once, what methods can you use to make these deposits/withdrawals, and how long will each of them take to process? The more options available to players, the better.
Variety of Promotions
Generous betting sign up offers and a wider variety of ongoing promotion is always a welcome benefit. Websites that have a diversity when it comes to their promotions tend to do better, not just among critics, but customers as well.
Betting Regulations in the Republic of Ireland
The Republic of Ireland has some very strict laws for gambling. However, you will be happy to know that gambling and online gambling are both legal in the country. The Betting Act of 1931 is currently the main governing law for sports betting and gambling in the Republic of Ireland. Gambling games and lotteries on the other hand are governed by the Gaming and Lotteries Act of 1956.
When it comes to online betting and gambling, it is completely legal in Ireland. However, there is a caveat. The online casino and betting site/app must be authorized and licensed by a valid local licensing company. If it is not licensed by an Irish gambling licensed, it must be regulated by an international respected authority, such as the United Kingdom Gambling Commission.
This means that Irish bettors and gamblers can play / wager at any of the aforementioned online casinos / sports betting websites, as all of them have a valid license from a reputable source. If you want to look for other venues, take a look at the licensing of any website before you sign up. Many unscrupulous casinos will not be licensed, and will have unfair and irregular odds. Some might even be a scam, so make sure you stay safe when betting online.
How to Download Betting Apps in Ireland?
Nowadays, it is remarkably easy to download and use online betting sites. Most of them are available quickly and easily at the Google Play Store, or other similar online app stores. Those that are not, can still be downloaded directly from the official company website. These websites will likely have thorough instructions on how to download and use their apps. The reason for this is because many have noted that the number of online bettors is increasing, and especially the number of online bettors who use their phones to place wagers is on the rise. It is worth noting, that if you want to use the best betting apps in Ireland, you must have an account whose IP matches either the Republic of Ireland or the United Kingdom.
FAQ
Is betting legal in Ireland?
Yes, betting is legal in Ireland. Though it is heavily regulated, and online betting is only legal when done through websites that have been licensed by reputable authorities.
How to download betting apps in Ireland?
In order to download betting apps in Ireland, you can either visit one of the numerous online app stores, or simply download the app directly from the site.
Are there betting exchanges in Ireland?
Indeed, there are. Among them one of the best is Smarkets, which we talked about a bit more extensively in this article.
What is the best betting app in Ireland?
There are quite a lot of great apps that you can use. Paddy Power is excellent for horse betting, Coral does a great job of covering football, and Bet365 is quite good at providing match live streams and accepting in-play bets.