HOW TO FIND THE BEST IPHONE APPS
When we talk about finding the best betting apps for iPhone you have to remember it is all relative to the person because certain companies specialise in different markets and sports or they have better availability in certain aspects of the app that may appeal to you more than it may appeal to the next person. However there are a few pointers that you should look for when trying to find the best app for you.
Always looks to see if the betting company offer the sports and markets that you would like to bet in as this is obviously very important. For example – a lot of people look for horse racing apps for iPhone – but not all sport bookies have that! (If you're looking too – check our reviews about Paddy Power sport app, Ladbrokes app for Android, Coral Mobile App and 888Sport betting app)
Look for sign-up offers exclusively for mobile users because this is a brilliant way to get some free cash to start betting with.
Some apps offer all the features that are available on the main website such as in-play betting, live streaming, key stats, so look for these before you make your decision
User interface is very important as it can make or break an app so look to see if it is a simple app that you can easily navigate your way around.
There are many sportsbook apps for iPhone available and many with redeeming features so I urge you to look through these pointers and make a decision on which app you think suits you best.
DOWNLOADING IPHONE BETTING APPS
Downloading a betting app on the iPhone is a very simple thing to do. You can go straight to the App store or click to our recommended bookies and download from them.
All you have to do now is:
Install the app on your iPhone
Login with your details or create a new account if you don't have an account already
Set up your payment details
Enjoy!
Downloading a betting app on an Android phone is not easy. We have a post about Android betting apps if you'd like to know more (or planning to switch, for some reason).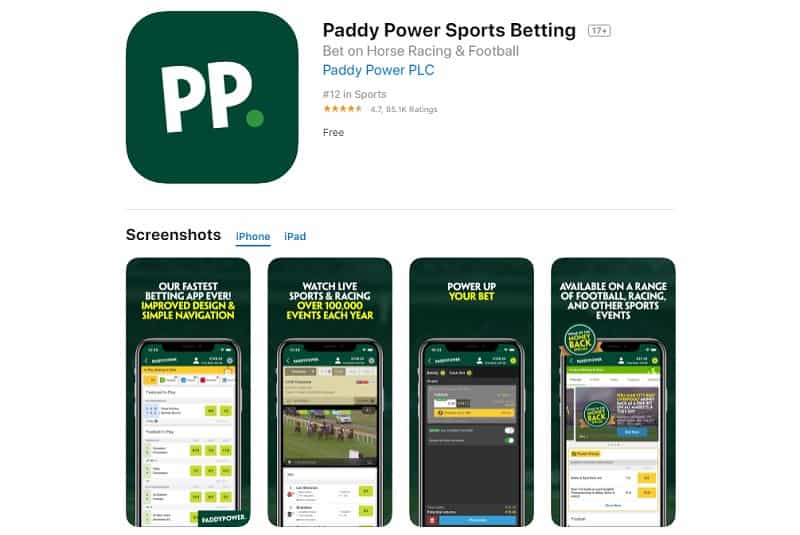 IPHONE BETTING APP FEATURES TO LOOK OUT FOR
There are many features available in mobile betting apps some of which are offered only by certain companies and some which are offered by all.
IN-PLAY BETTING ON IPHONE
The first feature we'll discuss is In-play betting – which is offered by most betting apps. In-Play betting allows you to bet on a game while it is being played, with many markets being offered. In-play betting is a great way to add some excitement to a game (especially if you are watching the game at the same time, preferably with a beer).
CASH-OUT
Cash-out is a feature which simply allows you to take out the profits before the bet has come in if your bet is already winning. You can cash out when you want assuming you have placed a bet on the markets that allow this and some major bookmakers even allow you to cash out a part of your bet and let the remaining stake run. Cash-out is particularly popular with football punters and therefore has become a feature to look for in the best football betting apps available on the market.
LIVE STREAMING
Streaming is a built-in player on the mobile apps that lets you watch the matches live while you are betting on them for free. There is also radio commentary available for those of you that don't have limited access to internet data.
I personally love the streaming feature – saves me on downloading other apps and trying to catch games on the go.
MORE FEATURES ON IPHONE BETTING APPS
Besides streaming, many betting apps offer in-game stats, live commentary and even summaries of the matches that are about to be played or live matches.
IPHONE BETTING APPS EXPLAINED
To give a brief rundown of how the apps work, I'll use BetVictor as an example.
Betvictor has a very simple user interface making it easy to use for all ages due to its straightforward links. To be able to use a betting app on your mobile you must first activate your location GPS on your device. This is so the app knows where you are from and that you are eligible to make bets through the app.
BETTING ON IPHONE APPS
To make a bet you simply navigate through the sports sections to the sport of your choice. Once you have done this, simply find the match that you are interested in and click on it after which the list of all the markets available will show up along with the odds available. Click on the odds for each market to add the bet to the bet slip and this can be done with many matches at once. Then click on the bet slip on the right hand side of your phone which lists all the bets you want to make along with the option to set a stake for each bet or various multiples you wish to create. Then confirm your selections and you will be given a receipt before it returns you to the home page.
HOW TO DEPOSIT ON AN IPHONE APP
To deposit money into your account you must click on your account, click deposit then choose the means you want to deposit by and the amount. When withdrawing, click on withdraw instead of deposit and choose the amount and where you want to withdraw the money. This is a very straightforward process and does not take long at all.
There are also offers on the homepage that you can choose from and promotions that run all through the year.
BOTTOM LINE
Please follow these points when you are looking to find which mobile betting app you want to use as there are hundreds available yet some are much better than others, offering many more features and promotions to benefit the user and to make your time much easier.
Bookies have some great iPhone apps, just try 1 or 2 from the table below – I think you'll like!