BEST HORSE RACING BETTING APPS – JANUARY 2023
You might think finding the best horse betting app is an easy task. But after reviewing a large number of apps, I can say with great certainty – not all horse racing betting apps are created equal, and the difference between the good ones and the poor is the difference between an enjoyable betting experience and one that is rather… boring, or just annoying.
HOW WE PICK HORSE RACING APPS
Our selection of recommended horse betting apps isn't simply thrown together at random. Instead, it's the result of extensive testing carried out by experts in the field. This testing is done with very specific areas of evaluation in mind – listed below – and each app is ranked depending on how it performs in these criteria.
USER FRIENDLINESS
This is arguably the most important factor of all. The chances are, after all, that you're looking for an app which you'll be happy to keep using for the long haul. For this to be possible, you need both an intuitive interface, and a reliable, stable app overall.
SECURITY
This is another absolute priority. When your hard-earned money is on the line, you want to be positive that it's completely secure. SSL security and anti-fraud measures are both must-haves, as are full licenses with at least one respected regulatory body.
COVERAGE
At a very minimum, we'd expect every worthwhile bookie nowadays to let you bet on all UK & Irish races. That might sound like a lot to ask, but it's actually become the standard in modern sports betting. The very best might also facilitate wagering on races in Australia, the USA, South Africa, and a variety of other countries too.
USEFUL FEATURES
When it comes to special features, we'd say it's generally a case of 'the more, the better'! After all, any contender for the title of best horse racing betting app will allow you to do more than just place wagers. Live streaming is one of the most important features we look for, but the likes of expert betting tips are certainly welcome too.
SPECIAL OFFERS
A high quality welcome offer is the perfect way to start your online horse betting experience with a new app. The best will increase your spending power immediately, usually with either free bets or 'money back if your first bet loses' wagers. This will ideally be followed up by a range of useful ongoing promotions, with Best Odds Guaranteed, Extra Places, and Non Runner No Bet some of the most important examples.
PAYMENT OPTIONS
This is another area in which we generally like to see as much choice as possible. Every sportsbook should let you use debit cards, but selections of eWallet options – like PayPal, Neteller, and Skrill – can vary wildly, and bank transfer can be a useful alternative. We also look at any transaction fees which might be charged, and the processing times for deposits and withdrawals.
AVAILABILITY
Quite simply, which operating systems is the app available on? With a roughly 50/50 split between iOS and Android usage in the UK, we'd say it's extremely important that an app is available for both sets of users.
TOP HORSE RACING BETTING APPS BY TBA
Our team has worked hard to separate the best from the rest and help you choose the best betting app for horse racing. Below you'll find our top betting apps for horse racing, and our guide to picking the best mobile horse betting experience.
BETWAY HORSE RACING BETTING

☑️ App rating: 4.8/5
☑️ Read full Betway review here >>
Betway may not be the highest profile bookmaker out there, but nonetheless, they definitely know how to produce a horse racing app for Android and iOS devices with equal top-notch quality.
This will come as a surprise to some online gambling aficionados, as a previous version of their app was considered poor by many. However, all has changed with their latest offering, which looks beautiful and has perfect functionality.
As you'd expect, their app is available on pretty much all mobile operating systems. Thus, it doesn't matter if you prefer your mobile horse racing on an iPhone or an Android, as you can use this app with either of them.
Ease of navigation is definitely one of the main plus points on Betway's app and it is also renowned for its stability, which is always important when it comes to gambling apps.
It offers live streaming of many sporting events, including most of the big horse racing meetings. Its banking options are plentiful, so you should be able to find a deposit and withdrawal option that suits you. It includes a promotions tab, which helps consumers who do not want to spend all of their time scrolling through the entire app looking for the best offers. However, there could be more horse racing bonuses within the app, so it falls down slightly there.
Overall, it just looks pretty darn good and the customer support is pretty darn great too. There is a live text chat option.
Pros – Looks great, excellent streaming options and top-notch navigation
Cons – Could be more app-only bonuses.
BETFRED HORSE RACING BETTING
☑️ App rating: 5/5
☑️ Read full Betfred review here >>
Betfred is now known as one of the biggest players in the UK betting market and their app is a valued part of their business. Therefore, it is unsurprising to see that they have put quite the effort into making this app a mobile experience that most horse racing fans will enjoy.
Horse racing fans should note that it offers an excellent introduction offer to any new customers, where your initial stake is matched up to a bonus of £30 of free bets.
Its streaming options are excellent and it also gives users the option to bet in-play on horse racing, which is an interesting addition that we are more used to seeing on betting exchanges than we are on sportsbooks.
Its navigation could be slightly better and the design isn't as pretty as some other apps, but we are willing to overlook this, because overall, it's a great addition.
The iOS app is slightly more advanced than its Android equivalent, as it allows users to sign into their account with both Touch ID and Face iD. There is also the option to download this app onto the Apple Watch, which is pretty darn cool to say the least. The customer service is also decent, should anything not go the way you want it to.
Betfred app users are also able to take advantage of key statistics and line-ups from the Racing Post, who are associated with the bookmaker. Elsewhere, cashing out and a range of promotions are also available via the app, along with the "PICKYOURPUNT Builder", which allows punters to create their preferred bet, without the need of requesting anything. All UK & Irish racing meetings are also available to watch via Betfred's live streaming service.
Pros – Good bonuses, quality streaming, innovative features
Cons – Design, speed (a bit slow)
888SPORT HORSE RACING BETTING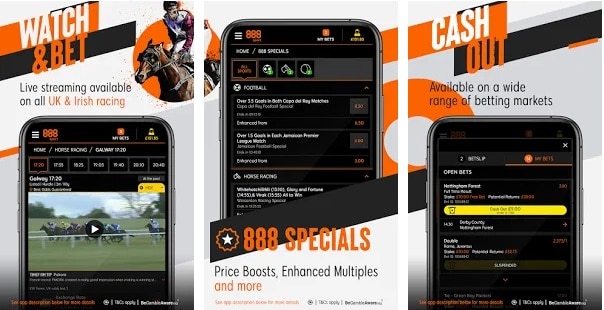 ☑️ App rating: 5/5
☑️ Read full 888Sport review here >>
888Sport betting app is another one that has greatly improved their offering in recent times. They used to be renowned for a betting app that was full of glitches and bugs, but their latest offering is much improved and doesn't have any of those old problems. They have made marked improvements after listening to their customer base and that has to be commended
The app offers everything you could possibly want: in-play markets, top-notch horse racing streaming and easy and simple navigation. It also gives players who sign-up a very tidy £30 free bet bonus; you can't say fairer than that now, can you? Of course, it could have more event specific bonuses, but it's hard to be perfect. One pretty sweet feature horse racing fans can enjoy is the 'Racing iCard'. This gives users an insight into the form of each competitor in the race and can be invaluable when trying to pick winners for individual meetings.
The 888Sport app comes with touch ID, allowing punters to log in to their account in just a matter of seconds. The bookmaker are known for their hugely competitive odds, while a built-in search engine helps users to easily find their favourite markets. The app also ensures that customers can take full control of their bets thanks to its cash out feature.
In terms of horse racing apps, it is definitely one of the best ones out there right now. We love how they really seem to appreciate their horse betting customers and that's one of the reasons we included on this list.
Its design hasn't reinvented the wheel, but that's not a massive complaint, especially since it has such great horse racing information within it. Well done 888 – you know what we want and you've gone and got it!
Pros – Form info, easy navigation
Cons – Not enough event specific bonuses
10BET HORSE RACING BETTING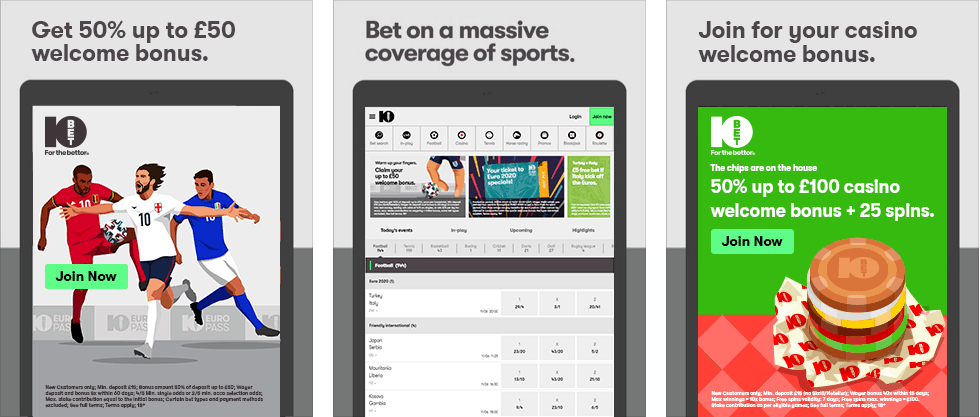 ☑️ App rating: 4.6/5
☑️ Read full 10bet review here >>
10bet is not as well known as some of the other big names on this list, but it has done incredibly well to be ranked among them. They have designed an app that battles with the big boys of horse racing betting and very often, comes out on top.
It offers excellent enhanced odds on horse racing bets and has some good features.
10bet is not a new fish in the gigantic pond of horse racing betting apps, since it appeared for the first time in 2003. It is a boutique bookmaker which is doing plenty of things right and we have to commend it for its effort.
Their customer service is pretty good and overall, they have a quality offering which is only going to improve with future updates. It's not perfect but watch this space!
Pros – Enhanced odds, customer service, navigation
Cons – No live streaming of sport events available
PADDY POWER HORSE RACING BETTING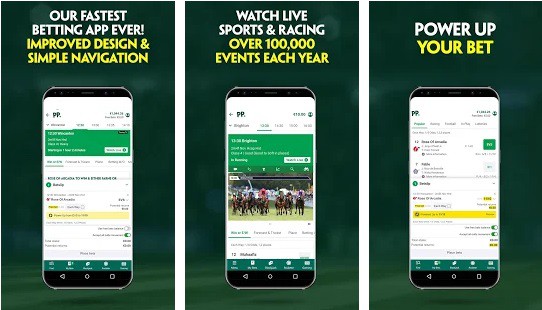 ☑️App rating: 4/5
Irish bookmaker Paddy Power is renowned for its cheeky marketing ploys and the fact that it always seems to get some sports star to don underpants with their logo on it. It should also be renowned for having what is potentially the best horse betting app on the market today.
Their horse race betting app looks great and is easy to use. Thus, it nails the basics, but it also has a whole load of other things going for it.
For instance, there always seems to be some bonus available on it and it streams the horse racing you want to watch. One of their best features is that every now and then it will have enhanced odds on some of the biggest horse racing events taking place.
Overall, there isn't a whole lot wrong with this app. It allows folks to stream races, providing they have a minimum £1 bet on that race. We have to say 'well done Paddy', because in all honestly, this is a quality app and probably the standard bearer for other horse racing apps out there.
Those using the Paddy Power app are able to quickly log into their account thanks to face ID, meaning that bets can be placed in just a matter of seconds. Paddy Power is also well-known for their money back specials, which are applicable for both horse racing and mobile customers. The app has also been optimised for both iOS and Android users recently, while punters can also take advantage of the Paddy Power Rewards Club, qualifying them for potential free bets each week.
To be honest, that's exactly what we'd expect from the behemoth that is Paddy Power.
Pros – Excellent navigation, great offers and looks brilliant
Cons – More markets would be an improvement
BET365 HORSE RACING BETTING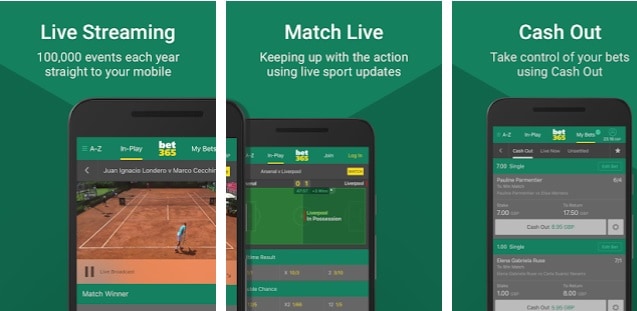 Bet365 is famed for its in-play sports betting, but it also knows what horse racing fans want within an app. It has designed a simple, yet effective app that has plenty going for it.
It isn't perfect, but there are plenty of reasons to give this one a blast.
Simplicity has always been key to Bet365's business model and that definitely extends to their app offering. It's easy to download, it's easy to use and it looks simple too. If you're looking for a no-frills betting app, then you could do far worse than this one.
For their betting app, they have focused on all the right things and some of their reviews from the app store mention this; the app is reliable, feels safe and overall offers loads of fun too.
Bet365 app users can take advantage of a huge number of horse racing markets from around the world, with all being easily accessible in just one tap of the screen thanks to its clever interface. Meanwhile, punters can also watch live horse racing streams from meetings in both the UK & Ireland, with a positive account balance or qualifying bet being required in order to gain access. Bet365 customers are also able to customise how they use the app, which includes receiving push notifications surrounding horse racing news and results.
There is one clear endorsement this app has; almost everyone who downloads it ends up using it and not deleting it. That's definitely a sign of a good app. Of course, it also has the usual stuff too – its streaming service is excellent and for different racing festivals, it offers different bonuses.
There is a reason Bet365 is doing as well as it is. This is a great horse racing app. For the record, their streaming rarely crashes either.
Pros – Simple to use, looks great, easy to download
Cons – Can feel outdated
CORAL HORSE RACING BETTING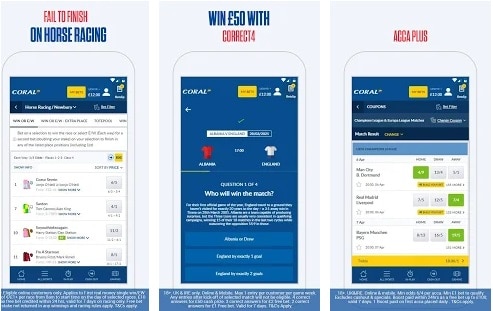 ☑️ App rating: 5/5
☑️ Read full Coral review here >>
Coral's horse racing offers have gained notoriety in recent times. The brand has put together a team that clearly knows and loves this market and it is definitely reflected in its apps. It's easy to use, there are price guarantees on the horse racing and their streaming platform looks great and works perfectly.
The bet placement system isn't perfect, but once you get the hang of it, you will embrace this app. It offers 'best price' guarantees for some horse racing meetings, which is always nice and the design is definitely up there with the best in the market. We would recommend giving it a go.
Of course, it isn't the app of choice for everyone, but we have found that the people who like it, really love it. To be honest, the app is very 'Coral', so if you are a fan of the brand, then there is a strong chance you will be a fan of the app. If you're not a fan of the brand, then everything from the app's colouring to its navigation features might grate on you.
Coral app users are able to take advantage of a best odds guaranteed offer on all UK & Irish horse races, while there are a number of other promotions available to existing customers. Elsewhere, a similar interface as found on their main desktop site is also utilised here, meaning that there is little transition required. Live streaming is also available on mobile devices via the app, with a dedicated horse racing page showcasing all of the markets that are available to punters. Meanwhile, quick bet and timeform features only add to the efficiency of the app.
It's not for everyone, but it might be for you. Give it a whirl and if you don't like it, simply delete and try a different one on the list.
Pros – Easy to use, quality streaming
Cons – Looks a little tacky
LADBROKES HORSE RACING BETTING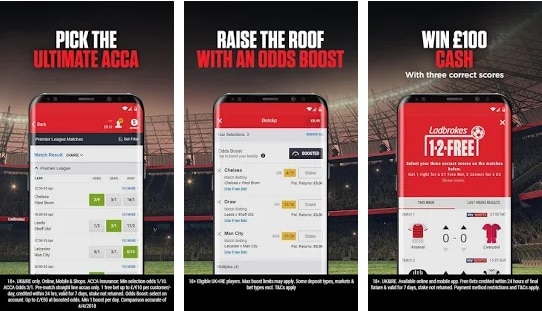 ☑️ App rating: 5/5
☑️ Read full Ladbrokes review here >>
Ladbrokes are undoubtedly one of the leading British bookmakers operating today, with their betting app providing a convenient platform for punters constantly on the move. Horse racing fans will be pleased to hear of the bookmaker's best odds guaranteed promotion on all UK and Irish meetings, while there is also a request-a-bet feature available to app users.
Punters can also take advantage of Ladbrokes' generous welcome bonus using the app, along with a variety of ongoing promotions, which help to both maximise winnings and minimise losses when betting on your favourite runners and riders. Available to both iOS and Android users, the Ladbrokes betting app is both pleasing on the eye and easy to use, with the app also featuring touch ID for quick log-ins.
Live streams from a range of racing tracks from across the UK are available, with a qualifying bet required in order for punters to gain access. All streams are in high quality, providing one of the most exciting forms of betting on racing.
Pros – Simplistic interface, live streaming
Cons – Slow response times
WILLIAM HILL HORSE RACING BETTING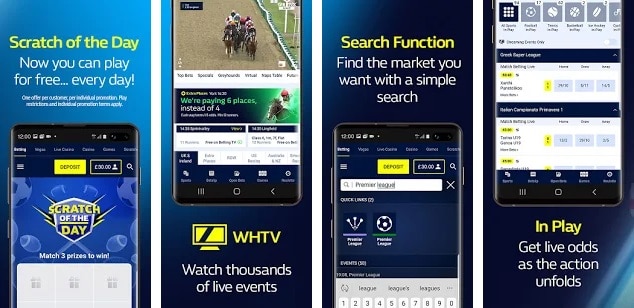 ☑️ App rating: 4.8/5
☑️ Read full William Hill review here >>
William Hill are perhaps the most traditional bookmaker operating online today, with their horse racing markets being extensive. The William Hill app is an excellent platform for those who are constantly on the move, with the design ensuring that it is easy for punters to move between their preferred markets and features.
App users can bet on meetings from around the world, with the bookmaker also providing live streams of races from the UK & Ireland, adding to the excitement of backing your favourite runners and riders. The app is available to both iOS and Android users, with its speed and efficiency making it hugely appealing to punters.
Bettors can cash out wagers using the app, as well as take advantage of flash odds, the bookmakers "YourOdds" feature and live streaming.
Pros – Efficient app, live streaming of all UK & Irish meetings
Cons – Some pages are a little overcrowded with info
BETFAIR HORSE RACING BETTING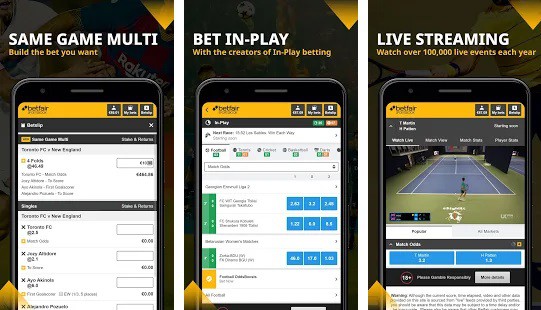 ☑️ App rating: 4/5
Having been in operation for over two decades, Betfair are certainly a bookmaker who have made a significant impact upon the industry, with their online sportsbook and betting exchange platforms attracting large amounts of customers on a daily basis. The Betfair app has a similar look and feel to their desktop site, with a yellow and black colour scheme dominating throughout, making it easy to distinguish between their different markets and features.
In terms of features, horse racing fans can receive notifications before a race starts, as well as right after it has finished, while live streaming is available from a large number of UK & Irish meetings. Racing bets can also be placed in just two taps of the screen, while the bookmaker also delivers a variety of mobile-friendly promotions.
Pros – User-friendly interface allows for bets to be placed quickly
Cons – Known to freeze at times
HOW TO DOWNLOAD HORSE RACING BETTING APPS ON IOS DEVICES
The usage of Android devices has grown steadily over the past decade, but iOS has still retained roughly 50% market share. Key to this – as with most Apple products – is the system's easy of use, and this absolutely applies to downloading betting apps too.
Apple don't apply any notable anti-betting rules, meaning that all the best horse racing apps for iPhone are available to download directly from the official App Store. Doing so could hardly be easier, but here's a handy step-by-step guide anyway!
Ensure you're logged into your iOS account, using your Apple ID
Hit the 'App Store' icon on the main menu of your device (this should be installed by default)
Select the 'Search' icon from the bottom menu within the App Store
Enter the name of the app you're looking for – e.g. 'Bet365' – and press the 'Search' button in the bottom-right
Be sure to locate the sports betting app (many brands have separate casino apps)
Press 'Get' next to the name of the app, and provide your Touch ID when prompted
The app will now be downloaded onto your phone, available to access via the main menu
HOW TO DOWNLOAD ANDROID HORSE RACING APPS
It can be slightly trickier to download horse racing betting apps on Android devices compared to iOS ones. That's because Google have certain requirements as to which apps are allowed onto the official Google Play store.
If the app is on Google Play, here's how to download it:
Make sure you're logged in to your Google account
Tap the 'Google Play' (or 'Play Store') icon on your main menu
Simply search for the app in question, be sure you've got the sports betting app (not the casino one), and select 'Install'
The app will now automatically be downloaded
If the app isn't on Google Play, you must download it directly from the bookie's website. This is still very easy to do, though.
Visit the app download page on the relevant sportsbook website (note: some sites will automatically ask if you'd like to download their app when visiting on an Android device)
Hit the 'Download' button
Go. to 'Settings' on your device, then 'Security', then tick the 'Unknown Sources' box to allow installation
Go to the 'Downloads' folder on your device, find the app you've just downloaded, and tap it to kick off the installation process
HOW TO PICK THE BEST APP FOR HORSE BETTING?​
Most of us are looking for the same things when it comes to mobile horse race betting.Our team's criteria for the best horse apps:
Welcome bonuses – what's on offer for new customers;
Daily promotions – what promotion am I going to get after my initial sign up bonus;
How fast is the app – some of the apps we've reviewed over the years are surprisingly slow, and placing a bet (or watching a live race) can be a very annoying experience when that happens;
Does the app "flow" feels good – the best horse racing app out there should definitely be easy to use. E.g. – is it easy to place a bet? How easy it is to find a specific race? To learn about a promo?
Betting options – some apps are a more condensed version of the desktop site, and a lot of betting option (e.g. – specific race) are gone;
Special features – some apps have interesting special features, starting from the basic ones, such as live streaming, to interesting promotions and even "in-running" betting – betting while a race is in progress (naturally ideal for races starting at two-miles and run at a slower pace).
TYPES OF HORSE RACING BETS
Win, Place, Show – The simplest horse racing bet you can place is one to win. That is a wager where you stake on them finishing first past the post. A place bet, meanwhile, is where you back a horse to be first or second. This wager will pay out if it fills either spot. Show bets are for when you think a horse will be first, second or third. This system of betting on horse racing is very popular in North America.
Quinella – This bet is one of the more exotic types where you pick two horses from the same race to be first and second. Unlike an exacta described below, you do not have to specify an order for them. Most online bookmakers will provide the quinella option, though in different regions it may be recalled a reverse forecast, reverse exacta or reverse exactor.
Exacta – An exotic bet where you choose two horses in the same to be first and second but in a specific order. Both must finish exactly as you predict in the wager for it to pay out. Like the quinella, this is fairly universal in terms of the bookmakers who offer this horse racing bet online.
Trifecta and Superfecta – You can take exotic bets on the same race even further with trifectas. These are where you pick out three horses to be first, second and third. Like an exacta, these can be reversed or boxed to cover more permutations. A superfecta, meanwhile, involves picking four horses from the same race to be first, second, third and fourth. Betfred are among the online bookies who provide these types of wager.
Prop bets – Short for proposition, these types of bets involve a whole range of topics other than the outright result of a race. It could, for example, be the color of the winning horse or what the first letter of the winner's name is. These are special novelty wagers associated with high-profile races and more popular on American sportsbooks where props for other sports can be found.
Daily Double – Where you bet on the winners of two specific horse races specified by the bookmaker. Traditionally, it is the first two on the program at a racetrack but could be any races. Odds accumulate from one leg of the double to the other. Ladbrokes often offer a Daily Double to bettors.
Pick 3 – This wager is one where you simply pick the winner of three consecutive races on the same program and track. Like the Daily Double, the odds from each leg are multiplied together. It is essentially a treble or triple. BetAmerica offers very good Pick 3 options to bettors daily.
BETTING ON HORSE RACING EVENTS
The UK horse racing calendar is jammed to say the least. There is something on virtually every day of the year and the festivals there are heralded as some of the best in the world. Thus, it's unsurprising to see the horse racing apps take advantage of this with some absolutely brilliant bonuses making it even more challenging to choose the best betting app for horse racing.
Whether you're into flat, jumps or even virtual racing, you are sure to find a special offer to suit you.
CHELTENHAM FESTIVAL (MARCH)
It's not hard to see why Cheltenham has become such an incredibly popular horse racing festival. For starters, it marks the unofficial start of the year's racing calendar in the UK, falling squarely in the middle of March. It often coincides with St. Patrick's Day too, which – naturally – does wonders for the already-excellent atmosphere!
Of course, the actual racing at the Cheltenham Festival – which takes place near Gloucester, in south-central England – carries a huge amount of merit too. The event takes place across four weekdays, from Tuesday until Friday, with six individual races taking place on each day. These include several top-level, Grade 1 races, with perhaps the most notable of all being the Gold Cup and Champion Hurdle.
If you're just getting into online horse betting, Cheltenham is a brilliant place to start. Not only does it generate a huge amount of buzz, as the first major festival of spring, but it also gets the attention of every racing expert around too, meaning you'll find plenty of racing tips to guide your betting. With the total number of races sitting in the mid-twenties – spread across several days – it's unlikely to overwhelm you too. Many major bookies will also offer promotions which cover all of these races, but – at the very least – you should be able to find Cheltenham Festival betting deals on the aforementioned Grade 1 contests.
GRAND NATIONAL (APRIL)
In terms of sheer fame and recognition, the Grand National is likely the biggest horse racing festival on the British racing calendar. It's no exaggeration to say that it's one of the biggest in the entire world too. Partly, this is driven by the exceptional history of the event. Dating all the way back to 1839, the Grand National has a track record which few racing festivals can match.
Practically speaking, though, the Grand National is simply a wonderful event. Taking place at Aintree Racecourse – near Liverpool – each year in early April, the race itself is an extremely demanding handicap steeplechase. Horses jump 30 fences across almost nine miles, with those fences being unusually high for horse racing, thus requiring exceptional skill from both horse and jockey. It also features the longest run-in of any British racecourses, which ensures frequently thrilling finishes. With such inherent difficulty, it's no surprise that the Grand National is the most lucrative jump race in Europe, with a total purse of £1,000,000, and over £561,000 of that going to the overall winner.
If you're looking into Grand National betting sites… you're certainly not alone! Over half a billion people are estimated to tune in worldwide each year, and most of this staggering interest is undoubtedly driven by gambling. While the festival technically runs for three days, it's the final steeplechase which draws the vast majority of the attention, and we'd certainly suggest you focus here too. With over 40 runners starting the race, doing your research can certainly be demanding… but the rewards on offer for winning a bet are much higher than a regular race with fewer competitors. As always, look for promotions like Best Odds Guaranteed and Extra Places to get the best possible bang for your buck.
ROYAL ASCOT (JUNE)
While it can't quite challenge the Grand National for viewership, Royal Ascot certainly has it beat in some other respects. For starters, it has an even longer history, dating all the way back to 1768. It's also the most valuable racing festival in the UK in terms of total prize money, with over £7 million typically on offer. Finally, it also carries an unparalleled level of prestige thanks to its regal connections, with Queen Elizabeth II and other royals kicking off proceedings each day as part of the Royal Procession.
In terms of sheer size and scale, this is also a seriously sizable event. It takes place across five days each year, from Tuesday until Saturday in the middle of June. This encompasses 30 different races, all of which take place on the renowned racecourse in Berkshire, only a few miles southwest of Windsor.
We understand that may sound like quite a lot to take in. For the purposes of your actual Royal Ascot betting, though – as with Cheltenham – we'd recommend honing in on a few key events, particularly if you're an inexperienced bettor. Not only are these the most likely to be covered by special offers, but they'll also draw the most attention from helpful tipsters, with their advice making your life a whole lot easier! The 'Group 1' races should be your main focus, with the Gold Cup being the pick of the bunch, and the likes of the Royal Hunt Cup and Queen's Vase also being worthy targets.
CHELTENHAM NOVEMBER MEETING
While the Cheltenham Festival in the spring might get the most attention, the racecourse itself hosts racing throughout the year, with some pretty major events falling in the winter. One of the most noteworthy is undoubtedly the November Meeting, which takes place across a weekend in the middle of each November. In fact, because of its positioning a few months before the Festival, the Meeting actually serves as an excellent precursor to the main event, giving bettors an invaluable early look at possible contenders.
Six major races take place per day, with a marquee event on each: the Handicap Chase, Gold Cup Steeple Chase, and Greatwood Hurdle Race. As with the regular Cheltenham Festival, we'd recommend focusing on these for your online horse betting, although the standards will be extremely high for the other races too.
THE LADBROKES WINTER CARNIVAL (NOVEMBER)
Horse racing's year-round nature is one of the reasons it's such an enormously popular sport to bet on. The Ladbrokes Winter Carnival is yet another example of how racing thrives in all seasons. It takes place in the heart of winter, typically towards the end of November, and is a two-day event covering a Friday and Saturday.
While the racing is certainly serious, the carnival itself has a fun atmosphere to it, with the 2019 edition even featuring a Peaky Blinders-themed fancy dress day.
The Winter Carnival is held at Newbury, another of the UK's most prestigious and busiest racecourses which is located in Berkshire, not far from Reading. Seven races are held each day, with a mighty £350,000 purse available on the second of those, 'Trophy Day'. If you're going to sign up with one bookie for this fun event, we would – unsurprisingly – recommend Ladbrokes, who provide special offers and exceptional coverage of the carnival they sponsor.
CHELTENHAM INTERNATIONAL MEETING (DECEMBER)
Well, we did tell you Cheltenham was a pretty busy place, and not just in the spring! The International Meeting also takes place at this famous racecourse, and – typically positioned in the middle of December – sits squarely in the buildup to the festive season.
It's a shorter event, relatively speaking, only running across a Friday and Saturday each year. There are still seven highly-competitive races each day though, with the key events being the Handicap Steeple Chase and Cross Country Chase on the Friday, and the International and Gold Cup on the Saturday. All are either hurdles or steeple chases, which – thanks to their unpredictable nature – typically provide ample opportunities for bettors, and the chance for some seriously major returns for those who enjoy a long-shot wager.
Not all of the best horse racing apps will necessarily provide specific promotions for the Cheltenham International Meeting. All of them, though, should let you stick down Extra Places bets to improve your chances, and lock in the highest possible starting price with Best Odds Guaranteed.
TRIPLE CROWN
While not a 'festival' technically, the British Triple Crown (not to be confused with the American version, which includes the Kentucky Derby) is still a popular and important event. If you're looking at either starting or expanding your online horse betting, this should certainly be within your crosshairs!
In short, the Triple Crown consists of three separate races for three year-old Thoroughbred horses. The races are the 2,000 Guineas Stake at Newmarket in Suffolk, The Derby at Epsom Downs in Surrey, and the St Leger Stakes at Town Moor in Yorkshire. Despite running since 1809, the Triple Crown has actually only been won by 15 different horses, with the last winner coming in 1970. It's certainly a tough bet to win, therefore, but the potential rewards for doing so are pretty enormous!
HORSE RACING BETTING GLOSSARY
ANTE POST – The betting market for a horse race before final declarations are announced. Be warned, if you take a punt ante post, then you are not guaranteed a run for your money but may get better odds.
BEST ODDS GUARANTEE (BOG) – When you place a bet, typically on the day of a race, and – if the odds drift to a bigger starting price (SP) – you are paid out at bigger odds. The vast majority of online bookmakers have some sort of BOG promotion on their sportsbooks.
DECLARATIONS – Horse races have declaration stages where runners are confirmed or forfeit their entries, typically at five or six days beforehand and 48 hours or overnight. Early closing races may have more stages than this.
EACH-WAY BETTING – When you back a horse each-way, you are betting on it to both win and place in the race separately. Place terms vary depending on the race type and number of runners in it, but there must be five horses minimum in any event for bookmakers to offer each-way bets.
EXTRA PLACES – Bookmakers will sometimes pay out on additional places over and above the number they they are obliged to. Extra place races are an opportunity for bettors to put each-way bets on and have an increased chance of the place wager paying out.
FLAT RACING – Any horse race which does not involve jumping obstacles of any kind is Flat racing. These take place on turf, dirt or artificial all weather (AW) surfaces at different tracks around the world.
GOING – The underfoot conditions on a racetrack for a day of horse racing are measured using a going stick. Descriptions of the ground on turf ranges from firm to heavy, and on dirt from fast to sloppy.
HANDICAP RACE – Most of the horse races run at handicaps. The horse with highest official rating carries the heaviest weight and the difference between that and those of other horses is reflected in their weights.
IN-PLAY BETTING – Live betting on horse racing is available but, rather than being referred to as in-play betting, it is more commonly called betting in-running. You will find these on a limited number of sportsbooks and betting exchanges.
NATIONAL HUNT – Any horse race with obstacles (hurdle races, steeplechases and Cross Country races) take place under National Hunt Rules. There are also National Hunt Flat races, also called bumpers, that are governed by those regulations.
NON-RUNNER NO BET (NRNB) – Any bet on horse racing struck under non-runner no bet terms means you get your stake back if the horse doesn't race. This usually only applies to wagers placed after final declarations.
PLACEPOT – A type of pool or parimutuel bet where you select horses to finish placed in each of the first six races of any British, Irish or selected international meeting. All six chosen horse must place, and terms may vary depending on the race and number of runners in it, for the bet to pay out.
RULE 4 – If a horse is withdrawn from a race following final declarations at odds of 14/1 or shorter, then a Rule 4 deduction applies. This is defined as so many pence in the pound based on its price.
STARTING PRICE – The odds that a horse was sent off for a race is called the starting price (SP). These are traditionally calculated using averages from on-course bookmakers at the track.
TRICAST – A tricast or trifecta is where you select three horses from the same race and specify a finishing order of first, second or third. The bet can be boxed or reversed to cover more permutations.
HELPFUL APPS FOR HORSE RACING STATS & NEWS
Horse racing is, without doubt, one of the most popular and fun sports on which you can bet. When you're just getting started, though… it can also be pretty intimidating! After all, there are dozens of important races per day in the UK and Ireland alone, and a top bookie will give you the chance to bet on every single one.
A good horse racing info app can be an absolute game-changer. It'll give you vital details on runners in every major contest, provide you with tips to guide your betting, and may even offer you special promotions. Below, we've looked at three of the very best, all of which are available to download – for free – right now.
RACING POST APP
The Racing Post has been one of the most respected horse racing publications around for decades now. It's no surprise, therefore, to see they have an outstanding mobile app too.
Available on both iOS and Android, this application houses an incredible amount of functionality. For starters, you get detailed racecards on every horse, in every race, every single day. There are plenty of racing tips too, as you'd expect from The Post, which are heavily based on statistical analysis.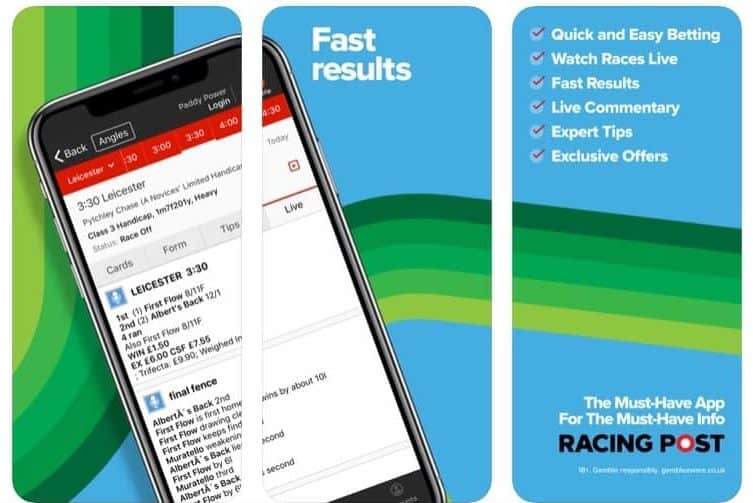 On top of all that, there are a couple more stand-out, ultra-modern features. The Racing Post app is integrated with a whole selection of the biggest bookies around – including Coral, Betfair and Ladbrokes – meaning you don't even have to leave the app to place your bets. Finally, if you place a bet of £1 or more on any race, you can watch it live via an excellent live streaming service.
AT THE RACES
At the Races was incorporated into the powerful Sky Sports collective in 2018. This partnership with one of the biggest broadcasters has not only resulted in a fantastic racing channel, but also an excellent mobile app.
Racecards come as standard for every race in the UK and Ireland, on both the Android and iOS versions. The way they're configured is highly intuitive, allowing you to gather important information at a glance, or view more intricate details if you please. The form for each runner is also easy to access, and both this and the racecards link effortlessly through to the daily expert tips.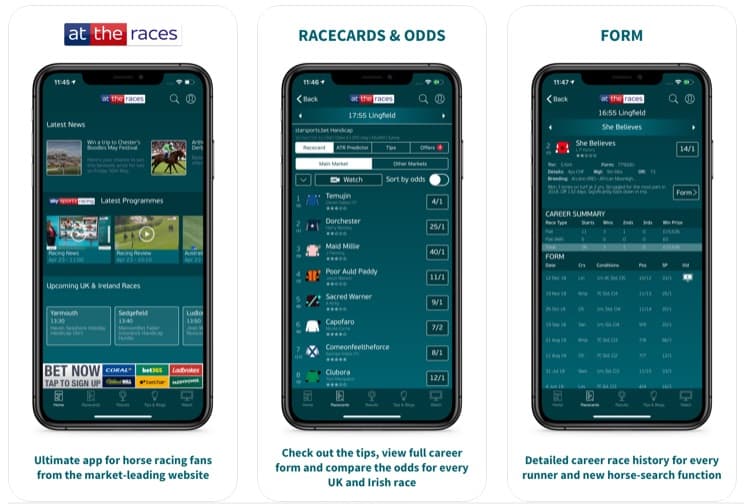 The app integrates with three huge sportsbooks – Bet365, Ladbrokes, and William Hill. This doesn't just allow you to bet from within the app, but access promotions too, and even make deposits and withdrawals. Rounding out this feature set nicely are streams of both live and historical races.
RACING TV
Like At the Races, Racing TV is a horse racing television channel which has made the smart decision to branch out into mobile apps. As with the other options on our list, this one is available to download – for free – from both the App Store and Google Play.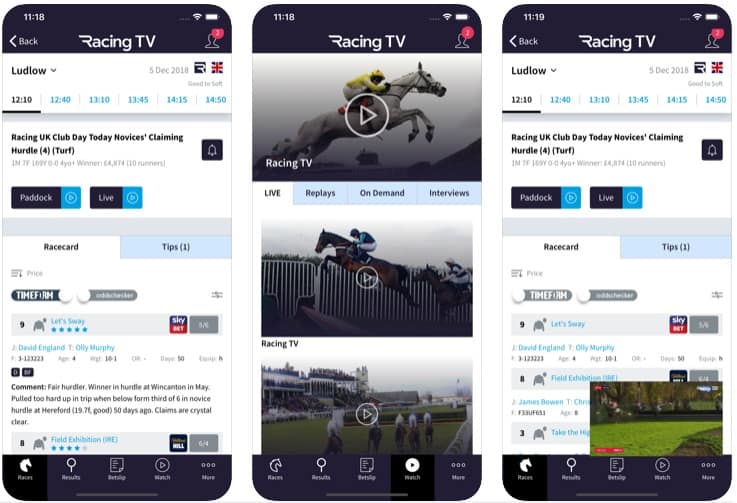 Naturally, one of the headline features on Racing TV's app is its live streaming. 35 top racecourses are covered – including Aintree and Cheltenham – and you can watch events either live or after-the-fact in excellent quality. Integrations with a whopping nine of the UK's biggest bookies – such as Betway and Sky Bet – make betting on those events incredibly easy too. The Racing TV app is also an excellent way to get all the latest racing news and results, with a team of expert tipsters on hand to help you identify the key information.
BOTTOM LINE
Whatever app you choose, make sure you get one that suits your needs. This guide is meant as just that; a 'guide' – it's not a gospel. If you enjoy one that we haven't mentioned, then let us know as we always love checking out new apps and giving them a twirl.
Either way, the most important thing is that you enjoy your horse racing betting app and enjoy your punt, and maybe also pick a winner every now and again
Happy punting!
Horse Racing FAQs
What is the best betting app for horse racing?
It's difficult to crown one single horse racing app as 'the best' of the bunch, as different ones excel in different areas.
A better approach is to identify what you specifically want from an app. Is live streaming a bigger priority, or special offers? Do you just want to bet on races in the UK and Ireland, or further afield too?
With that said, you can't really go wrong with any of the biggest bookies. The likes of William Hill, Bet365, Paddy Power, Ladbrokes and so on all provide outstanding, all-round horse betting apps.
Can I watch live horse racing on my iPad or iPhone?
Absolutely, and there are a couple of easy ways to do just that. For starters, most major horse racing apps in the UK nowadays will feature live streaming. Some will only provide it for the biggest events, but many do so for every single race. Another difference is that certain apps let you stream races for free, while others require you to place a bet before watching that race.
Alternatively, there are several excellent horse racing info apps which allow you to stream on either an iPad or iPhone.
Which horse racing bookies pay extra places?
'Extra Places' is one of the most valuable deals in horse racing betting. In short, as the name suggests, it involves a sportsbook paying out more places than usual on each way bets for certain races.
As well as being valuable, this is also – fortunately – a pretty common offer! You can get extra places on just about all major horse betting apps, every single day, with Betfred, Betway, Coral, Ladbrokes, and Sky Bet being just a few examples.
What types of bets are there in horse racing?
Compared to football, for example, there aren't actually too many bet types in horse racing.
The most common two, by far, are 'Winner' and 'Each Way'. Winner bets involve… betting the winner, while each ways pay out if your runner either wins or 'places' – usually within the top two or three positions.
In addition, there are also 'Exotic' bet types, such as Tricast and Forecast. These are more complicated and difficult to win, though, and should only be taken by experienced racing bettors.
Can you bet on a horse not to win?
Technically, some horse racing apps in the UK do offer 'not to win' bets. These are rare, though, and will only be offered on certain races.
If you specifically want to wager against a runner, look into using a betting exchange instead. This will allow you to take a 'lay' bet on that horse, going against someone else's 'back' bet.