FIFA World Cup Betting Guide to Get the Best of the Tournament
The FIFA World Cup is arguably the most popular event in all of football. There aren't that many people that end up missing this event. And betting on the FIFA World Cup is another tournament all in itself for punters. In this article, we'll be telling you all about the FIFA World Cup. The past editions, the next one, and all the best sportsbooks that give out FIFA World Cup betting offers.
We'll also try to include all of the information we can find about its history and how it is organized every single year. Since this is a major sporting event, there is a lot that goes into where it might be held and how the teams are selected. Interestingly enough, there are some changes being made to the event as we are writing this article. But you don't have to worry, we'll be sure to include all of the updates and possibilities as well.
About the FIFA World Cup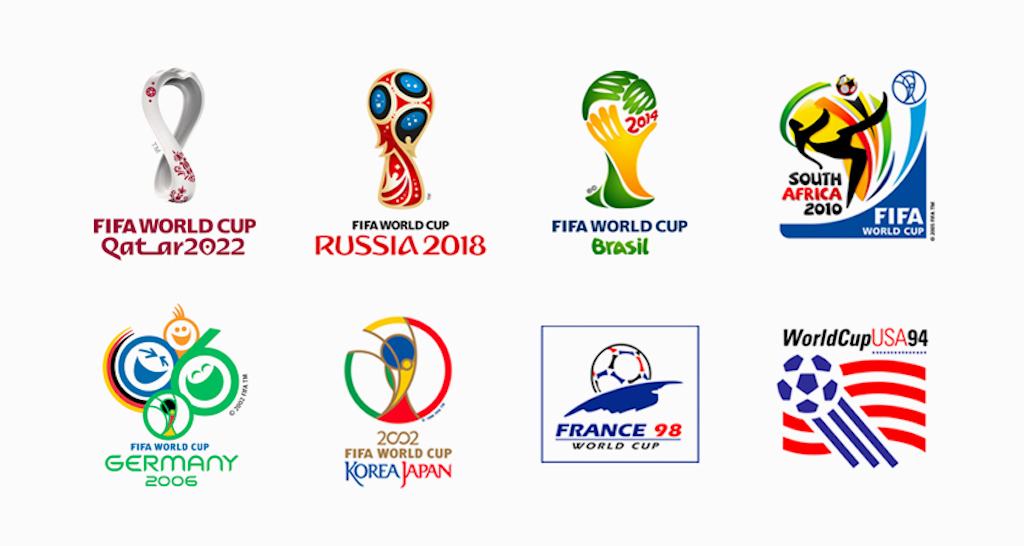 The FIFA World Cup is an event that rolls around every four years to bring joy to football fans all around the world. This event had its inaugural tournament in 1930 and since has been on the mind of every football fan. The tournament was stalled or cancelled approximately twice times in its history. It was cancelled once in 1942 and once in 1946 due to the Second World War. But not even a war could put an end to football's most prestigious event as it was held for the next edition.
The FIFA World Cup hosts a total of 32 nations and is held in a different nation for every edition. The system that this tournament runs on is a qualification phase that happens in the 3 years that come before each World Cup tournament.
The host nation automatically qualifies for the tournament and then another 31 nations qualify after multiple international qualifier matches. The qualifying nations take part in matches held in the host nation to reach the Quarter Finals, Semi Finals and then the Finals.
For the upcoming edition, the FIFA World Cup 2022, there was a lot of uncertainty surrounding the event. One of the reasons was the COVID-19 pandemic. Another was the heat in Qatar, where the FIFA 2022 World Cup is set to be held. This edition of the FIFA World Cup will be the last one with 32 teams competing. A decision has been made to increase the number of teams starting from the next edition which will be held in 2026.
The most recent winner of the World Cup which was held in 2018 in France. Kylian Mbappe scored his way to the international trophy with France after beating Croatia in the finals in Russia.
Betting on 2022 FIFA World Cup
The reason you're reading this is probably that you want to bet on the FIFA World Cup. Considering the hype for this event, sportsbooks are sure to give our many FIFA World Cup 2022 offers.
You'll probably also be happy to know that the FIFA World Cup is available to bet on in the UK. And as long as you are over the age of 18 years, you should be able to register and bet on a sportsbook without any issues. If you're interested to know more about how you can bet on the FIFA World Cup 2022 and where to watch, then stay tuned.
Most Popular FIFA World Cup Betting Markets
So, we're talking about a football tournament here. And football is arguably the most popular sport for betting. And that's why you can be sure that there won't be any shortage of betting markets for the World Cup 2022. But right now, let's delve into some of the more popular ones:
Over/ Under – This one is simple enough to understand. The sportsbook will give you odds for a certain number of goals. For example, if the odds are over 3.5, that means the team needs to score 4 goals or more for your bet to win. If the odds are for under 3.5 goals, your team would need to score less than 3 goals for your bet to win. The market can also be set so that the collective score of both teams in a game is over or under 3.5.
Draw no Bet – This is a pretty interesting market as it removes the possibility of a draw from the equation. You need to make your selections on which team will win or lose. If you make the right selection, you win the bet; it's that easy.

In case the game ends in a draw, your stake is returned to you.
First to Score – This market initially appears super easy. You just bet on the favorite since they're likely to win the match anyways. This is how most people think about it. But, you can never tell what the underdog is going to come up with in terms of attacking strategies. And that makes this one of the most exciting bets to place for the World Cup 2022.
Where to Watch the FIFA World Cup 2022?
The FIFA World Cup is broadcasted all over the world for every edition. For the 2022 edition as well, you can expect to find it on the sports channels on your television. Particularly for residents of the UK, you can watch it live on BBC or ITV. The tournament will also be available through streaming services such as Hulu.
How to Bet On FIFA World Cup 2022?
Before we get into the betting tips for the World Cup, let's dig a bit into how we can place a bet. Just take a look at these instructions:
First register on a sports betting website and make a deposit. We'll mention a few of our favorites in a later section.
Next, navigate to the sports betting section of the website where you can browse events. Find the World Cup 2022 events.
Browse events and add your selections to your bet slip.
Afterwards, adjust your stake on the bet slip and confirm the bet.
Although the process of placing a bet is very easy, deciding which bet to place takes a bit more effort than that. That's where the helpful betting tips come in. If you follow these tips, you're likely to get a better understanding of how to bet on FIFA 2022 as well.
The very first tip is to do a lot of research. You need to know about the players that are expected in each nation's lineups. And most of these players usually play for their respective clubs in different leagues as well. If you keep an eye on individual player performance, that could give you a lot of insight into the team. And there are a lot of international leagues besides the World Cup as well that you can watch to keep track of team progress as well. And besides all of that, another tip is to keep track of the previous match statistics. This is also a good way to ensure that you're making the correct predictions.
FIFA World Cup 2022 Offers
A huge part of sports betting is claiming all of the offers. Bonuses and promotions are a good way to get a boost on all of your bets without having to drain all your funds. The UK is known for a lot of local and international online sportsbooks that provide regular offers throughout the sports season. So, you can bet your bottom dollar that they'll be packed with promotions during World Cup season.
Free bets are probably going to be the most common offer that a punter might get during the World Cup. A lot of sportsbooks offer free bets as welcome bonuses anyways. You can also expect to get a lot of boosted odds. Although the World Cup season is short, it is very unpredictable. So, there is a high possibility of odds fluctuating and punters might end up getting a lot of boosted odds as well. Cashbacks are another crowd favorite. Sportsbooks might offer cashbacks as welcome bonuses, especially for World Cup betting. They might also offer a lot of cashbacks on lost bets as the volume of bets during the World Cup is expected to be very high.
These are just the tip of the surface of the World Cup 2022 betting offers that we're anticipating. Sportsbooks usually come up with many more creating and exciting offers to keep punters on their toes.
Top 3 Sports Betting Sites for Betting on the FIFA World Cup 2022
In this section are our top 3 picks for sportsbooks that have some of the best World Cup 2022 betting offers.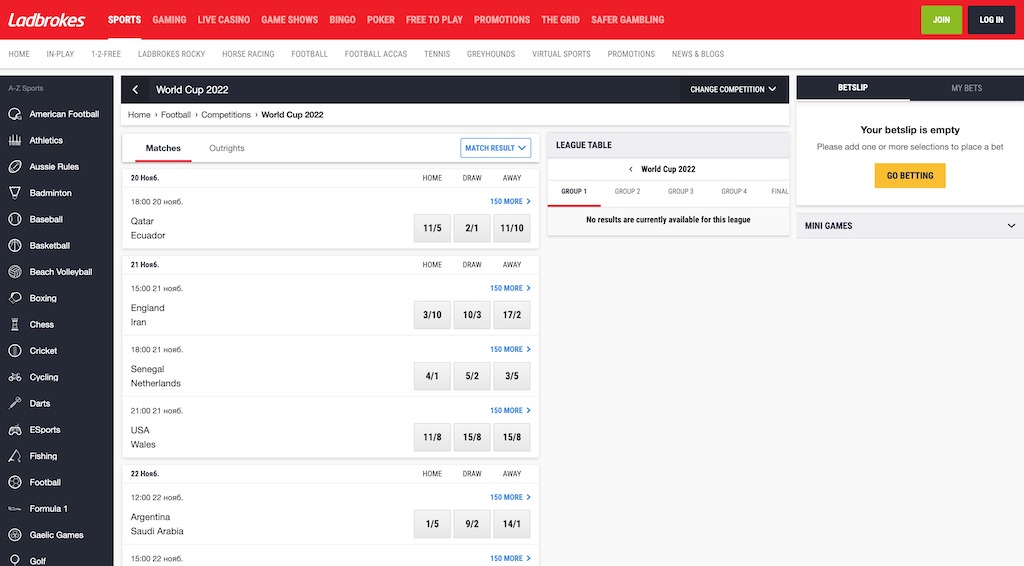 Ladbrokes
Ladbrokes is a great sports betting site that is even marketing a World Cup 2022 offer as a welcome to punters. The sportsbook has already created a lot of hype around the World Cup and is known for its football betting feature. And for these reasons, we've listed Ladbrokes as one of the best sites, in our opinion, for World Cup betting.
Betfred
Betfred is one of the largest sportsbooks in the world and it is based out of Gibraltar. Betfred has also expanded to the UK with many shops throughout the region and has become well-loved by punters in the area. The operator has a lot of interesting offers coming up for the World Cup and it's definitely one to check out for World Cup betting.
BetVictor
BetVictor has taken a lot of effort to make World Cup betting exciting for its punters. The sportsbook offers outright odds on all nations and also has many other exciting features in the sports betting section.
2022 FIFA World Cup Predictions and Tips
We're all excited for the upcoming FIFA World Cup. This is the first to be held in an Arab nation and host Qatar has automatically qualified. We can't put our money on one specific nation to win although we do have our predictions. But we'll tell you a bit about all of the nations that are likely to get through the knockout stages and have a good chance of winning.
Our bet is that France becomes the World Cup victor for a second consecutive year. The nation has great odds and an even better team. Last season, Kylian Mbappe, the generational talent rose to fame during the World Cup. But this season, France has arguably the strongest striker in the world right now, Karim Benzema. And you can expect France to put up a strong front for the World Cup 2022.
Brazil and Argentina are forever favorites to win the World Cup. These two nations have been rivals for as long as time. And with this World Cup potentially being the last for Lionel Messi, there's going to be a lot at stake. Spain has an exceptionally strong team as usual. But in the past edition of the World Cup, Spain did not live up to expectations. Although, with the proper instructions from coach Luis Enrique, the nation is expected to do well.
The Netherlands might be the dark horse for this edition of the World Cup. With the deadly duo Van Dijk and De Ligt running riot on the football pitch, we're expecting this nation to go very far in the tournament. Belgium is also a potential candidate for Quarter or Semi-Finalist. We wouldn't even be that surprised if Belgium took the cup home considering how much of a threat players like Kevin De Bruyne, Lukaku and Doku are.
2018 World Cup Recap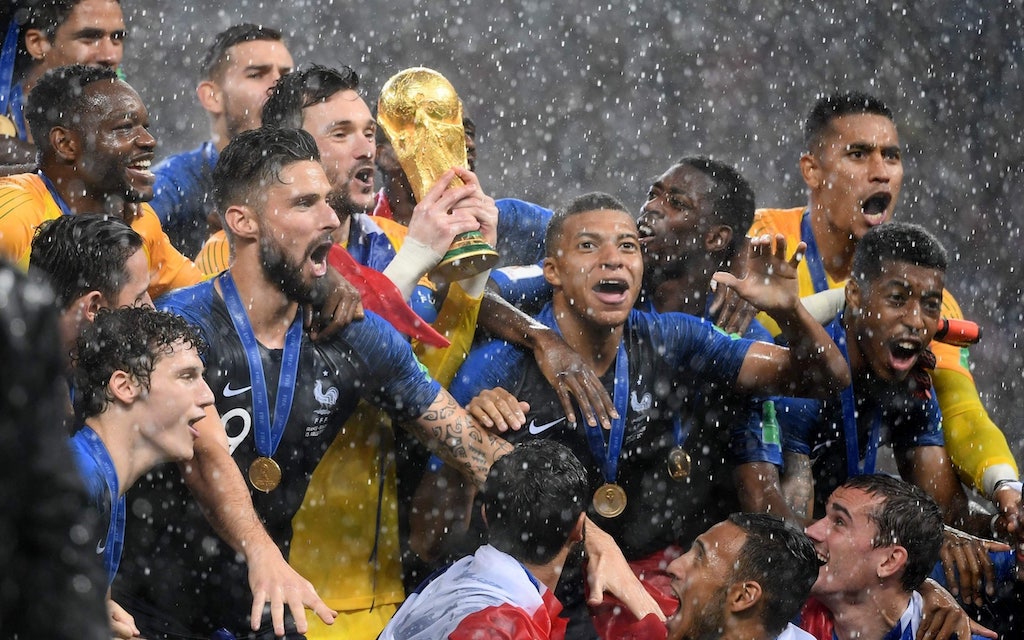 The winners of the World Cup 2018 are France and that was their second win since 1998. France beat Luka Modric's Croatia in a fierce battle in Russia and eventually came out victorious. One very endearing detail about France's win is that Didier Deschamps was the coach for the win in 2018 and he was also captaining France for the first win in 1998. The game ended with a 4-2 score with France as the winner. France was gifted an early lead by Croatia's Mandzukic as he shot a header into his own net. This was also interestingly the first time an own goal had been scored in the FIFA World Cup.
That wasn't the end of the line, however, for Croatia since Ivan Perisic scored a screamer to equalize just before the end of the first half. But Croatia could not celebrate since Griezmann scored a penalty soon after and it all went downhill from there. Pogba scored another and the match was set by Kylian Mbappe who scored France's fourth goal in the World Cup 2022 Final. Kylian Mbappe, 19 at the time, was the first teenager to score in a World Cup after Pele.
That was about it for the World Cup 2018 final. There were a lot of tense moments throughout the tournament as well. One of the major incidents included Brazil getting knocked out by Belgium. There was also a match between Spain and Portugal where Cristiano Ronaldo scored to end the match in a 3-3 draw.
Last 10 FIFA World Cup Winners
2018 – France
2014 – Germany
2010 – Spain
2006 – Italy
2002 – Brazil
1998 – France
1994 – Brazil
1990 – Germany
1986 – Argentina
1982 – Italy
Conclusion
We hope you enjoyed reading this guide on the FIFA World Cup 2022 betting. The tournament is the most prestigious in football history and punters definitely know it. If you're planning on betting on the FIFA World Cup 2022, you can take into account some of the tips we mentioned. We also made sure to mention some of the best sportsbooks with FIFA World Cup 2022 offers. We'll conclude the article with a few FAQs about the tournament. These should help solve any confusions you have.
FAQs
Who is the Current FIFA World Cup Champion?
The current winner of the FIFA is France who won in 2018.
Who has the Best Odds of Winning the FIFA World Cup 2022?
Brazil has the best odds of winning the FIFA World Cup 2022 priced at 9/2.
Which team has the most World Cup wins?
Brazil has the most World Cup wins with five titles.