BEST BETTING EXCHANGE SITES
In sports betting, most people don't realise the amount of choice they really have. This doesn't just apply to the amount of websites out there which are available to bet on. It also applies to the fundamental way in which those websites work. In short, if you've only used regular sportsbooks up until now, there's a whole other world of sports betting open to you – the exciting world of betting exchanges.
This article contains everything you need to know about sports betting exchange sites. You'll learn how they work, how you can use them for yourself, and get reviews of the four top betting exchange sites in the UK right now – Betfair, Smarkets, Betdaq, and Ladbrokes Exchange.
BETFAIR EXCHANGE REVIEW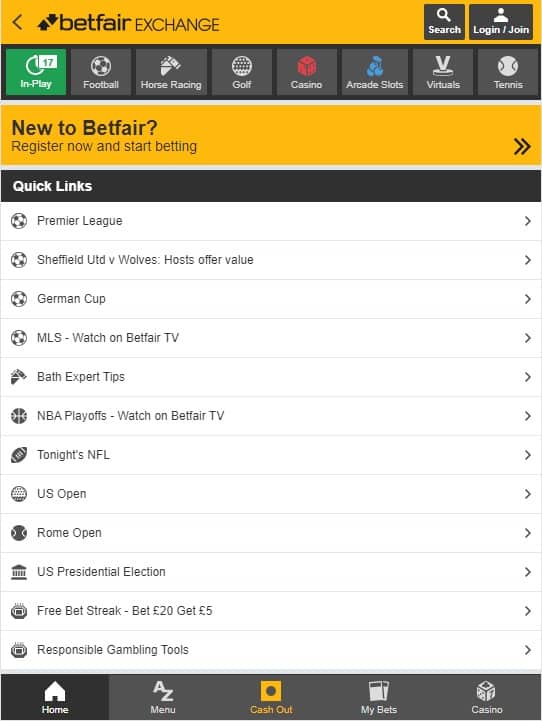 ☑️ App rating: 4.8/5
OVERVIEW
Even if you know nothing else about exchanges, you'll almost certainly have heard of Betfair. It is the dominant name in betting exchanges, which is a reputation that's been built up in two main ways: visionary innovation, and flawless execution. Despite being the first major online platform to offer exchange betting, it still remains at the top of the pile.
BETFAIR COMMISSION RATES
All betting exchanges charge a commission on bets, which is the trade-off for providing better odds (explained later in this article). The size of those commissions can vary greatly from site to site, and – while the Betfair Exchange commission rate isn't the cheapest around – it's still fair.
Betfair charge a 5% market base rate on winning bets, and no commission on losing bets. The commission you do pay can be reduced significantly by using the 'My Betfair Rewards' loyalty scheme. This allows you to choose between a few different packages on the Betfair points table, which have varying effects on your commissions, and offer other bonuses and rewards.
BETFAIR EXCHANGE SIGN UP OFFER
The Betfair Exchange creates an excellent first impression, courtesy of its top-notch 'Bet £10, Get £20 in Free Bets' welcome offer.
To qualify for this, you must deposit and bet at least £10 on the exchange. Once the wager is settled, you will immediately receive a £20 free bet for the exchange, plus a £10 free bet to use on accumulators on the sportsbook.
There's really no catch here, with the T's & C's being pretty clear. These are the main ones you need to know about:
Deposit must be made using credit/debit card or Apple Pay
Exchange free bet cannot be used on Outright, Spread, Asian Handicap or Line markets
Sportsbook free bet must be used on an acca with at least two selections
Free bets must be used within seven days of being awarded
BETFAIR PROS:
✔️ More players – A betting exchange relies on having enough users to facilitate effective trading. At Betfair, that's never a problem. This is easily the biggest exchange in the UK, with over four million customers reportedly on its books.
✔️ More promotions – Betfair offer a relatively good range of promotions, compared to most exchanges. The specifics change regularly, but common offer types include 'Refer & Earn', Odds Comparisons, and promotions which give you free bets.
✔️ Football in-play markets – This is another area in which some exchanges typically struggle. Not here. In fact, inplay exchange betting on Betfair is a strength of the platform, with live football from around the world constantly being covered.
✔️ Big stake liquidity – Betfair's enormous user base means that even major stakes are pretty easy to get matched. Stakes of up to £20,000 are placed with some regularity, and it's not unheard-of to see £50,000 being dropped on a single bet here.
✔️ Trading tools – Rather than leaving you to your own devices, Betfair offer plenty of guidance on your betting. In addition to basic 'What is an exchange bet on Betfair?' guides and simple betting tips, they actually have an entire App Directory. This is filled with trading tools you can use, many of which come with a free trial.
✔️ Large trading community – There are a whole range of benefits to being part of a massive exchange, even apart from simple liquidity. One is the feeling of being part of a community, and the opportunity to be part of discussions which this entails.
BETFAIR CONS:
❌ Potentially high commissions – Betfair commission rates aren't bad, by any means, but they're not the cheapest around. You'll be looking at a standard 5% charge on winning bets, with the potential to go higher in certain circumstances.
❌ Small chance of Premium Charges – Occasionally, the most successful customers on Betfair will incur 'Premium Charges'. With this reportedly only affecting 0.5% of users, however, it's unlikely to be a problem for most bettors.
Frequently Asked Questions About Betfair Exchange
What is the minimum stake on the Betfair Exchange?
The Betfair Exchange minimum stake is £2.
What are Betfair Exchange commission rates?
The standard commission rate is 5% on winning bets, and nothing on losing bets.
Is there in play betting on Betfair exchange?
Absolutely. In play bets are available on football, tennis, cricket, and more.
SMARKETS EXCHANGE REVIEW
☑️ App rating: 4.9/5
OVERVIEW
Betfair might still be the biggest name amongst betting exchanges, but Smarkets are trying their hardest to seize that crown. Since the platform was launched in 2010, it has reportedly seen over £15 billion in trades being placed by users, with £415 million traded during the 2018 World Cup alone. Despite already becoming a worldwide hit, it doesn't seem as if Smarkets' explosive growth will stop any time soon.
SMARKETS COMMISSION RATES
Smarkets are famous for their low commissions, which is one of the reasons they became so popular in the first place. The standard Smarkets commission is 2% on winnings, and no commission is charged whenever you make a net loss on a market.
Smarkets also offer a 'Pro Tier', in which users only pay 1% commission. This only applies to bettors who place at least 1,500 wagers in a month, though, or bet at least £1 million.
SMARKETS EXCHANGE SIGN UP OFFER
Smarkets' '£10 Welcome Bonus' is certainly a good deal, which you trigger by signing up to the exchange and depositing at least £20. Your account will then be credited with a £10 'bonus', which effectively just refunds the first £10 in net losses which you incur.
The T's & C's are nice and clear too, with these being the key ones:
Skrill, Neteller, and PayPal deposits are ineligible
To withdraw rebated funds, you must have already bet through your qualifying deposit amount
Bonus expires seven days after being credited
SMARKETS OR BETFAIR?
Smarkets really is a genuine competitor to Betfair. The main advantage is obviously the commission being significantly lower, at 2% rather than 5%. It's arguably a more user-friendly platform too, making it particularly suited for beginners.
On the flip-side, Betfair is simply a bigger site, which ensures higher liquidity. They have more markets too, and – while their range of promotions is hardly enormous – it's better than nothing!
SMARKETS PROS:
✔️ Useful guidance – On the Smarkets betting exchange, you're constantly provided with all the information you need. You can see exactly how much has been wagered on each market, and how popular opinion on it has changed over time. All of this, and more, can be used to inform your own betting.
✔️ Brilliant mobile offering – Any Smarkets review must praise their mobile apps, which are famed for their reliability, usability, and general brilliance. It's no surprise that they actually created their very own, separate, mobile-only brand – SBK – which is also doing very well.
✔️ Varied in-play markets – In-play might be seen as a weakness for most exchanges, but that's certainly not the case here. Football, tennis, cycling, darts, and several more sports are all available to bet on live.
✔️ Excellent liquidity – One of the benefits of going with a big exchange is that you should always get a bet matched without too much trouble. With billions of pounds being traded each year, and 10,000's of new customers signing up, this certainly applies to Smarkets.
✔️ Low commissions – This is one of Smarkets' main calling cards. Their commissions start at only 2%, which is extremely competitive to say the least, and will help your profits significantly over the long term.
SMARKETS CONS:
❌ Lack of promotions – While Smarkets do have a betting welcome offer in place (more on that shortly), there isn't a single Smarkets promo code, nor any other ongoing promotion, available at the time of writing.
❌ No sportsbook – If you like to switch instantly between exchange bets and sportsbook wagers, Smarkets is not the platform for you. This is very much an exchange-only website.
Frequently Asked Questions About Smarkets Exchange
Is there commission on lay bets on Smarkets?
Yes. Lay bets still use the standard Smarkets commission rate of 2%.
How do you get 0% commission on Smarkets?
Smarkets have a partnership with several websites, including OddsMonkey, in which premium, paying members of those sites can opt-in for Smarkets 0 percent commission.
Is Smarkets better than Betfair?
It's a legitimate Betfair alternative. Smarkets boasts much lower commissions, but also has fewer markets and users.
What is Smarkets' telephone number?
Smarkets can be called on +44 207 617 7413, between 09:00 – 00:00.
BETDAQ EXCHANGE REVIEW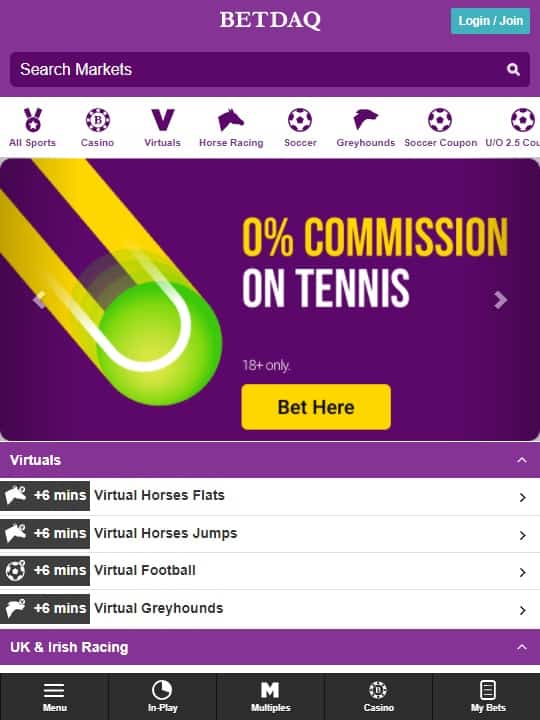 ☑️ App rating: 4.6/5
OVERVIEW
Betdaq might not have the fame of Betfair, or the hype of Smarkets, but they've managed to create an incredibly successful betting exchange. In fact, it's supposedly the second-largest exchange around in terms of volume, with a reported £75 million being wagered each week.
BETDAQ COMMISSION RATES
Low commissions were one of Betdaq's original claims to fame, and they've maintained this pleasing feature ever since. The standard Betdaq commission rate is a mere 2% on winning markets, and no commission is charged when you turn a net loss.
In addition, Betdaq routinely offer 0% commission on certain sports. Those sports change over time, but all bets on such sports will incur no fees.
BETDAQ EXCHANGE SIGN UP OFFER
The Betdaq welcome offer is pleasingly straightforward. Called 'Bet £10, Get £10', it invites you to place a £10 exchange bet at odds of 2.0. and gives you a £10 free bet in return.
Here are the main terms and conditions for the offer:
Your very first bet must be £10 or greater
Moneybookers, Paypal, Neteller and Skrill deposits are ineligible
First bet must be placed within 14 days of registration
Must use Betdaq promo code 'BDQ10' when registering
Free bet must be used within seven days
BETFAIR OR BETDAQ
In terms of sheer betting volume, Betfair are – reportedly – the only betting exchange in the UK which tops Betdaq. The biggest area in which Betdaq trumps its main competitor is commissions. Dropping from 5% to 2% represents a whopping 60% reduction in commissions, without even taking into account the 0% commission you pay on certain sports.
In other areas of our Betdaq review, though, we found that Betfair had a clear edge. They have significantly more betting markets, more liquidity, and a greater number of promotions.
BETDAQ PROS:
✔️ Excellent trading tools – Betdaq has some of the best trading tools around. An entire major section of the exchange is dedicated to them, which includes completely free tools which give you alternative interfaces, (including the celebrated Bet Angel) and access to the API feed. Free tutorials and betting tips are also available.
✔️ Low commissions – The Betdaq commission rates are nice and low, being set at a flat fee of 2% for winning bets on most major markets. No commission is paid when you make a net loss on a market.
As on other exchanges, commercial bettors or those with exceptionally high usage may be charged higher commissions.
✔️ Virtual sports – Despite being a staple of most sportsbooks, virtual sports aren't nearly as common on exchanges. Betdaq does actually have a full range of virtual sports, which exchange customers are welcome to bet on.
✔️ High liquidity – As noted in our introduction, this is an extremely successful and popular platform. As such, assuming you're not sticking down some enormous stakes, you'll have no trouble getting quick matches on most bets here.
✔️ Intriguing promotions – In addition to offering 0% commission on certain sports – like tennis, at the time of writing – Betdaq also have regular cashback offers, and even specific promotions for virtual sports bettors.
✔️ Customer support – Getting your questions answered is extremely easy here. The quickest way to do so is by using Betdaq live chat, but email and phone support is also available.
BETDAQ CONS:
❌ Available markets – While it's not bad, by any means, Betdaq's selection of markets is hardly impressive. There are fewer than 20 sports available to bet on in total, which lags noticeably behind exchanges like Betfair.
❌ No loyalty program – This isn't a huge deal, but it's worth mentioning. Some exchanges like to reward their customers' loyalty with points-based systems. Betdaq used to lower their commissions in this way too, but no longer do so.
Frequently Asked Questions About Betdaq Exchange
What is Betdaq Exchange's commission?
The standard rate is 2% on profits, and 0% on losses.
Is there any trading software for Betdaq?
Yes. Several pieces of software – most notably Bet Angel – are available directly from the website.
Is there a Betdaq mobile Android application?
Yes. An Android app is available to download via Google Play.
LADBROKES EXCHANGE REVIEW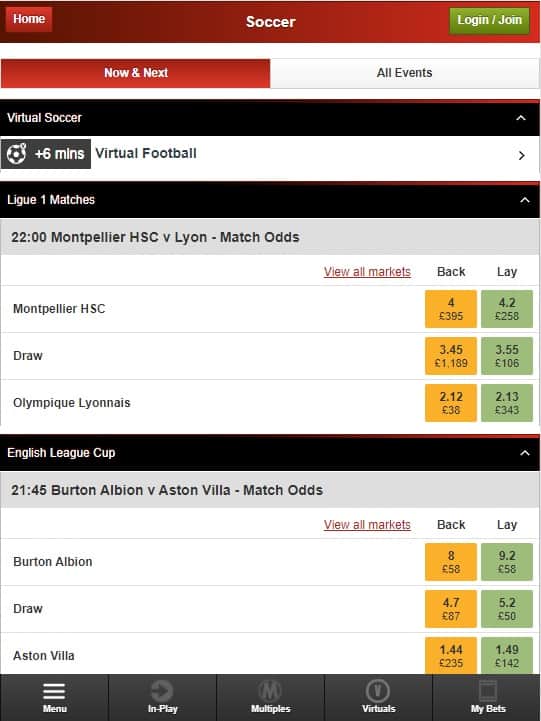 ☑️ App rating: 4.7/5
OVERVIEW
Ladbrokes are one of the oldest and most prestigious names in gambling, with a history stretching back to 1886. While certainly better known for their sportsbook, they also have a fully-functional betting exchange in place too.
LADBROKES EXCHANGE COMMISSION RATES
During our research for this Ladbrokes Exchange review, we found numerous reports of a hefty 5% commission being charged here. This is simply wrong. In Ladbrokes' own terms and conditions, they confirm that the commission is actually a highly competitive 2% flat rate.
As usual, commission is only charged when you make a net profit. Elsewhere, while you do technically accrue a 'commission point' for every £25 you wager… this doesn't actually have any effect on your Ladbrokes Exchange commission. Perhaps a name change is in order!
LADBROKES EXCHANGE SIGN UP OFFER
At the time of writing, it is unfortunately unclear whether Ladbrokes have a sign up offer for their exchange.
Their main welcome offer is only available for sportsbook users. In addition, however, they have separate 'Bet £5, Get £20' and 'Bet £10, Get £30' offers, in which you place a qualifying wager and receive free bets in return. We've scoured the terms and conditions for both, and neither states whether the offer is sportsbook-only, or available to exchange users too.
If you prefer to err on the side of caution, we'd recommend triggering a welcome offer on the sportsbook, then using any winnings over on the exchange.
LADBROKES VS BETFAIR
If you were to compare their sportsbooks, Ladbrokes vs Betfair would be an intriguing battle. Regarding their exchanges, though, Betfair has a pretty clear advantage.
When it comes to markets, promotions, liquidity, betting tools, and several other important areas, Betfair simply has Ladbrokes beat. The only real area in which Ladbrokes triumphs is commissions, with a 3% reduction admittedly being pretty significant.
LADBROKES EXCHANGE PROS:
✔️ Solid liquidity – While it can't quite boast the sheer volume of a Betfair or Smarkets, Ladbrokes still offers reliable liquidity for both your back and lay bets. The fact that they share Betdaq's user base (see below) helps enormously with this.
✔️ Synthesis with Betdaq – In 2013, Ladbrokes actually acquired the highly impressive Betdaq. Rather than build their own exchange from scratch, this allowed them to use Betdaq's proven technology instead. Markets are also pooled between the two exchanges, which helps improve liquidity on both platforms.
✔️ Straightforward interface – Some bettors like to get as much information at a glance as possible. For others, though, simplicity is the best way forward. Ladbrokes' interface will certainly suit the latter, presenting markets, odds, and everything else in an extremely basic, clear manner.
✔️ Virtual sports – Ladbrokes boast one of the best collections of virtual sports around. Pleasingly, these are just as easily available on the exchange as the sportsbook. Horse racing betting, football, speedway, greyhound racing, and motorsports all feature in this impressive range.
LADBROKES EXCHANGE CONS:
❌ Lack of trading tools – Having started off as a luxury, many bettors might actually expect to find trading tools from a modern-day exchange. Ladbrokes, sadly, have no such tools to offer, meaning you're completely reliant on your own analysis.
❌ Middling market selection – Again, the range of markets here isn't bad, by any means. With approximately 20 separate sports available to bet on, though, there are certainly better selections around.
Frequently Asked Questions About Ladbrokes Exchange
Is there a Ladbrokes Exchange app?
Yes. Ladbrokes offer both sportsbook and exchange apps, along with a dedicated Ladbrokes Exchange mobile site.
Is Ladbrokes Exchange any good?
Yes! While it trails behind Betfair in a few important ways, it is still certainly a good betting exchange.
HOW WE RATE BETTING EXCHANGES
There are three main criteria on which we believe betting exchanges should be judged: commissions, liquidity, and betting markets. These are the biggest factors we take into account when we rate betting exchanges, and – to gain our seal of approval – an exchange really should perform well in all three areas. While not quite as important, minimum stakes can also play a key role in picking one platform over another.
Here's how our four contenders for 'best sports betting exchange' stack up.
COMMISSION
Commissions are a fact of life when you use a betting exchange. You ideally still want them to be as low as possible, however, in order to maximise your profits.
These are the rates our chosen four exchanges charge:

Let's take a quick look at how these rates might actually affect your profits. In our example, we'll assume you've placed a winning 'back' bet, of £50, at odds of 2.0.
At Betfair, you would pay 5% commission on your £50 winnings, equalling £2.50, which leaves you with a £47.50 profit. At Smarkets, Betdaq, and Ladbrokes, you would only pay 2%, equalling £1. This would leave you with a £49 profit.
As you can see, despite the commission being 3% higher on Betfair, you still only pay £1.50 more. Those extra charges will obviously add up over time, though.
LIQUIDITY
All four of our chosen back-lay betting sites have plenty of users. There are still some sizable differences in their liquidity levels, though.
To compare those differences, here are the respective liquidities each exchange offers on the same market. The market in question is Arsenal to beat Fulham in the Premier League, with data taken the day before the match.

As you can see, there is a clear gap here. Betfair and Smarkets have already seen plenty of action on this market, with much more to come. By contrast, Betdaq and Ladbrokes (who share liquidity), have seen less than £500 in total wagered thus far.
BETTING MARKETS
Betfair clearly tops our betting exchanges list here, with 27 different betting markets within their overall exchange. Smarkets is quite a way behind with 21 subsections, while Betdaq and Ladbrokes both have 19.
It's a similar story with in-play. Betfair had 30 live markets at the time of writing, with plenty more to come throughout the day. By contrast, Smarkets had 16, and Betdaq and Markets only had 11.
MINIMUM STAKE
Betfair have an extremely high minimum stake, requiring you to stick at least £2 down per bet. This drops down to £0.50 for Betdaq and Ladbrokes, with Smarkets being the pick of the bunch with a lovely, low £0.05 minimum stake.
EXCHANGE BETTING GUIDE
Whether you've only used regular sportsbooks up to now, or you're completely new to sports betting altogether, exchanges can be a little confusing. In this section, you'll get a good answer to the classic question 'What is a betting exchange?', and learn how to use a betting exchange.
BETTING EXCHANGES VS SPORTSBOOKS
On a sportsbook, you're betting 'against' the bookie itself. They set the odds on each market. If you like the odds, you place a bet on that market, and collect your winnings if it comes in.
On an exchange, you're betting against other people. You can essentially take any odds you like on a market… but only if someone else is willing to take the other side of that bet. The exchange betting app or desktop platform will facilitate the matching of these bets, their placement, and pay out the winner.
HOW TO USE AN EXCHANGE BETTING SITE
For the most part, using an exchange is the same as using a sportsbook. Mechanically, there are only two major differences.
Firstly, you must decide whether to place a 'lay' or 'back' bet (the meaning of back and lay betting is explained below). Secondly, you must decide the odds you want to take. You'll typically have several options here, and must balance the risk and reward yourself.
HOW DO BACK BETS WORK?
'Back' bets are basically the same as regular sportsbook bets. You are betting for an outcome to happen. If the market is Arsenal to beat Fulham, for example, and you take the 'back' bet, you are 'backing' Arsenal to beat Fulham.
The odds for back bets will typically be coloured in blue on most betting exchanges in the UK, to help you identify them.
HOW DO LAY BETS WORK?
'Lay' bets are the opposite of 'back' bets. With the back bettor wagering that something will happen, you are essentially playing the role of a traditional sportsbook by saying that it won't.
Lay bets give higher odds than back bets, and are necessary to create liquidity on any given market.
WHAT IS MATCHED BETTING?
It involves taking both sides of a two-outcome market. You take one side on Exchange A, and the other side on Exchange B. Whatever the outcome, you win one of your bets.
Matched betting relies on finding good enough odds to ensure a profit. It is also frowned upon by new betting exchange sites and old ones alike, so – if you keep doing it for too long – your account will likely be suspended.
WHAT ARE THE MOST POPULAR MARKETS?
Football and horse racing dominate betting exchanges, with even routine matches and races pulling in hundreds of thousands, if not millions of pounds.
Cricket can also see some serious action – even the 2020 Caribbean Premier League final saw over £8 million matched on Betfair – and tennis is an extremely popular market too.
Frequently Asked Questions About Betting Exchanges
How do betting exchanges make profit?
Unlike sportsbooks, exchanges do not build an overround into their odds to ensure a long-term profit. Instead, they charge commission on all winning bets. Standard rates typically vary between 2-5%, although volume betting will incur higher charges.
Which is the best betting exchange?
Betfair was the original betting exchange, and is still seen as the best by many. It's certainly an excellent all-round platform, but has plenty of competition nowadays.
What is the difference between back and lay?
With a back bet, you're saying something will happen – you're 'backing' the outcome. With a lay bet, you're betting against that outcome happening.
What happens if you win a lay bet?
You collect your winnings, as normal! When placing a lay bet, though, do be aware of your 'liability'. Any good exchange will provide a calculator to help you work this out.
Were there any new betting exchange sites in 2021?
Not that we're aware of. Exchanges are more complicated to operate than sportsbooks, meaning new ones open far less frequently.
What betting exchange has the best app?
Most modern exchanges will offer a good mobile app. That said, Smarkets' app really is exceptional, and is arguably the best around right now.