NEW BETTING OFFERS
In the past couple of years, online sportsbooks have become all the rage. And why not? The convenience of having a betting tool available to you 24/7 via any electronic device is a great advantage to most punters. The boom in the market has, naturally, lead to new bookies opening their proverbial doors. And in order to compete with the top dogs in the industry, these new bookies have saw it fit to match their bonus offers, with a few promotions of their own.
In this article, we are going to take a look at how these latest bookies' sign up offers compare to the old guard of sportsbooks. We will discuss new betting offers that have appeared on the market and explain whether they are worth your time, or whether you can get a better deal somewhere else.
How We Rate New Betting Offers
Before we get into all of that, you must be wondering how we rate these offers? So, instead of jumping into the offers head first, we would first like to explain our system and the criteria we go by when rating these bonus offers.
Licensing
First thing is first, we do not rate or evaluate bookies that have not been properly licensed. No matter how tempting their new betting offers might be, if a sportsbook does not have the proper license issued by an authority of a reputable nature, then they are not to be trusted. Often time, unlicensed bookies make unfair odds, stack the deck heavily against players, or are just outright scams. Avoid any bookmaker without a proper license.
Evaluation of the Terms and Conditions
The second step is to head over to the terms and conditions, read them carefully and evaluate how strict they are. Often times, T&C will have certain restrictions on the new betting offers. That is all fine and well. However, if the Terms and Conditions make these bonuses unplayable, then we have a problem.
Value and Accessibility
Lastly, we take a look at just how valuable the bonuses are, and how easily accessible they can be. If a bonus is highly valued and easily accessible, naturally it is pushed to the top of our list. However, if it is difficult to obtain a bonus that isn't even worth obtaining in the first place, we rate it on the very bottom.
Types of New Welcome Offers
Now that we have talked about how we rate these new betting offers, it is time to finally discuss them. There are quite a few types of betting sign up offers on the market today. We will go through the three most popular and prominent ones, and talk about whether they are worth the hype.
Free Bets (Bet X Get Y)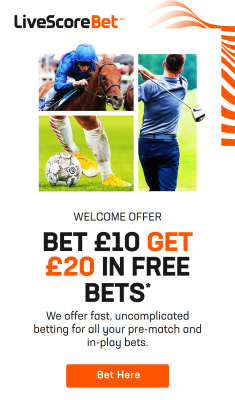 Free bets bonuses are often called Bet X Get Y offers. The reason for this is because they are activated when a new punter puts down a minimum demanded deposit (the X) and is then awarded a certain amount of free bets (the Y).
For example, if a certain sportsbook offers a Bet 5 Get 10 bonus, this means that, if you make a deposit of £5, you will be awarded £10-worth of free bets. Free bet offers can range in value, going from Bet 5 Get 10, to Bet 10 Get 50, and sometimes they even offer a higher amount of free bets which you can use in accordance to the terms and conditions of the website.
Speaking of the T&C, you do need to be aware of how you can use these free bets that have been awarded you. Often times, online bookies will have certain restrictions for their new free bet offers. For example, there are minimum odds that you can you deposit on in order to get your free bets. If the minimum odds, for example, are 1.5 (or ½), that means that deposit must be placed on odds of ½ or higher, in order for you to get access to your new betting offer. So you do need to be aware of this before you attempt to claim your bonus.
Money Back / Cashback
As the name suggests, a money back offer is a promotion available at many online sportsbooks, through which you can get your deposit back on a loss. In terms of Cashback welcome bonuses, the way it works is that new punters will get a return on their first deposit, if it should result in a loss. Let us say, for example, you have joined up with a bookie that offers money back promotions. You're confident that a certain team/player/athlete/etc. will win a given match/race/game/etc. You put down your deposit, and your backed investment loses the competition. Thanks to the cashback deal you can get all of your deposit back.
Against, as with the free bets offer, money back offers often time do have certain restriction. There may be a minimum and maximum deposit that they work with. They may not work with certain sports sometimes. So, before you make a deposit, always make sure that the deposit you are putting down is in line with the T&C of the bookie that is offering you this new betting offer.
Deposit Bonus
When you join up with a new sportsbook, they will often list a deposit bonus as a special promotion. But, just what does this mean? From the name, you would gather that a deposit bonus is a bonus you get upon depositing. And that is somewhat true for all of these. Well, when a bookie says "deposit bonus", what they often mean is that they will give you a certain percentage of your first deposit in the form of free bets.
Take as an example a bookmaker that offers a 50% bonus on your first deposit. This means that, if you make your first deposit £20, that the bookie will award you £10 worth of free bets, that you can use in any way you like. Now, as with any other offer, deposit bonuses are restricted by T&C and will often have a maximum set limit. It is very unlikely that you will find a bookie that won't somewhat limit the amount of free bets that they will pay out on your first deposit. So bear that in mind, before placing a first deposit that is too high.
Advantages of New Bookmakers
Established sportsbooks come with a ton of advantage on the market. They are reputable and tested. However, new bookies bring a few trump cards of their own to the table. For one, they are looking to attract as many customers as possible. It is difficult to get a business going, after all. The more customers show interest in their brand, the easier it will be to become established in the rising market of online betting.
In order to attract customers, new bookies will often feature generous new betting offers, in an attempt to outcompete the old guard (so to speak). It appears that most of the latest bookie sign up offers are quite a bit more generous with their T&C.
Another advantage might be the coverage of the sports. Often times, new bookies will have less amount of sports covered. But to make up for this, they will do everything within their power to cover the games, matches, teams and players as thoroughly as possible, in order to not lag behind the top dogs.
FAQ
Are new betting offers safe?
As long as you are using a licensed sportsbook, the betting offers on it will be safe.
How to find new betting offers?
Keep up with all of the new and regulated betting apps and websites online, and look at their promotions. Alternatively, you can go to quite a few websites that list new betting offers and the bookies that feature them.
What is the best new betting site in 2022?
In 2022, the best new betting site is probably Livescore Bet. They cover quite a few sports (including Football) and offer some great promotions.