HORSE RACING BETTING OFFERS
Since the earliest days of human society, horses have been an invaluable tool of trade, transport, and entertainment. Racing horses for sport can be dated back to the ages of Babylon and Ancient Egypt, over 5000 years ago. Today, the practice remains popular, and horse racing is one of the most popular betting sports in the world.
With that popularity, naturally, come a lot of different websites that want to get a slice of the pie. And in order to entice punters, these websites will often make tons of different horse racing betting offers. There are several different betting offers that one can get on horse racing. Whether it be free bets, match bonuses, or something else entirely, bookies have made sure to keep their user base happy when it comes to the ponies.
In this article, we are going to go through a few different types of horse race betting. We are going to go over what makes them good, if they are beneficial to players at all, and whether they are worth your time. They have been judged based on the restrictions imposed by the Terms and Conditions, the payouts, and the payment methods.
Best Welcome Offers for Horse Racing
For those who may not be aware, a betting welcome offer is a bonus which is given to the punter upon signing up with a certain online bookie. Several different sportsbooks have their own different horse racing welcome offers. The most common types include free bets, matched deposits and money back offers.
Free Bets
As the name suggests, a free bet offer is a bonus in which the player is granted a certain amount of free bets. Often times, these offers will also be called something like "Bet X Get Y", where X is the minimum amount you must bet and Y is the amount-worth of free bets that you are awarded. Free bets are a rather popular horse racing welcome offer, however, it does come with certain drawbacks. For one, the free bets have a certain expiration date (usually a week, though it varies).
Bookies that Offer Free Bets:
888Sports (Bet 10 Get 30)
SpreadEx (Bet 10 Get 30)
Coral (Bet 10 Get 20)
Matched Deposits
Much like free bets, matched deposit bonuses are a very popular form of horse racing welcome offers. This may not be as easy to understand from the name alone, but the bonus is simplicity itself. Once you sign up with a bookie and make a certain deposit, the sportsbook will match your deposit, up to a certain percentage. Remember that with matched deposit bonuses there is a certain limit on the minimum bet, but also on the maximum bet. Meaning that after a point, the matched deposit will not rise. Either way, the matched deposit bonus is a great way to start betting without necessarily risking your cash.
Bookies that Offer Matched Deposits:
1OBet (50% Up to £50)
Betway Sports (£30 Matched Free Bet)
Money Back Offers
Lastly, we come to the simplest of all of the horse racing offers. Once you've signed up with a sportsbook that offers money back bonuses you can place a bet of a certain minimum amount. If the horse you are backing doesn't win the race, you are eligible to get a full return on your bet. You may encounter money back offers as "cashback offers" as well.
Bookies that Offer Money Back Bonuses:
Paddy Power Sport (Bet £20 and get it back as cash if lose)
Best Horse Racing Betting Offers for Existing Customers
But it isn't just new customers that are treated to a delicious bonus. Given the right bookie, existing users will often times be given something extra as well. Let's take a look at some of the best horse racing promotions for existing customers.
Extra Places
Extra places are the most sought after and beloved types of horse racing bet offers in Matched betting. Bookies that have extra places offers allow you to place three different bets at once. One of them is a back bet, placed through the bookie of your choice. The other two are going to be bets placed through a bet exchange.

The first bet needs to be an each-way bet, which will cover the winner and the runner-ups. Meanwhile, the secondary bets will cover a winner and a runner-up respectively. Through this method, you are going to cover one place less than what the bookie is paying out on. That "extra place" is covered by the two extra bets we have made.
Extra places horse racing offers are not available for every single race, or at every bookie online. However, the ones that do offer this type of matched betting have noticed that they are quite profitable for some of the savvier players. Naturally, this attracts more punters who want to make a bigger buck. It is for that reason, that even certain bookies that don't allow the Extra Places betting offer regularly, will make it available for certain events. Major events like the Royal Ascot, the Kentucky Derby, etc. will often times be accompanied by bookies opening up to extra places betting.
Best Odds Guaranteed
The world of horse racing betting is not an easy one to navigate. However, once they get the hang of it, most punters don't have trouble determining which horse is the winner. But, until they can get the hang of it, isn't there a way that the hobby can be made a little simpler?

Well, thanks to bet odds guaranteed horse racing offers, there is. Commonly abbreviated to B.O.G., the bet odds guaranteed offer is a concession where you can take an early price or a board price associated with a particular horse with the knowledge that you will be paid out no matter what. The payout will either be the sum of the starting price or the odds that you've bet on, depending on which one is higher.
So, how does this offer work? Once upon a time, punters had to pick between the early price or the board price. Meaning that they were viable to make a poor choice and make less money than the horse was truly worth. However, bookies that have the bet odds guaranteed horse racing offer will not pay out customers depending on which of the two sums is higher. This is an obvious advantage, as customers will be given exactly how much the horse they've backed is worth.
Enhanced Odds
It is not hard to determine what an enhanced odd is from the name alone. Many bookies have the express goal of attracting more customers. But how can they do that, when the online betting market is constantly seeing new, respectable businesses opening their proverbial doors? Well, one of the ways in which sportsbooks will attract a bigger audience, is by offering enhanced bets. What this means is, that often times bookies will deliberately boost the odds of a select betting market. This can include football, golf, basketball, and yes, horse racing.

Enhanced odds horse racing offers are a great way to attract a greater crowd, as it gives punters the ability to earn quite a bit of cash from their bets. Is it any surprise at all then, that bookies that feature enhanced odds horse racing offers tend to do better with a crowd of punters?
Non Runner No Bet
Another horse racing offer that might be self-explanatory. Horse racing is just as unpredictable off the track as it is on the track. After all, we are dealing with living creatures that don't have the higher cognition of humans. Certain horses can get temperamental and aggressive before a race. Obviously, if this happens, they will not participate (not even mentioning injuries or illnesses that a horse might experience). Hence, certain bookies have introduced the Non Runner No Bet horse racing offer.
What this means is, simply put, that if your backed horse does not race, you get a full return on your stake. As fair a deal as one can imagine. After all, if you are backing a horse that never competed, you aren't really given the chance to win or lose.
Money Back Offers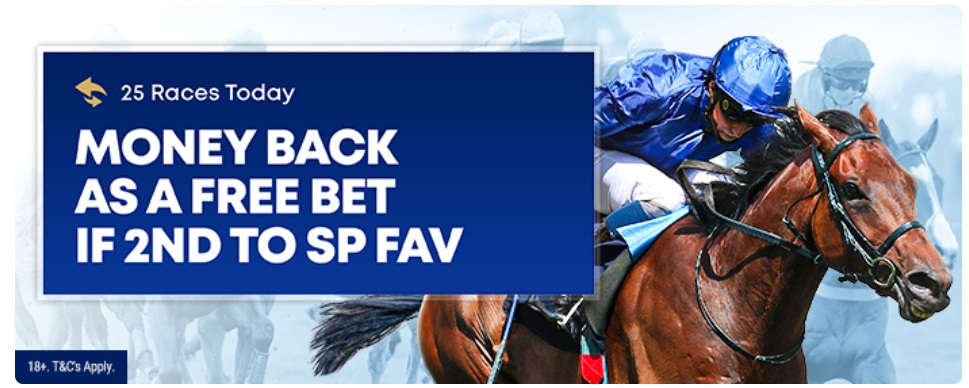 Lastly, we come to money back offers. We explained what money back offers entail somewhat in the earlier section. However, for existing customer cashback horse racing bet offers work somewhat differently than for newcomers. One of the most popular forms of cashback is the faller insurance. Before a bet is placed, the punter can choose to opt for a faller insurance. For a bit of extra cash, the punter will get their stake back, should the horse they are backing fall and thus be disqualified from the race.
There are other forms of money back deals, however. Another popular one is the cashback if the backed horse ends up 2nd to the starting point favorite. Different bookies offer any number of cashback offers, however, the aforementioned two tend to be among the more popular forms of money back horse racing bet offers.
How to Get Horse Racing Free Bets?
Now, you may be wondering just how you can get your hands on some of these offers. Well, in this section of the article, we are going to explain to new players how to get their welcome bonuses, and we are also going to take a look at some bonuses for existing customers.
Newcomers:
The first way to get horse racing free bets is to find a bookie that offers Bet X Get Y bonuses. A great example for a reputable sportsbook here is the 888Sport bonus. If you've made an account with 888Sport, you can make a deposit of £10, at which point you become eligible for £40 worth of free bets. In order to claim your prize just make the minimum deposit on the required minimum odds of ½ (you can find this out by checking out the T&C), and then claim your racing free bets.

Matched deposits are another popular way to get your hands on some free bets. As we said, matched deposit offers will have the bookie match your deposit up to a certain percentage and value. For an example, take a look at 10bet's matched deposit bonus. They are willing to match a deposit 100% up to £50. This means that they will match your first deposit, as long as it does not exceed £50. You can exceed the price, however, you will still be awarded only £50.
Veterans:
Money back specials are a great way for existing customers to get their hands on some free bets. Often times, bookies will award players who have faller insurance with free bets instead of a return of stake. Another way to earn free bets is by betting on a horse who is 2nd favorite. The bookie that we want to shine a light on here is Betway, that offers an excellent money back if second horse racing betting special.
Free bet clubs and loyalty programs are also a great way for existing players to earn some free bets. By joining a free bet club, you will be awarded free bets periodically. The same is true for loyalty programs. Often times, online bookies will award free bets to players who have stuck around to use their services. This is what we refer to as loyalty programs, and it is a great way to keep users happy, while the bookie retains their business.
How We Rate Horse Racing Betting Offers
The question on your mind right now might be, just how do we rate betting offers? Well, it is simple really. We take a look at the payouts that they offer, the restrictions imposed by the Terms and Conditions given by the website, the reputation of the website itself, of course. All these factors go into our decision when rating the best of the best. It is our hope to find the best horse racing offers, in order to ensure that readers have the best experience when it comes to wagering on the ponies.
The most important things to look at are the various Terms and Conditions that place restrictions on the horse racing offers. Usually, it is minimum odds, betting type restrictions and minimum deposits that you need to pay the closest attention to.
Of course, another thing we look for is the reputation of the sportsbook itself. If the bookie website is not licensed by any of the reputable authorities in the field, they are not likely to be featured on our list of the best.
Horse Racing Events to Bet On
So, you are new to sports betting and are interested in how you can take advantage of the horse racing free bet offers? Well, in this section we will cover the most popular events that you can bet on. The United Kingdom is one of the countries where horse racing enjoys the most popularity, and some of the events are internationally renowned as the most prestigious in the sport. Let's take a look at three horse racing events that are worth paying attention to.
Cheltenham Festival
The annual Cheltenham Festival is among the most popular and prestigious horse racing events in the United Kingdom (and the world). It is a four-day event, consisting of a couple of dozen races. The schedule of the event tends to coincide with Saint Patrick's Day, which makes Cheltenham incredibly popular among Irish punters and fans. It also has the distinction of offering the second-highest prize pool in all of UK horse racing.
Cheltenham is a meeting in the National Hunt calendar, and has a long history, which can be dated back to 1860. The races featured at Cheltenham differ by the day. However, most of them do tend to be obstacle races, incorporating fences and hurdles. In 2022, one of the biggest draws at the festival was the cross country race held on the second day.
Grand National
The Grand National is perhaps England's most prestigious horse racing event, held annually in Liverpool, England. The distance of the track is officially around 4 miles and the race itself is a handicap steeplechase. For those who aren't aware, a handicap race in horse racing terms refers to horses who carry different weight depending on their performance. We mentioned that Cheltenham holds the 2nd highest prize pool in UK-based horse racing. The Grand National is the event that offers up the highest prize pool.
The event was first held 188 years ago, in 1829. Since then, it has endured the test of time. Over the course of the event, animal safety organizations and the organizers of the event have worked tirelessly to ensure the safety of the athletes (both horse and human) and improve the track, so that the animals would feel a lot safer and more comfortable. This has gone a long way into emboldening the reputation of the Grand National, and making it one of the most reputable and prestigious events in the sport.
Royal Ascot
Lastly, we come to the Royal Ascot. A four-day annual event, mainly centered around horse racing. Apart from the ponies, the Royal Ascot is also a fashion gala, a cocktail party, and generally a high-class get-together. For a long-chunk of its history, the Royal Ascot has been attended by the British Royal Family, and has gotten the reputation as one of the most high-end sporting events in the world.
The races at the Royal Ascot are held on the Ascot Racecourse, which hosts a whopping 13 of the 36 total races held annually in Great Britain. It covers close to 180 acres of land, and stages 26 days of racing throughout the year.
Punters especially flock to the Royal Ascot due to the high prize pool and favorable odds. During the 2022 event, news stories came out daily, talking about the lucky punters who managed to hit it big with a generally small deposit.
Tote Betting
Also known as pari-mutuel betting, tote betting is a rather unique system of placing bets that goes back quite a while in human history. The concept is a bit complex, but not very difficult to explain. To put it as plainly as possible, pari-mutuel betting demands all bets of a certain type be placed in the same pool. The taxes and the vigorish are then deducted from the pool, and the odds are decided once all of the winning bets have been recognized. The system is used in several different sports, however, it is most notably used in horse racing. The name comes from a shorthand for the "totalizator", which is the board on which the winning bets are calculated.
Tote betting can encapsulate numerous different kinds of bets. The most common betting type in the world is the single race. A single race bet, as the name suggests, means that a punter will place a single bet, on a single participant, in a single race. Now, single bets can be further subdivided into "win bets", "place bets", "each-way" (which we will discuss in a bit). The other popular form of betting is multiple betting, where a bunter places multiple bets on one race.
Each Way Betting
An each-way bet is a very popular form of single betting that most bookmakers have made available on their website. The each-way bet consists of two different kinds of bet, "the win bet" and the "place bet". If you are unaware what these terms mean, a win bet is paid out when and if the horse that has been wagered on wins the race. A place bet is paid out if the horse either wins or finishes in one of the predetermined places (hence "place" bet). An each-way bet entails placing both bets on different horses, and thus increasing the chances for a payout.
There is of course a trade-off. The odds for each-way bets tend to be lower, meaning that the payout will be smaller than if you simply won a regular win or place bet. However, the risk is greatly lower as well. In that way, an each-way bet is sort of a lower risk / lower reward type of deal. Naturally, this makes the practice very popular, not just in horse race betting, but in placing wagers on any popular sport (especially football).
In-Play Horse Racing Betting
Lastly, we come to in-play horse racing. Once upon a time, this type of bet would only have been possible if you were present at the ponies yourself, or if the event was televised or otherwise broadcast. Today, however, thanks to streaming technology, anyone can place in-play bets on any sporting event. This is because many sportsbooks offer livestreams of the events that they cover. Not only does this make it possible for you to follow your investment from the comfort of your own home (or on the go if you are using a mobile app), it also means that the possibility of in-play betting has been opened up to quite a lot of people.
So what is in-play betting? As the name suggests, in-play betting is a type of bet that you can place while the game (or in this case the race) is going on. Often times in-play bets will have lower odds. The upside of this is, however, that you have more information about the athletes and the race. This leads to a more informed decision when placing a bet. For this reason, in-play betting has become quite popular at many online sportsbooks.
Where Can I Watch Horse Races?
Many of you might be saying "that's all well and good, but where can I watch these events?" Well, if you can't attend the ponies in person, there are quite a few options for you.
Television
Quite a large number of horse races are broadcast on TV. You'll need to do some research and find the partnered channels for the races you are interested in, but once you have done so, you should have no problem catching the race you want to watch.
Live streaming
Many online sportsbooks nowadays offer livestreaming services. Among these, the most popular are 888Sport, bet365 and Paddy Power. Taking bet365 as an example, the way to access their live stream is to simple log into your account, find the race you are curious to see and see whether a livestream of the race is being offered. Just remember, in order to access a live stream, you first must meet a few conditions. One, you must have placed a bet in the last 24 hours, and two you must have a funded account.
Betting Shops
If you want to get together with friends, you can always go to a betting shop and see if they are broadcasting the race. Most betting shops will be accommodating when you are looking for a specific event. So give them a shot if you are looking to hang out.
Mobile Apps
Lastly, many of the bookies that offer streaming services also have mobile apps. Through these apps you can watch the races on the go, whether you are on a commute, at the café or anywhere really. Simply access the livestream on your phone and enjoy.
FAQ
Which bookie has the best welcome offer for horse racing?
Quite a few of the bookies mentioned in this article offer great welcome bonuses. Check out 888Sport, SpreadEx, and Coral for some especially fine offers.
How to get horse racing free bets?
This can be done either through a welcome bonus or a loyalty bonus / free bets group.
Which bookies have horse racing live streaming?
Quite a few online sportsbooks offer streaming services. 888Sport, LadBrokes and SpreadEx are particularly good.
What bookies are paying 5 places?
For bookies that pay 5 places check out Sky Bet, Paddy Power, William Hill, etc.
Which bookies offer Non Runner No Bet on horse racing?
For bookies that offer Non Runner No Bet on horse races check out 888Sport, bet365, Paddy Power, etc.