FREE BETS FOR EXISTING CUSTOMERS
The main appeal of the online sportsbooks which have become so popular in the past couple of years is the countless free bet codes for customers, both new and existing. For those who may not be aware, free bets are rewards and bonuses that punters can get on many of the popular bookmakers. As the name implies, free bets are wagers that can be placed without coming out of pocket. These lucrative offers are often used to attract new people to a website, but also many bookies use them to keep their already existing base satisfied.
So, the question is, how can you get your hands on free bets if you are an existing user? In this article, we are going to go through a few options for acquiring free bets as an existing user, as well as look at a couple of offers from reputable bookies.
Free Bet Clubs and Reload Bonuses
The first way to get your hands on free bets as an already existing user of an online sportsbook is by joining a free bet club. Lots of bookies offer their users membership of a free bet club. Through these memberships, you will be awarded free bets periodically, for a small fee. Loyalty bonuses are quite common too. What this refers to is being awarded free bets for spending a significant time as an active member of an online betting website.
Another way to get free bets is through reload bonuses, which are geared towards existing users. Free bets reload offers will return a certain percentage of any deposit you make in the form of free bets. For example, if you were to deposit £100, and the bookie offers a 10% reload bonus, you will be awarded £10 worth of free bets.
Now, let us look at a few individual promotions geared towards existing punters. The following are a few of the most popular bookies that have made free bet offers available for existing players.
The 888Sport Acca Free Bet Club
The first one we are looking at is the 888Sport Acca Free Bet Club. In order to become a member of the 888Sport Acca club, you need to place a total of £20 or more in bets during the week (Monday – Sunday) on either a multiple containing 3 legs (1/2 odds or great on each) or a bet builder at odds of 2/1 or greater. Note that these offers do include American major league sports, however, don't include virtual sports or racing. Once you've done so, you will be awarded £5 worth of free bets, which is enough for at least one bet per week. A pretty great offer from one of the more reputable venues for sports betting.
The 888Sport £5 Free Bet Offer
As if that weren't enough, 888Sport also offers a £5 free bet offer for existing customers if they win at odds of 4/1 or greater. This offer is as simple as what it says on the tin. You can place a bet on football, at odds 4/1 or bigger. If you have guessed it right, on top of getting the hero's payout, you will also be awarded an addition £5 worth of free bets by 888Sport. Just remember, that the minimum bet you must place on the original 4/1 deal is £10 in order to qualify for this free bets offer.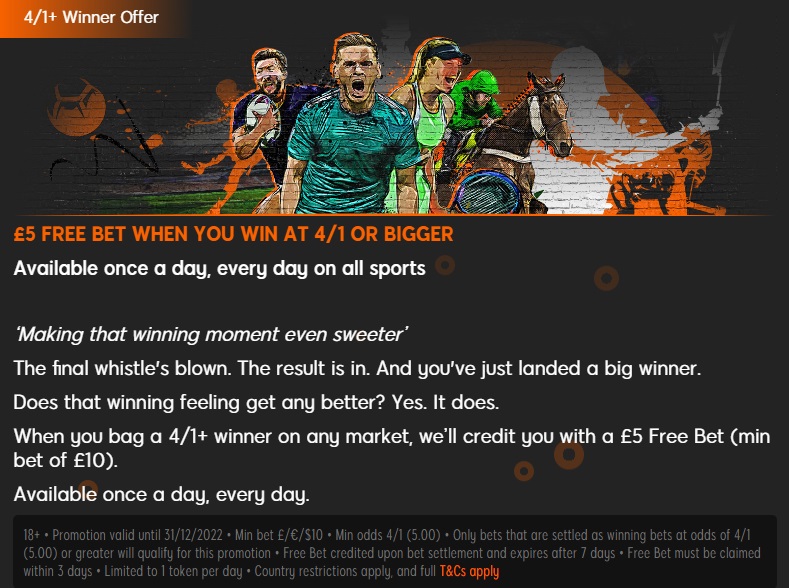 Sportnation Racing Free Bet Every Week Offer
If you are more of a racing fan, Sportnation has a great way of giving out free bets for existing customers. In order to get your hands on Sportnation's weekly free bet offer, you first must register with the sportsbook. Once you've done so, opt in to the promotion. Then it is a simple matter of placing 5 bets of £5 or more on horse racing any day between Monday and Friday. If you've fulfilled this criteria, Sportnation will award you £5 worth of free bets. It is worth noting that these free bets can only be used on horse racing, and expire at midnight on Sunday. Which means you can't stack or hoard them over a period of weeks.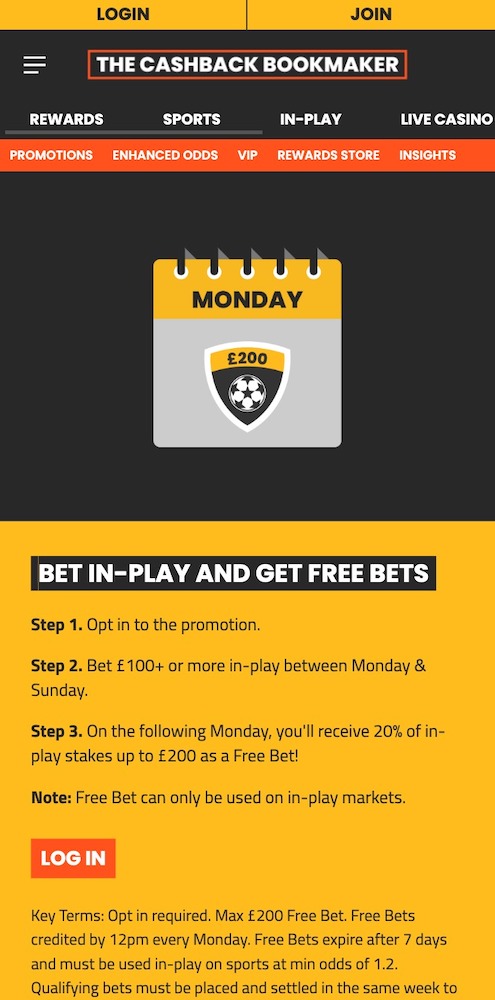 Unibet Free Bet Club
Lastly, we are taking a look at Unibet's free bet club. As with any of the previous free bet offers, you have to have an account with the website. Once that is done, opt in for the free bet club. Throughout the week, you must place five or more bets of at least £10 with minimum odds of evens. If you are placing multiples, each leg must be a minimum of evens.
Your bet must be placed on a football, cricket, basketball, tennis or dart event and must be in cash. If you've fulfilled the criteria, your free bets will be awarded and you can use them in any in-play event except horse racing, greyhounds and trotting.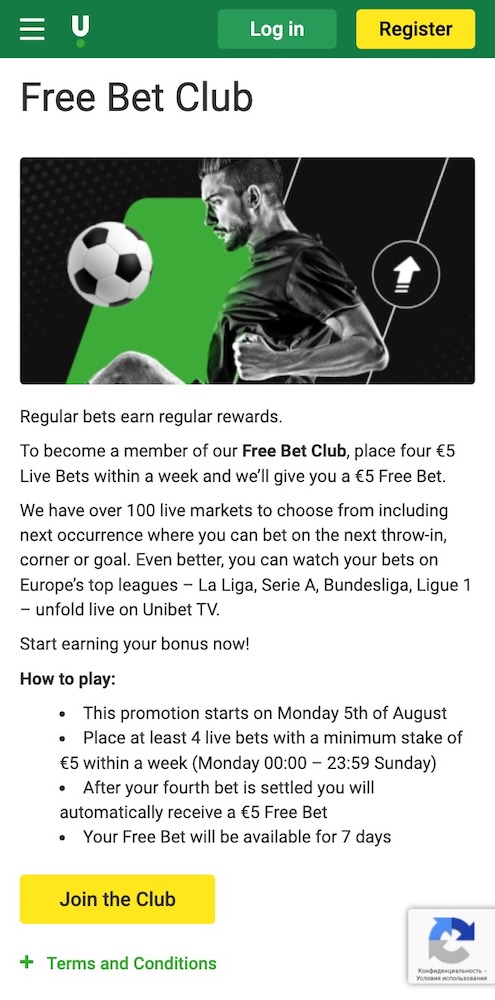 Another fun way of getting your hands on free bets is to participate at some of the bet builder promotions that a lot of bookies organize. For those who are new, or simply aren't aware of what bet builders are, let us explain.
A bet builder allows users to place bets on any football match they want. Once you've done so, you can select a number of bets (the number is often limited by the sportsbook, so it may vary) and add them together to create a single combined bet.
When it comes to a lot of bookies online, they let players use this feature, and award them with different promotions for doing so. Often times, bet builder promotions include a certain amount of pounds' worth of free bets for participating in bet building.
Let's take as an example Grosvenor's £5 free bet builder offer. In order to get this offer, all you have to do go to the Bet builder tab for a match (Arsenal vs. Spurs for example) choose your selections a pick the £5 Free Bet offer on the slip.
Another offer is the Betfair Bet Builder Insurance offer for existing fans. You can place a bet builder with 4 or more legs, and if one of the legs happens to lose, the website will compensate you with a maximum of £10 worth of free bets daily. The offer is available for an addition 300 days, so you can opt in and collect your free bets.
Another very popular offer for existing customers is the cashback or money back promotion that many bookies have made available on their sites. As the name suggests, a money back offer is a type of reward granted to punters who have lost a bet. This is a great way to keep certain customers satisfied, as it feels like they get a second chance. We will go through a few notable cashback offers to help you make a decision.
The first example is the money back if second to SP offers. A prominent bookie that has this promotion available is Boylesports. When betting on horse racing, if your backed horse should come up second to the Starting Point, the bookie will return your investment, even if you've lost. Just bear in mind that this offer works only with a maximum of £20.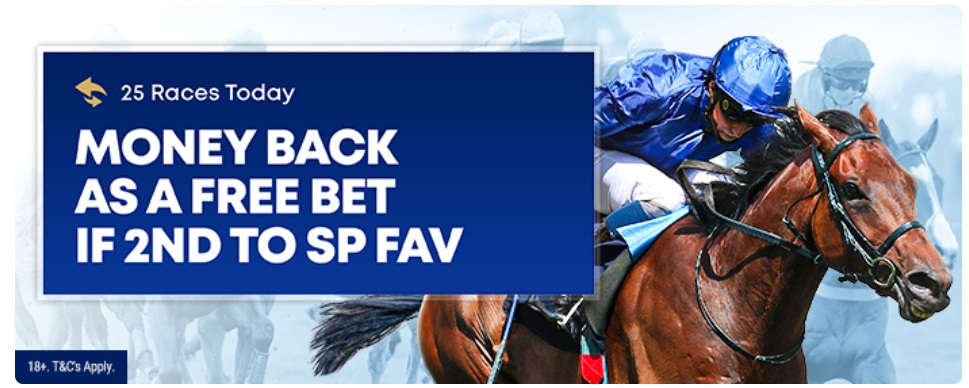 Faller insurance is another popular form of the cashback offer. As the name of the promotion suggests, a backed horse might fall down or injure themselves during a race. If that happens, a member who has opted for the faller insurance promotions will get a return on their investment. Take a look at Paddy Power if you want a reputable bookie that offers faller insurance. Just make sure to take a look at their T&C first.
One of the most popular forms of bookmakers offers are the Bet X Get Y Free Bet offers. So how can new customers get free bet offers like these? Often times, these types of promotions are available for new players. However, that isn't always the case. Many bookies will allow a period of time when any of their users can opt in for a Bet X Get Y free bets offer.
This means that existing customers can put down a deposit worth a given amount (as an example let's take £10) and will then be rewarded a certain amount's worth of free bets (as an example let us take £30). Quite a few people have expressed interest for these types of promotions and they tend to be among the most popular when it comes to sports betting.
Prediction Games and Competitions
Quite a few online bookmakers have decided to introduce a new form of betting to their website. That is the prediction game, which often times are free to play and can result in a reward of a few free bets. As the name suggests, a prediction game is a sort of trivia game, where players are expected to make predictions about future events. If they guess right, they win, and could be awarded some free bets. If they guess wrong, there isn't any consequences, as the prediction games are free-to-play.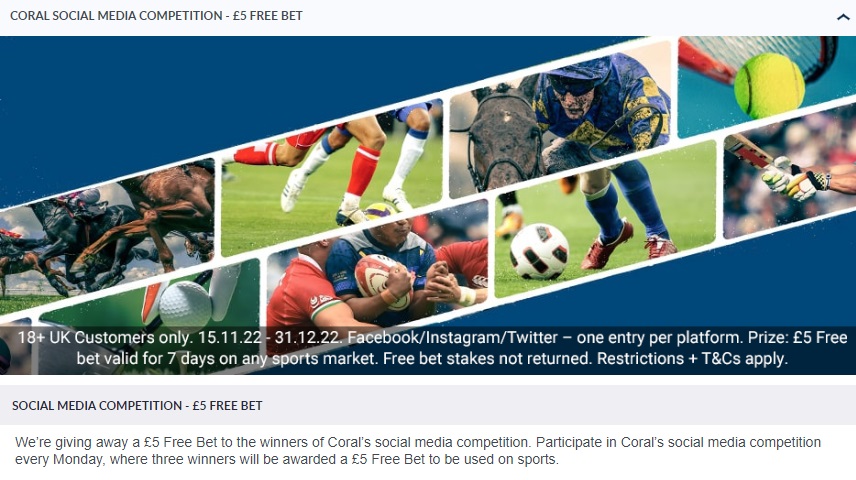 At the time of writing, Ladbrokes was hosting a prediction game regarding the ongoing Women's Euros tournament, in which players have a chance to win £5 worth of free bets. Coral is also hosting a social media competition for its users, where the rewards are £5 worth of free bets. The competition is being held every Monday, and any Coral user is free to participate. Just be aware that only UK-residents can compete in the game. In order to play, you must follow Coral on their Instagram, Facebook or Twitter, and reply to their £5 Free Bet Question with the correct answer. The question is posted every Monday.
FAQ
Can free bets be withdrawn?
Yes, indeed, earnings from free bets can be withdrawn.
How to best use free bets?
Free bets are best used quickly, as they tend to expire within a few days or a week at most. In order to better utilize them, you should read the terms and conditions which bind them.
Does William Hill give free bets?
Yes, the William Hill sportsbook does offer promotions that give out free bets.