Best Weekly Free Bet Clubs
Regular punters are used to getting their hands on a variety of promotions. We're not just talking about exclusive VIP offers. Regular punters can count on a free bet every week when they join the rare, but great weekly free bet clubs. As the term suggests, these are exclusive clubs like those for expensive drinks or cigars, except with free bets in the focus. It's different than a sportsbook loyalty club that promises other kinds of bonuses and exclusive promotions.
Free bet clubs are a great boost for regular punters. If you're one of them, you'll gladly take whatever a bookie's free bet club offers. The reality is that these clubs entice punters which is why bookies create them. While not all bookmakers will offer a free bet every week to loyal punters, the majority of the premium sportsbooks do.
You'll find a free bet club ComeOn, a Betway free bet club, and other clubs at popular bookmakers. If you're looking for one to join and benefit from betting rewards clubs, we'll tell you everything you need to hear about them.
Joining such an exclusive group of bettors is easy. As soon as your bookie of choice has a free bet club, you should register, log in, and then opt in to the sportsbook loyalty club with free bets. Of course, there will be a few rules to follow, so make sure to meet the requirements before you can earn your regular stream of free bets.
Best Free Bet Clubs For Acca punters
Acca punters are in luck. If you prefer to bet on accumulators rather than singles, you have a number of excellent Acca free bet clubs to join. These betting rewards clubs are specifically aimed at Acca punters and will give you frequent free bets as long as you place the minimum required number of parlays.
Betway Free Bet Club
If Betway is your sports betting 'poison', you're in luck. The popular bookie gives all regular bettors a £10 free bet every week when you place trebles and accas worth £25 or more. As long as you keep with it, the bookie will provide regular free bets worth £10.
You'll need to opt in to the offer in order to be able to claim the free bets. You can split the £25 every week across multiple bets as long as the combined price is 2/1 or higher. Punters need to place their bets before 23:59 Friday to receive a £5 free bet on Saturday and another one on Sunday. Once credited, the free bets have an expiry date of 30 days.
The parlays can be placed on any sport. Of course, the offer is only available for real money bets – you can't use a free bet in order to qualify for free bet clubs. Betway allows punters to track their progress with a unique tool on both mobile devices and on desktop.
Mr Green Free Bet Club
One of the premier bookmakers in the UK, Mr Green, has a great free bet club for Acca punters. The nitty-gritty says:
Bet £25 or more on accumulators (trebles or higher) every week with minimum odds of 2/1
Settle the parlays
Get a £5 free bet every Monday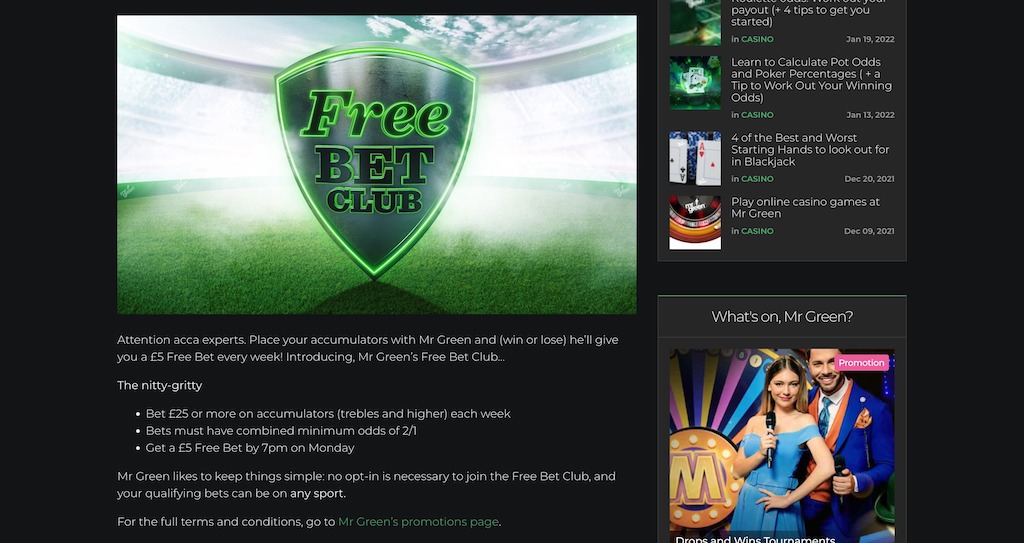 And those free bets will keep coming every week. The Mr Green free bet club is a great way to collect extra winnings when you bet £25 or more every week. And it likes to keep things simple too. No need to opt in to the club – every punter gets the gift. The qualifying bets can be placed on any sport, and obviously, they should only be placed with real money.
Just like at Betway, you'll get a free bet every week even if you don't bet £25 in one go. It can be spread across several bets as long as the minimum odds are covered.
Boylesports Acca Loyalty Club
Premier Irish bookmaker Boylesports has one of those betting rewards clubs too. Unlike other bookies, it calls its club Acca Loyalty Club. It's the same thing more or less, giving punters who love betting parlays every week a free acca worth £5 for every 5 accumulators they place.
It's a bit different than what the competition offers, but still an exciting way to get extra cash for your loyalty. The offer is available to UK members only that are 18 or older. The minimum stake per parlay is £5, with the minimum combined odds being 3/1. Your accumulator should have 5 or more legs settled before you receive the £5 free bet. As long as you have one qualifying accumulator per day over the week, you'll qualify for the £5 free bet.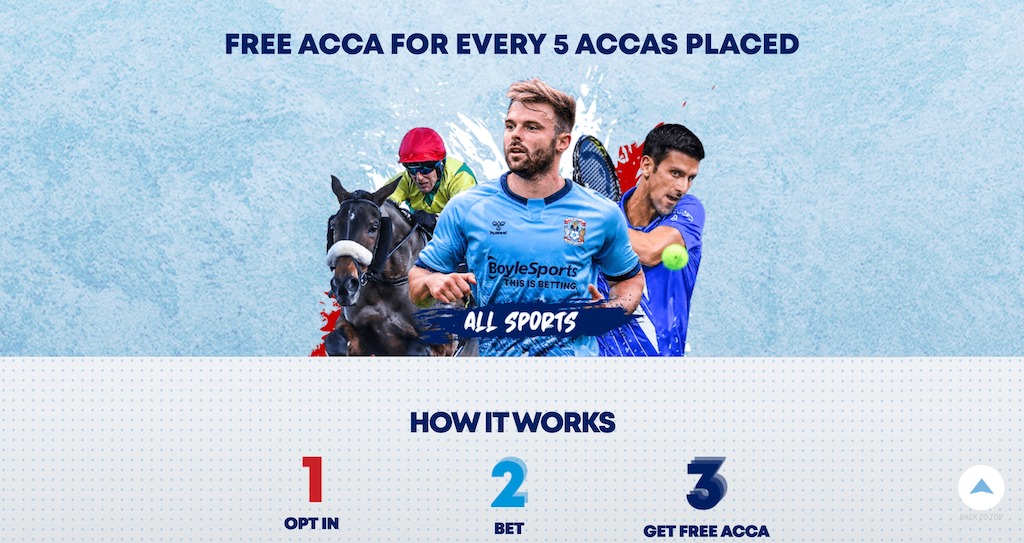 Once it's in your hands, make sure to use it within 7 days. Cashed out and void bets don't qualify for the Boylesports Acca Loyalty Club, nor do free bets. Make sure to place the Accas only with a deposit.
Best Free Bet Clubs For Frequent Punters
What's the difference between regulars and frequent punters? Regulars bet every day, while frequent punters do it a few times per week. When it comes to free bet clubs, it doesn't matter which group you fall into. Bookies such as Paddy Power and Kwiff have special free bet clubs that reward those that bet frequently, but not every day.
Paddy Power Rewards Club
The famous Paddy Power free bet club rewards everyone that places 5 qualifying bets on the site or shop. If you're a frequent punter at Paddy Power online, you can earn yourself a nice tenner in the form of a free bet every week. On top of it all, you'll also get to power up which will come in handy later.
As Paddy Power says, loyalty is dead, long live the rewards. Instead of VIP clubs, the sportsbook loyalty club is for frequent punters too, not just for regular customers. Paddy Power has a similar promotion for its casino customers, and a nice selection of offers for new punters.
You'll qualify for the free bet club when you place a minimum qualifying bet of £5. Wager that 5 times on minimum odds of 1/2 and you'll receive £10 every week. The free bet is valid for 7 days, so make sure to put it to good use.
Kwiff Loyalty Club
Kwiff's version of a free bet club requires opting in to participate. To qualify for it, you should place bets worth £50 or more before 23:59 every Friday. By doing this, you'll receive a £5 free bet on Saturday for any sport in Kwiff's lobby.
But it gets better. The more you bet at Kwiff, the higher the rewards. If you place bets in excess of £100, you'll get two £5 free bets on Saturday and Sunday.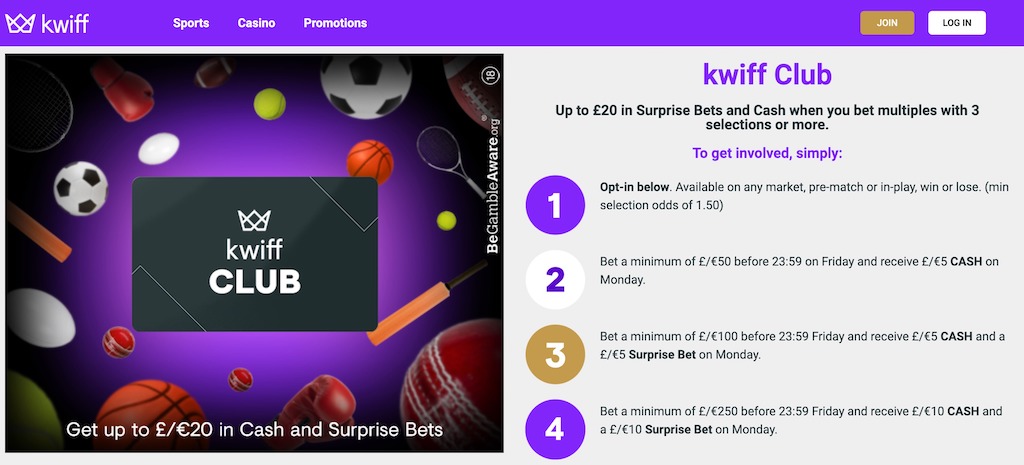 Those who bet £250 or more by 23:59 on Friday will get a £10 free bet on Saturday and a £10 Surprise Bet on Sunday. Kwiff likes to do things a bit differently, but with those free bets, who are we to argue?
The minimum cumulative stake is £50, with the maximum cash rewards being £10. The qualifying bets you place must be on odds of 1.50 or higher. Keep in mind that the loyalty club for frequent punters at Kwiff requires opting in.
Best Free Bet Club For Virtual Sports Betting – Betfred
Virtual sports betting has taken the online betting industry by storm. While not all bookies have it, new ones spice up their offer with virtuals. Popular bookies that have yet to add it to their offer are currently in the process of doing so thanks to the popularity of virtual sports bets. If you're a regular on virtuals at Betfred, you can profit from it every week.
Betfred may not have one of those regular free bet clubs, but it promises virtual weekly rewards. Punters that bet £250 on virtuals every week qualify for a 5% cashback in the form of £10 free bets. The promotion resets each Monday at 00:00 and doesn't require opting in. All you need to do is bet on any scheduled virtual sports available at the bookie – for every £250, you'll get a £10 free bet in cashback.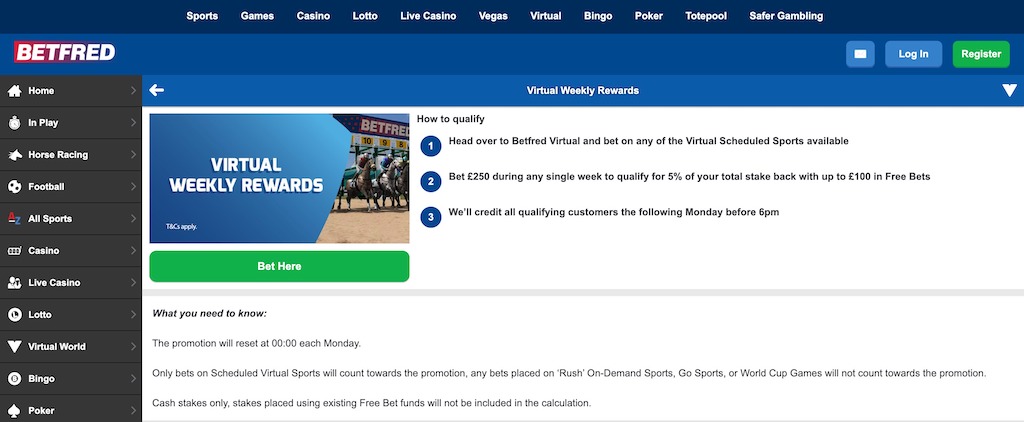 The free bets will be credited to all customers that meet the conditions every Monday. Not surprisingly, the loyalty free bet club works with cash bets only. Stakes placed with free bets or any other type of bonus will not be included in the calculation. Considering how great of a betting site Betfred is, serious punters shouldn't have trouble meeting the minimum requirements.
Once you've got your free bet, you have 7 days to complete it. The promotion is available to regular UK punters aged 18 or over.
Best Free Bet Club For In-play Punters – Unibet
Who doesn't love live betting? The latest and probably greatest achievement in the online betting industry, live betting is a much better way to bet on the Premier League or other sports events. When paired with live streaming, it becomes an offer punters can't refuse. Unibet has one of the top live betting platforms in the industry. If you're a regular there and you put your money on live matches all the time, you stand to claim a free bet every week.
Regular punters at Unibet's in-play betting platform can earn a tenner free bet every week when they place 5 or more live bets of £10 or more on football, cricket, tennis, basketball, or darts. The betting rewards club requires opting in to the offer.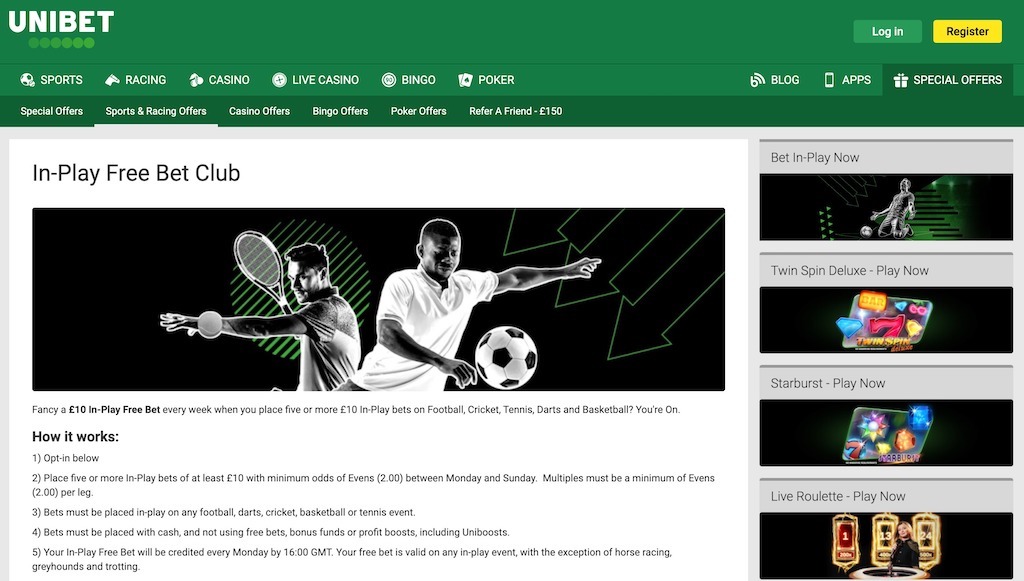 Here's how it works:
Join Unibet
Place 5 or more in-play bets on any football, darts, basketball, cricket, or tennis match of £10 per week
The bets must be placed with cash, and not bonus offers or free bets
Meet the qualifying conditions and you can expect a free bet worth £10 issued every Monday by 16:00 (GMT)
The promotion runs from Monday to Sunday, so you'll have ample time to meet the qualifying criteria. Each of the five in-play bets should be placed with a stake of at least £10. The odds must be evens or higher – for multiple, each leg should have evens odds or better.
As mentioned earlier, Unibet's live betting platform is one of the best in the industry. You'll find no shortage of in-play bets paired with great odds and even live streams that UK punters absolutely love.
Conclusion
Regular punters usually expect some kind of reward for their loyalty. While VIP clubs remain a great option, many bookies are transitioning toward the free bet clubs phase. It's simply better than an exclusive loyalty club at bookies, who often get carried away with rewards that don't hold value for regular punters.
On the other hand, free bets do, and that's why free bet clubs are a much better choice. We've listed all the top free bet clubs in the business, so pick yours according to your preferences and enjoy getting free bets every week.
Free Bet clubs FAQs
What is a free bet club?
A free bet club is an exclusive club where regular or frequent punters get to earn free bets for their loyalty.
What is the best free bet club?
It depends on your preferences and preferred bookmaker. Read the terms and conditions of all free bet clubs at the bookies we mentioned above and you'll find one to enjoy for sure.
How to get a weekly free bet?
There are minimum requirements in terms of bets placed and minimum odds you need to cover before you can qualify for free bets every week.