BEST FOOTBALL BETTING OFFERS (JANUARY 2023)
Online betting sites in the UK are becoming increasingly more popular. They're already well ahead of their land-based counterparts regarding odds and number of markets. Another thing they're popular for are the different types of goodies. The best football betting offers can make your day a lot better simply because they offer extra money you can spend on nearly any bet you like. Most online bookies these days start things off with a free bet or a welcome bonus. Free bets are much more common, but you may receive welcome offers that double your initial deposit. Either way, it's clear that bookies are pretty excited to make you their new customer, and will fight hard with the competition to give you a better offer to join.
On the negative side, that creates a bit of confusion for punters. Which offer do they pick? Are all welcome bonuses and free bets worth taking? The reality is that not all bookies nor sports promotions are worth a look. Some have high wagering requirements, others have a set of unfair terms. The good news is that we've set out to give you the best football promotions you'll find online in 2022. We've picked the best offers for your convenience with fair terms and conditions. Instead of wandering the Internet for hours, you can make your pick from this page and enjoy the extra pounds.
If this is your first time at a bookie on the web, you'll be glad to know you'll get an extra boost immediately. Football sign up offers are pretty common nowadays, with almost any bookie offering a free bet or a first deposit match to its newest customers. You shouldn't look at it like free money no matter how it seems. Welcome bonuses and free bets on football betting for new punters always have a set of rules you must follow in order to get any winnings out.
Why do bookies have these offers? It's simple – to draw more and more new punters. The online betting market in the UK is seriously competitive, with a number of big betting apps vying for a bigger portion. This means securing a more significant market share through more punters who sites can attract via the best football betting offers.
In general, bookmakers offer either free bets or a sign up first deposit match bonus. Let's break them down and see what each one gives you.
Free bets on football betting: you know all those 'Bet £10 Get £30' offers like the one you can find at 888 Sport? This is a common sign up offer that triples your initial deposit, but gives you the money in free bets. You're free to spend those in the specified markets, but they rarely return the stake. Some free bets can be cashed out, others can't. It all depends on what the bookie prefers. Keep in mind that they have their T&Cs which you must read to learn how to spend them. In the past few years, free bets have become leaders among best welcome bonuses due to the more straightforward terms.
First deposit bonuses: you'll still find many UK bookies online that offer a 100% boost on your first deposit. For example, a bookmaker might offer a 100% first deposit bonus up to £50 which doubles your initial deposit. These sign up offers are bigger than free bets, but they're also harder to wager later.
Who says that only new punters get a bonus? Existing customers can expect a great number of promotions that range from enhanced odds and acca offers to free bet clubs and more.
Acca offers (insurance and boosts)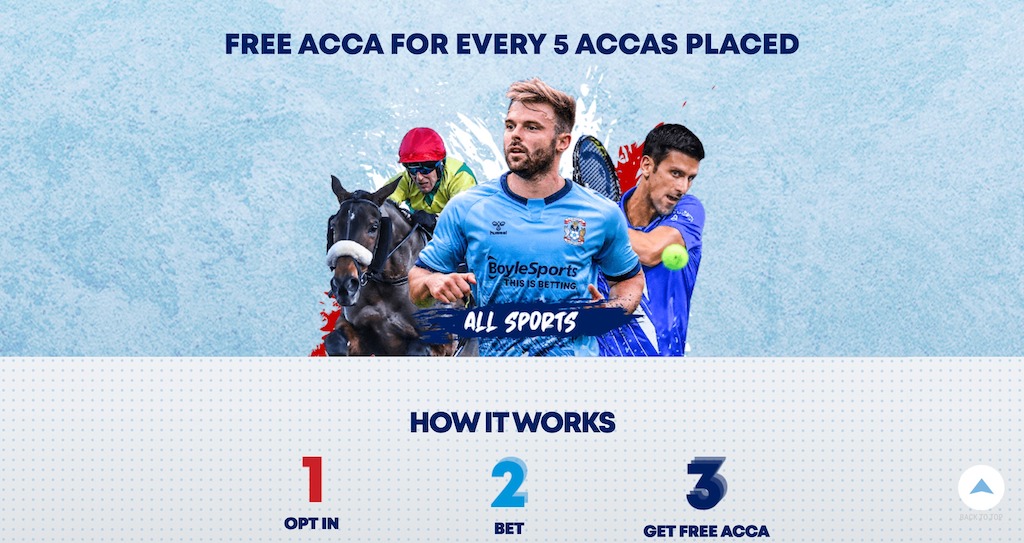 Accas, short for accumulators also known as parlays, are among the best betting ways to score big on a small bet. You tie up a number of events on a single slip and predict them correctly to win. It's a long shot, but nonetheless a fun and great way to win big with small bets. One of the most painful problems with accas is losing by a single leg. Imagine hitting 10 out of 11 – it's annoying, isn't it? Some bookmakers might have football acca offers such as insurances and boosts which apply to specific accumulators.
For example, acca insurances are applied to accumulators with four or more legs and pay on accas that are down by a single leg. You'll get your stake back if you hit the post. In that way, you get another shot at a new acca which you might win with a bit of luck.
Boosts are self-explanatory. Many bookies give you boosted odds when you create an acca with four or more selections, so you get paid more than the original odds.
Enhanced Odds and Odds Boosts
Enhanced odds and odds boosts are similar to acca boosts. A bookie might decide to enhance or boost odds on a specific event and market so you can get a better return. This usually happens shortly before the event begins – it can be right before the match or a few days prior. If you've chosen a betting site that has boosted odds regularly, it would be wise to keep an eye on the biggest matches like PL derbies.
These football promotions are pretty common and much better than just putting your money on the regular odds. Why not earn a nice boost on the odds if there's such an opportunity? Of course, the bookie is free to apply whatever rules it sees fit for enhanced odds on football, including the minimum deposit or timeframe for you to claim the better odds.
Free Bet Clubs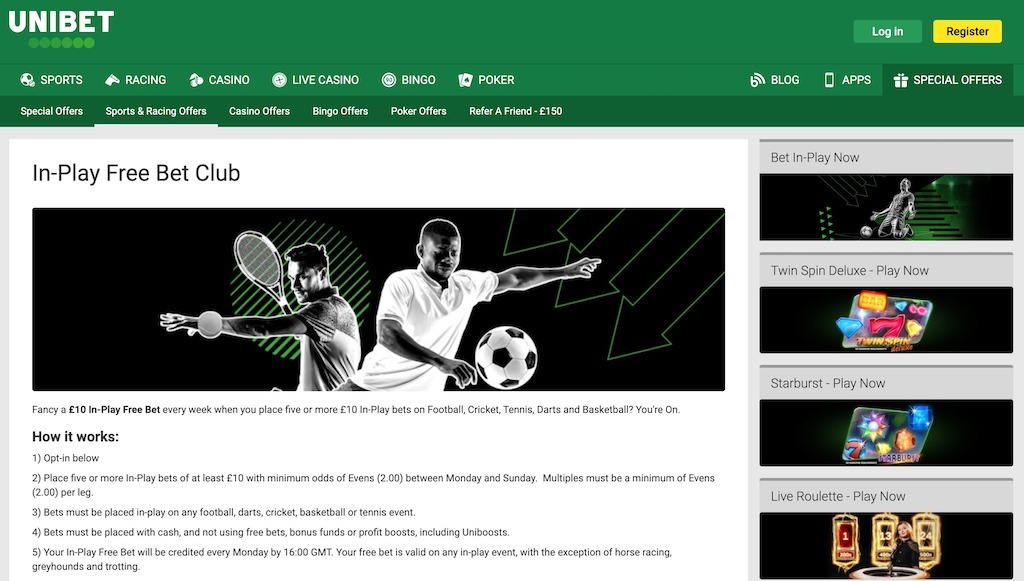 If you're an existing punter and love free bets, you'll be glad to know there are free bets clubs you can join. These are usually football betting promotions at the biggest bookies which offer precisely what you think of. By joining these clubs, you'll get free bets on a weekly basis with the aim of keeping you at the site.
Football free bets are among the most popular offer at UK bookies, so it's no wonder why these exclusive clubs are so famous too. How you join the club depends on the betting site, but they all required regular deposits and bets. For example, a betting site may give you a £10 free bet every Monday if you've placed five £10 bets the week before.
Think of these clubs as a VIP program where you can get continuous rewards for your loyalty.
Early Payout
Betting on football is great, but it would be even better if you could get your money earlier. If you think the same, you'll be delighted to learn that some betting sites have such football betting promotions simply called early payout.
As the name implies, you will get your winnings in specific markets with this promotion at the best betting sites in the industry. For example, Paddy Power and bet365 have this promotion on offer, and will pay early if a team scores two quick goals to go ahead. In this case, you won't need to see the game out and recheck your slip.
Predictor Games (competitions)
Predict a result and get a free bet or a bonus – how great is that? The top UK online bookies on our site have these predictor games on offer, giving punters a nice boost when they predict the right score in a specific market.
These competitions are not run as often as football Acca offers, for example. However, they're a great way to test your knowledge and free. Read the terms to see how to submit your prediction and if you're right, you'll get a bonus or a free bet.
Finding the best football betting deals isn't as simple as it sounds. Not all free bets, deposit bonuses, or acca boosts are the same. Each one has its value which makes it a yay or a nay. But, instead of letting you do the math on your own, we'll share the best football betting offers on this page.
Many of you might wonder why we're relevant for these deals. In the paragraphs below, we'll share the criteria for our review process that puts the best football promotions on this page. Contrary to other sites, we don't just pick the first betting deals we come across. Our team does the testing meticulously as we want our readers to always get the best bet offers.
Bonus Size – when it comes to online betting bonuses, size certainly matters, but it's not the most important factor. We'd rather get a smaller bonus with wagering of 5x than a £1,000 pound one you must wager 30 times. Our team has realistic expectations of each bonus, listing only those that can be converted to real money.
Terms and Conditions – regardless of the offer you're looking at, it should have clear terms and conditions that aren't just legal terms thrown around. We take into account the wagering, any bet caps, and other important terms such as the period you have to complete the wagering.
Eligible Markets – not every bonus is available for all markets. Some are only available in football markets, other bonuses must be used on horse races. Our collection of best deals mainly focuses on football offers and free bets that will be worth your while.
Geo Restrictions – we only list UK bookies, so it makes sense that we check if the offers are geo-restricted. To clarify, the bonuses on this page are for UK punters, but not necessarily for other regions too.
1. Premier League
It's safe to say that the Premier League is the best in the world. Take a look at the success of PL teams in Europe in the past decade and it becomes clear. Every year, 4-6 teams are fighting for the prestigious trophy, so it's no surprise that it's the premier competition UK punters bet on. Online bookies feature the top matches and PL markets right on the front page and have a variety of football betting offers for the same competition.
England is a breeding ground for football fans, and many of them can't wait for the season to start so they can start betting. Liverpool, Chelsea, Manchester City, Manchester United, Arsenal, and Tottenham have the biggest fanbase. You can easily find Premier League betting offers that involve these clubs and a lot more depending on the betting site. When it comes to the most popular markets, outrights and match winners are the favourite, but live bets get a lot of attention too.
And it's not just the UK. Premier League teams are coveted in Europe too, adding CL markets to an already stacked field at the best PL betting sites. If you're a football fan, the Premier League is among the top betting competitions.
2. EFL Championship
Sitting just under the Premier League in terms of bet value, the EFL Championship is where new clubs are promoted to the PL. While many are not familiar with the second tier of English football, UK punters certainly are. We can safely say that some of the teams in the EFL can beat teams from the Premier League, and the high attendance week in and week out makes it pretty clear that you can expect great football action.
Of course, punters can enjoy a lot of football betting offers on the EFL championship, ranging from free bets to enhanced odds and beyond. It's a great competition with teams that can turn the Premier League upside down, so never count it out.
Outrights, match winners, goal betting, and live bets are the most popular in the EFL Championship. You shouldn't be surprised to find more than a few specials for this particular competition. As we said, it may not be that big in Europe, but with stars such as Wayne Rooney appearing in the EFL, it gets plenty of attention from UK punters.
3. EFL League One
The EFL League One is the third tier overall in the English football system. It sits below the Premier League and the EFL Championship in terms of value. Still, that doesn't stop UK punters from investing a lot in EFL League One betting, with numerous League One promotions available every week.
With 24 teams competing for promotion to the EFL Championship and a playoffs-tier system, those betting markets see plenty of action. It's exciting to bet on who goes up to the EFL and who gets relegated further. A total of seven PL clubs are now competing in the League One, including Sheffield Wednesday and Bolton.
The League One has a special place in the heart of UK punters and football fans. It's an exciting competition to bet on, especially if you bet on it with one of the many top-rated football betting offers.
4. EFL League Two
The EFL League Two is a tier down from the League One, but it still is a popular option for UK punters. It is the lowest division of the EFL and the fourth-highest division in the English football system. It's safe to say it's the last tier you'll see on offer at the best UK betting sites. Aside from betting shops, you won't see many sites accepting bets lower than the League Two.
The good news is that you can expect great betting action on all the matches, and a lot of League 2 promotions. Free bets, welcome offers, deposit bonuses and more. Everything's on offer and available to UK punters who aren't against using boosts to win extra money on their slips.
We'd take a look at promotion bets and any action during the playoffs. League Two teams play their hearts out to go a tier up, which leaves plenty of room for some great betting action.
5. UEFA Champions League
There's no question about it – the UEFA Champions League is the premier European competition in football. This is the trophy all of Europe's top teams seek. Good ol' Big Years has been won by UK teams many times, with Liverpool the most recent winner. The UEFA Champions League is among the many featured market on the front page at any betting site, and comes with great markets and odds with plenty of value.
Outrights are always a good idea since it's hard to predict who lifts the trophy in May. You can also bet on match-to-match action – there's plenty going on every few weeks. Goal betting is an excellent idea too, and so is live betting on CL matches. That goes double when the Round of 16 comes.
Featuring the best clubs from Europe, this is the toughest competition to play. For punters, it's the busiest and most exciting one. The CL constantly introduces new rules that make the action more exciting. That often translates to more bets and new markets. It's the most valuable competition for live bets considering the fast pace of the playoffs and the many surprises. Those who bet on Real Madrid to score the next goal last season in the CL playoffs have most likely made a fortune.
You'll find a host of football betting offers on the Champions League. It's the second most popular competition UK punters bet on, almost in line with the Premier League.
Which bookies have the best football betting offers?
You can find the best football betting offers right here on this page. We've identified all the best offers for UK punters so you don't wander the Internet and look for them yourself.
What are the best football betting offers for new customers?
The best football betting offer for new punters would be a welcome free bet. Some say a 100% match bonus, but we'd stick with a free bet. It's easier to use and has much more realistic wagering requirements.
Which bookies offer early payouts?
All bookies don't offer the early payout feature. It's one that only the top ones can afford. Right now, you'll find it on offer at Paddy Power and bet365.
Are there no deposit football betting offers?
Yes, there are, but a bookie is more likely to just call it a free bet. Unlike casino sites, UK betting sites rarely have a no deposit offer.
Which betting sites have the best acca offers?
We can tell you that this or that betting site has the best Acca offers, but that's something you'll want to decide for yourself. We suggest you take a look at them all and find one that suits your acca preferences.
What is the best football free bet club?
The best free bet club would be one with plenty of free bets on offer every week. Take a look at them all and we're sure you'll find a free bet club that can be put to good use.