TOP 5 BETTING GAMES FOR FOOTBALL IN THE UK
Online bookmakers are always trying to come up with new activities to keep the punters engaged. The efforts often go beyond just unique markets and generous promotions. Free betting games are one of many examples of such activities. Betting prediction games, also known as predictions or jackpots in various online sportsbooks, is a promotion where you can submit your predictions for a sports event. The more of your predictions are correct, the more you can win.
Football betting games are usually the most common because football has thousands of events live at any given moment. One of the main reasons bookmakers offer betting games for football is to explore a new branch of betting. You're already betting on specific events all the time. But the free betting games are designed to up the stakes by offering a fixed prize for each correct prediction. Let's go over some examples to understand it a little better.
Top Betting Prediction Games
As we already said, betting games for football are some of the most common betting company offers ran by a number of established brands. In this section, we've chosen 5 of the best online bookmakers in the UK. Let's go over the football betting games these operators are offering.
Coral Super Series
In British sports betting heritage, Coral has a special place because it's been in business since 1926! Although it was way before the time of online betting, Coral laid the bricks for a competitive betting industry in the country.

On the online platform, Coral is offering betting games for football by the name "Football Super Series", shortly known as FSS. This is a monthly leaderboard promotion where you can win fixed prizes for accurate predictions.
You start by depositing real money into your account. Make sure you don't use any prepaid cards, Moneybookers (Skrill), Paysafecard, Apple Pay, PayPal, and Neteller. These methods don't qualify for this promotion.
Each month, Coral shares a unique link where you submit your predictions before a match starts. These are only for the 90 minutes of the games, no extra time included. You can submit up to 4 predictions.
If you get all 4 of them right, you win a flat £50 cash prize. Get 3 and you win a £2 free bet. And if you manage to get 2 of the predictions right, you get a £1 free bet. At the end of the tournament, the player with the most points on the leaderboard takes home a portion of the £25,000 prize pool.
William Hill Free or 4
In the world of online sports betting, William Hill is a decorated name. It's known for its fair practices and its rich history since 1934. The "Free or 4" game is an excellent example of free betting games because you can literally participate for free.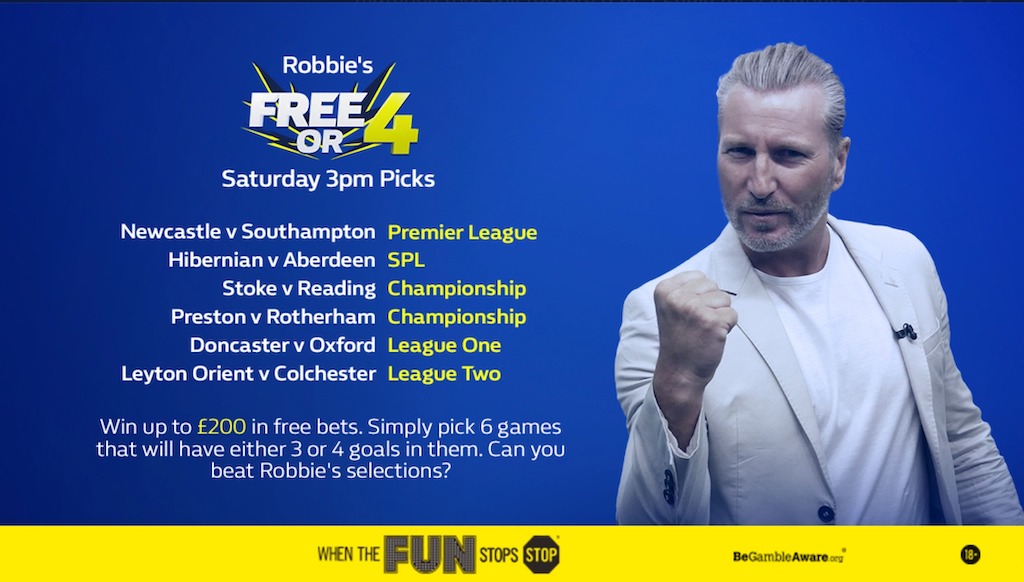 The idea behind the promotion is that you have to predict the matches that are going to have exactly 3 or 4 goals. You simply choose the Free or 4 game on the website and select 6 matches from the offered itinerary.
If you win on all fronts, meaning you get all 6 of the predictions correct, you win £200 in free bets, credited as 8 £25 free bet coupons. For 5 and 4 correct predictions, you get £5 and £1 free bet coupons respectively.
Just like the previous betting game for football, this one is also a leaderboard-oriented promotion. The total prize pool is a massive £1,000,000. As punters get paid every week, the remainder of the prize pool is used for the upcoming week.
One of the best features of this William Hill promotion is that all sports and markets under the "All Sports" menu are eligible for free bets.
Ladbrokes 1-2-Free
Ladbrokes too is a very famous in-shop and online sportsbook in the UK. As part of our guide to the betting games for football, we have Ladbrokes free to play game 1-2-Free. As part of this promotion, you can win up to £100 in cash. All you have to do is predict 3 events correctly.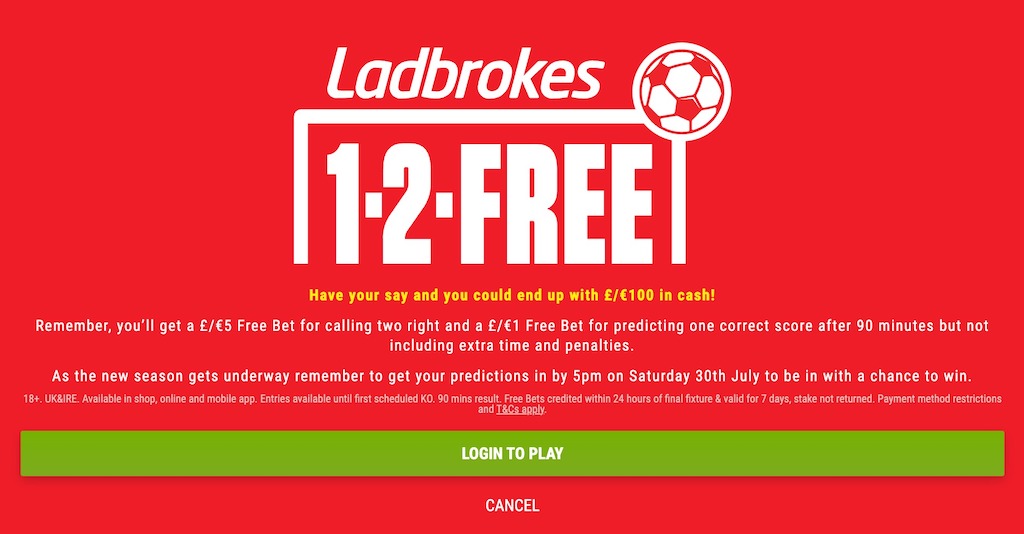 Every week, the bookmaker offers football matches for the punters to choose between them. You can pick up to 3. Make sure to submit your predictions before the matches kick off. If all your predictions are correct, you get a £100 cash prize, ready for withdrawal.
If you get 2 predictions, you win a £5 free bet. And if you get only 1 prediction correct, you get a £1 free bet. All of the prizes will be credited into your account within 24 hours of the match ending. You get 7 days to use those free bets.
The game results are considered for 90 minutes only. Any extra time or penalty shootouts don't qualify for this promotion. So, you need to focus on the core gameplay rather than what might actually be the result of the match.
Grosvenor Million Pound Picks
Grosvenor may not be as widely known as William Hill or Ladbrokes in the UK but it's a very premium online bookmaker. The Midnight Green accent all over the website really adds a fantastic touch to the overall betting experience.
This is a weekly promotion and each of these weeks is known as a "Gameweek". During the week, you can participate in the game once by entering your predictions for the football matches. You can include 10 predictions for who's going to score the first goal in those matches.
The ultimate prize pool is worth £1,000,000 paired with a £2,000 weekly giveaway prize. If a punter guesses all 10 first goal scorers correctly, the prize is £1 million. And for the most number of correct goalscorers, the prize is £2,000.
If you get at least 3 goalscorers correctly, you'll get a £10 free bet. The more you guess correctly, the higher your prize goes.
One important thing to keep in mind here is that you must use the free bet entirely. You can't use it partially. Jackpot prize winners may have to wait up to 20 days to receive their payments as there is a lot of processing involved in such large payouts.
Betway 4 To Score
When it comes to best betting games for football, it's only normal for Betway to jump in. Betway is one of the finest bookmakers of our time. If you follow sports, you may have seen the Betway logo in major sports events all over the world!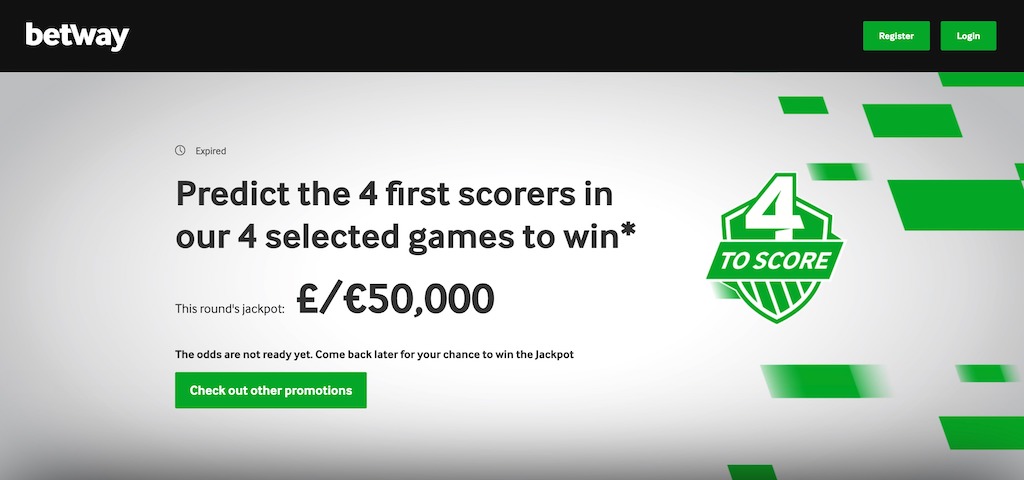 The 4 to Score prediction game is Betway's way to bring innovation to the table. All you have to do is predict the first scorer for 4 football matches. Betway will predetermine the matches. At the time of writing, the prize pool for this tournament is £50,000. Note that the prize pool doesn't roll over to the next round. So, at any given round, the final pool is always £50,000.
You need to submit your selections before the first match for the round kicks off. Once that happens, you can't change anything on the bet. You can't cancel it either so pick your selections very carefully.
An interesting aspect of Betway is that it takes BBC's decision on who's the first Goalscorer as the final. If the first goal is an own goal, the 2nd goal will be considered for promotion. In case more than 1 player gets the first Goalscorer for all the matches, the prize will be split between them.
How Prediction Games Work
Betting games for football seems to be a common offering nowadays among veteran and new betting apps. The examples we've shared with you in the previous section do look different on paper, but they're all based on the same skeleton.
Essentially, you get a timeline for the game. It might be a week or a month depending on what bookmaker we're talking about. The operator will specify a group of matches for that timeline and ask the punters to submit their selections.
As you experienced in the previous section, different bookmakers employ different aspects of the matches for the game. There's usually a leaderboard where the stats of all the punters are listed. Along with the prizes for each of the rounds, you can also win a portion of the overall prize pool.
For the most part, you can submit multiple selections. In our examples, the range is between 3 and 10 selections. But it's not a concrete range so you might encounter a different one when playing free betting games.
Once the matches take place, your selections are compared to the actual scores and you get paid accordingly. There is usually a minimum threshold to secure a payout. If your accuracy is under that threshold, you don't win anything.
FAQ
What is the best free to play prediction game?
The "best" prediction game for you would be the one that you're most comfortable with. But if we have to choose from our shared list, we'll go with the Ladbrokes 1-2-Free game. It's simple, it's quick, and there's not much at stake for the punters.
How much can you win at prediction games?
It depends on how many selections you get right. For example, you can win the biggest share of the £1,000,000 prize pool if you happen to be 1st on the leaderboard. So, it's not ideal to put a number in your mind. It's open to interpretation.
Can you win cash at football prediction games?
Yes, you surely can. Take the Ladbrokes 1-2-Free and the Coral Super Series games for example. Both of them have a cash prize that you can withdraw directly if you win.