Bet £5 Get £20 Betting Offers For New Customers
With the competition between sportsbooks growing stronger each day, operators have been stepping up their game by offering creative ways to boost gameplay. One of the most common ways sportsbooks do this is through bonuses, and Bet 5 Get 20 offers are easily some of the most worthwhile ones you'll currently run into! As the name suggests, these rewarding promos grant players a bonus sum of £20 after depositing £5. They're often accompanied by much looser requirements than typical bonuses too, making them favorites among players! On this page, we'll take a look at some of the best Bet 5 Get 20 Free Bets available on the market. Not all of these offers are made equal, and we've made it our mission to scope out the ones that are bound to improve your overall gameplay!
Selected Bet 5 Get 20 Offers
Not all bookies with Bet 5 Get 20 Offers follow the same thought process when putting these sign up offers together. Some may be limited by specific laws and regulations, while others by their creativity! With this in mind, it's safe to say that some of these promos tend to be much better than others. Up next, we introduce a few of the best ones we could find:
LADBROKES WELCOME OFFER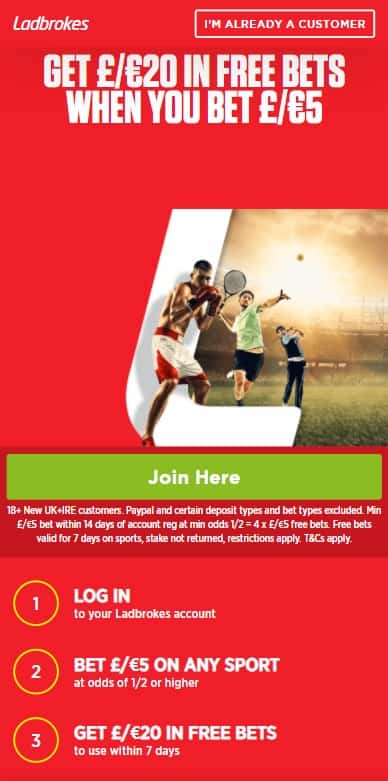 ☑️ App rating: 4.9/5
☑️ Read full Ladbrokes review here >>
The Bet 5 Get 20 Welcome Offer by UK giant Ladbrokes is easily one of the best options out there right now. What makes this offer such an excellent pick is the lack of harsh requirements attached to it. Players don't need to worry about wagering terms or strict bet limitations when using their Free Bets. Speaking of, this bonus is awarded as four separate Free Bets worth £5 each. Thanks to this, players have a chance to use their Bonus Funds on multiple smaller bets instead of being limited to a single large one.
CORAL WELCOME OFFER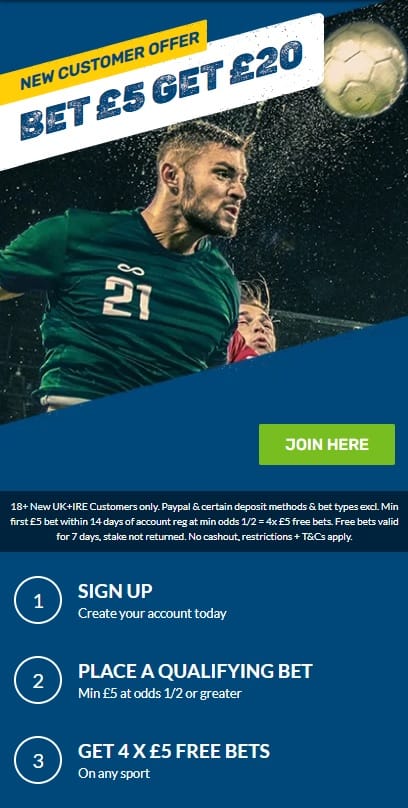 ☑️ App rating: 4.9/5
☑️ Read full Coral review here >>
The Coral Bet 5 Get 20 Sign Up Offer is another excellent addition you might want to check out. Like the last one, this offer is also divvied up into four bets worth £5 each and has no wagering! While this offer is better than most, it does come with a few restrictions you should stick to. Luckily, they're easy to meet, even for complete newbies! The Free Bets players are awarded by this bonus must be used on markets with odds of 1.5 or greater. They also have a seven-day expiration period, so you'll need to use them quickly!
How to Claim a Bet 5 Get 20 Offer
While not all Bet 5 Get 20 Sign Up Offers are the same, they tend to follow similar patterns. One of these patterns is the opt-in process! Players will find that claiming Bet 5 Get 20 Offers is pretty much the same with most bookies, whether they're new sites or well-established operators. Here are the steps you'll need to follow to pick up your offer:
Choose your preferred betting site
Register an account through the corresponding link or Bonus Code
Make your first deposit with the operator
Place a qualifying bet or bets
Receive your Bet 5 Get 20 Bonus and have fun!
Common Bet 5 Get 20 Terms & Conditions Explained
The similarities between most Bet 5 Get 20 Bonuses don't stop there. In most cases, these offers tend to be the most alike when terms & conditions come into play. While the requirements attached to a certain offer can vary drastically between operators, there are a few rules that most bookies stick to. If you're wondering what the most common terms & conditions with these offers are, here's a summary of what you're sure to encounter:
Wagering Requirements: The good news about the wagering requirements of these bonuses is that they're usually pretty relaxed. Many Bet 5 Get 20 offers don't have wagering requirements at all, while the ones that do need to be wagered a few times at most. If the bonus does have these requirements, they tend to apply to the winnings you receive from the Free Bets.
Minimum Odds: Minimum odds restrictions are necessary with these promos. Being too loose on this front might be a big pro for players, but it can mean big losses for the bookie. With a Bet 5 Get 20 Free Bet, the minimum odds are usually set to 1.5 or 2.0. While this might limit your betting somewhat, it still leaves plenty of room to have fun and experiment.
Free Bet Expiration: All good things come to an end, Bet 5 Get 20 Free Bets included. The typical routine with the Free Bet expiration period on these bonuses is about seven days. While this period is somewhat short, it gives players more than enough time to play through their Bonus Funds. If you're lucky, you might run into offers with a Free Bet expiration period of up to 30 days! These offers are much rarer, but they do exist.
Common Restrictions: The most common restrictions that apply to these bonuses are usually aimed at the types of bets players can place. Having these Free Bets available on all betting markets would make things a bit too easy, which is why limitations that exclude things like each-way betting are there to make things fairer.
Similar Betting Offers
Bet 5 Get 20 Offers might be some of the best bonuses on the market, but they're not the only ones that pack a powerful punch. There's plenty of other alternatives you can check out that might end up being more your speed! Of course, many of these offers are very similar to Bet 5 Get 20 ones. They practically follow the same blueprint, with some minor changes to the rewards and requirements. If you're interested in learning more about them, we've covered a few of them below.
Bet 5 Get 30
The Bet 5 Get 30 Bonus is practically a boosted version of the typical Bet 5 Get 20 Sign Up Offer. In essence, the only difference between the two is the reward players receive for depositing and betting £5 at a bookie. Upon closer inspection, there is one more thing that usually separates the two. Of course, we're talking about the requirements! Since the reward for Bet 5 Get 30 Offers is much heftier, the requirements attached to them are stricter. Here are some of the best Bet 5 Get 30 Offers you might run into:
BETVICTOR SIGN UP OFFER


☑️ App rating: 4.8/5
☑️ Read full Betvictor review here >>
The Bet Victor Bet 5 Get 30 Offer isn't your traditional bonus of this type. The offer consists of two £10 Free Bets and a £10 Slots Bonus for players that bet at least £5 with the operator. As expected, the Free Bets have pretty loose terms. They're not subject to wagering requirements and have a seven-day expiration period. The Slots Bonus is subject to 20x wagering, which is more than reasonable. For punters that want to experiment with other types of online gambling, this bonus is the perfect option!
Bet 10 Get 20
A Bet 10 Get 20 Offer might seem like a bit of a downgrade from the Bet 5 Get 20 one, but it's a solid alternative when you're out of options. While these offers might be more demanding when the qualifying bet is in question, they're usually looser with everything after that! Most of them don't have any wagering requirements, and their restrictions are less limiting than what you get with other Welcome Bonuses. Here are some of the best Bet 10 Get 20 Offers currently available:
SPREADEX BETTING SIGN UP OFFER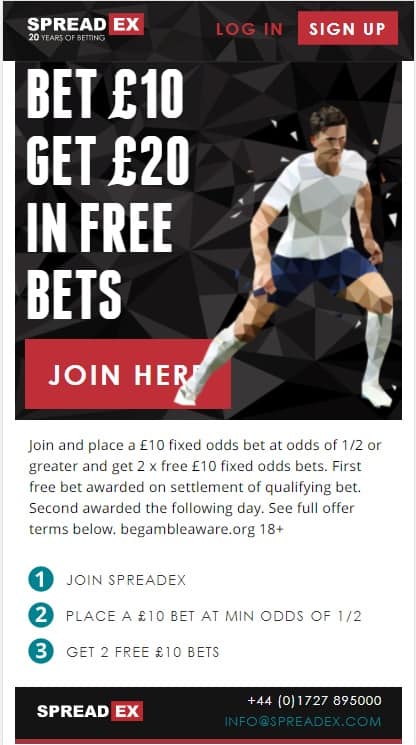 ☑️ App rating: 4.5/5
☑️ Read full Spreadex Betting review here >>
The Spreadex Bet 10 Get 20 Offer is one you should keep an eye on. After making their qualifying bet of £10, players receive two £10 Free Bets to use on the sportsbook. As expected, the Free Bets aren't subject to wagering. One thing players do need to keep in mind though is that they must be used on odds of 1.5 or greater. Compared to similar offers, this bonus is a great addition to the line-up. It also helps that players have a 28 day period to claim it, giving them plenty of time to decide what to bet on!
MR PLAY SIGN UP OFFER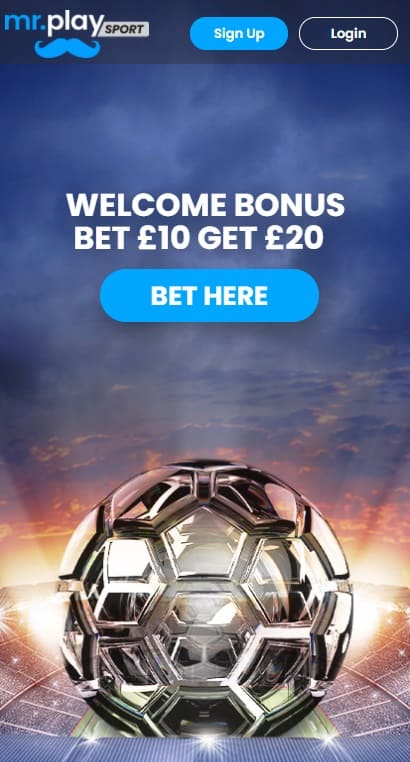 ☑️ App rating: 4.5/5
☑️ Read full Mr Play review here >>
Mr Play's Bet 10 Get 20 Welcome Offer is one that plenty of punters are going after. While the bonus is undoubtedly a solid one, players are privy to a single £20 Free Bet after depositing and betting £10. Some players might be excited about having a larger bet on their hands, but others won't be too happy about this. Having the reward split into multiple bets gives players a chance to explore more options. On the bright side, at least the Free Bet has no wagering requirements!
How to benefit from the bet 5 get 20 offer?
One of the best ways to learn how something can work in your favor is through an example. Because of this, we've decided to give you an in-depth example featuring one of the selected bookies above! To hopefully make things a bit clearer, we've chosen to use the Ladbrokes Bet 5 Get 20 Free Bet Offer in our explanation below.
As you've probably already read, the Ladbrokes Welcome Bonus is one of the best Bet 5 Get 20 Offers you can find these days. Unlike most other bookies with Bet 5 Get 20 Bonuses, Ladbrokes offers players four Free Best, giving them a chance to play around and explore various sports and markets. Here's a short step-by-step guide on how to use this promo:
Register a Ladbrokes account
Head to the Ladbrokes promotions tab and select the Bet 5 Get 20 Offer
Make sure you read the terms & conditions of this bonus thoroughly
Deposit at least £5 to your Ladbrokes account and ensure you're using eligible payment methods
Head to the football section and find a bet that meets the qualification requirements. In this case, the qualification requirements demand a bet on odds of at least 1.5.
Enter at least £5 in the stake field and submit your ticket
When the bet is settled, and you get your result, you'll receive the four £5 Free Bets
Use your Free Bets within the seven days expiry period
FAQ – Top Bet £5 Get £20 Questions Answered
Here is a selection of the most Frequently Asked Questions about bet 5 get 20 betting offers:
What does Bet 5 Get 20 mean?
The name of the bonus is pretty self-explanatory. Players that deposit and bet at least £5 at the sportsbook will receive a £20 bonus! In most cases, the £20 bonus is awarded in the form of a Free Bet or multiple Free Bets.
What is the best Bet 5 Get 20 Offer?
There are many excellent Bet 5 Get 20 offers you can go for at the moment. We recommend checking out our selected offers. These include the Ladbrokes Bet 5 Get 20 Welcome Bonus, and the Coral Bet 5 Get 20 Welcome Offer.
What happens when you win with a Free Bet?
Most of the time, when you win a Free Bet, the winnings are credited to your account balance. Just like with traditional bets, you can proceed to withdraw this amount at any time. Of course, there are exceptions to this. If the Free Bet is subject to wagering, you might need to meet these requirements before withdrawing.
Is a Bet 5 Get 20 Offer worth it?
Yes, a Bet 5 Get 20 is worth it most of the time. If the terms of the offer aren't too strict, you get a solid Bonus Sum that gives you a chance to extend your playtime at the operator.