Bet £10 Get £30 Betting Offers For New Customers
If you're familiar with the online betting scene, then you've probably already run into a few Bet 10 Get 30 Offers. These nice little boosts are amongst the most common Welcome Bonuses sportsbooks offer these days, giving players a chance to prolong their betting experience and test out the platform. It's not hard to figure out what these bonuses consist of. Judging by the name, it's easy to see that players are rewarded with £30 in Bonus Funds when they deposit at least £10.
The Bet 10 Get 30 format is deceptively simple. While it might seem like one all-encompassing offer, it comes in different forms. Bet 10 Get 30 Free Bets is the most common of the lot. The £30 in Bonus Funds are credited as a single or multiple Free Bets instead of Bonus Funds. On this page, we'll mostly be focusing on this one.
Selected Bet 10 Get 30 Offers
WILLIAM HILL WELCOME OFFER


☑️ App rating: 4.9/5
☑️ Read full William Hill review here >>
WILLIAM HILL BEST ODDS GUARANTEED
William Hill is one of the most respected operators in the UK, so most players are probably expecting a top-tier offer they can get behind. The good news is, they're right to be hopeful. While the William Hill Welcome Bonus doesn't differ much from other bookies with Bet 10 Get 30 Offers, it does have a few alleviating circumstances that might push you to give it a try.
Here are some of the more important terms and conditions that come attached to the William Hill Bet 10 Get 30 Bonus:
To qualify, players must place a £10 bet at odds of 1/2 (1.5) or greater and enter the appropriate promo code
The bonus is credited as two £30 Free Bets
The Free Bets expire after 30 days of being credited
Cash in is available for Free Bets (minus the Free Bet value)
One of the biggest pros to the William Hill Bet 10 Get 30 Offer is the long expiry period on the Free Bets. Most players are forced to use their Free Bets before they're ready, otherwise, they'd expire. Unlike sign up offers from other sportsbooks, William Hill welcome offer has a long expiry period, giving punters a chance to do things at their pace. Some other noteworthy things about this bonus are its lack of wagering and its cash in availability. Sure, you might not be getting back the Free Bet value if you decide to cash in, but at least the option is there if needed.
888SPORT WELCOME OFFER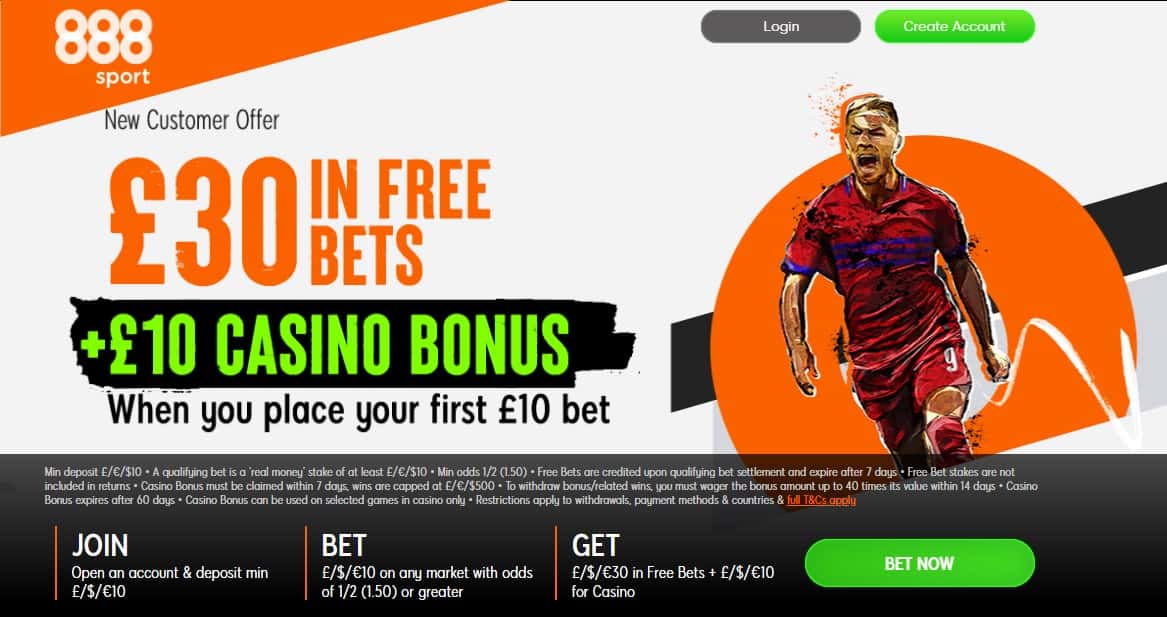 ☑️ App rating: 4.9/5
☑️ Read full 888Sport review here >>
888Sport is well-known for its generous offers, so it doesn't come as a surprise to see it offering this package. What sets it apart is that besides the £30 in Free Bet Tokens is its addition of a £10 Casino Bonus. The sports/casino combo works well for players that like switching things up from time to time. Choosing a casino or sportsbook exclusive bonus can limit players to that particular part of a gambling site, and not everyone is too keen on this idea. While it works for some, others prefer a bit more freedom to roam and explore.
The 888Sport Bet 10 Get 30 Sign Up Offer does have some terms & conditions players should be aware of. Here are some of them:
To qualify, players must place a bet of at least £10 at odds of 1/2 (1.5) or greater
Free Bet Tokens will be credited as three separate £10 Tokens
The Free Bet Tokens expire within seven days of being credited
The Casino Bonus must be wagered 40 times before withdrawing
The Casino Bonus expires after 30 days of being credited
It's easy to see that this offer doesn't have demanding requirements. Most players shouldn't have a hard time getting them out of the way, especially when the Free Bet Tokens are in question. On top of that, whether you like it or not, the Casino Bonus is a nice touch that most competitors don't have. Of course, there are some cons to this offer as well. You should keep in mind that only one Free Bet Token can be used through mobile devices, which does limit some players.
How to Claim a Bet 10 Get 30 Offer
Since Bet 10 get 30 Offers are some of the most popular offers on the web right now, many of them follow similar guidelines. Of course, this includes claiming the bonus! Generally, here's how you can claim a Bet 10 Get 10 Offer:
Select your preferred Bet 10 Get 30 betting site and click on the offer
Register a new account and enter a Bonus Code when necessary
Deposit at least £10 and bet the same amount
Claim your Bet 10 Get 30 Free Bet
Wager using your Bonus Funds
Meet the requirements when necessary and withdraw your winnings!
Common Bet 10 Get 30 Terms & Conditions Explained
As you might have noticed from the previous offers we covered, Bet 10 Offers aren't the Wild West. These bonuses come with proper terms and conditions that players need to be mindful of if they want to qualify for the bonus and keep their winnings from it. While these requirements tend to vary depending on the operator, many follow similar rules. Here are the most common ones you'll run into:
Wagering Requirements: Bet 10 Get 30 Offers are known to have somewhat lax wagering requirements compared to other sportsbook bonuses. In most cases, players need to wager the Free Bet amount or Free Bet winnings at least ten times before withdrawing. It's also not uncommon for Bet 10 Get 30 Bonuses to have no wagering requirements at all! If you happen to stumble onto one of them, make sure to make the best of it!
Minimum Odds: If players got to choose their Free Bet odds freely, things would quickly dissolve into chaos for the operator. Because of this, most operators have limits when minimum odds are in question. Typically the minimum odds needed for the qualifying bet stand at 1/2 (1.5 decimal price). The minimum odds for the Free Bet tend to be a bit higher than that, starting at around 2 or more.
Free Bet Expiration: Nothing lasts forever, and Free Bets fall into this category. In most cases, players are given a time limit with Free Bets. These limits pertain to the expiry of the Free Bet if it isn't used, or its expiry if the wagering requirements aren't met. Like with the wagering requirements, the Free Bet expiration varies among operators. In most cases, the expiry period is seven days. If you're lucky, you might find a bonus with a 30 day expiration period!
Common Restrictions: Some restrictions are necessary to keep players from going crazy when Bet 10 Get 30 Bonuses are in question. While these betting restrictions come in all shapes and sizes, the most common ones you'll see are excluded bets. A great example of this is the voiding of an each-way bet. Another common restriction is the win cap. Operators set a maximum amount of winnings that players can accumulate through the bonus, which is usually kept at around £500.
Similar Betting Offers
Just because the Bet 10 Get 30 Sign Up Offer is popular, doesn't mean it's the only one of its kind out there. There are plenty of similar offers out there, many of which supersede its benefits! Whether you're a newbie to the online betting scene or a hardened pro, everyone can benefit from these. So, if the Bet 10 Get 30 Bonus is one you like, maybe these next offers will grab your attention as well.
BETVICTOR SIGN UP OFFER


☑️ App rating: 4.5/5
☑️ Read full Betvictor review here >>
The Bet 5 Get 30 Offer at BetVictor is a welcome sight for any fan of mixed gambling. Players that deposit and bet at least £5 at the operator are privy to two £10 Free Bets and a £10 Casino Bonus! While some players might have liked the entire £30 Bonus Sum to apply to the sportsbook, in our opinion, the £10 Casino Bonus gives players a chance to explore their options and try a fun betting alternative.
As expected, this bonus does have some terms and conditions you should check out. Here are a few of them:
To qualify, place your first bet of £5 or more at odds of evens (2.00) or greater within seven days of registering an account
The Casino Bonus needs to be wagered 20 times before withdrawing
The Free Bets and Casino Bonus will expire within seven days of being credited
The Free Bets are wager-free
BetVictor's bonus terms aren't harsh at all. The Free Bets come without wagering requirements, while the 20 times wagering that applies to the Casino Bonus is achievable. Something that might set some players back in the seven-day time restriction. It's not impossible to meet the wagering requirements within this time, but it can be a bit harder for newbies..
How to benefit from the bet 10 get 30 offer?
To give you a good demonstration of how you can benefit from the excellent Bet 10 Get 30 Offers we've listed above, it's best to show you a detailed example from one of our recommended bookies with Bet 10 Get 30 Bonuses. For this reason, we've chosen to use the 888 Sports Welcome Offer as an example bonus.
The 888 Bet 10 Get 30 Sign Up Offer is pretty self-explanatory. Players can receive three £10 Free Bet Tokens that they can later use to bet on the sportsbook. Here's a quick guide on how you can use this promotion:
Register an account with 888Sport
Head to the promotions tab of the website or app and find the Bet 10 Get 30 promo
Make sure you read the terms & conditions of this bonus thoroughly
Deposit at least £10 to your 888Sport account and ensure the payment option you're using is eligible for the bonus
Head to the football section and find a bet that meets the qualification requirements
Enter at least £10 in the stake field and submit your ticket
When the bet is settled, and you get your result, you'll receive the three £10 Free Bets
Use your Free Bet Tokens within seven days of being credited
FAQ – Top Betting App Questions Answered
Here is a selection of the most Frequently Asked Questions about bet 10 get 30 betting offers:
What does bet 10 get 30 mean?
Bet 10 Get 30 is a simple Bonus Offer that's common with many online sportsbooks. It practically means that players that bet £10 at the operator can receive a bonus worth £30!
What is the best bet 10 get 30 offer?
It's hard to say which one of our recommended offers is the best, as they all offer something unique. Give them a throughout browse and see which one works best for your betting style.
What happens when you win with a Free Bet?
Usually, the winning amount is credited to your account as with a traditional bet. If the Free Bet has wagering requirements, you might need to meet them before you're able to withdraw the sum.
What is a Free Bet Offer?
A Free Bet Offer is pretty much what it sounds like. The reward you get from the offer comes in the form of a Free Bet or multiple Free Bets you can use on the entire sportsbook or select matches.