Paddy Power might be most famous for their tongue-in-cheek advertising, but their main strength actually lies in the outstanding execution of sports betting fundamentals. This includes an Android app which excels even by sky-high modern standards, garnering an excellent 4.5/5 rating on Google Play across some 14,600 ratings. Functionally this app ticks every box, being reliable, quick, and with a pleasingly straightforward navigation. Users can also benefit from over 100,000 streamed events per year, which – naturally – can be wagered on live, and Android users are also eligible for Paddy Power's famous 'Rewards Club'.
There are more than 100,000 events streamed live in the app each year, and the new in-play home page makes it even easier to stay in touch with what's happening on all your live bets.
The #WhatOddsPaddy means you can get your own unique market on a match or event if there isn't one quoted, or you can bet pre-match or in-play on just about any sporting event anywhere on the planet. The overall design, UI and functionality ranks this amongst the top android betting apps that we feature. Read our Paddy Power app review to find out about all outstanding features.
The Paddy Power android betting app is free from Google Play (Android 4.4+) — search for 'Paddy Power Sports Betting – Bet on Football' — and new UK punters can enjoy a risk-free £10 bet as a sign up bonus.
HOW WE REVIEW AND RATE ANDROID BETTING APPS
Our rankings of the top betting apps for Android have not merely been thrown together at random. Instead, we've followed a defined process, with the apps evaluated using strict, clear criteria.
Here's a quick rundown of how we go about rating Android apps, and what we're looking for at each stage.
DOWNLOADING THE APP
If you were wondering how to get betting apps on Android, the short answer is… it should be easy! You should be able to download an app in seconds, either from Google Play or the bookie's website.
REGISTERING AN ACCOUNT
Quite simply, we value apps which explain the sign up process clearly, and keep it nice and short.
LOOKING AT THE WELCOME OFFER
We assess whether a welcome offer gives bettors genuine value, and check that there are no nasty catches in the terms and conditions.
EVALUATING THE BETTING MARKETS
The more markets an app provides, the better. We're looking for breadth in the number of sports, and depth in the most popular sports (such as football, horse racing, and tennis).
PLACING SOME WAGERS
Placing a bet shouldn't take more than a couple of screen-taps. With in-play bets especially, speed is absolutely crucial.
IDENTIFYING SPECIAL FEATURES
Live streaming, bet builders, in-play and cash out are just some of the special features we're looking for.
CHECK ONGOING PROMOTIONS
We like to see a mix of long-term offers and shorter-term deals for big events, which – again – offer genuine value.
TRY THE CUSTOMER SUPPORT
Ideally, customer support will be offered 24/7. You should also have a few different ways to access it, such as live chat, email, and phone.
CHECK OUT DEPOSITS AND WITHDRAWALS
All bookies let you use Visa and Mastercard, but are there eWallet options too? How quick are payments processed? Are there any fees attached?
DOWNLOADING ANDROID BETTING APPS
There was a time when the best online betting apps were not readily available for Android phone and tablet users. In 2013, Google took the momentous decision not to stock betting Apps for Android mobile devices in its store (then known as Android Market), believing there were not appropriate safeguards in place to prevent under 18s from getting access to real money betting apps for android phones.
This meant that it was a lot more difficult to download Android betting apps than it was to get iOS apps, as they had to be downloaded directly from a sportsbook's site as an APK file, and this was made even more inconvenient by the fact that you had to remember to adjust your settings to Allow Unknown Sources.
This all changed in 2017 when the re-named Google Play store began to allow real money top android betting apps to be downloaded again. Since then, Android betting apps in UK have become much easier to download and install, and now all the best sports betting app sites are producing apps for Android once again.
How to Download Betting Apps on Android From Google Play
Open the Google Play store app on your phone, or go to play.google.com in your browser.
Search for the android betting app you want, using the name of the online sports book.
Tap install.
Follow the onscreen instructions to complete the installation.
Complete the registration process and start betting.
ANDROID BETTING APP FEATURES TO LOOK FOR
This is another category where it can largely depend on yourself, ask yourself ''What do I want in this app'', for many of us the answer to that will be different, however not too different.
Thankfully the market for Android betting apps right now has really advanced and is very competitive, so sport bookies fight over the best platform and introduce tons of features. Some of the key features you should lookout for and will see Bookies offering is as follows:
IN-PLAY BETTING
It's no exaggeration to say that in-play has been one of the biggest innovations in sports betting. With its invention, rather than being limited to making predictions 'pre-match', bettors were finally able to place live wagers during the game too. This is arguably a more exciting way to do things, and certainly increases the already-present tension in watching a live game. You're not merely watching the action, after all, but trying to work out how to profit from it.
Actually doing so, of course, is easier said than done. Things change so quickly during a live game that betting on them is inherently risky. In turn, though, the rewards can be extremely high, and the chances to place bets are almost constant.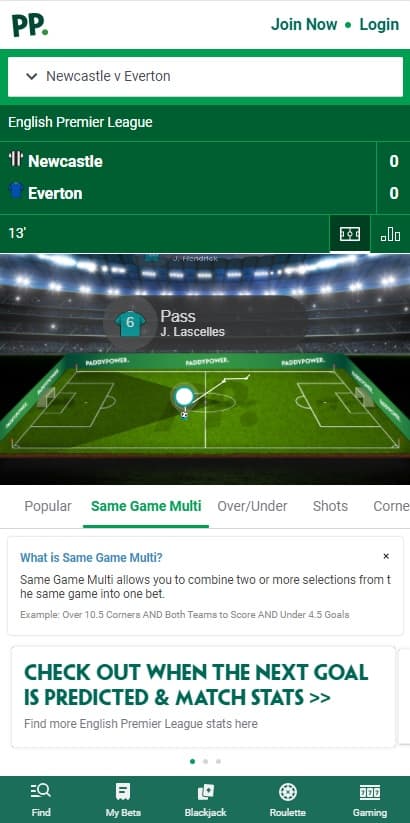 Of course, one of the reasons for the explosion in the popularity of in-play betting is that it works so perfectly with mobile apps. No longer are you limited by proximity to your computer or laptop. Now – whether you're on your couch, on your friend's couch, or at the pub – you can simply pull out your phone and stick down a wager on an ongoing game instantly.
Quite simply, in-play betting is an absolute 'must-have' feature for any modern Android app.
CASH-OUT
The introduction of cash out has been another game-changer in recent years. Before, once you'd placed a bet, you were completely locked in… for better or worse! If you'd backed a football team to win, for example, and they took a 3-0 lead, only to promptly start collapsing, there was absolutely nothing you could do to save your bet.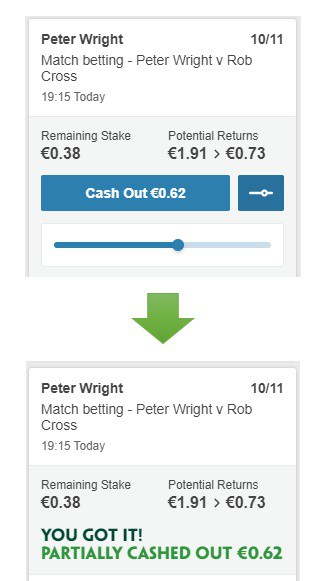 Thankfully, that's no longer the case. Now, even when a bet is still in-play on a live game, it can usually be cashed out. Check on the wager, and you'll be shown a cash-out value. This can be higher or lower than your initial stake, depending on whether the bet is currently looking likely or improbable to win. If you like the value on offer, you can opt to simply cash out the bet there and then, without worrying about the actual result any longer. Typically, the only times this option won't be available are when your bet has almost certainly lost.
Nowadays, some major bookies also offer 'partial cash out' on their Android apps. Rather than ending the whole bet, this allows you to cash out part of it – half, for example – and leave the other half to play out as normal.
LIVE STREAMING
This is a massive one. Certain bookies will offer live streams of certain matchups, of course depending on whether they have permission to share these live streams.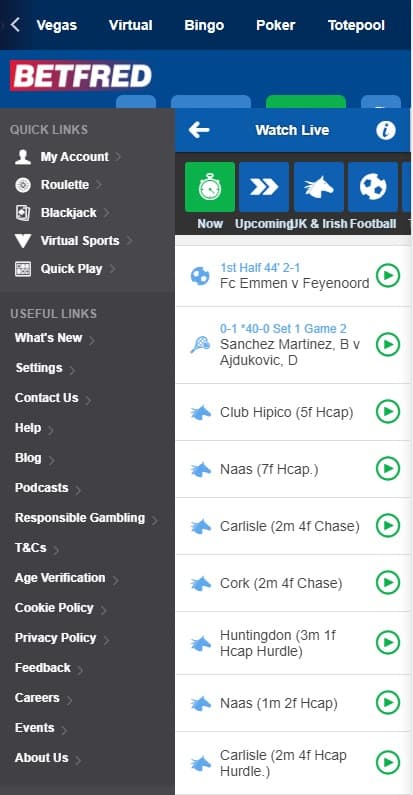 This is super handy due to the fact that if you have a bet placed you can monitor the game extensively rather than listening to commentaries or perhaps following an action bar, really useful when you tie it together with the cash out feature.
VIRTUALS
Virtual sports are another major innovation in modern betting. While they might never replace the sheer excitement of real, live sports, they certainly play a valuable role for many bettors.
As the name suggests, virtuals are completely digital versions of real-life sports. They also feature fictional participants, and are either one-off events, or part of a made-up larger tournament. There are two main appeals to them. Firstly, they take place 24/7 on all major sportsbooks, meaning that – even when there are no real sports on – virtuals are available to watch and bet on. Secondly, they are completely fair, with results generated by a computerised algorithm.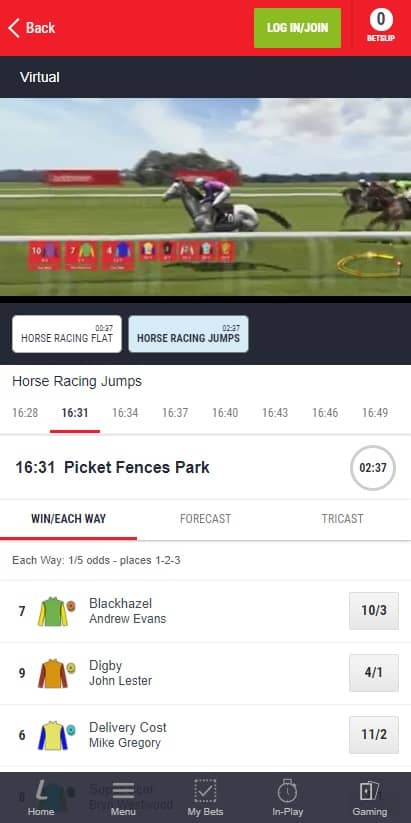 In addition to live streaming of real sports, a top Android sports betting app nowadays will allow you to view live sports whenever and wherever you please. The most common are football and horse racing, but you can also get virtual motorsports, greyhound racing, tennis, and even cricket.
IN-APP CASINO, BINGO, AND OTHER SERVICES
Almost every major online betting site now doesn't just feature a sportsbook. Many will also have the likes of Casino, Live Casino, and Bingo sections, with these often having their own ongoing promotions too. Once you've signed up with the brand as a whole, you can typically switch between these different sections at will, and use whichever one takes your fancy.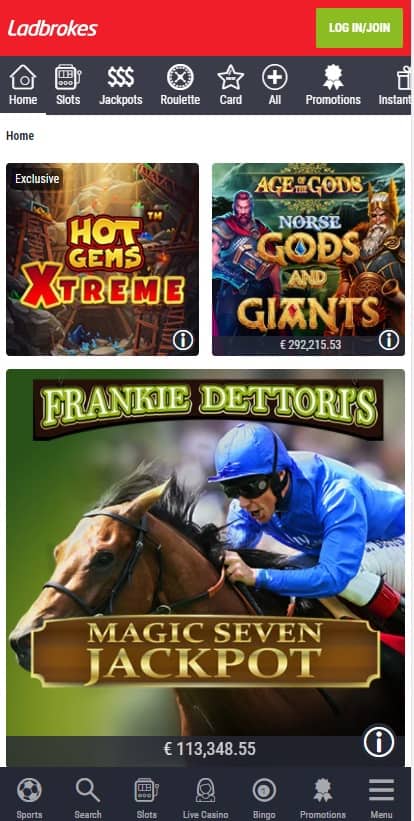 When it comes to Android apps, different sites take different approaches. Some – as with the desktop version – bundle all these sections together into one app. You can then switch quickly between them using a navigation menu. Others separate these sections into their own specific apps. Search 'Bet365' on Google Play, for example, and you'll literally find six different apps: one for the sportsbook, then Games, Casino, Poker, Bingo, and Live Casino.
Naturally, it's more convenient to have all these services within one app. Given how easy it is to download Android apps, though, we wouldn't say it's a massive deal when they're split up from each other!
IN-APP TRACKING OF BETTING SHOP WAGERS
For most bettors, online gambling – including via apps – replaced wagering in brick-and-mortar sportsbooks a long time ago. It's vastly more convenient, after all, and allows you an unprecedented amount of control over your betting.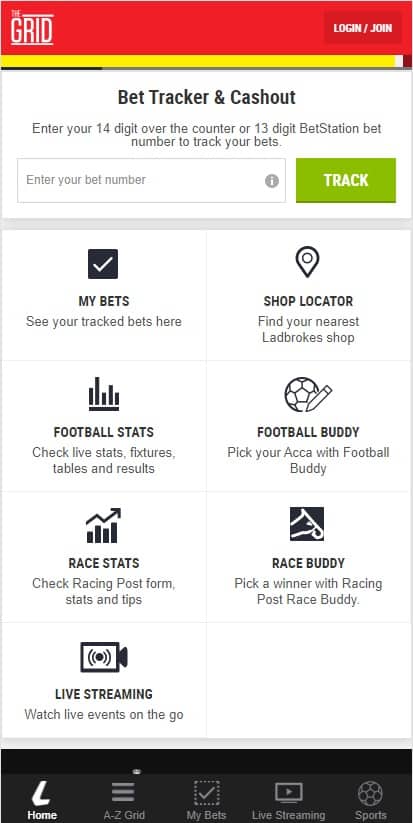 If you still like to bet in the old-fashioned way, though, there are ways to do this while also using a mobile app. In fact, some major sportsbooks effectively let you combine real-life bets with your online account.
Perhaps the most famous example is The Grid, by Ladbrokes. Win a bet at a Ladbrokes shop, and you can actually have your winnings added directly to your digital account, rather than collecting them as cash. That money can then be used via the app as normal, whether it's triggering promotions, placing wagers, or anything else you'd usually do.
LIVE MATCH TRACKING
The very best betting apps for Android – from the biggest bookies around – will usually provide at least some live streaming. Naturally, this is the best way to keep up with a live, ongoing event.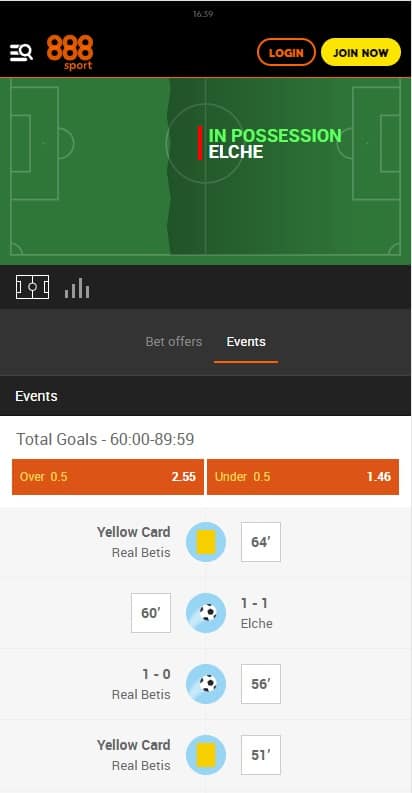 Even if an app doesn't have actual streaming, though, it will usually provide a few ways to monitor the latest goings-on. The most common is to use a 'visualisation tool'. This will usually be a top-down view of a digitised playing surface – a football pitch, tennis court, etc. – with basic animations indicating what's happening. If a football team is attacking, for example, it might have a big arrow with 'Dangerous Attack' next to it. This might sound simplistic, but it's actually a pretty effective way of helping you keep up.
Elsewhere, just about every modern app will provide live statistics for an ongoing event. These will not only cover the basics – like the score, and remaining time – but also encompass the likes of shots on target in football, aces in tennis, and so on.
BOTTOM LINE
To summarize this piece, it is a great time to be a fanatic of Android mobile betting. The market has expanded and developed significantly in the past recent years and is continuing to develop as Bookies fight to have the number one betting App.
There is little to no difference in most scenarios between being inside a Bookie building and placing bets on your Android device which grants us punters the ease and comfort when betting, something of such high value.
If you have never experienced Android mobile betting apps I would definitely recommend testing them out. Overall, it has never been as easy to make bets from your couch as now.